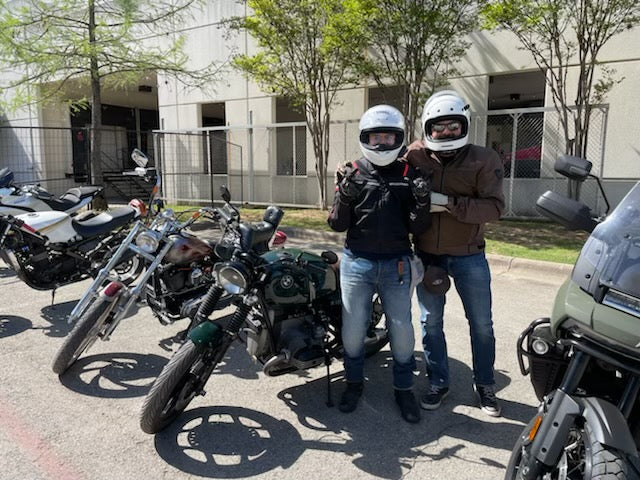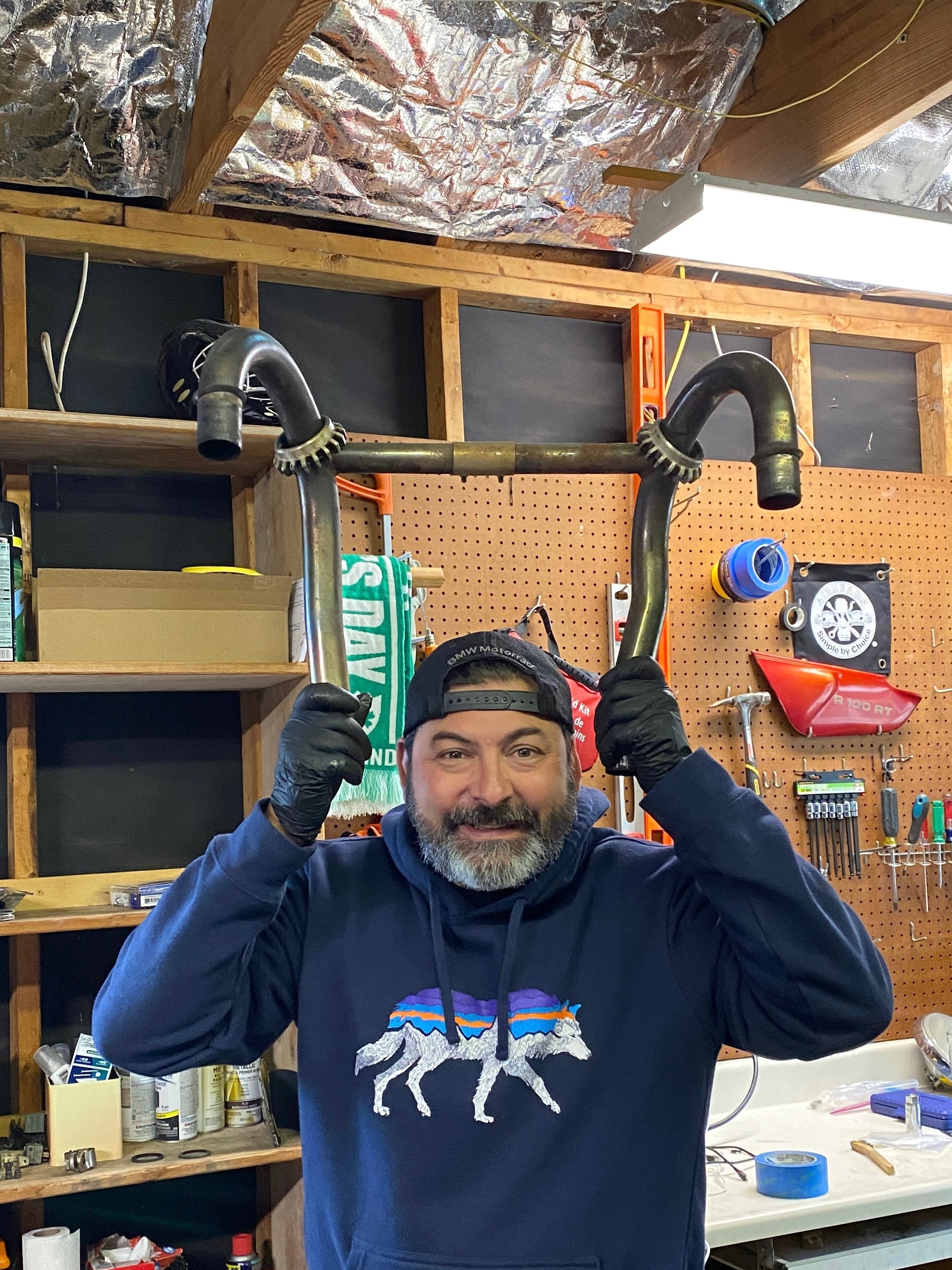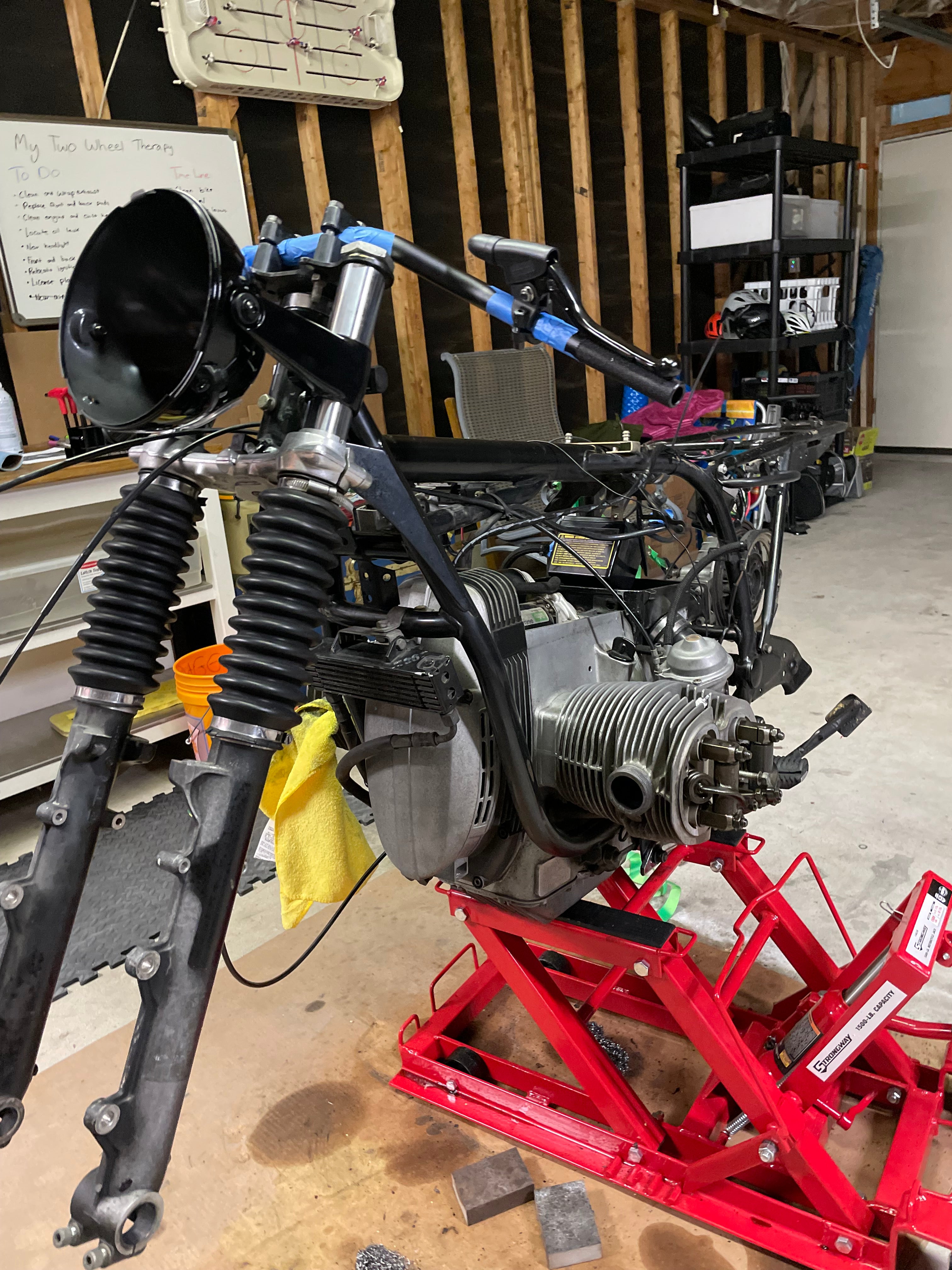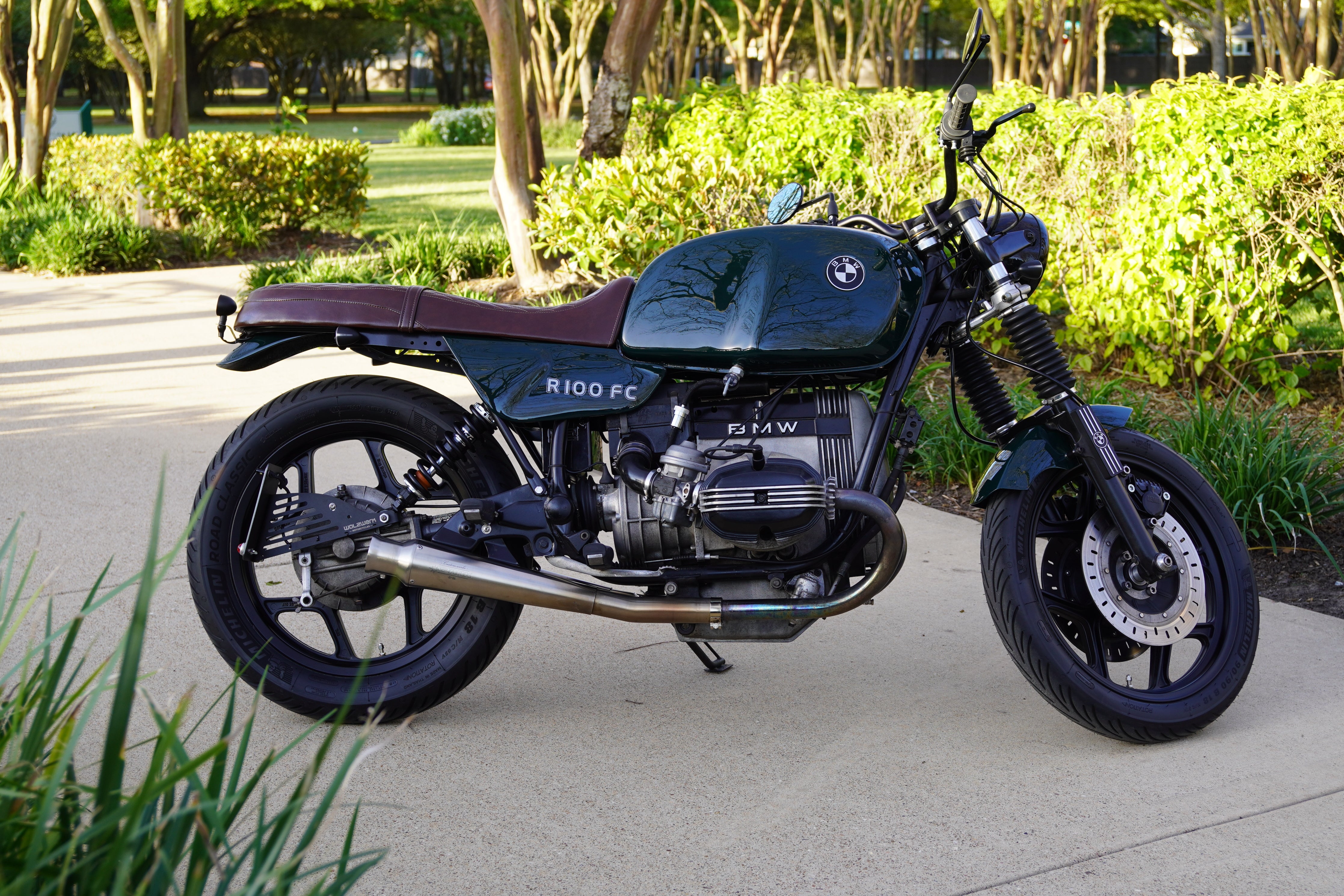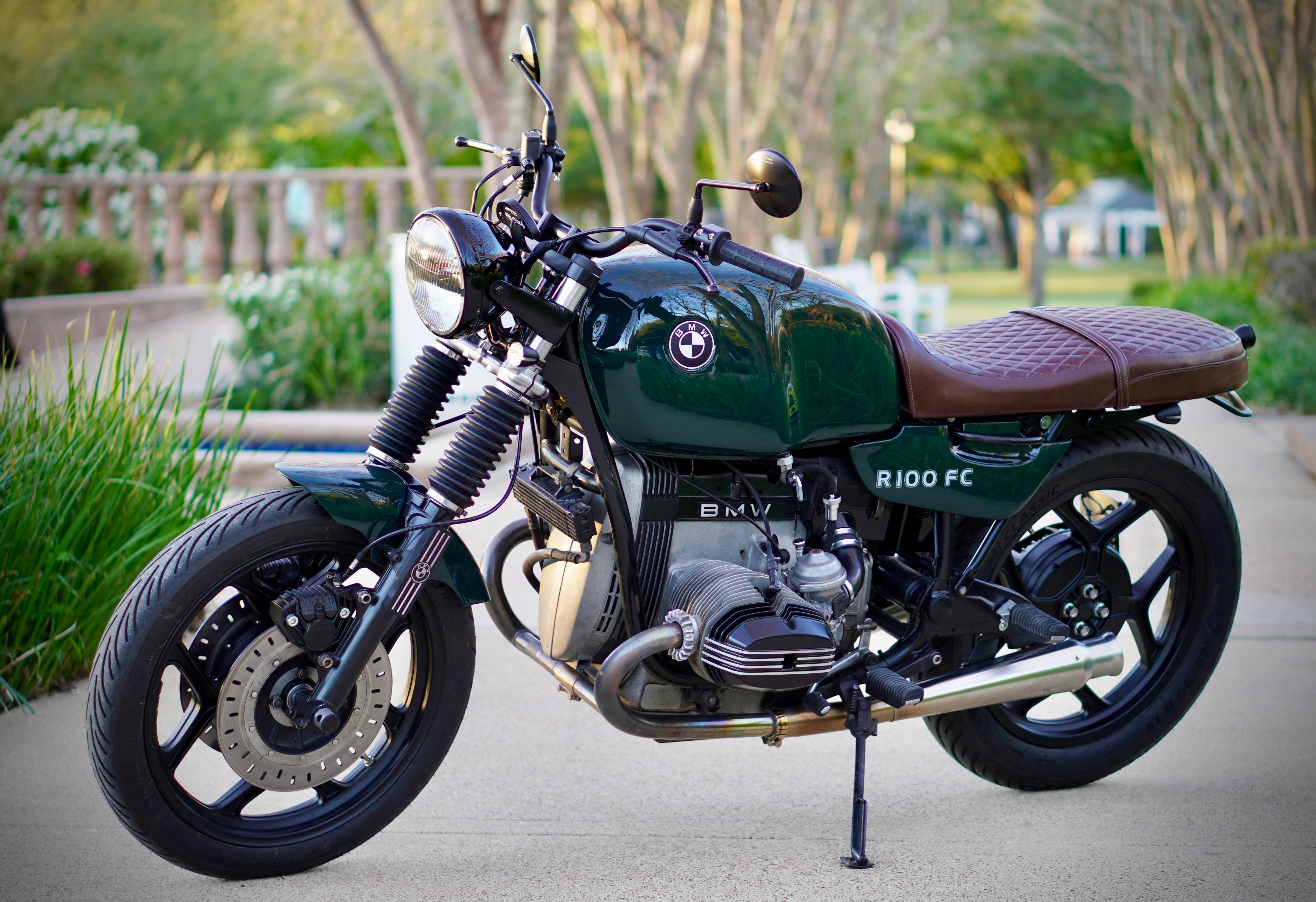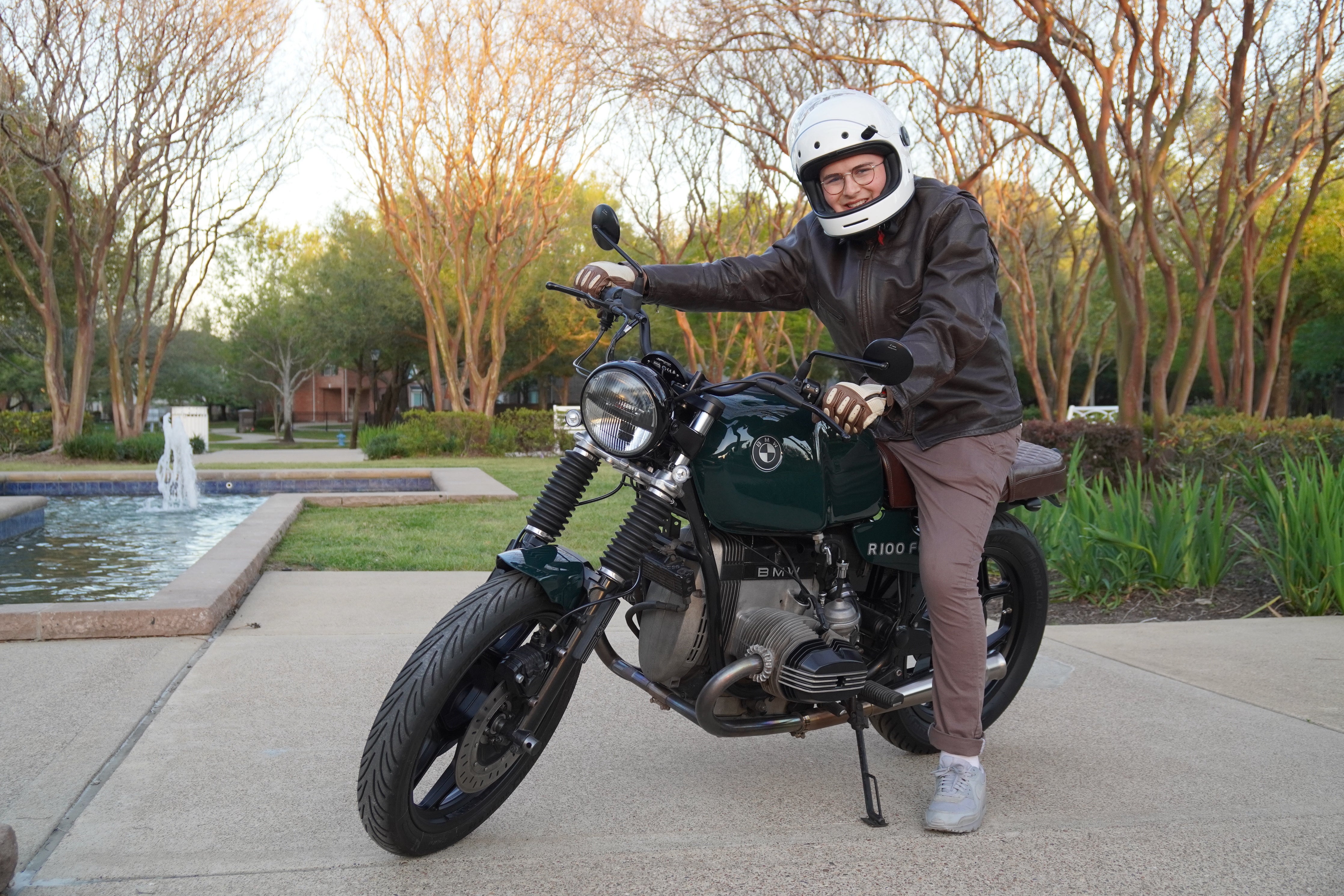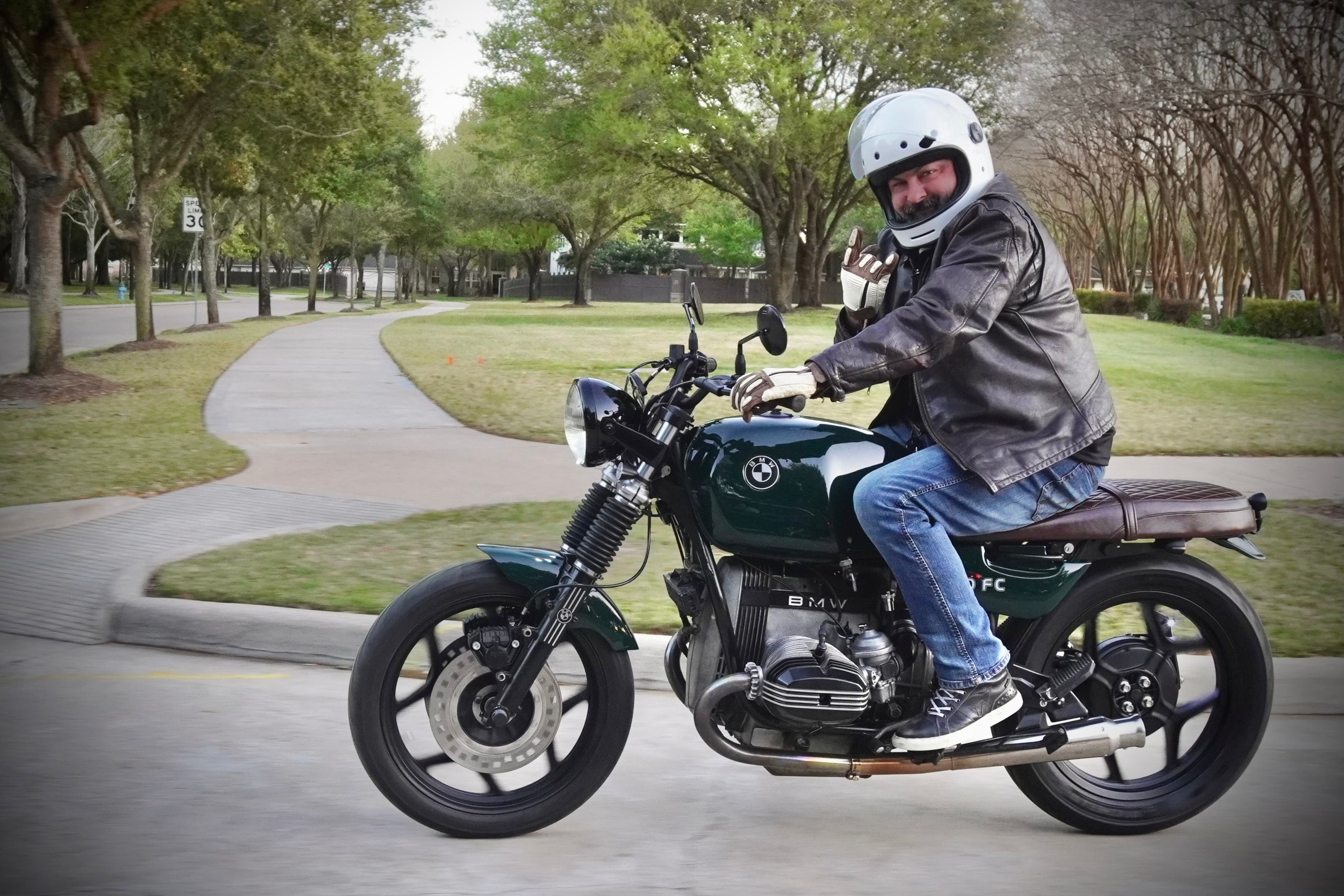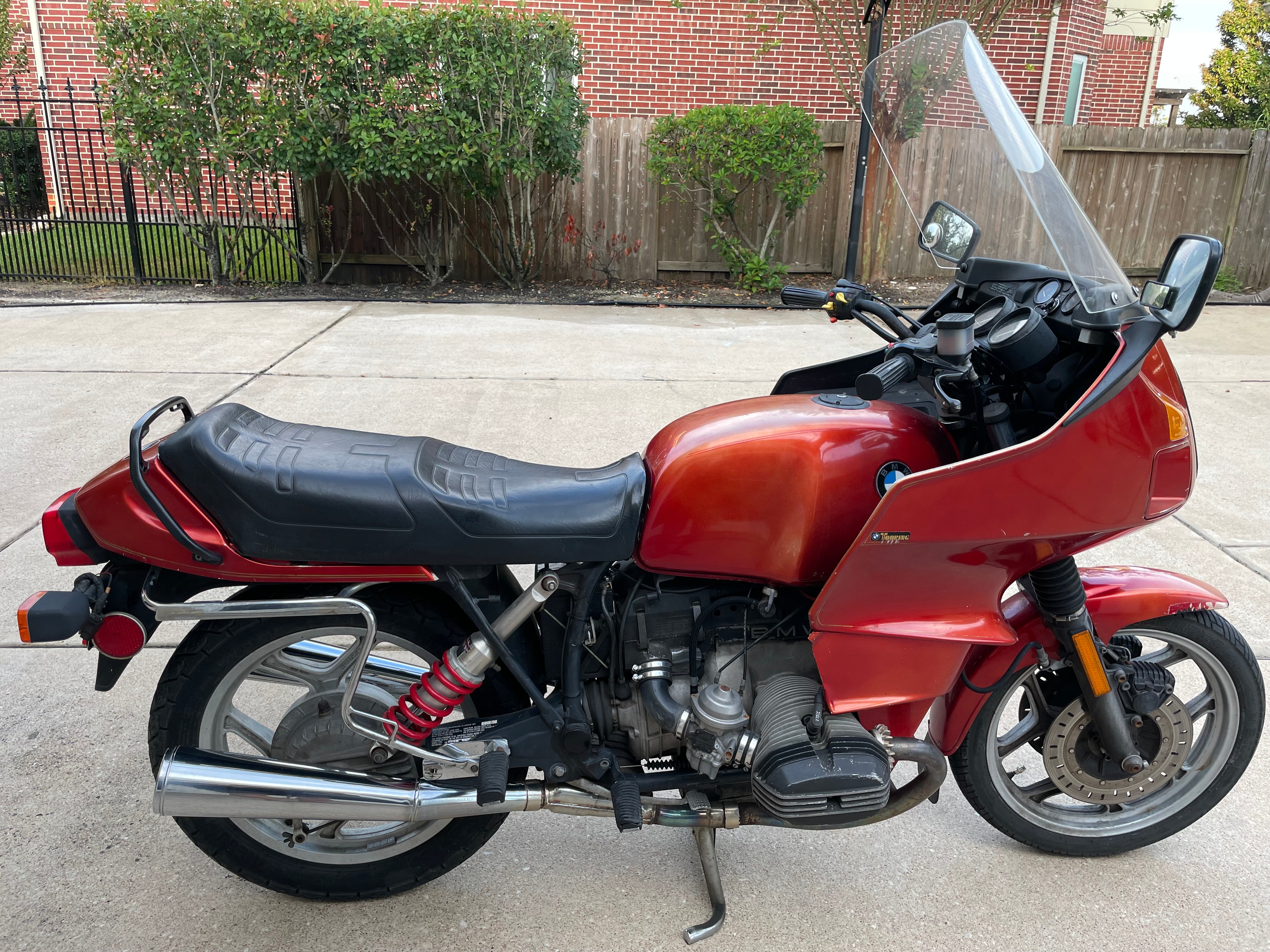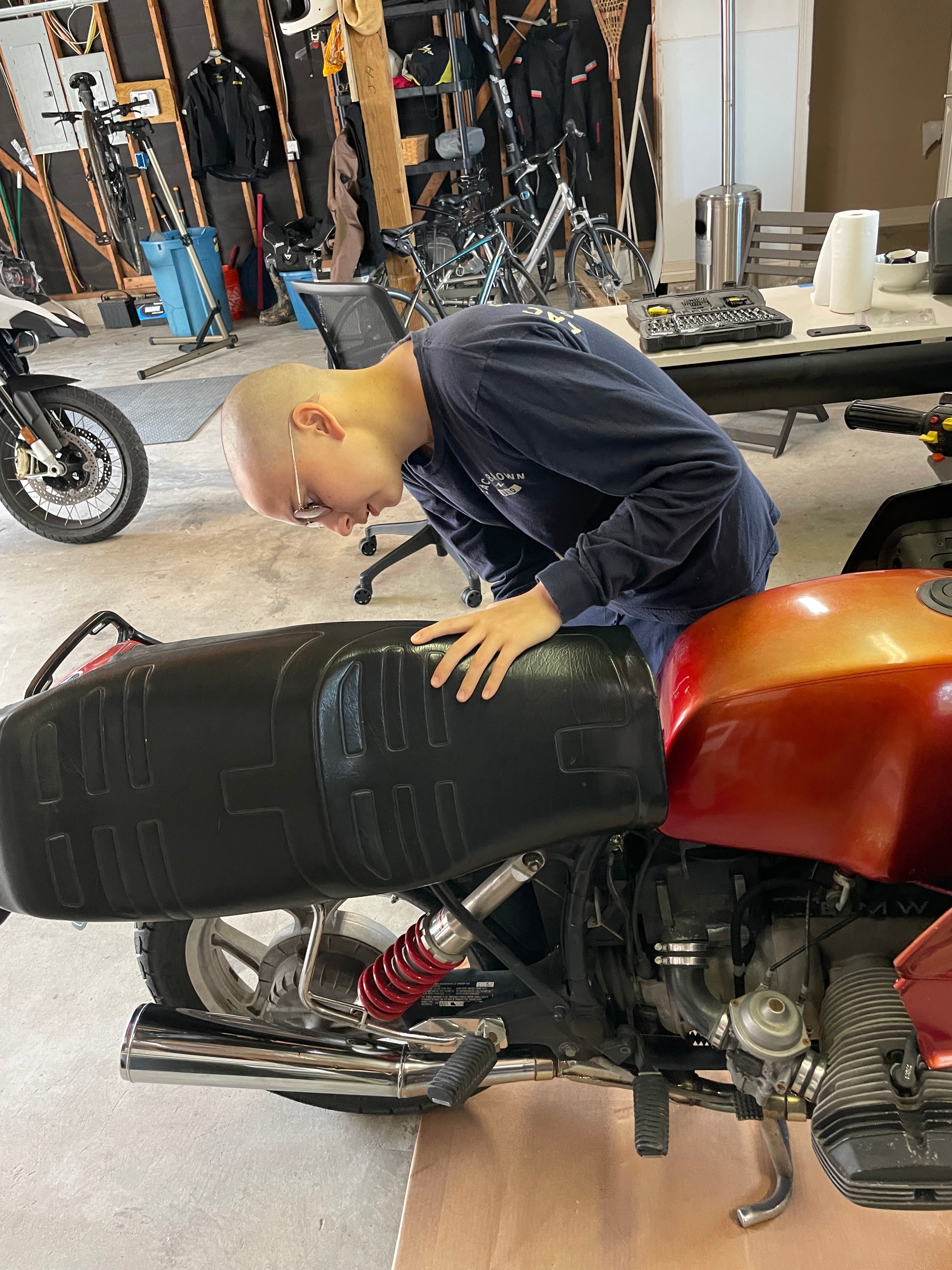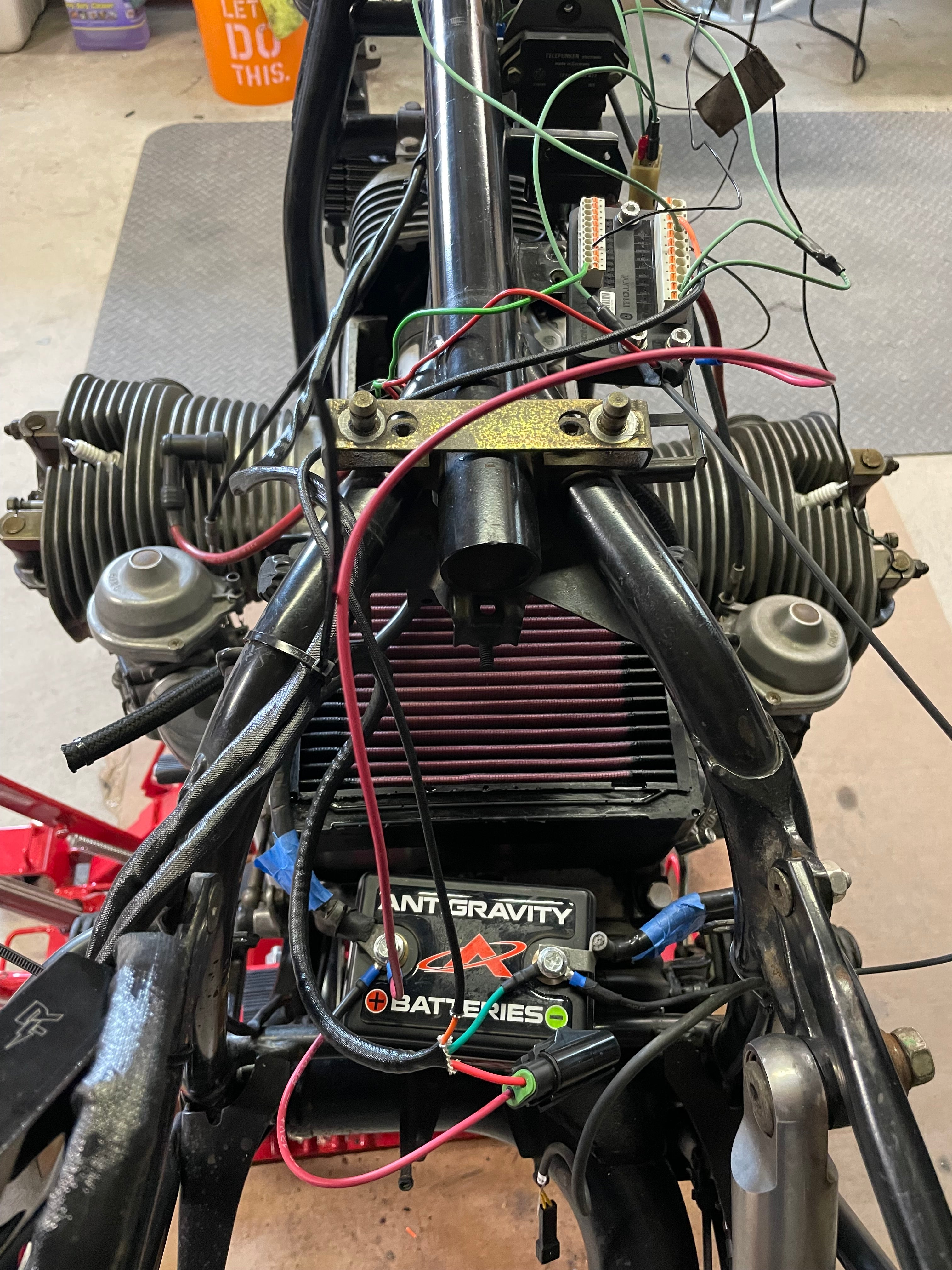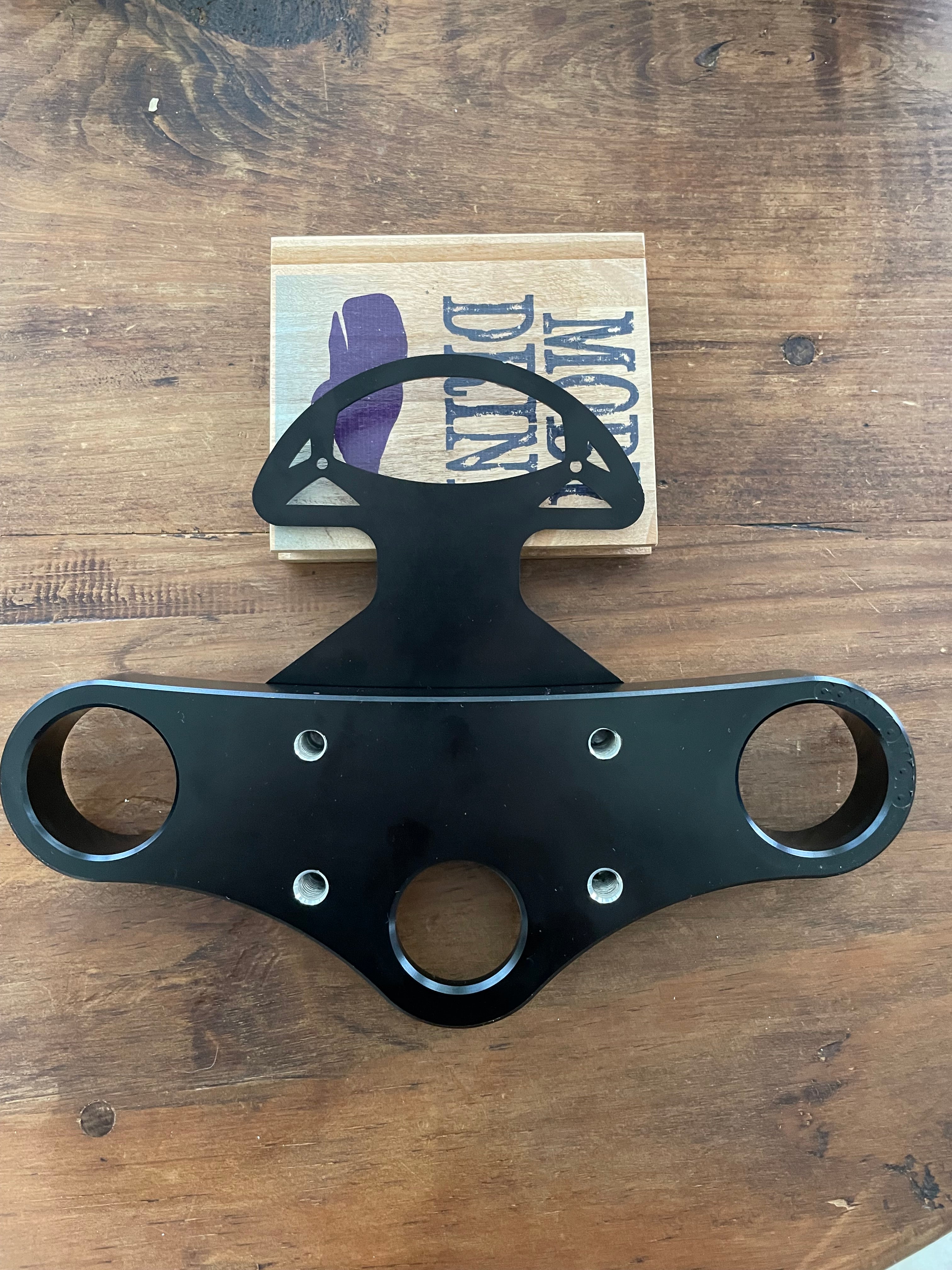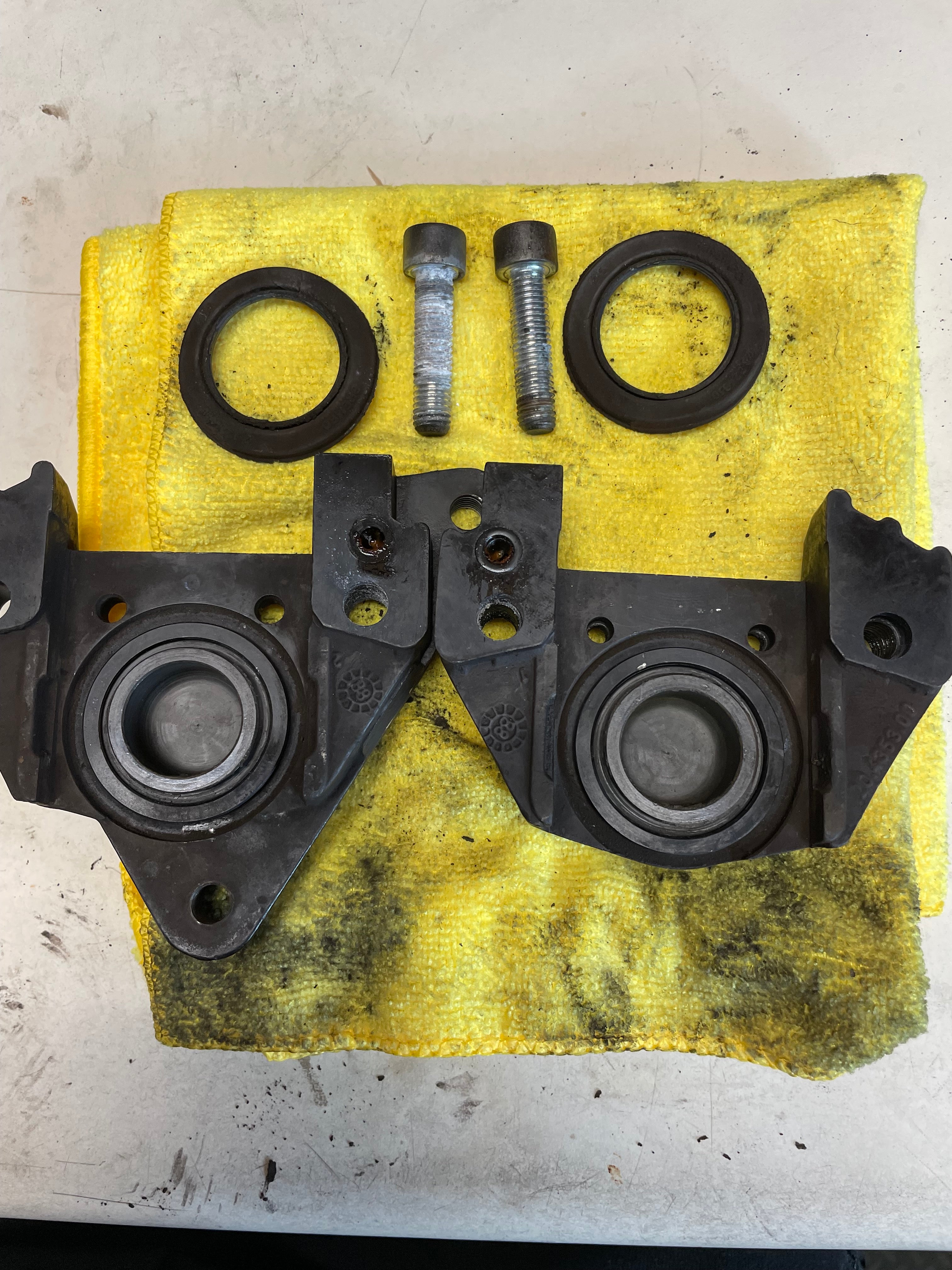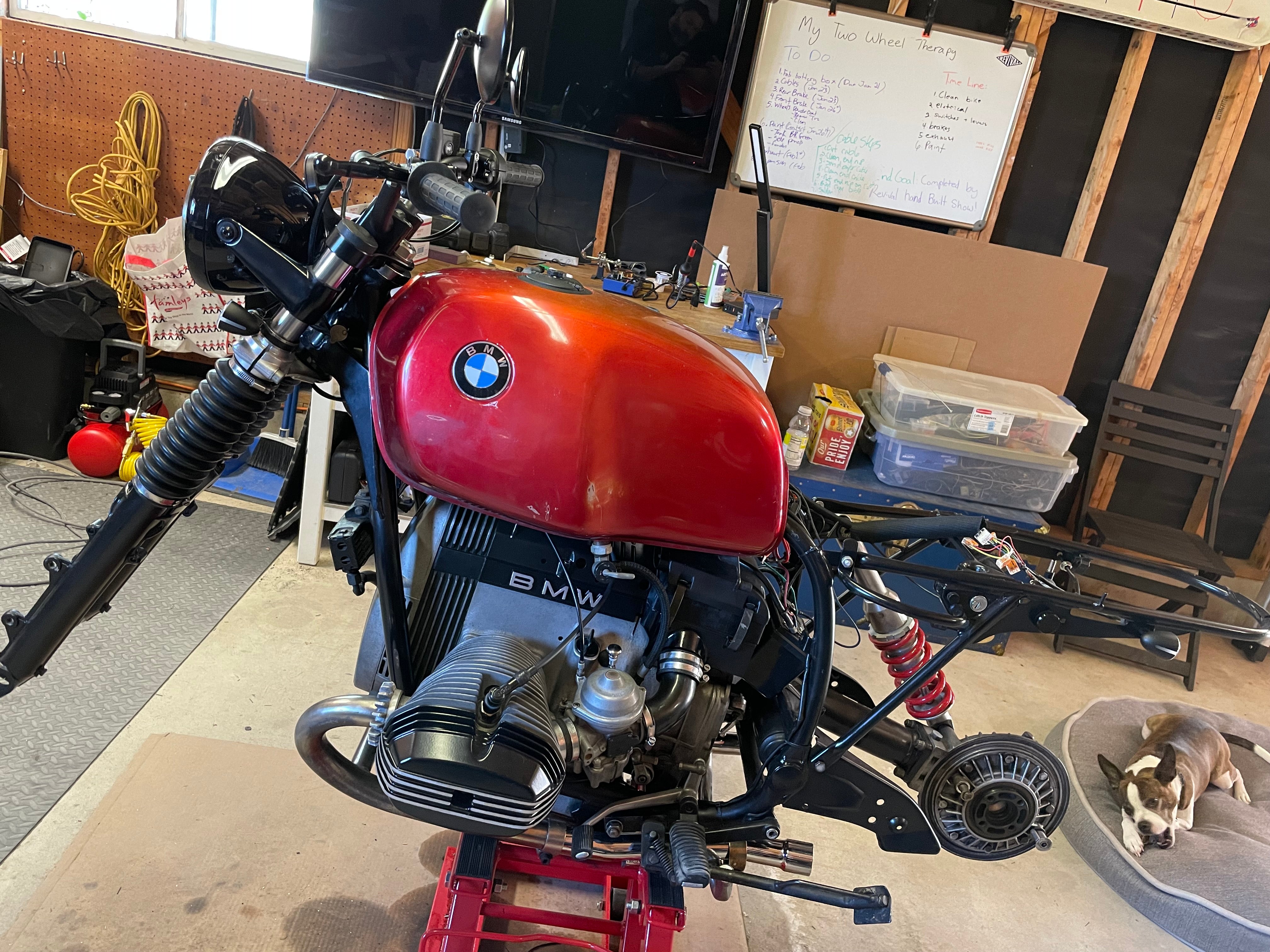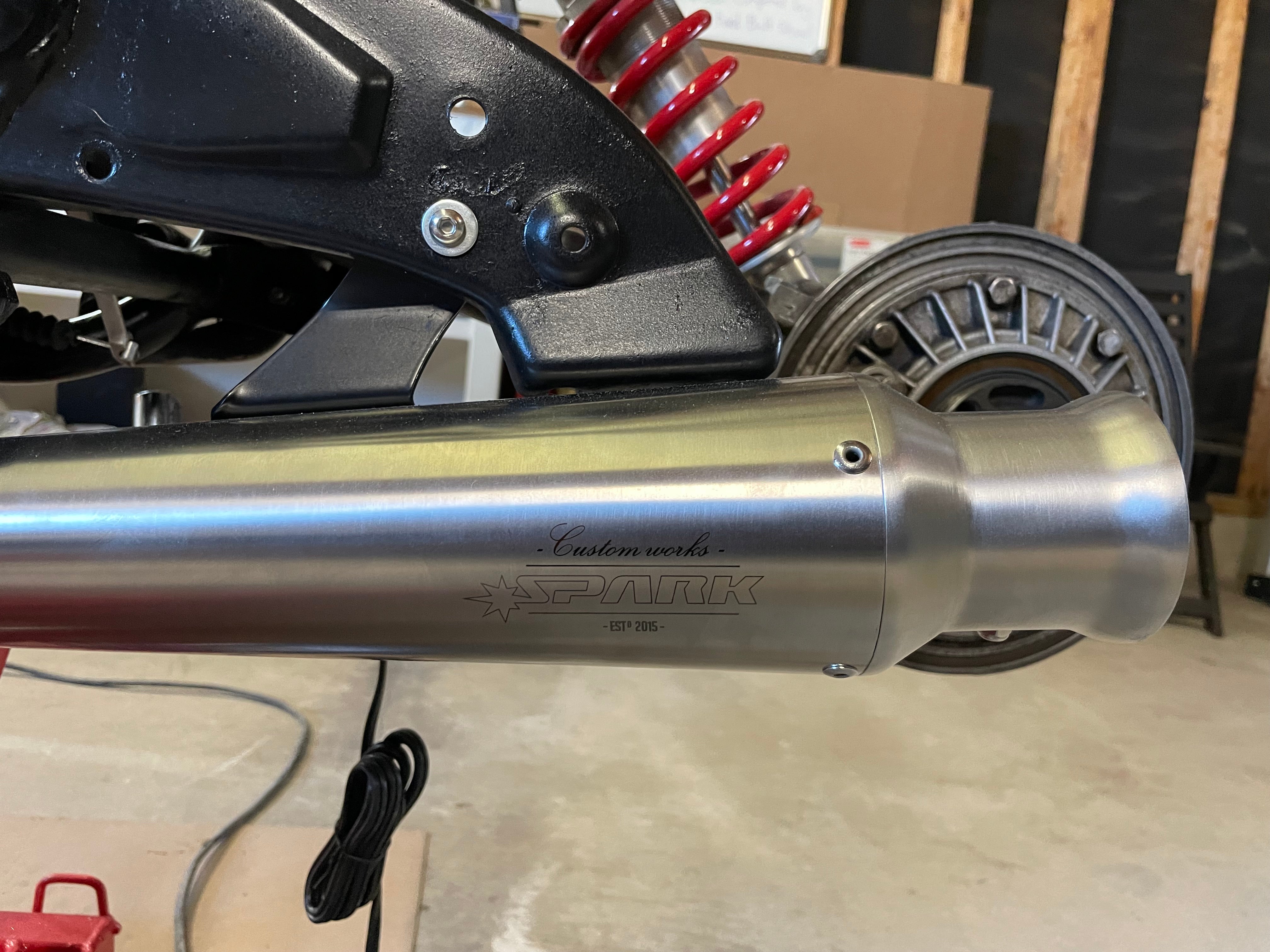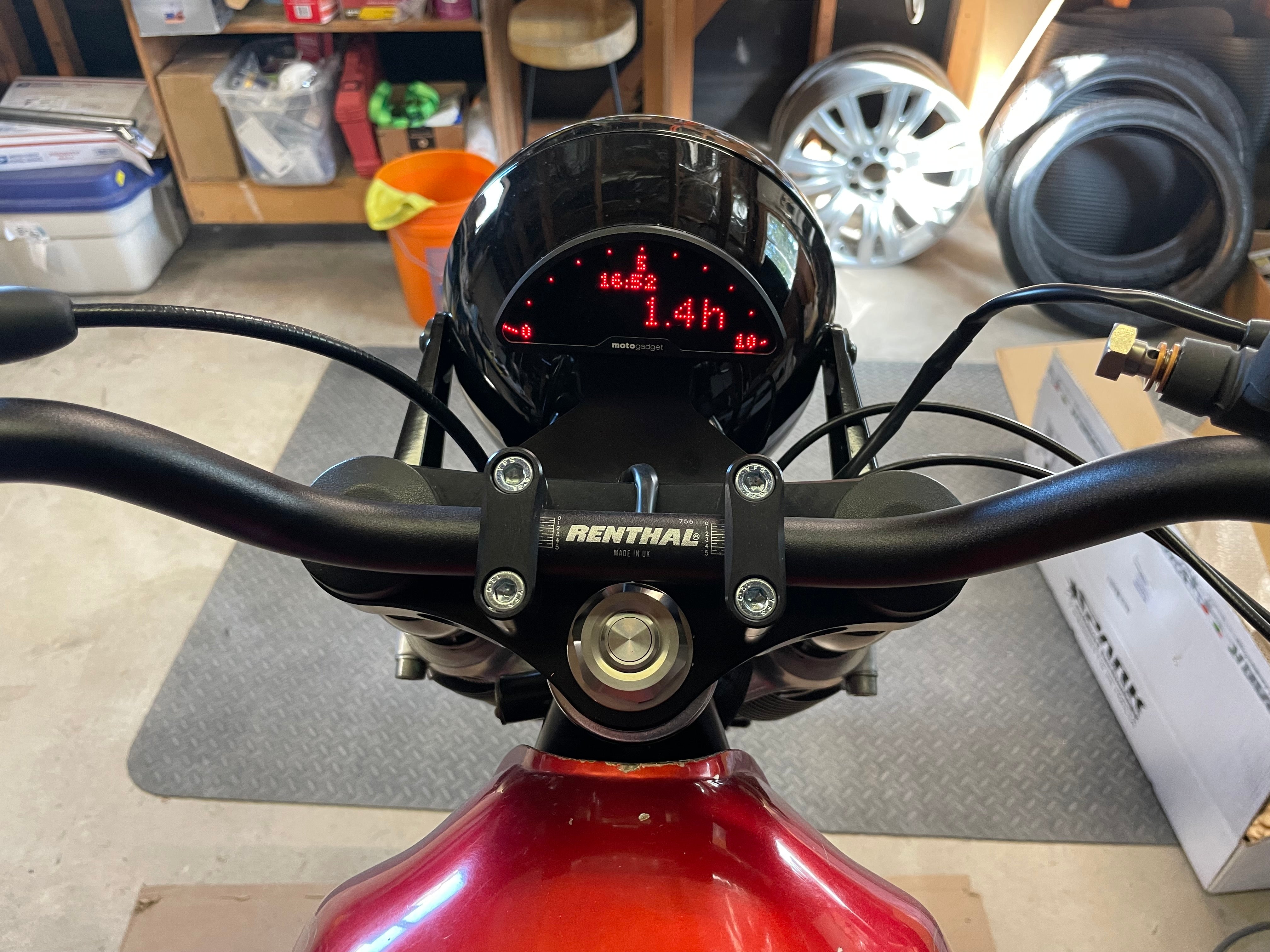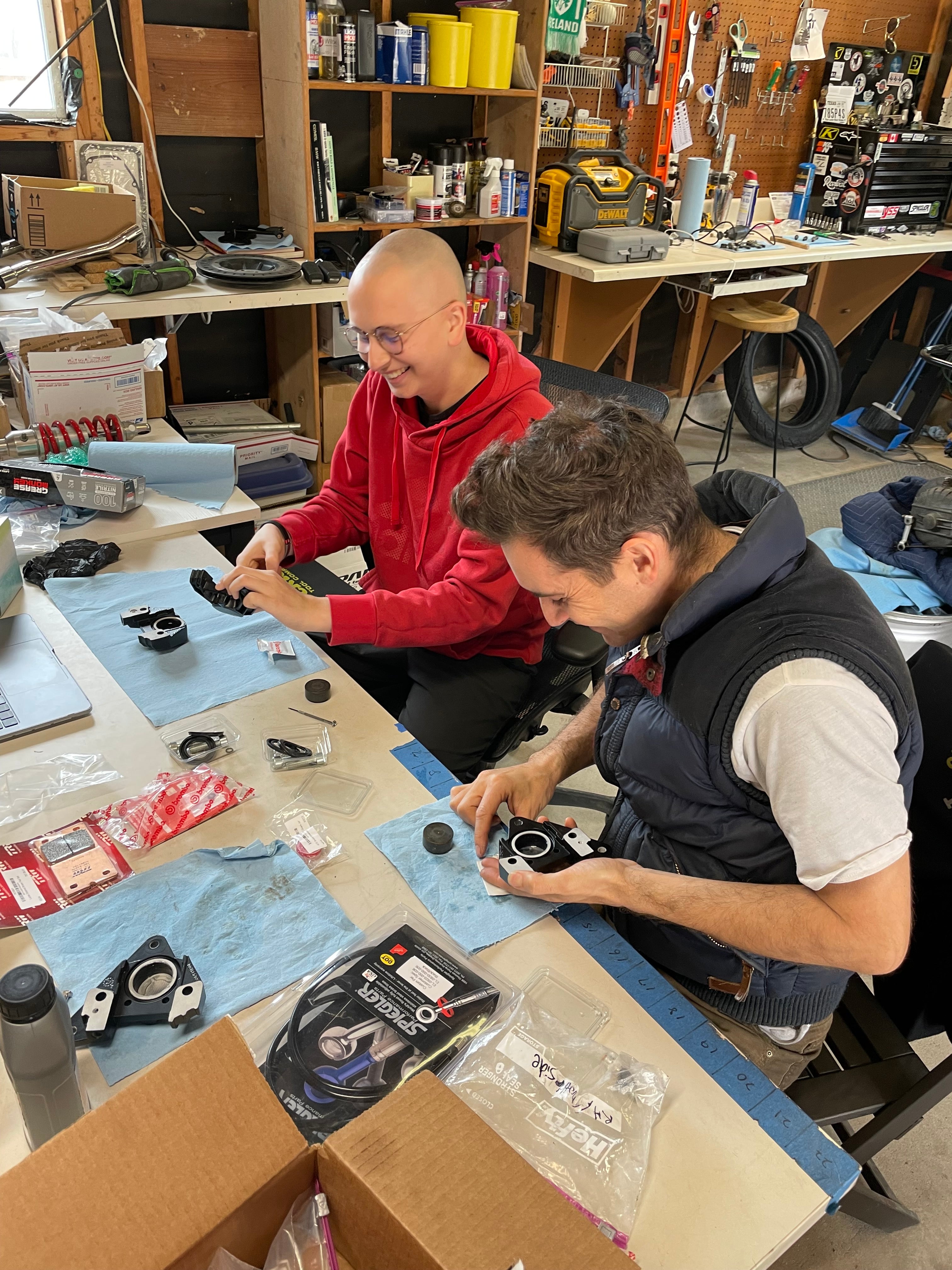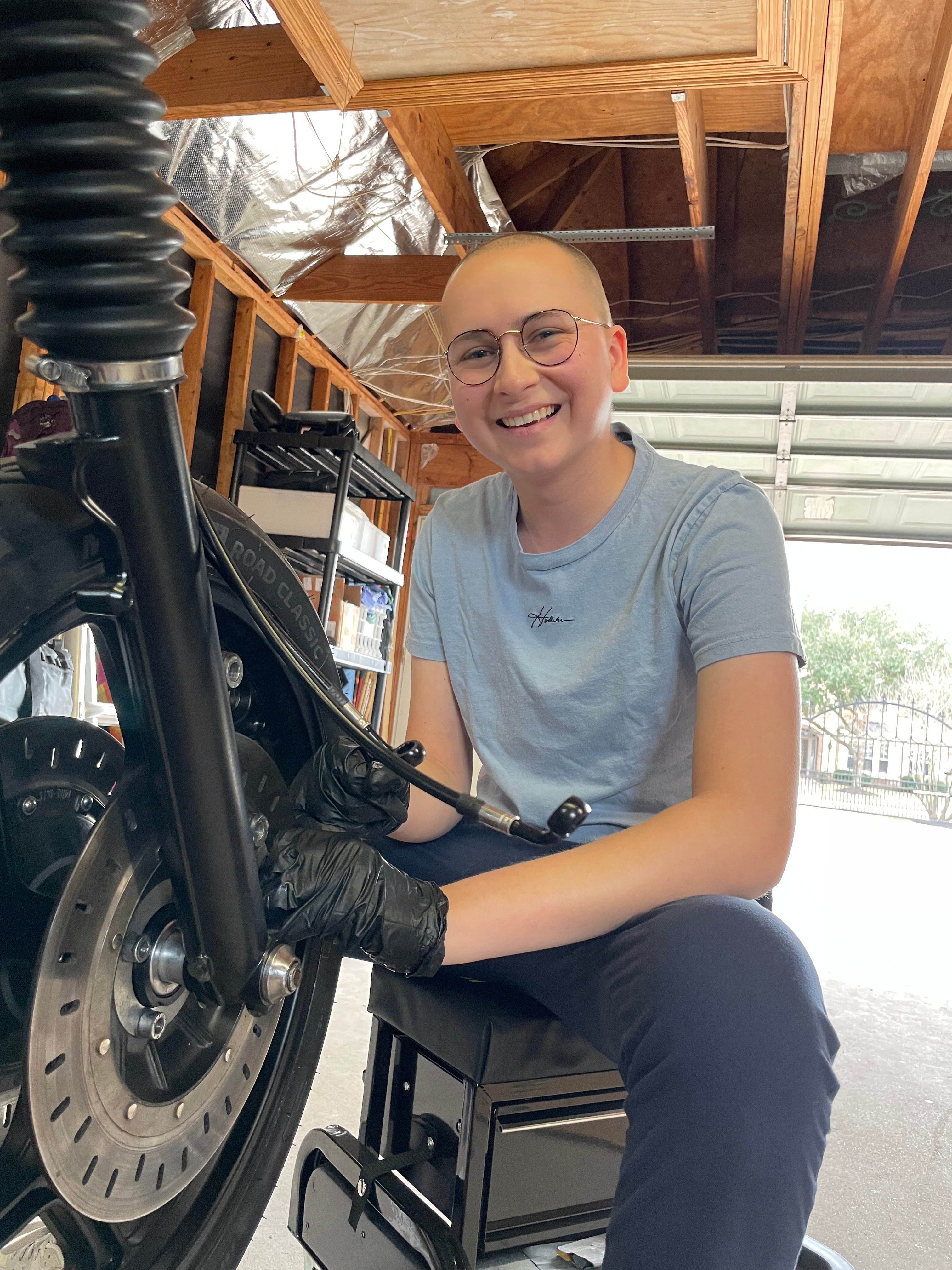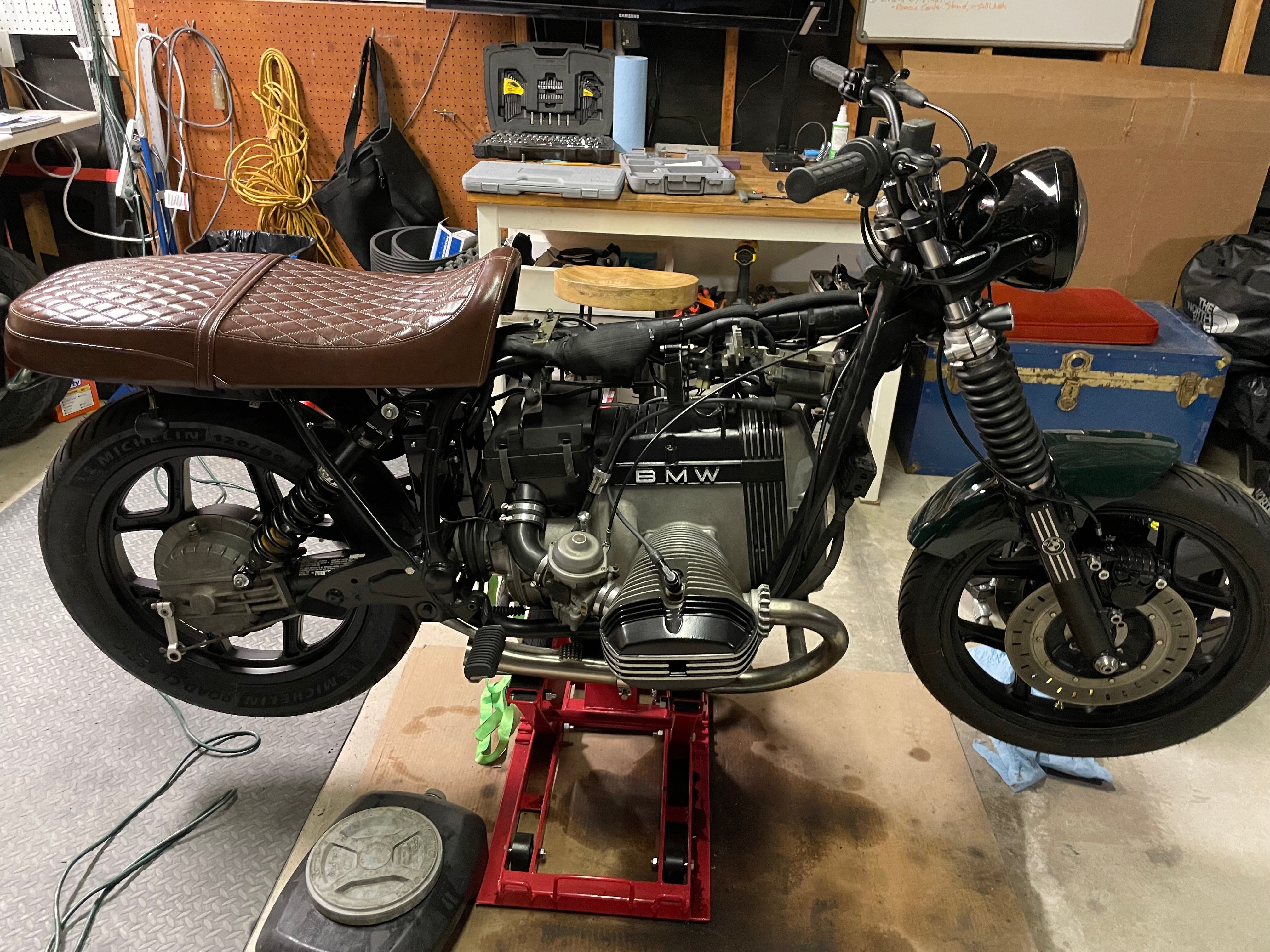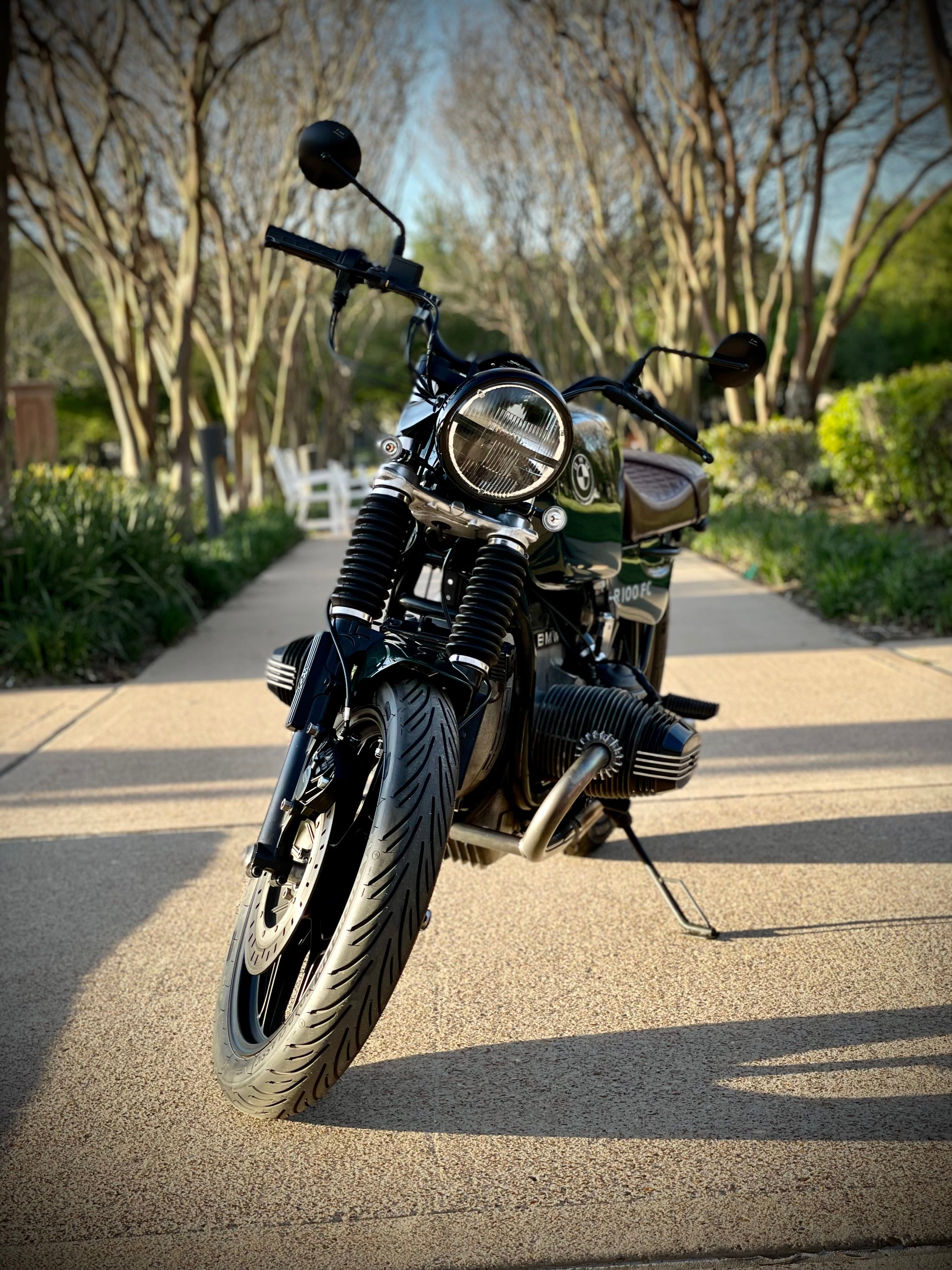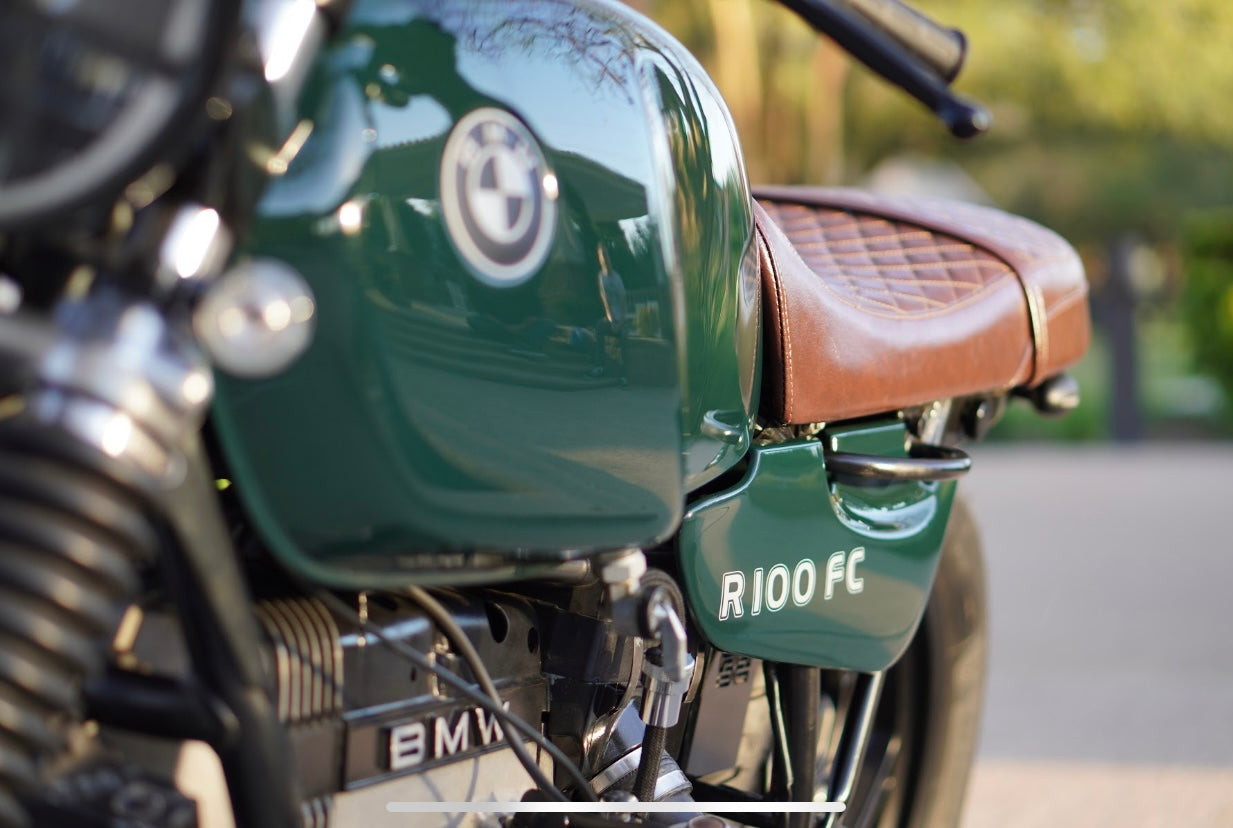 If you've found yourself on this website, reading this blog, you might agree with us that motorcycles are one of the best parts of life. And a motorcycle build, like life, has its ups and downs. 
 Chasing issues on your build can be frustrating, even if you've been in this business for a long time. But there's something gratifying about getting things working again. 
 This is a story of Riley and Bryan Dagg's build that got them through a challenging time in their lives. This is a story about the Dagg Family overcoming the obstacles life throws at you and coming out on top after beating a very real threat to Riley's life. We hope you enjoy their story as much as we did.
To the Daggs, from all of us at Revival, 
Fuck Cancer, Bikes Forever. 
 What was the donor bike, and what condition was it in, to begin with?
The bike was a full fairing touring 1989 R100RT. With 89,000 miles and it definitely looked like the mileage. Although it was "Well loved," we purchased it from a motorcycle mechanic who worked on it for the previous owner and had been using it as a run-around shop bike. Wiring was a bit suspect as the High beam light killed the engine and was worn down in places. The exhaust collector had rusted through, and one of the pipes was cracked. The engine sounded strong, frame and wheels had no issues, so it was a great base to start with as almost everything else would be reworked or replaced.
When did you start this build, and how long did it take you to complete it?
The bike was picked up on October 23rd, 2021, and we started that day. I mean, you can never say you've finished a project bike, but it was pretty well completed on March 25th, 2022.
What was the projected budget (if any), and what was the final cost of the build?
The project budget was $6,000-8,000. The final cost was closer to $14,000. The original estimate was on a smaller scope. Still, after researching what was available and what we could actually do, we decided to go all out and design and build our dream retro mod—a special nod to my amazing wife for her patience and support with the budget.
What inspired the build, and what were the design influences?
In September of 2021, my son, Riley, was diagnosed with Brain Cancer. Knowing this would be a difficult time and that he would not be able to do many things like school, get his license, be with friends, etc. I decided we should focus on what he could do. Providing him with something to be excited about, challenge, learn, and distract from the day-to-day. We both have a passion for motorcycles, so we decided to do a project build. We found the 89 R100RT, and the journey began. The goal was to always do something on the bike each day and keep the ball moving forward for our "Daily shop time." Some days he would be hands-on; others, he would join for just a hangout session. Takedown, research, design, planning, cleaning, cleaning, cleaning, trial, and error, seeking help, we've done it all. At the end of the day, Riley has had full and final design decisions. I may have turned a few more wrenches and soldered more wires, but this is his vision. The build process for us has been filled with a ton of learning, sore knuckles, challenges, and all-around good times during a crappy time.
 We set a date of April 9th and a goal to be able to ride it to the Revival cycles Handbuilt motorcycle show, and we made it! We parked it right near the entrance gate, and it was a crowd favorite! It took Riley 6 months to complete his treatment and our bike. He is doing really good with no signs of any tumors! 
 Design influences; I just love that boxer engine, and spending time at Wolfsmiths Heights in HTown was definitely an influence. Also a fan of the retro-style bikes, similar to the Triumph Bonneville. Our direction was to take this OG touring bike and turn it into a retro-modern bike that had both style and the ability not just to ride it to the coffee shop but ride it all day.
Please list the major modifications and fabrication completed.
We removed all fairings, fenders, pannier brackets, and the seat. We upgraded the bars with all new levers, MotoscopePro Speedo, and button/switches, including a secret MotoScope config button. Cognito Moto Tip tree. Fabricated our own clutch, brake, and throttle cables. We completely replaced all the wiring with a Motogadget M-Unit system. We installed all LED, a keyless ignition, and a Vintage LED headlamp, replaced the horn, and upgraded front and rear suspension. We updated the ignition module and coils. Rebuilt the dual front calipers and powder coated them, as well as the wheels. Custom BMW British Racing green paint on the tank and fenders. Custom BMW Tank and fork emblems. New battery box and lithium battery. The front fender was fabricated by Riley's grandfather (John Willemsen) by trimming down and shaping its original fender. The rear fender was sourced from Germany. The tail light bracket was made from recycling the original horn bracket.
Please describe the engine work completed.
Having been lucky to start with a very capable R100 RT working bike, very little was done to the engine. A whole lot of cleaning was necessary. Engine covers were vapor blasted and repainted. The airbox was cleaned and painted. We replaced the single choke adjuster with two individual chrome pulls. Adjusted the valves and rebuilt and re-jetted the carbs. All fluids were renewed.
Please list the additional components used.
Upgraded all electrics, custom made wiring harness, LED Rizoma lights, Motogadet M Unit, breakout box B, MLock, Motoscope Pro, Speedo sensor, Rick's regulator/rectifier, battery box from Beemer Brothers, Renthal Handlebar, clutch brake levers, throttle cables, Motone switches, Rizoma One mirrors, Cognito triple tree, Motoscope bracket, Spark trumpet exhaust, License plate bracket from Walzwerk, Headlight bucket and Revival Vintage LED, Upgraded suspension with Hagon progressive fork springs and YSS rear shock. The fuel tank was cleaned, and new petcocks, fuel filters, and lines were added.
Did you farm out any of the work to third parties?
We were very fortunate to have our friends at Wolfsmiths Heights, Luis, and Eduardo, help us out with the vapor blasting and painting of the valve covers and Motoscope mount bracket - as well as tons of advice and support. Lucas Calcena did the wicked paintwork from Calcena Bodyshop in Houston. We contacted a few painters and chose Lucas as he was so excited and passionate about helping out with the project. He nailed Riley's color choice and brought his design to life. Wheels and calipers were powder coated by We Koat It. They suggested the satin finish, which was perfect for the bike. I couldn't have done it without my riding buddy, teacher, and master hobby mechanic, Dan Lifton. Always on hand to dive in and share knowledge and muscle to help keep the project moving forward.
What were the low points of the build?
A week before our deadline for riding it to the Handbuilt Show, the bike died, and she left me stranded at a Shell station. I walked through all the troubleshooting I could at the time, then called for a lift. All the time I was sitting there, people would walk by and admire the bike, and I just felt like I was that guy that built the nice custom that doesn't work. Lift never came, and I pushed her home about 2 miles. We spent hours pulling carbs, looking for leaks, checking electrics, compression, tuning, and no luck. I did manage to find a few things along the way to fix, which was good. With some help from the Wolfsmiths crew, we identified the ignition module as the culprit. Although it was one of my low points, I think it was the best way to learn.
What were the high points of the build?
Firing it up for the first time was one of the greatest high points. It was still missing quite a few things, but hearing that thump of that boxer engine still purr after all those years and all the months of work we put into the bike put a smile on my face. Seeing it all together with its new paint was a big moment for me. When we popped those side panels on with the tank and fenders, it really felt like a completed bike (well, at least it looked like it!). It was a moment where we both could see our vision right there in physical form. To our surprise, it looked exactly, if not better, than what I expected. Getting the bike back on the road for the first time in months was a definite high point. To have our project of 6 months off the stand and on pavement felt unreal. Granted, the bike still had a ways to go in road testing, tweaking, and fixing, but it was a major milestone for us. -Riley 
For me, the high points were more around the process and progress of both Riley and the bike. Seeing him heal, grow and learn as the bike progressed has been unreal. When we finally came up with the bike name, the expression on Rileys' face was priceless. It's exactly what this build has been about. Cancer sucks, but we're going to fight it and build a killer bike in the process! Changing the bike from an R100RT to the R100FC Fuck Cancer. - Bryan
Now the build is finished, did it turn out as you planned?
We couldn't be any happier. I know it sounds cliche, but the build was more than the bike. The R100FC was a way for us to work through all the crazy obstacles that had been thrown our way. It was a goal with measurable progress that helped us stay motivated, and, at least for me, it helped me feel like I wasn't wasting time. I was building a wicked ride with my best friend, my dad. -Riley
Are you planning any future builds?
We have gone in a bit of a different direction and just picked up a 1978 Honda Trail 90. We are looking to do more of a restore with a few upgrades, of course.
Are you keeping the bike, or is it for sale?
This bike has special meaning to us and will stay with the family.
Be sure to follow Bryan and Riley for updates and new projects!