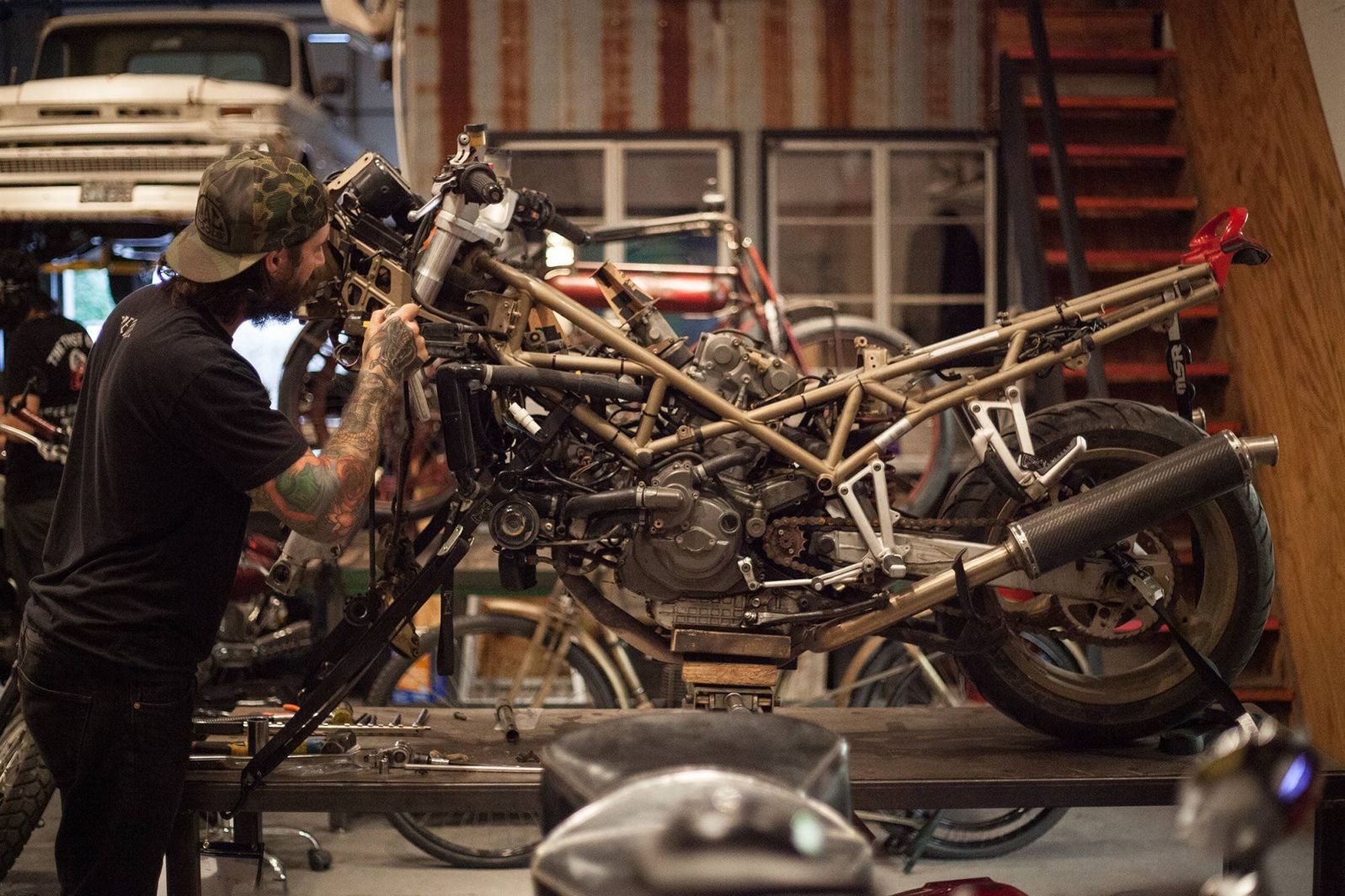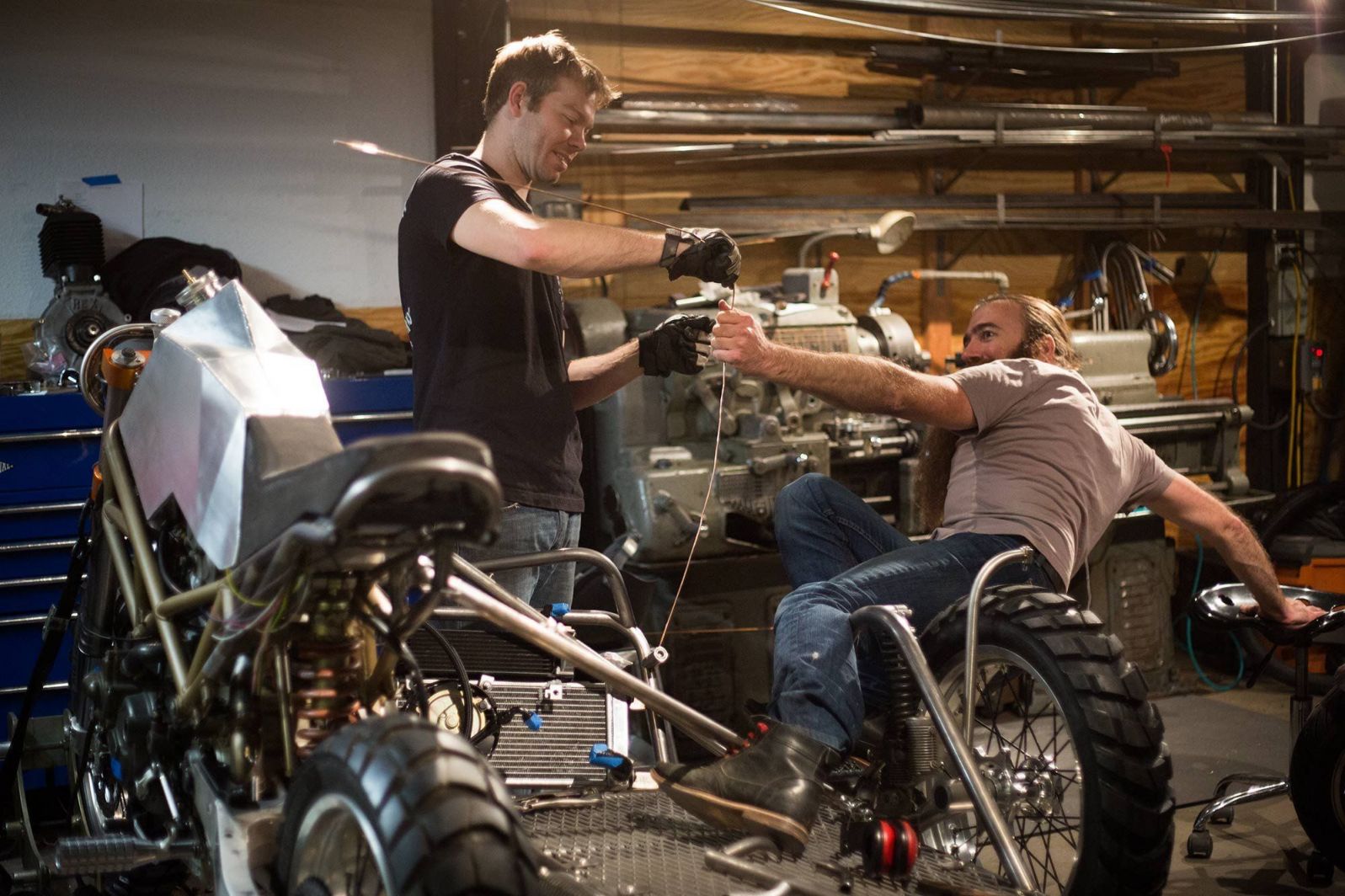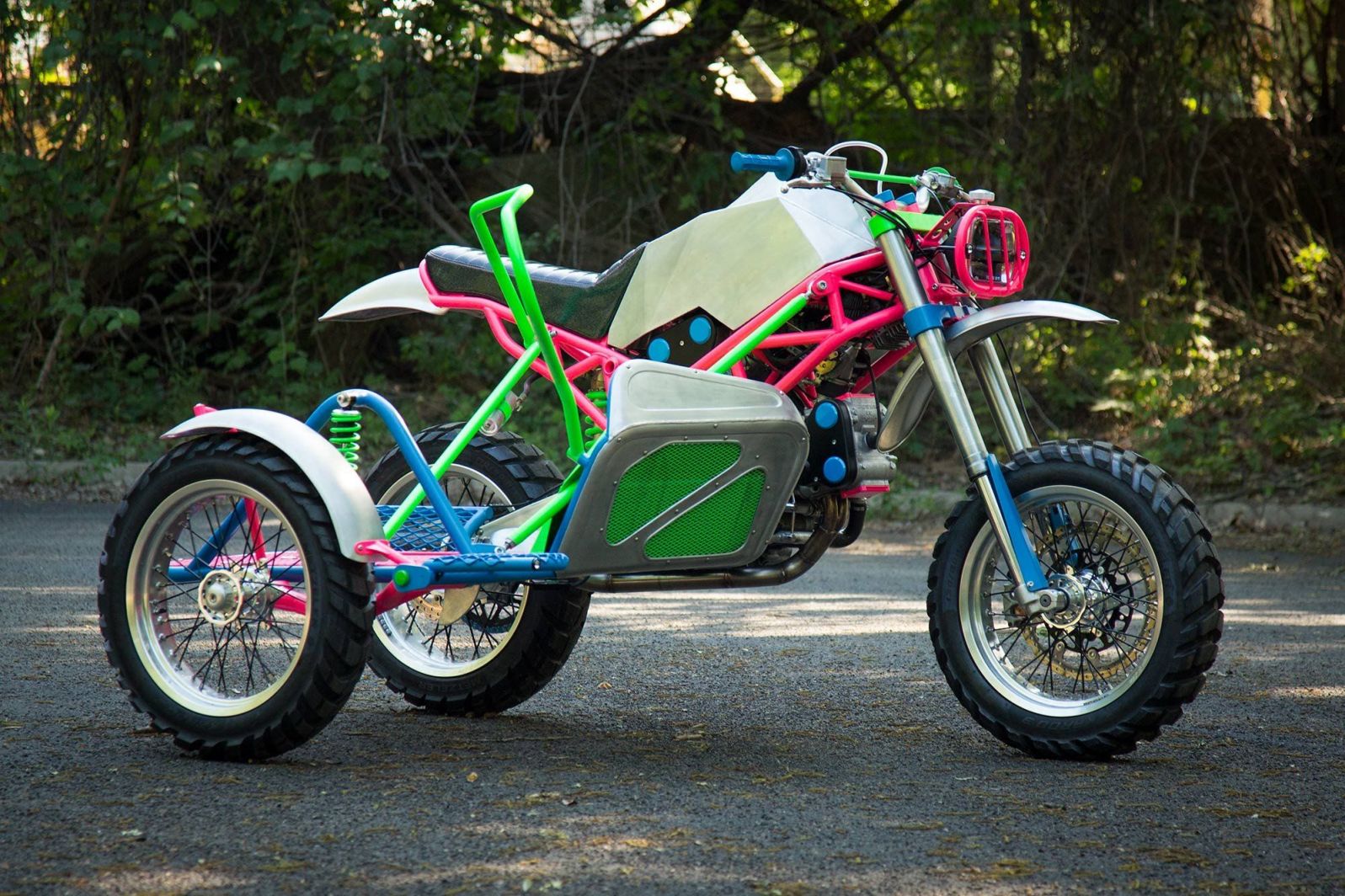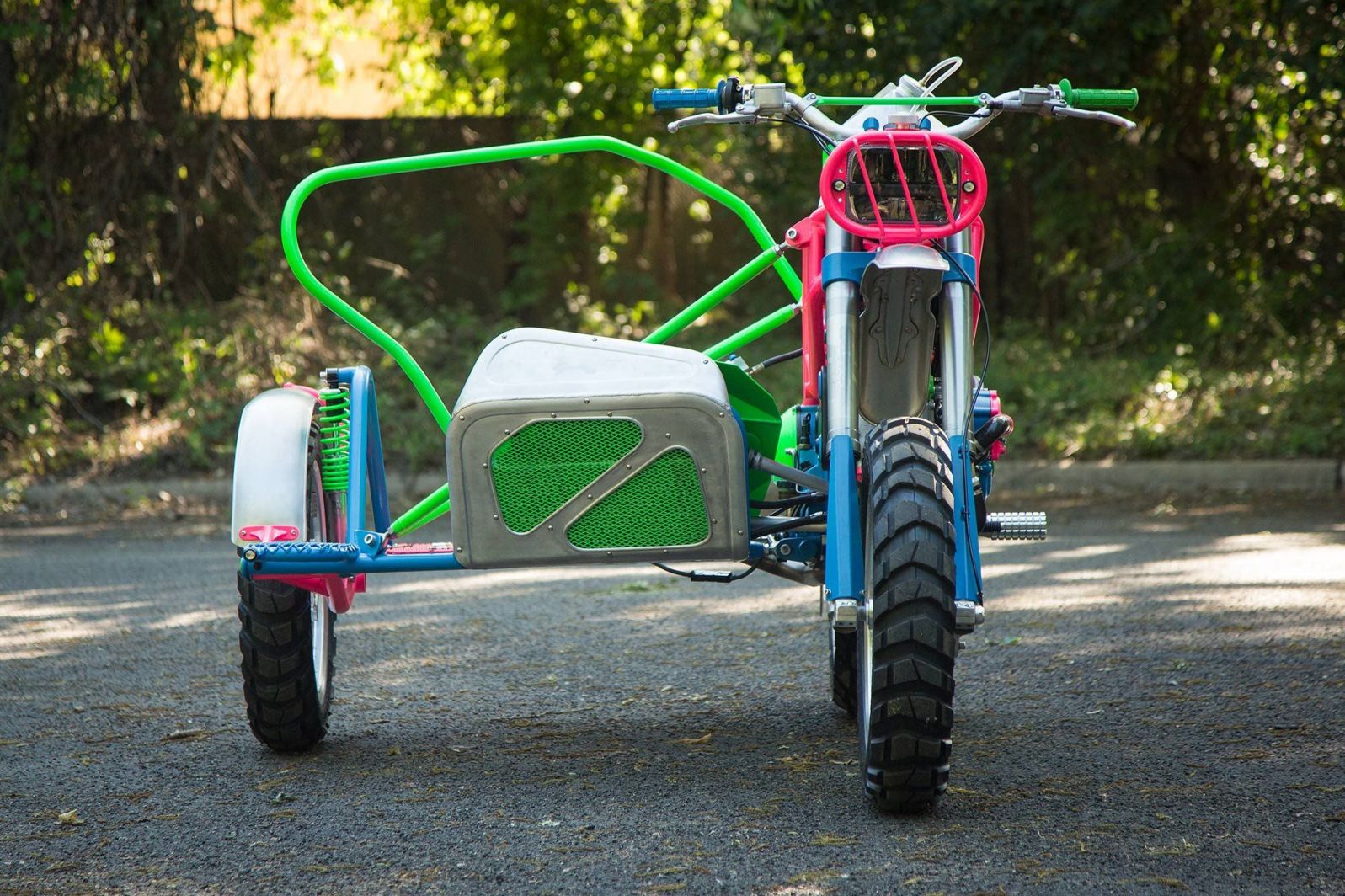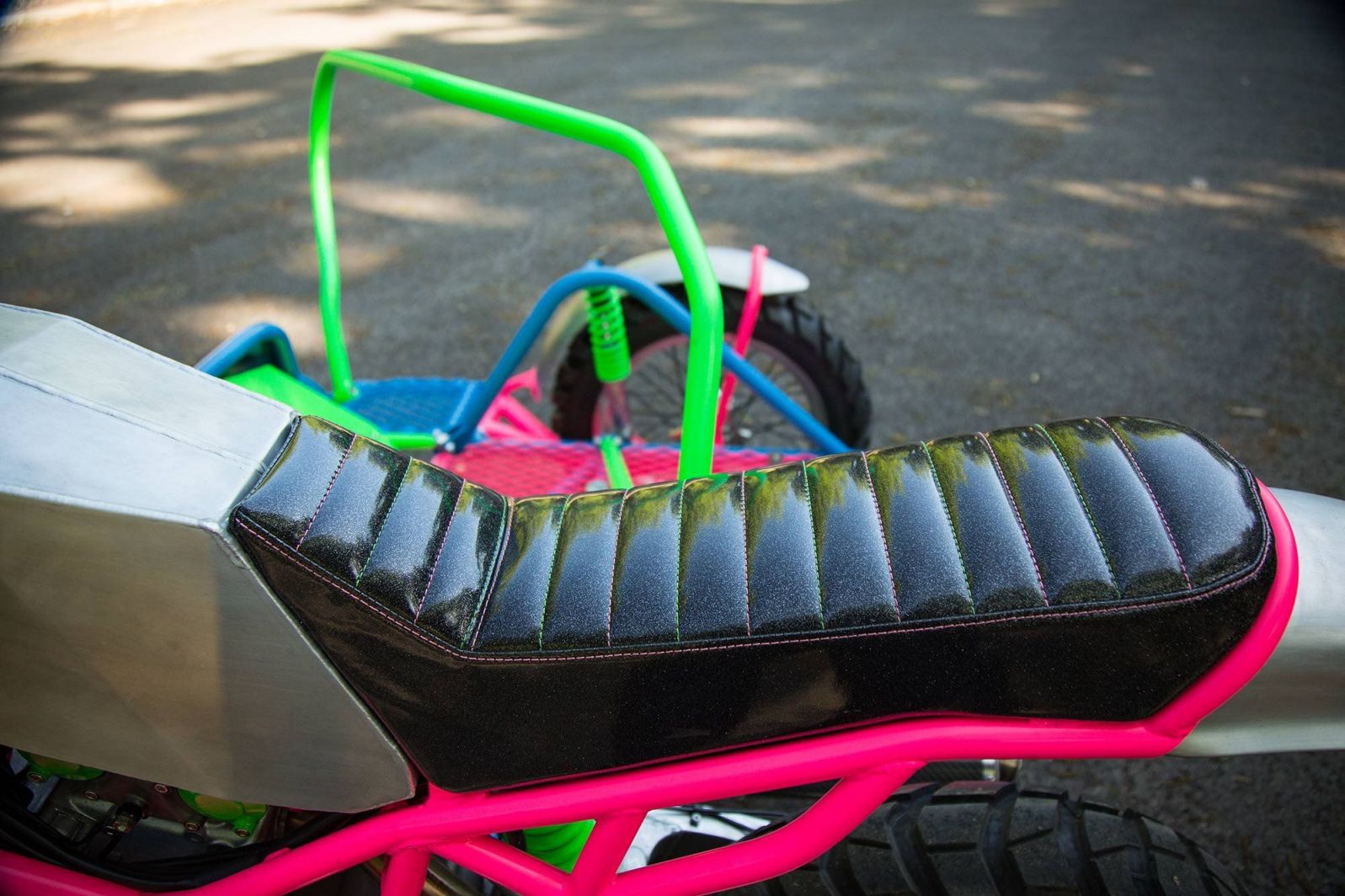 Our latest creation is a bike we're calling Revival's "Ducati Odioso", (Odioso is Italian for "Obnoxious"). Typically, we prefer to build technically proficient, yet subtle machines with an understated elegance. This time....we chose to go a completely different direction. The technical audacity and whimsical nature of our plan is written all over the damn thing. In many parts of the world the most audacious form of motorcycle racing is known as....Sidecar-cross. The name gives it away, it's a sidecar-based motorcycle combined with motocross. Sidecar-cross is a sanctioned motorcycle racing series based in Europe and is popular in Australia and New Zealand, but is an almost unheard of secret in the US. Like many of our ideas, this idea percolated years ago around the team. This time Andy James, our head fabricator and Stefan Hertel had been out for a night of drinking and realized that we should some day build a Sidecar-cross bike out of something totally inappropriate to show our friends in the US just what it's all about. So....we figured building one that wasn't just your standard euro sidecarcross machine was a good idea. We knew it needed to be crazy powerful and certainly based on a unique platform.
Rebel Yell contacted us last year and asked us if we'd be interested in building another custom machine for them to give away in their Rebel's Uncaged contest and immediately the ideas started to flow. The best part of the the Rebel Yell build is that they give us total creative freedom to build whatever bike we wanted. We debated and ultimately decided on a Sidecar-cross bike first and then took a stroll through the shop considering all of the bikes we had sorta laying around. The choice was a Triumph Bonneville, a MV Agusta Brutale, a Moto Guzzi Centauro and a 1999 Ducati ST4. With many factors to consider, we knew NONE of them were actually appropriate for the task. Of the unwanted children in the shop.....The Ducati stood out as the best choice for our purposes. The Ducati Odioso has now become, to our knowledge, the world's first Ducati Sidecar-cross bike ever.
As some may know, the factory Ducati ST4 used the legendary 4-valve DOHC liquid-cooled 996cc V-twin. With a fat amount of torque on-tap In its stock form, the ST4 was capable of running near 10 second 1⁄4 mile times and thus power is NOT an issue for this little dirtbike. The power curve of what is on tap is in the perfect spot in the midrange. After stripping the bike down to the frame and engine, team Revival went to work mocking up a full custom sidecar with chrome-moly tubing and a healthy dose of monkey bars to give the sidecar rider, "the monkey", plenty of handles and grip to hold onto. We equipped the sidecar with its own long-travel swingarm and moved the radiator, oil-cooler and Lithium-ion battery setup out to the sidecar as well.
Moving all the ancillaires helped make room for the long-travel KTM forks that we beefed up and rebuilt and then installed giving the bike off road strength and the ability to take jumps with ease. The rear suspension boasts a Ducati Monster alloy swing arm and a fully custom built Ohlins spring and damping setup.
The fuel tank and sidecar fender are totally custom fabricated from lightweight alloy and the wheels are custom built spoked assemblies spec'd for off road strength. After completely rewiring the entire bike with a Motogadget M-unit and upgrading the fuel, braking, and suspension systems, the final bike weighed in at just 380 pounds, without the sidecar. The factory ST4 weighed over 521 pounds, so shaving over 140 pounds off the factory bike comes in handy when you're landing a 10 foot jump.
Then there's the color choice....when it came down to it we realized that the colors had to speak to the fun that this bike was likely to unleash. It's easy to see that 80's came into play and inspired the color scheme.
MOTORCYCLE BUILD SPECIFICATIONS
Specs:
1999 Ducati ST4 Sidecarcross
386 pound main bike, 480 pounds w/sidecar
Custom alloy spoked wheels
Full chromoly custom sidecar with long-travel suspension
KTM front WP dirt bike suspension
Full custom alloy fuel tank
Fully powder-coated neon frame
Reworked Honda SL350 fenders
Scratch-built seat made in-house
All LED lighting
Ohlins rear and sidecar off road suspension
Brembo brakes and clutch master
Starting Platform:
Manufacturer: Ducati
Year: 1999
Model: ST4
Weight (wet): 521 lbs
Revival Cycles Website Parts:
- MotoGadget M-unit - Anti-Gravity 4 cell battery (x3) - LED SuperNova brake and turn signals - Brake lines and banjo fittings - Revival Cycles Deluxe Wiring Kit - Revival Starter Relay Solenoid - Domino Mostro single pull throttle
Revival Designed Parts:
Long travel suspension side-car subframe
Fuel tank
Custom battery mount
Fork guards
Sprocket cover
CNC machined foot pegs
Bodywork: Hand formed aluminum fuel tank, sidecar fender, fork guards, radiator panel, and seat pan. Custom fabricated headlight surround, fender mounts. Reworked Honda SL350 fenders
Suspension: Front: WP 48MM forks; rebound and compression adjustable for low and high speed damping (KTM 525 SX forks)
Rear : Custom Ohlins coil-over-shock; rebound and compression adjustable for low and high speed actuation
Wheels/Tires: Warp 9 spoke wheels / Metzler Karoo 3 Front/Sidecar: Aluminum 17" x 3.5" / 130/80/17 Rear: Aluminum 17"x 5" / 170/60/17
Electrical: MotoGadget M-unit
Lighting:  LED rectangular headlight, LED SuperNova tail lights / brake light / turn signals
Powertrain:
Ducati Desmoquattro 916cc water cooled, 90* V-twin engine
94 x 66mm bore/stroke
66 ft/lbs Torque @ 7500 rpm
120 Horsepower @ 9000 rpm
K&N air filters and engine breather
Exhaust: Revival Cycles fabricated stainless steel 2 into 1 exhaust with a Termignoni
muffler
Transmission: Dry multi-plate clutch, 6 speed transmission
Oversized Aluminum radiator, sidecar mounted
Hand formed aluminum coolant hard lines
Engine oil cooler, sidecar mounted
AN fittings and braided oil line hoses
Wet Weight: Before: 521 lbs After: 480 lbs (w/sidecar included)
Misc:
Driveline: 525 chain, 19 front sprocket, 53 rear sprocket
Handlebars: Renthal Twinwall
Seating: Custom metallic grey vinyl seating w/ green/pink thread
Throttle: Domino Mostro single pull
Front Brake Master: Brembo
Clutch Master: Brembo
Front Brakes: 2 Piston Brembo caliper, full floating 320mm rotor
Rear Brakes: Single Piston Brembo caliper, fixed 220mm rotor
Instrumentation: MotoGadget MotoScope mini