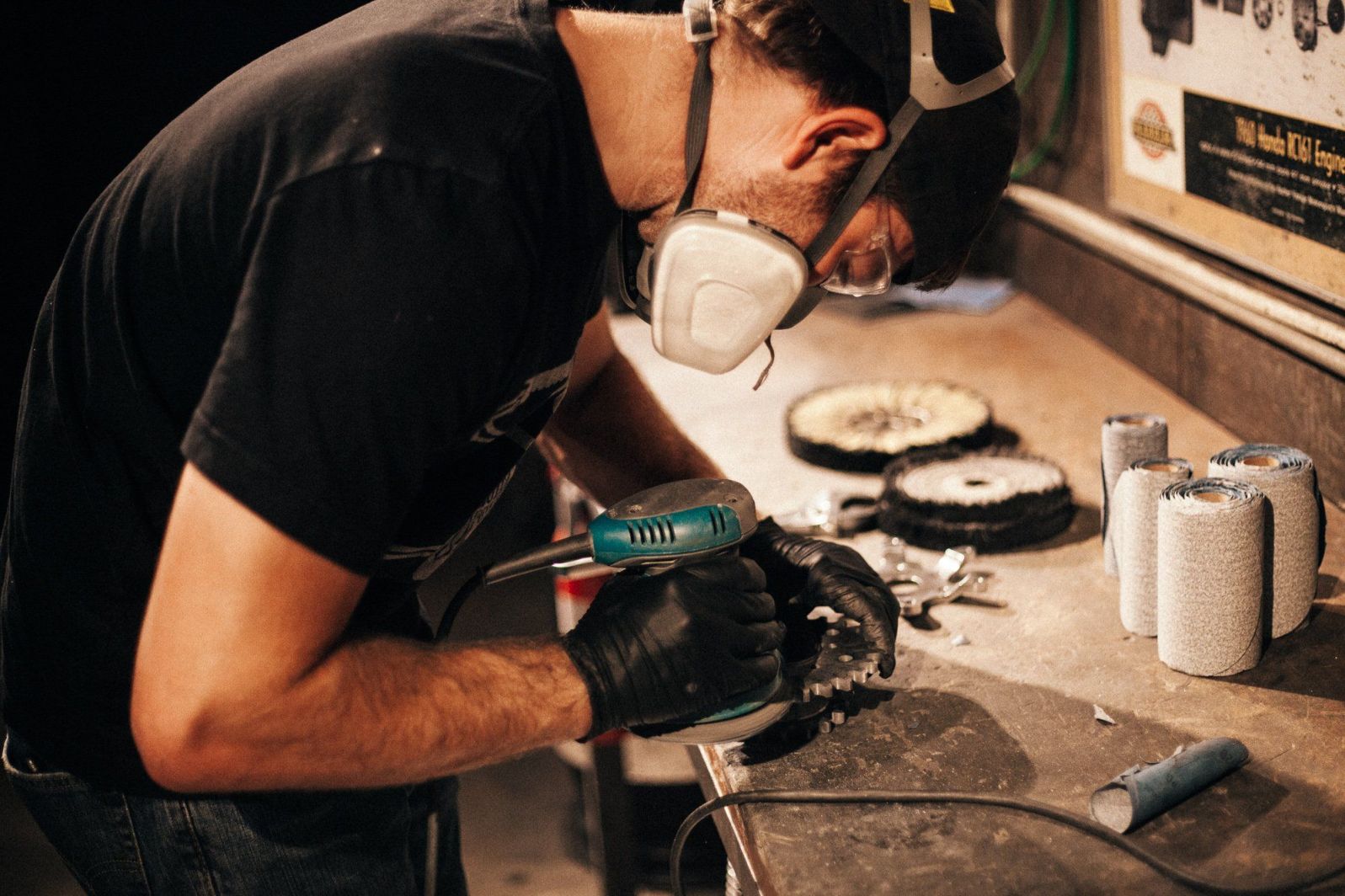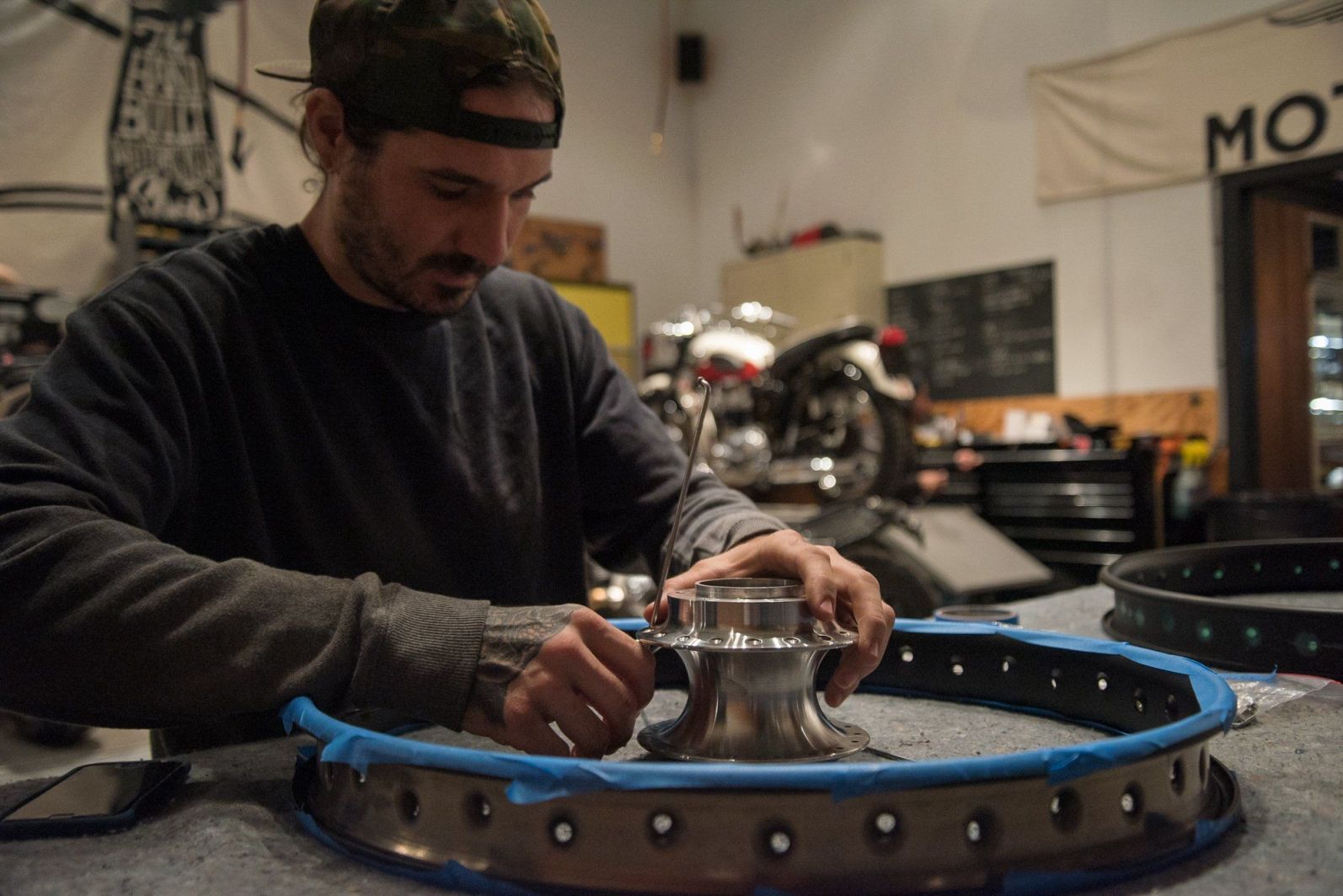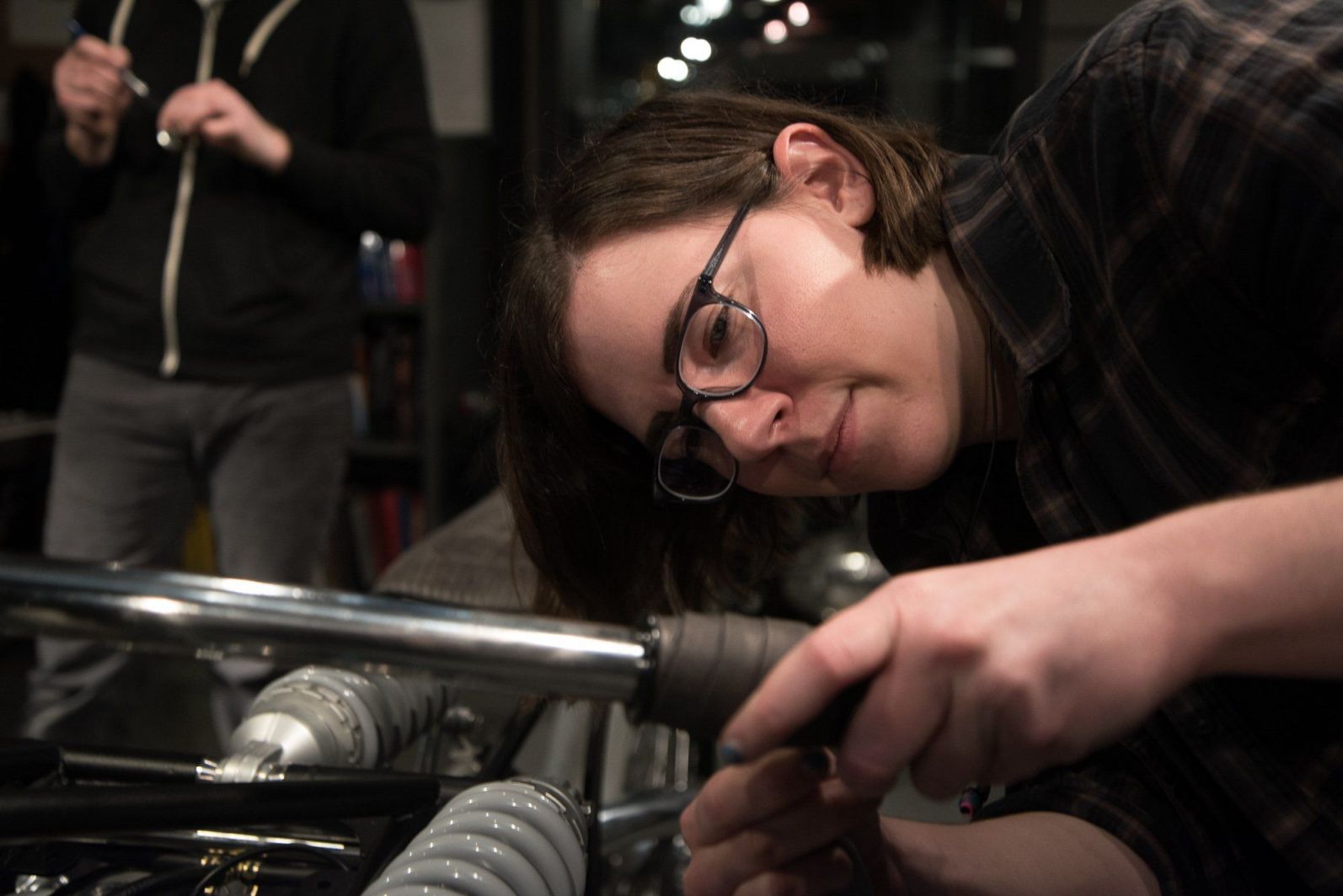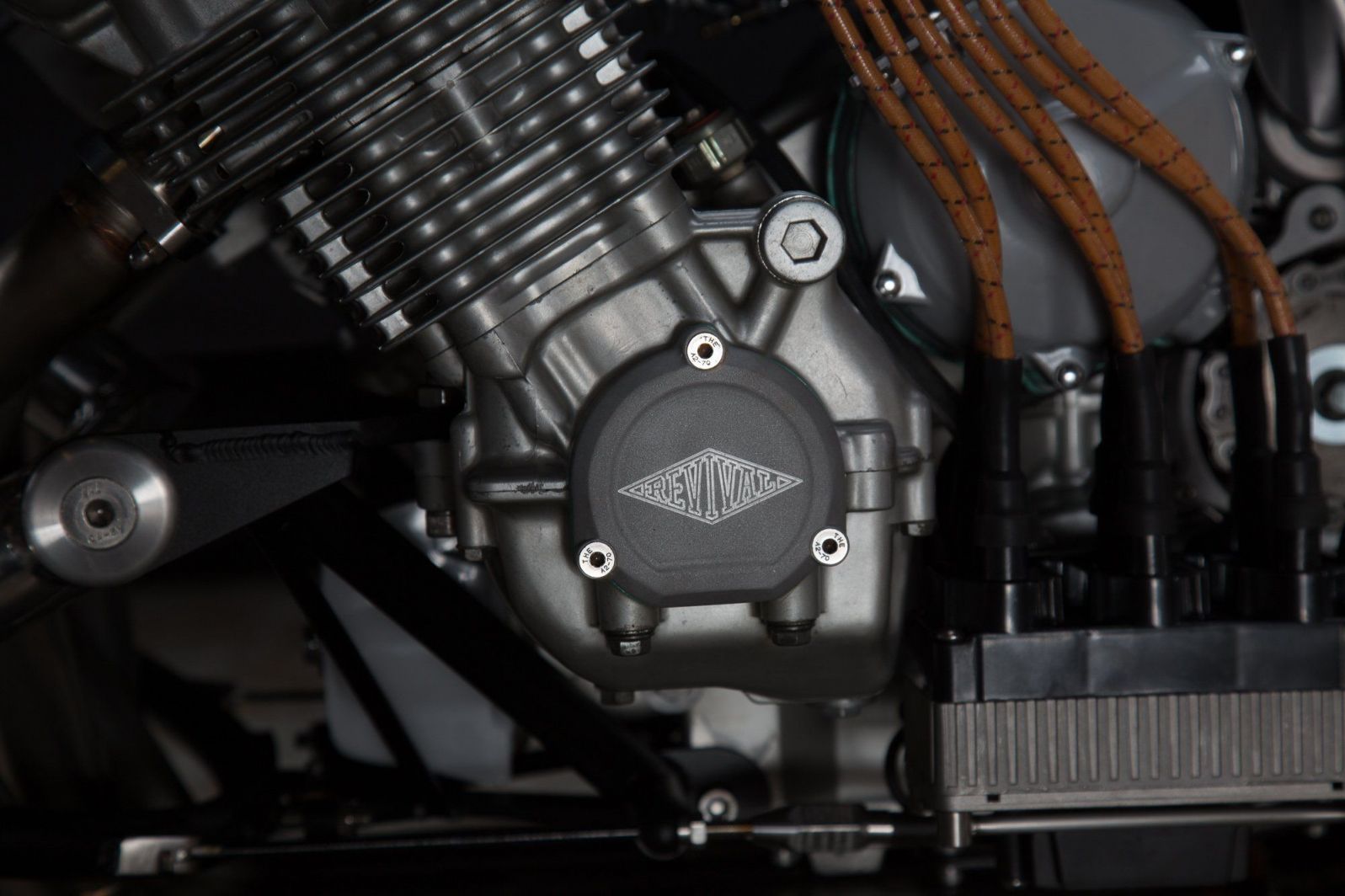 The Revival Six After building our homage to the famous Henne BMW racer of the 1920's with the bike Revival dubbed the "Revival BMW Landspeeder" for Mr. Haas of Dallas, Texas, an idea started to percolate to build something else for Mr. Haas' growing collection of rare one-off machines. Revival's goal is always to attempt to outdo ourselves with with every new build and this was definitely not going to be an exception to that practice.
Upon final delivery and final placement of the Revival Landspeeder in Mr. Haas's private penthouse office / motorcycle museum high above the skies of downtown Dallas, he asked us to sit down for a discussion of what was to come. He wanted us to consider another bike as inspiration….the amazingly beautiful art-deco French motorcycle called "The Majestic". In 1929 a Frenchman named Georges Roy launched his vision to the world and offered a new motorcycle like no other on the road. Team Revival has been somewhat obsessed with its design language and flow since seeing a Majestic in photos and then first laying eyes on one at the Barber museum years ago.
When Mr. Haas mentioned the Majestic, the first thought was of course the beautiful and atypical hub-steering design and then of course the flowing art-deco bodywork. Immediately it was decided that a more modern engine that was perhaps under appreciated in the custom motorcycle scene would be most desired. Immediately Team Revival wanted to build its own version with the Honda CBX 6-cylinder 1,000cc motor. It was wide, powerful and stunningly well engineered, it was a perfect starting platform. In and of itself, the Honda CBX Six is a truly impressive feat of mechanical engineering.
Having discussed and established the basic form and inspirational ideas floating around in our heads, Team Revival drove back to Austin pondering the overall shape, design and extreme challenge of building such a complicated one-off machine. This would be no standard custom bike and non-standard normally equates to much more complicated.
As usual, the main goal of ALL Revival builds is that it has to FUNCTION even better than it looks. Hub-center steering motorcycles are nothing new and custom builders as well as manufacturers are still building them, but to us NONE of the hub-center design bikes are purely elegant in their aesthetic design. They all seem to be entirely too complex visually and end up looking more robotic and mechanical than beautiful. Revival's main goal was to break that norm and build something complex functionally, but simple appearing. This was not an easy thing to pull off.
Mr. Haas loved the direction with the monstrous Honda engine and a plan was finalized as the intense design process truly began. The first solid design anchor was the decision to use large diameter wheels and tires to proportionately fit the engine and overall visual language desired. This brought us to a 28 inch Firestone replica clincher tire made by Coker using a subtle grey rubber. With tires and new wheels in-hand, Stefan and I started to flesh out a rough sketch of what the chassis form might be. Stefan then first began with the idea of designing and machining a new type of front hub that would be as beautiful as possible. What he ended up building has a touch of elegance far beyond what we had seen on any other hub-steering design. With a CAD drawing of a base Honda CBX engine, Stefan created an overall flowing design of the front and rear swingarm that was functional, adjustable and beautiful. Subtle and simple to see function, but definitely complicated in design. Stefan took the inspiration of hub-centric steering and decided to design it such that the control arms not only steer the front hub, but also control the suspension angle. This means that the arms attached to the front hub control steering angle and set the trail measurements no matter where the front wheel is in its suspension travel. This integrated simplicity leaves the Six with a very stable chassis and suspension set up. This coupled with opposing steel cables and Öhlins linkage-actuated shocks and damping make for a fine handling machine that displays surprising composure and sharp handling characteristics.
Of course, most will notice that this bike ended up looking nothing like a Majestic. The plan from the beginning was definitely to end up with a machine that was much more modern and elegant in appearance and would lean more on the shape of its covering bodywork as its design anchor. The original Majestic had this beautiful French Art Deco flowing bodywork with a mouth shape at its opening. When Georges Roy built the Majestic he was proving that pressed steel frames could be used on motorcycles as they were in cars and thus the cost of fabrication would be cheaper as well. Covering up somewhat unsightly pressed steel frames just made sense. We set the bar design-wise at 'elegant' and thus what we ended up building did not need to be covered up by bodywork and flowing lines. Once we got the bike running as a rolling chassis and all the mechanical bits were finished our plan and preference suddenly changed.
We stared at the bike on the bench, rode it around the parking lot and just couldn't get over how much we liked all the pieces we were about to hide under a carbon fiber shell. We even started to build the shapes in CAD and then physically on the bike. (Attached CAD models show the different variations we worked on) We then built mock-up shapes out of wire, then bucks for the bodywork and it still seemed heavy-handed and unnecessary. We even cut our plan back and started to build simpler smaller shapes as just fenders to encase part of the front swingarm and exposed tires…..it just didn't work aesthetically. It seemed to be covering up the best thing Revival had ever built. Ultimately we spoke with our client Mr. Haas and explained that we would really like to simply finish it as a naked bike so that the engineering and design of all that it took to build underneath would remain on full display. He agreed.
Ultimately we are all happy with how it turned out and even happier with how it functions! Revival standards are set in that we simply do not believe in building non-functional art pieces. Every bike we build needs to have form follow function and only compromising when absolutely necessary. The day before we delivered The Six to its new owner, The Haas Moto Museum, we took 'The Six' out for one more test ride. This time the test ride took place at the famous world-class Circuit of the Americas race track just a few miles from our shop.
Obviously this bike was conceived on paper, then in CAD and finally constructed by hand, so that first moment on a bike is always a bit stressful. What made the first ride on 'The Six' even more stressful is that Revival had NEVER stretched the limits of engineering design even remotely this far before. The combination of a completely unique, from scratch, hub-centric steering mechanism that is attached to a front swingarm and then directed by the rider via handlebar, then to opposing wire cables, then to a bottom pivot point and then finally to the front wheel's hub is well beyond our previous experience.
The question is always running through your head when you first throw your leg over something this alien…."will it hold together or will it throw me off like a rag doll?". The math was there, the planning was there, the testing was there, but still….will theory translate into function as it was intended? I cannot say if it was luck or good planning and execution, or a combination of all three, but riding The Six for the first time was amazing. I jumped on, fired the starter and oh man what a noise 6 open megaphones make on a 1,000cc bike that revs to 9,500 rpm! Stefan and I took turns riding it gingerly around Circuit of The Americas with ever increasing confidence and speed as the miles went on. The factory Honda version of their CBX was a big tall affair that weighed 555 pounds. The Six, that honestly bares zero resemblance in almost any way, weighs 75 pounds less and is certainly the better for it. It felt light and agile and truly capable of being ridden for many comfortable and fun miles. This is no museum queen.
MOTORCYCLE BUILD SPECIFICATIONS
ENGINE:
1980 HONDA CBX 1000CC 6 CYLINDER, OIL/AIR COOLED
GREY POWDER-COATED ENGINE COVERS
EXHAUST: STAINLESS STEEL 6 INTO 6 EXHAUST, CNC MACHINED EXHAUST FLANGES, MEGAPHONE CONES (LAF- LOUD AS FUCK)
CHASSIS:
MATERIAL: TUBULAR/PLATE STAINLESS AND MILD-STEEL, POWDER-COATED MINI TEXTURE BLACK
RAKE: ADJUSTABLE
GROUND TRAIL: 120MM
WEIGHT (WET): 480 LBS FRONT: 244 LBS REAR: 236 LBS
WHEELS / TIRES:
FRONT: REVIVAL CYCLES CNC MACHINED FRONT HUB, CUSTOM LENGTH POLISHED STAINLESS STEEL SPOKES, 28" STEEL RIM, POWDER-COATED MINI TEXTURE BLACK
REAR: REVIVAL CYCLES CNC MACHINED REAR HUB, CUSTOM LENGTH POLISHED STAINLESS STEEL SPOKES, 28" STEEL RIM, POWDER-COATED MINI TEXTURE BLACK
TIRES: FIRESTONE GREY SLICKS FROM COKER
FRONT: 28" X 3"
REAR: 28" X 3"
ELECTRICAL:
CONTROLS:
REVIVAL CYCLES DESIGNED/BUILT FOOT CONTROLS, FOOT PEGS, HAND SHIFTER MECHANISM, FOOT BRAKE.
REVIVAL LIMITED LEATHER SEAT AND GRIP UPHOLSTERY
HANDLEBARS: REVIVAL CYCLES DESIGNED/FABRICATED STAINLESS HANDLEBARS
THROTTLE: INTERNAL THROTTLE PULL ASSEMBLY
CLUTCH: INTERNAL CLUTCH PULL ASSEMBLY
REAR BRAKE MASTER: BREMBO 13MM
SEAT: REVIVAL LIMITED UPHOLSTERED LEATHER SEAT - UPHOLSTERED IN-HOUSE