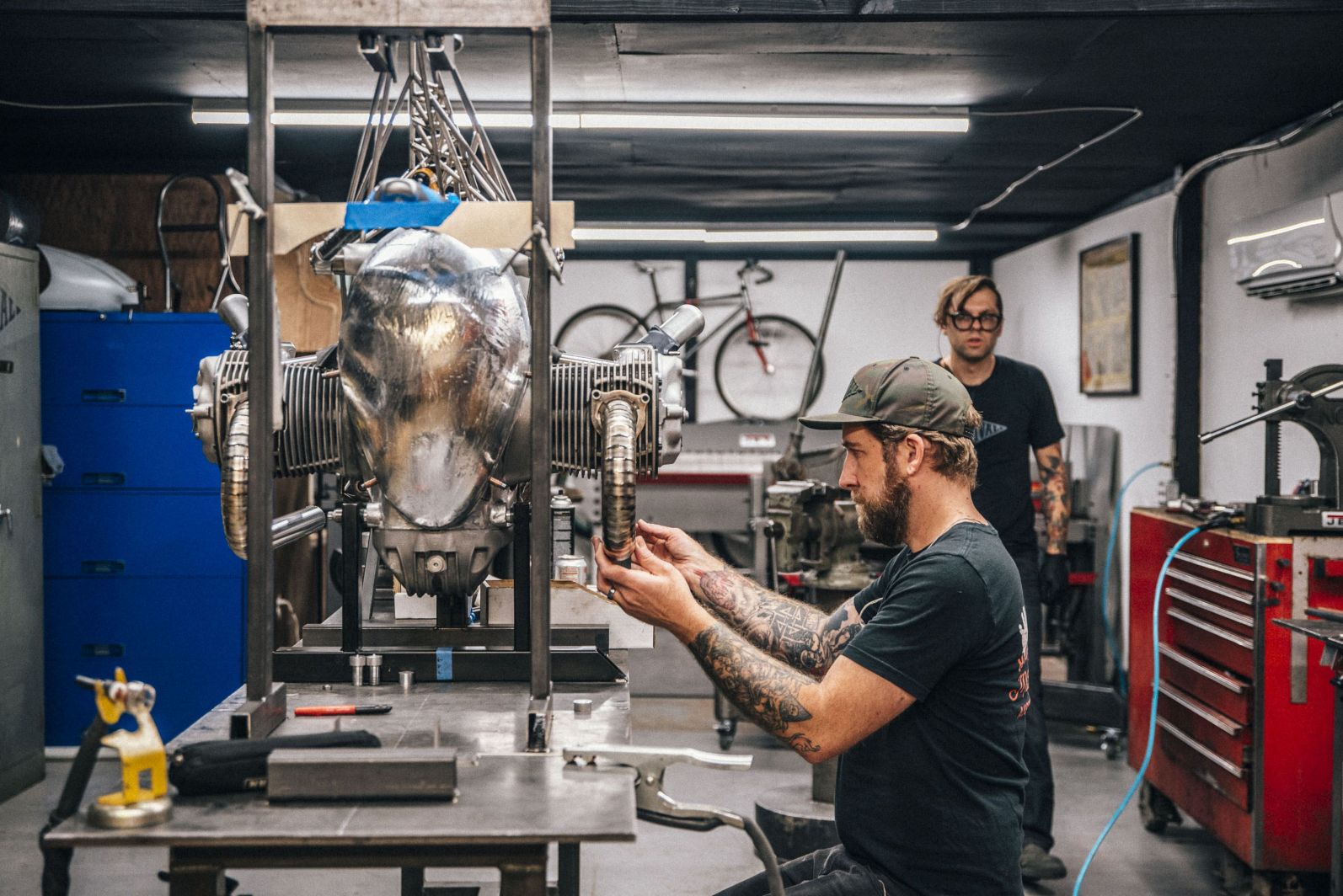 This will be short and sweet.
As a few have realized, BMW seems to have something up their sleeve.
They came to us months ago and presented us with an engine, gearbox and rear differential drive that was never before seen. They gave us very few details, but it's obvious they have BIG plans for their iconic opposed twin engine. It's difficult to fully take in and absorb in these photos, but this engine is colossal.
With huge cylinders (of unverified capacity) jutting out from either side the challenge was set to do it justice with a completely custom build to carry the mass and shapely beauty that is this engine.
My inclination from the beginning was to do my best with an overall concept that would accomplish two things: To appear as if it would not function and to have an unencumbered view of the engine and drivetrain. I believe we accomplished both goals handily.
As with all custom builds, we attempt to try something new as well. This time it was a material choice, titanium. For those who have not worked with or even held titanium, it's an amazing alloy. It is both extremely lightweight and extremely strong. I wanted to use as thin of a material as we could and titanium was the right choice. I had also always been sort of infatuated with the birdcage framed racecars that Maserati and Porsche famously built in the late 50's and early 60's. Thus....I chose to go full 'birdcage' and build what I believe to be if not the only, one of the only birdcage-framed motorcycles ever built. With 138 carefully cut, coped and welded in frame members, this frame took a LOT of time to complete. As a guiding principle, the BMW engine is as asymmetrical and contorted as any drivetrain could be. In my opinion, the best part of a BMW riding experience is generally how well balanced it all feels. So it is more than ironic, as a builder, to look down upon the bare engine, gearbox and rear drive and see just how biased everything is towards asymmetry. To design around that with harmonious shapes and lines was almost easy for me. There is only one single piece of titanium rod down the middle of the bike that is centered with the wheels and the rest fell where they fit best, flowing all around the drivetrain.
From there we decided to build the front suspension as an updated version of BMW's famous tele-lever front forks that offer both lightweight components and feel. We engineered into the mix an Ohlins mountain bike shock and dampener and fabricated a front control-arm with CNC-cut billet aluminum and carbon fiber hexagonal tubing to connect it all. It all feels like pure magic when you hold the components in your hand and it's hard to fathom their strength to weight balance.
We then fabricated custom handlebars and shaped fork lowers to pay homage to the Henne landspeed racer of the past that I admire so much. With a carbon fiber linkage connecting the hand-shifter to the gearbox and and an inverted clutch lever the vintage feel is maintained, but with modern materials and components.
From there it was up to Auerbach, our lead engineer and fabricator, to then work on the details. He designed and built/machined huge billet aero-shaped aluminum valve covers, a carbon fiber seat, titanium fasteners for the axles, front suspension, foot controls and footrests, the throttle linkage and many other pieces. Ty Burham, our chief welder, designed and built a full titanium custom exhaust that we then anodized for the full effect.
As a design practice, I designed an engine and gearbox cover set out of thin aluminum that I thought proportionally fit the lines of the drivetrain, but then also gave us a perfect spot to hide the custom ECU, charging system, ignition system and most all of the wiring.
For fueling, we chose to go the old-school hotrod route with large-mouth mechanical fuel injection bodies and bellmouth velocity stacks. They splay out wildly JUST a bit wider than the huge aluminum valve covers and overall cylinders. This made ample room for the rider to tuck their knees in behind the cylinders for what we hope will be those top speed trials at Bonneville and dry lake beds of California.
The overall 70" wheelbase gives the bike an ample space to spread out and makes for a super stable racer, but the enormous 23" slicks provided to us by Dunlop are completely enviable. We realized once they arrived in the workshop that NOBODY has 23" slicks and that special feeling resonates in perfect proportion with the large smooth shapes of the BMW drivetrain. The rear wheel is covered traditionally in an aluminum disc and is another throwback to the original BMW Henne racer.
At the end of the day, this was the first time for me to be personally truly FREE to design and build exactly what I preferred and I do hope the public and BMW loves it as much as I do. I'd also like to say that Team Revival has never been in better form and attitude than they were on this build. I'd love for the entire team to be acknowledged for their stunning performance on this machine. Chris Auerbach, Ty Burham, Chris Davis, Alec Padron, Ian Holt, Josh Gage and Andy James
Thanks for looking guys.