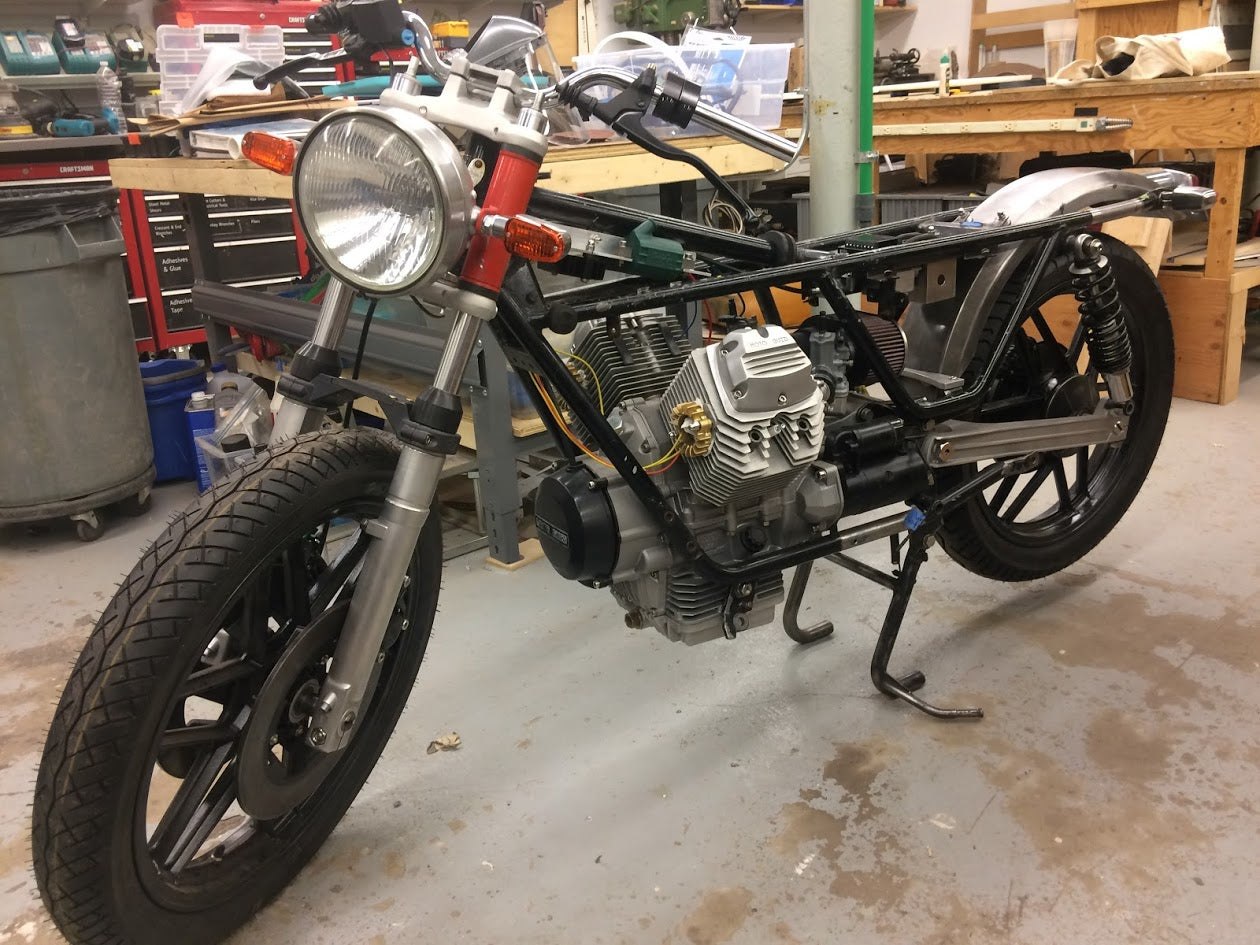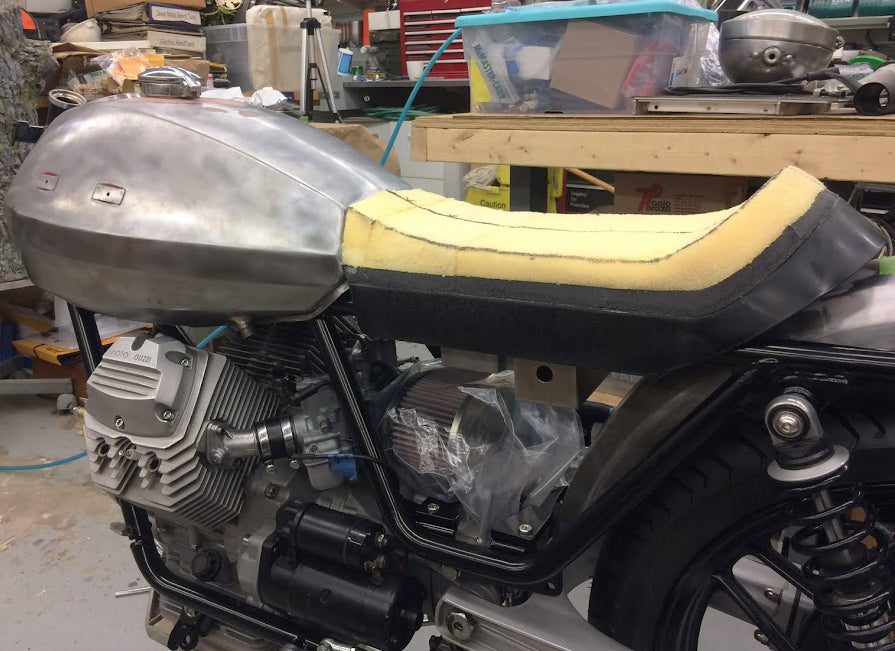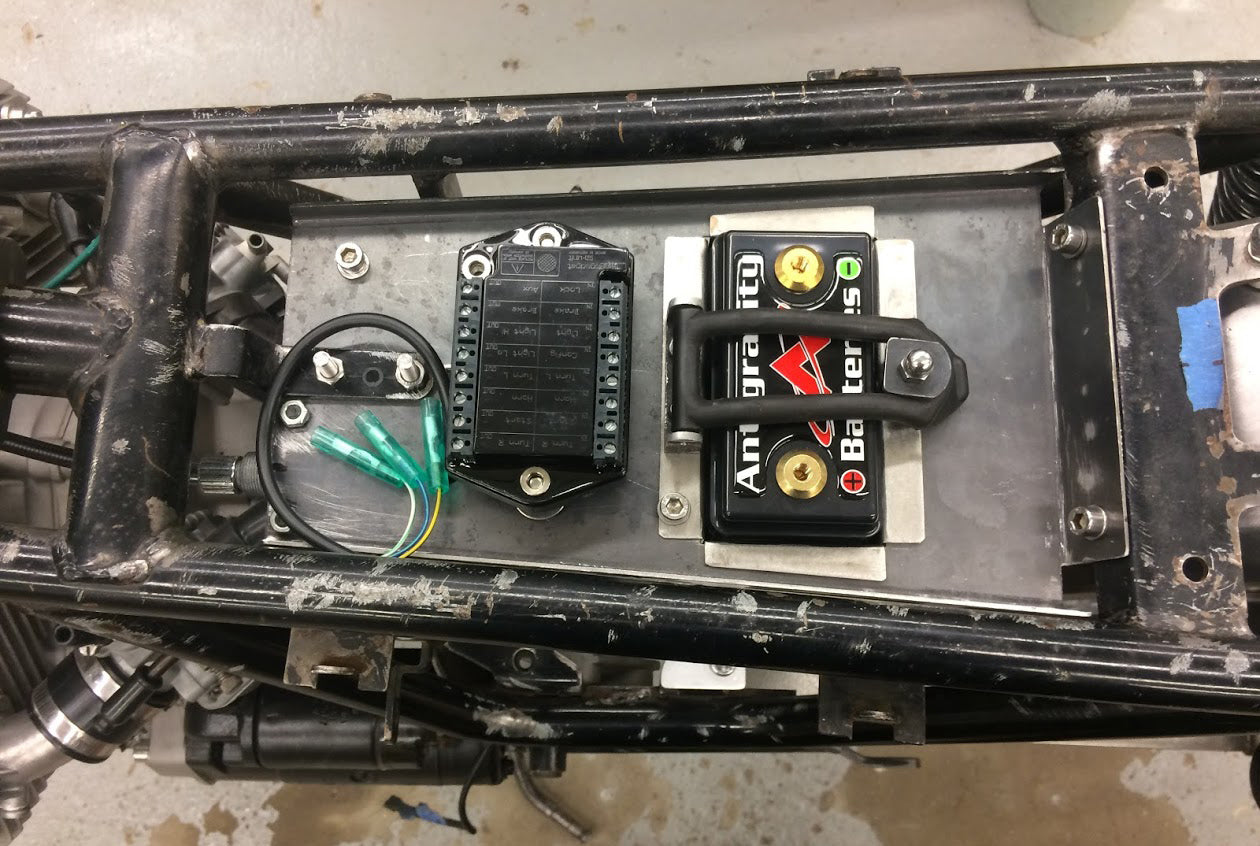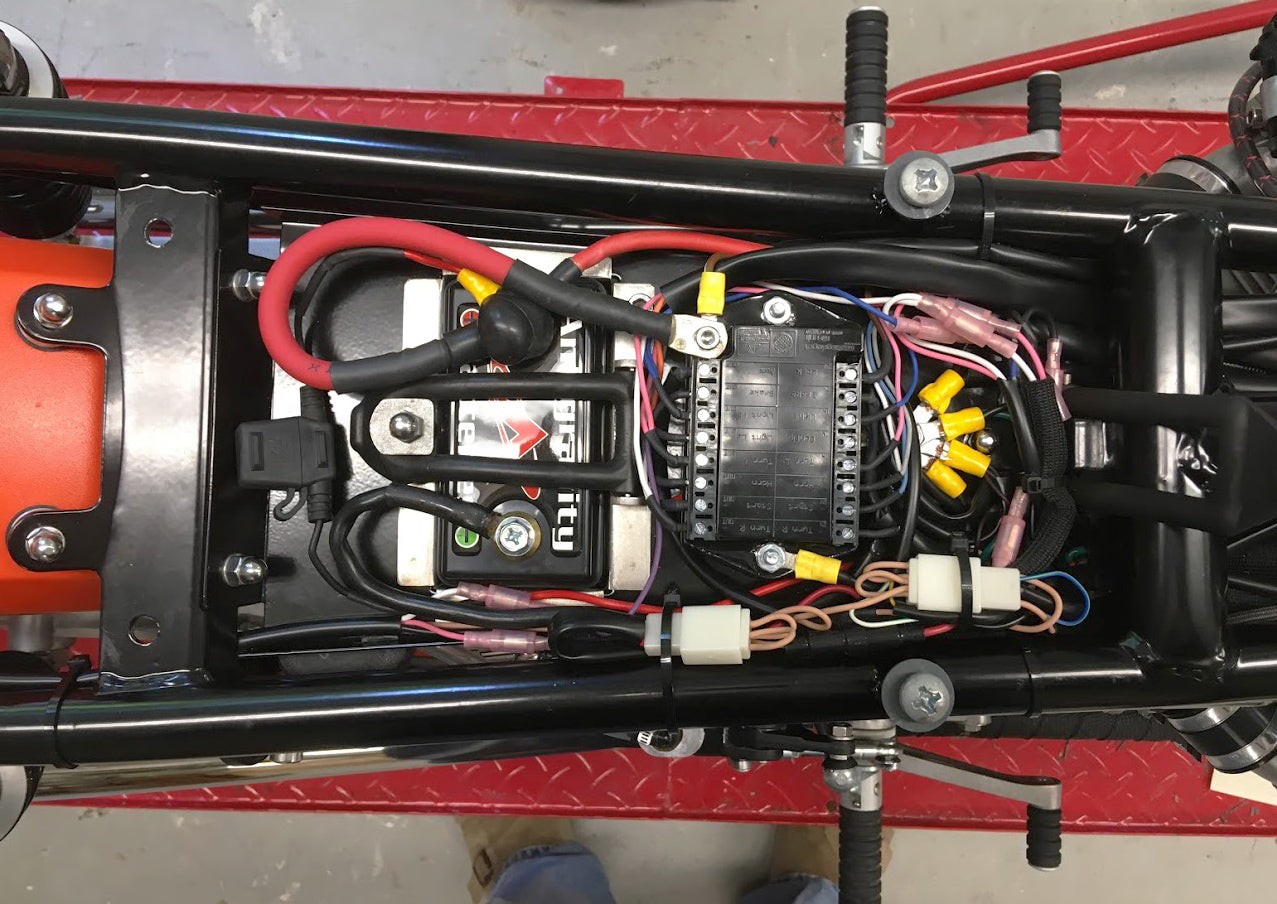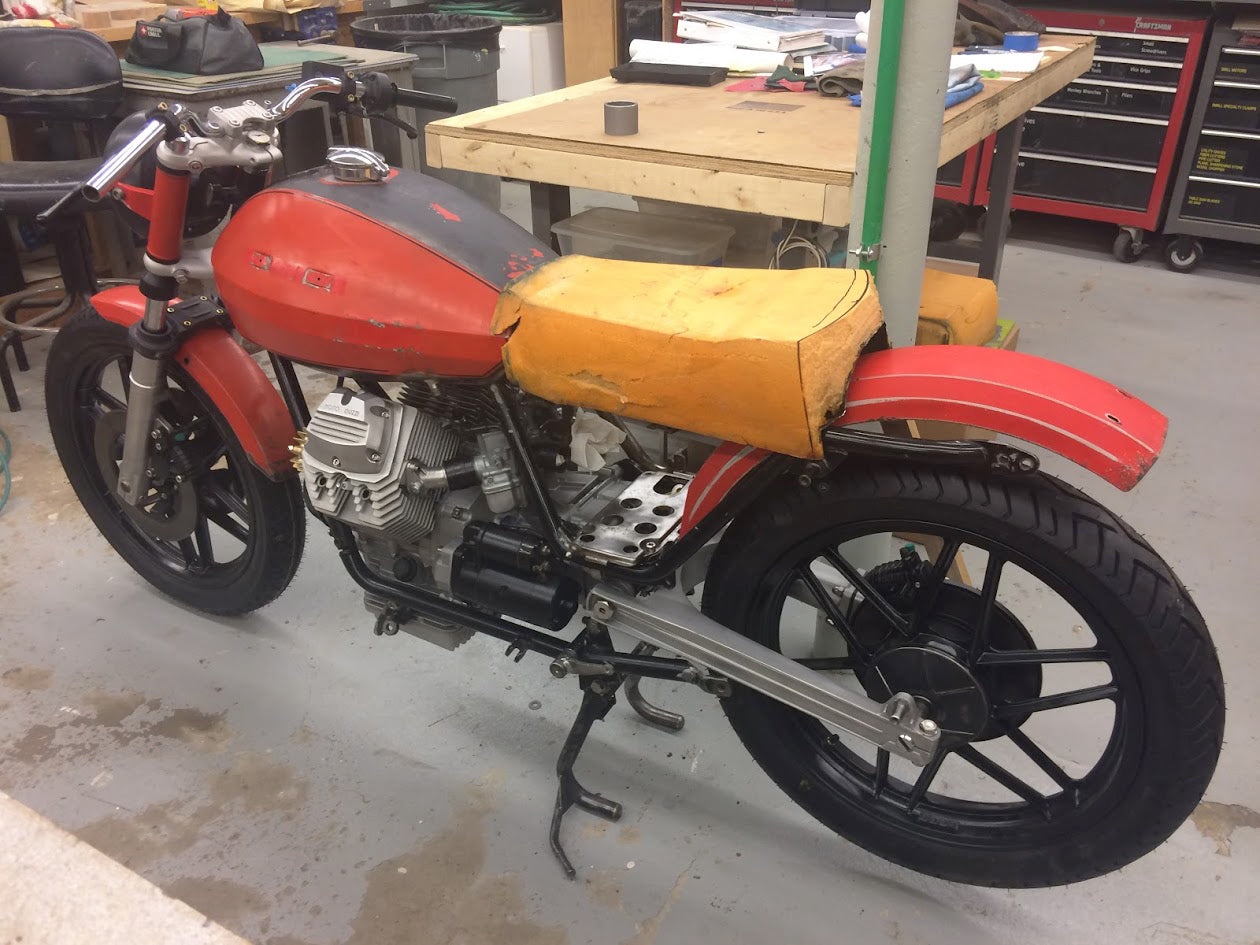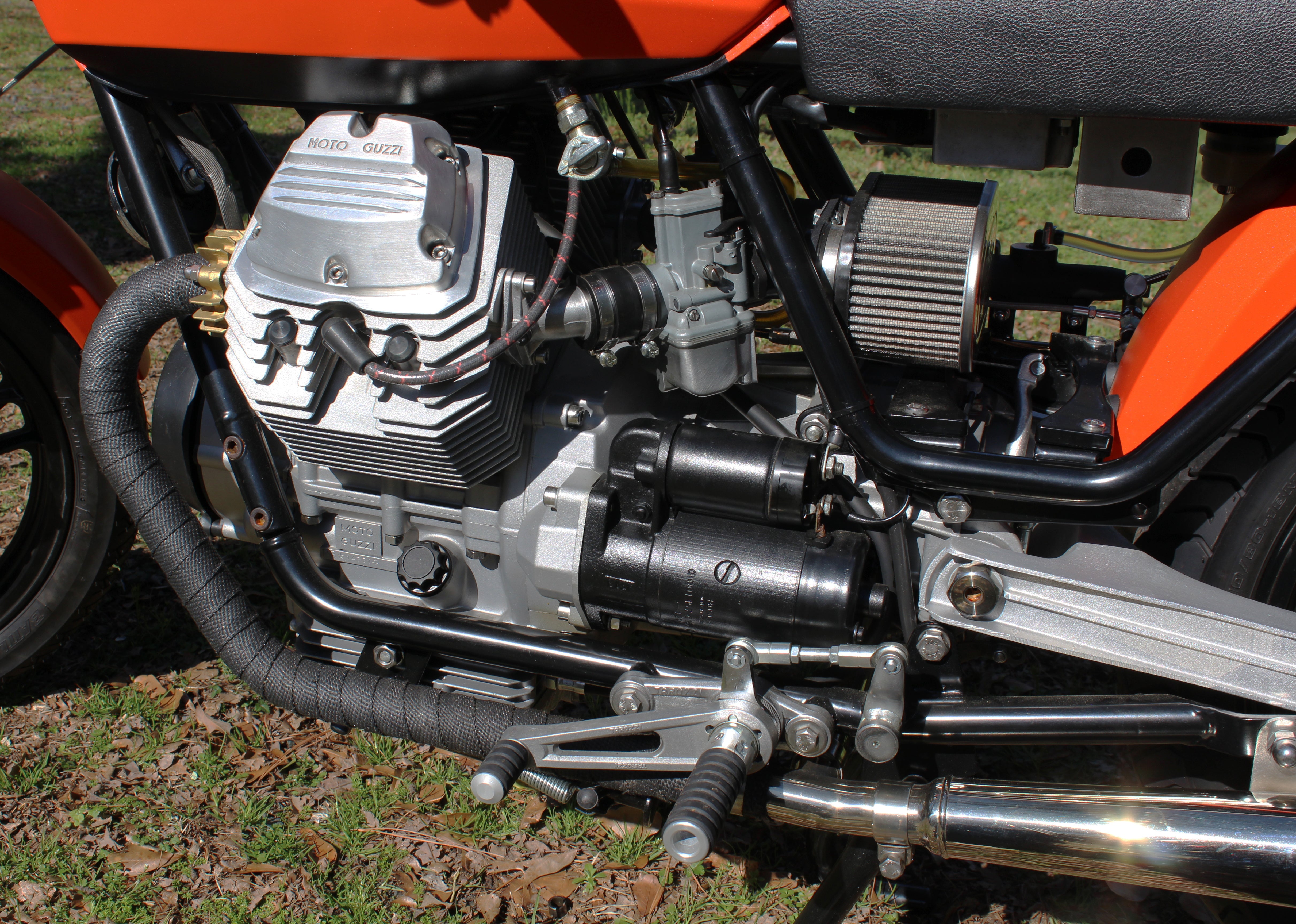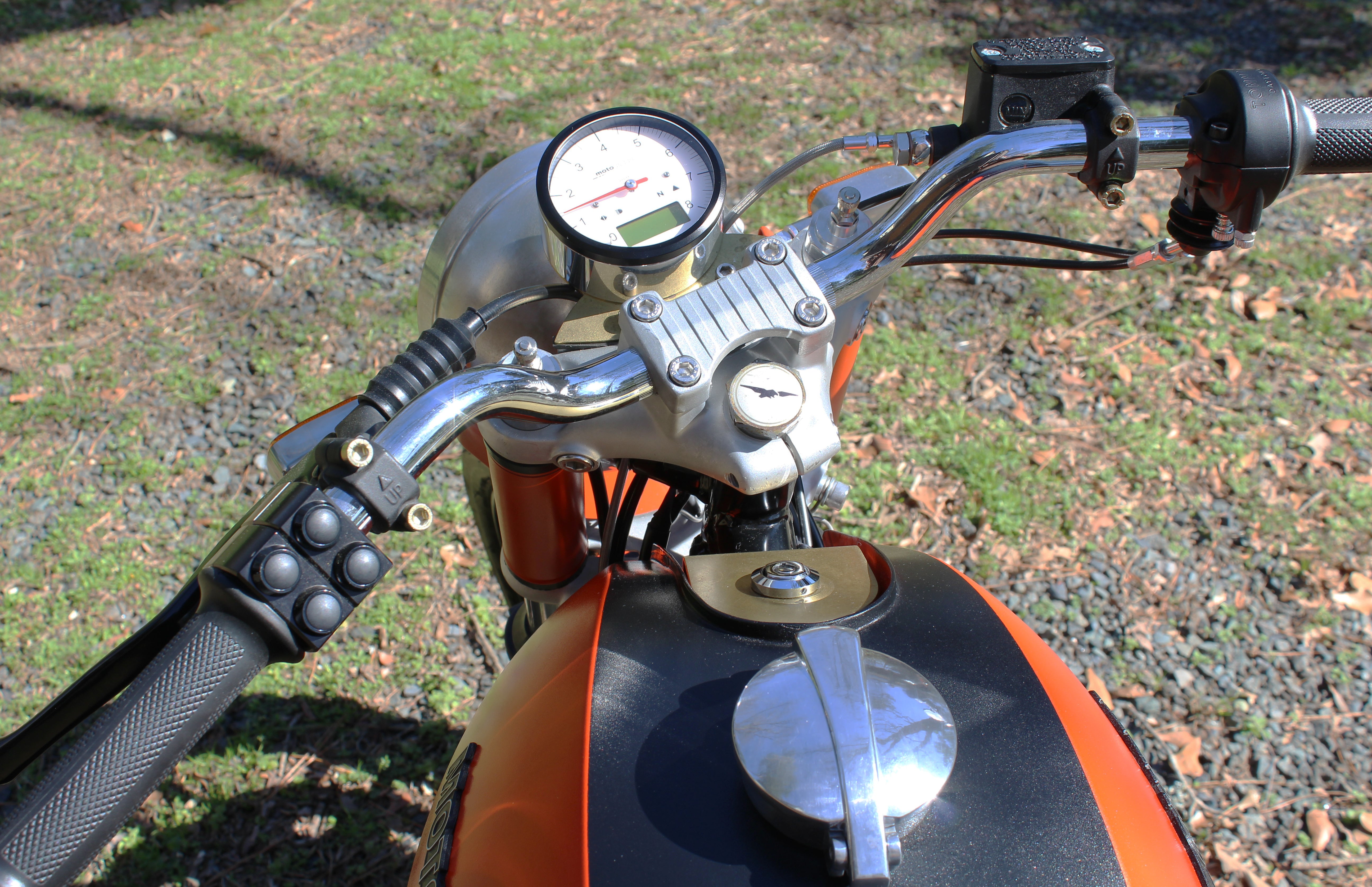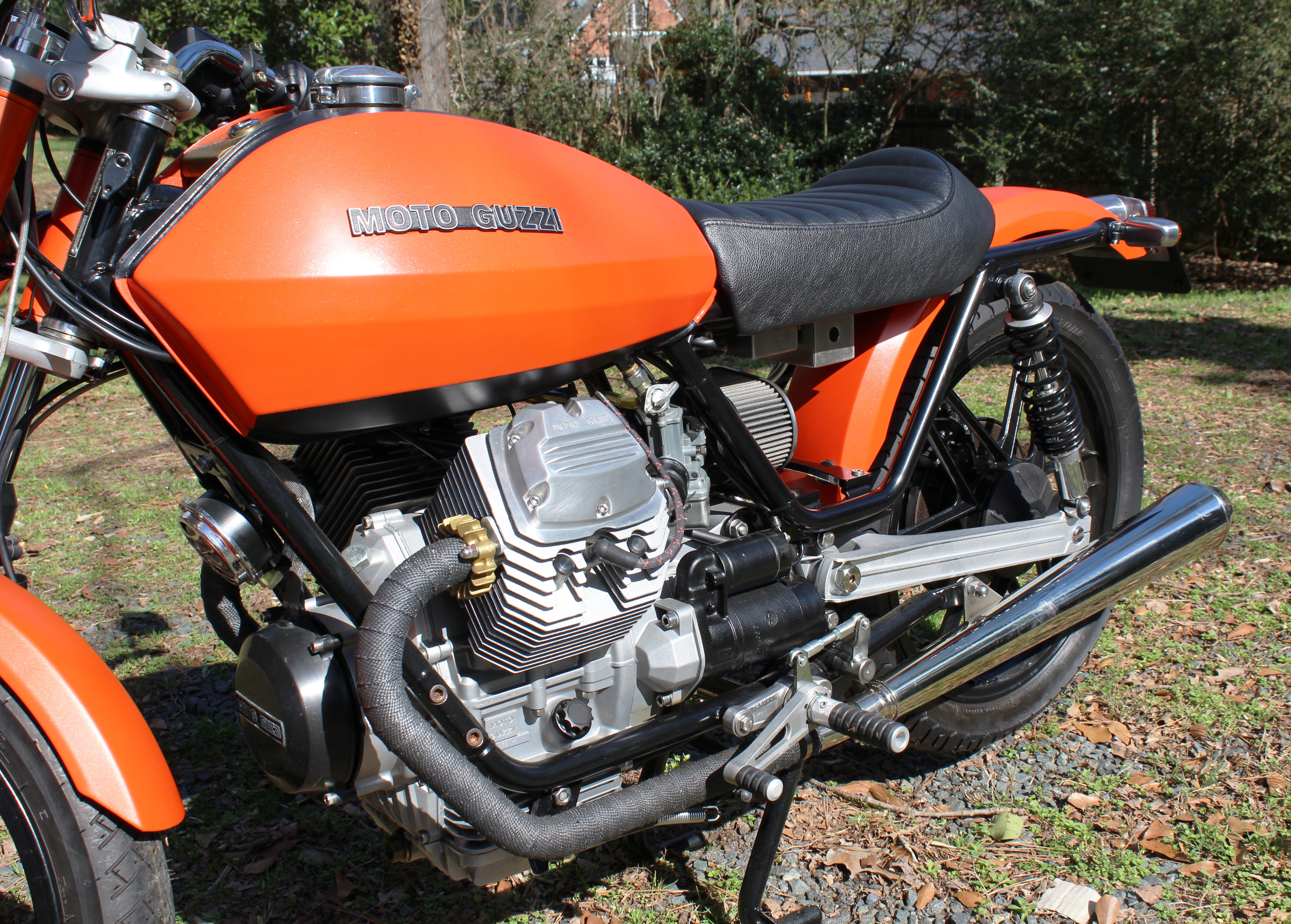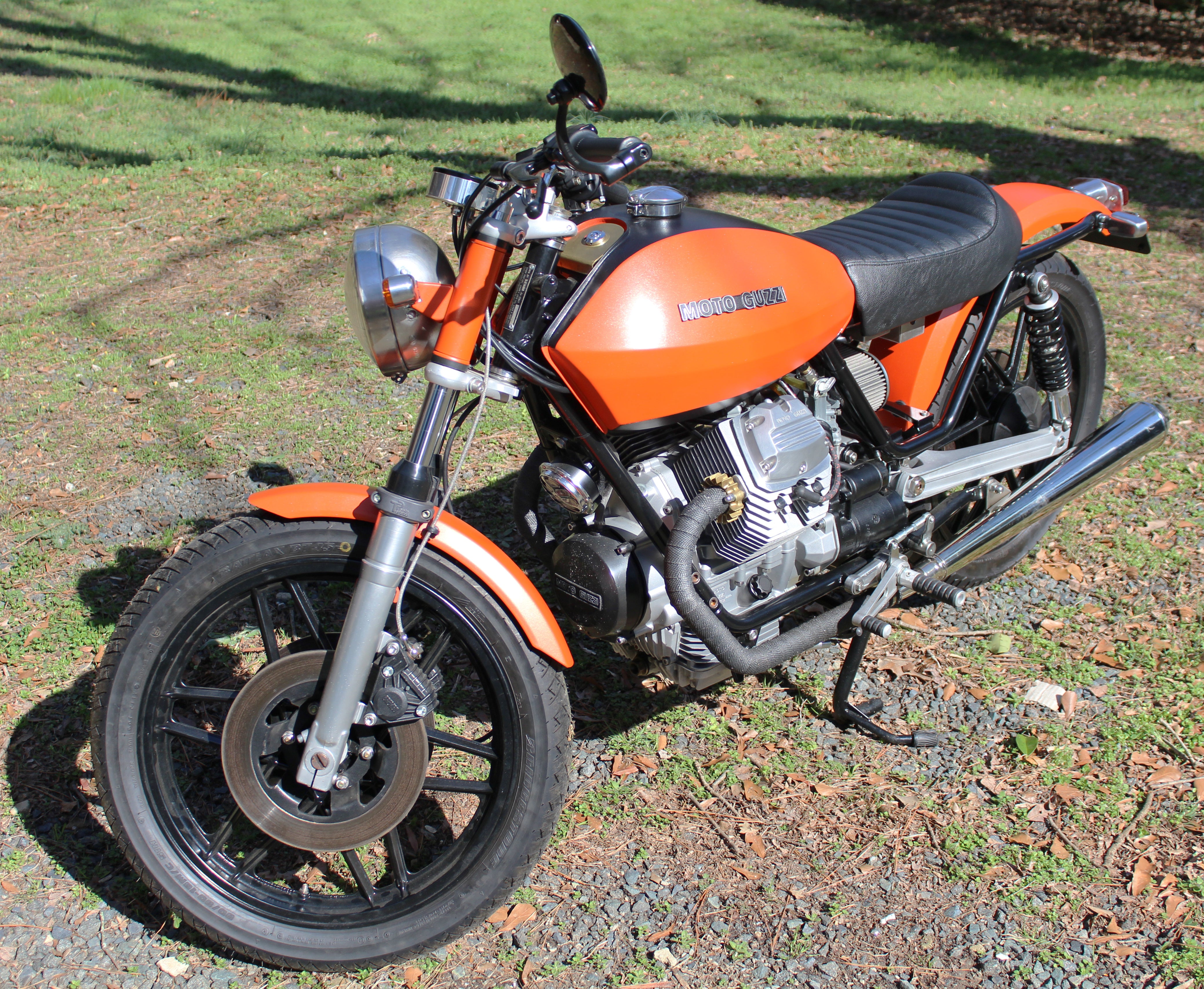 We chose to feature Timothy Darr's 1979 Moto Guzzi V50II because we really like the subtlety of all the custom work involved. At first glance, it appears to be just a minor stripped-down version of a stock V50 with stock or aftermarket parts but on the contrary.
We love that Tim enrolled in TIG welding classes specifically for trying his hand at making his own parts. From the modified rear fender and custom-made front fender to modifying the tank filler inlet and making a seat pan and crankcase breather tank from scratch, we think those courses paid off! He rebuilt the engine and gearbox himself. He also made an all-new custom wiring harness to accommodate the new electrical components that were tucked away nicely with his new fabricated brackets.
It's no secret that here at Revival, we're big Guzzi lovers, and this one is no exception. Great job, Tim!
What was the donor bike and what condition was it in to begin with?
The original bike was a 1979 Moto Guzzi V50II that had been cannibalized as a parts bike by the previous Owner. It had been sitting outside under a tarp and was in rough shape.
When did you build the bike and how long did it take?
Started the project in 2016, finished it in another state in 2018.
What was the projected budget and what was the final budget?
Donor bike was free along with the purchase of a 1978 Guzzi V50. I probably spent $2K on supplies.
What inspired the build and what were the design influences?
Since it started as a parts bike, I felt free not to have to restore it to some earlier existence. I liked the bobbed/brat look but wanted to challenge my building skills and use the project to elevate my skills with a clean design and high level of finish.
Please list the major modifications and fabrication completed.
Chopped/custom front & rear fender

Modified rear subframe

Custom seat

Modified tank with new Monza gas cap

New electrical system with Motogadget mo-Unit control

Tarozzi rear-sets installed as mid-controls

New hydraulic brake system

New paint

 
Please describe the engine work completed.
Complete engine teardown and rebuild with new bearings, seals, S.S. valves, ceramic coating on pistons, new rings, new clutch, vapor blasted cases

Carbs rebuilt and re-jetted

Custom 3-D printed intake manifold to match dual K&N filter with OEM Dellorto carb intakes

New regulator/rectifier, new Dyna coils

Custom fabricated oil/vapor recovery tank
Please list the additional components used
.
Bridgestone Battlax tires

Brembo front and rear brake master cylinders and levers

Tarrozzi rear sets

Tarrozzi fork brace

Keihan stainless steel exhaust headers and mufflers

Analog to digital speedo cable converter
Did you farm out any of the work to third parties?
I had a friend sew the vinyl upholstery for the seat. Everything else I did myself.
What were the low points of the build?
The ceramic coatings I had done on the pistons were thicker than anticipated and caused the pistons to no longer fit in the bores. I had to carefully remove the coatings on a lathe with emery cloth. Calibrating the Motogadget gauge was also a trial as I had no documentation on the analog to digital convertor I installed off the OEM speedo gear. It took a lot of trial and error to dial in the settings so the MPH and odometer readings were correct.
What were the high points of the build?
The whole project was the most fun I've had in years. I took a TIG class in order to learn to do the custom welding I needed to do on the bike. I was able to match the original dulled, red paint with a Lamborghini orange color and had that color mixed as a 2k spray can. I am really happy with the paint finish. The biggest high point was having the bike start right up after re-building the engine and putting it all back together.
Now the build is finished, how satisfied are you with the results?
Very happy. It is my little red hot rod in the garage. Really fun to ride.
Are you planning any future builds?
After this bike I restored a 1967 BMW R60/2 and am now working on a custom 1971 Triumph Bonneville in a bagger style.
Are you keeping the bike or is it for sale?
Not for sale.
Want to see more Moto Guzzi builds?