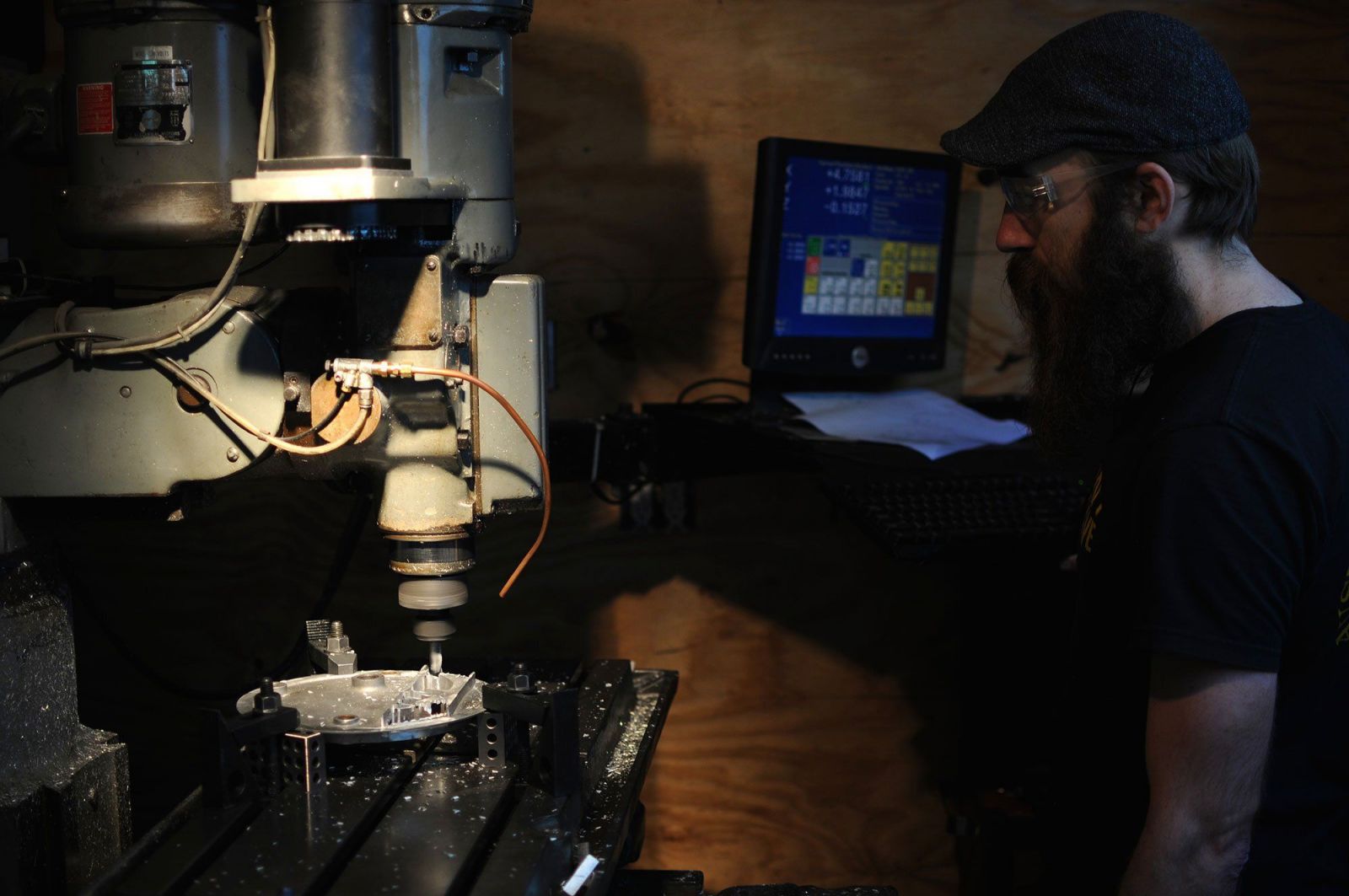 The biggest thing to consider about all of our work at Revival is that it is all done in-house. When not constrained by budget, we rarely purchase off-the-shelf custom parts. We are an independent shop that refuses to simply send out the challenging work to others. We have a fully functional CNC lathe and mill along with all the welders and bending, shaping, and fabrication tools to complete everything under our roof. This not only gives us the ability to control how things are built and keep the quality of our work high, but we also learn more skills with every single build versus letting another expert do the tricky bits.
This build started with a basket-case 1975 Moto Guzzi 850T. As the plan progressed with the other build we're releasing simultaneously, the 2010 Moto Guzzi V7 Classic, we realized that this bike would become a much more modern machine with inverted forks and a rear mono-shock setup. This put it on the path to meet the current V7 Classic build somewhere in the middle.
This commissioned custom was built based on one overwhelming principle...design. We wanted it to flow from one piece to the next as if all the various parts combined here were meant to be together from the beginning.
Ultimately it was the front brake drum that really set the tone for the build. As we set about looking for unique pieces, we found an original surviving Yamaha racing TZ four-leading-shoe front drum brake. There are reproductions out there, but this one was original and beautiful. It deserved to have the bike designed around it. To really set the tone after, we chose to utilize modern suspension technology with a fully adjustable modern Suzuki GSXR 750 inverted fork set. This meant a bit of engineering and machining to make it all come together and function ideally, but it worked out in the end. The original Yamaha drum used a minimal 15mm front axle, so the hub of the drum was machined and widened to accept 4 new tiny thin bearings that would allow the use of the much sturdier and stiffened modern 25mm thick hollow axle. This task alone was not an easy task.
From there, we built completely new custom drum torque arms and linkages. We then engineered a new rake and trail and designed and cut from solid alloy, new CNC billet triple trees that were shaped and sanded to hold it all to the existing frame. We then fabricated an entirely new headlight ring and brow from billet and solid alloy. We installed an LED headlight to give it a very bright path to follow. 
Then we set about utilizing a Ducati 999s Ohlins rear mono-shock to help us bring the rear suspension up to modern standards. We gusseted the rear swingarm, attached mounting points, and set the new shock up to give maximum and even handling. Even the rear differential had to be dismantled and machined to remove the old shock boss and smooth it out for a factory fresh feel. The frame was gusseted front to rear to increase overall rigidity and simultaneously drop the bottom frame rail for a much cleaner appearance. The engine now seems to just hang in mid-air and makes the bike visually much lighter. 
We then built an integrated hand-formed fuel tank and seat, hiding all the electronics and electrics under the tank and LED taillights in the tail. This made the bike significantly simpler to disassemble and gave it a unique finished look that we were after. 
We designed and fabricated handlebars to emulate the Guzzi V7 Sport "Swan Neck" bars of the past and attached custom-built alloy headlight brackets and Headlight surround from CNC and formed aluminum. This setup alone was many days in the making where we were forced to go back to the drawing board several times to perfect. It is now fully adjustable and very sturdy.
We chopped and vented the original Guzzi rear twin-leading-shoe rear brake and built custom linkage from raw alloy, including a side-pivot foot control for it. The inlaid brass mesh and machined surround were built to more closely resemble the front TZ drum brake. 
Instead of the ordinarily cumbersome gearbox shift linkage, we opted to simplify and delete the entire standard linkage setup and took advantage of the longitudinal drivetrain by simply making a foot pedal out of CNC cut alloy plate that attaches directly to the shift fork to allow for a direct shift pedal. It works well and certainly simplifies everything visually. With the brake pedal and shift pedal on the same axis, it definitely gives it a unique feel.
We worked over the engine a bit and installed new Dellorto carbs, velocity stacks, and handbuilt custom from-scratch alloy intake manifolds to tuck the carbs in tight to allow for knee room, which is usually lacking on the big block Guzzis. We also built a custom stainless 2 into 1 exhaust with a tiny bit of wrap to protect the knees and starter. With electronic ignition, a wireless key, and a tiny sealed solid-state computer, we can remove all fuses and relays. In the unlikely event of an electrical short, the system kills power to the problem circuit and warns which one is faulty, and automatically returns power to that circuit once the fault is repaired.
With all of this said, it's the ride that is still what speaks loudest for this machine. It is light and nimble, unlike any other Tonti-framed Guzzi on the road. The suspension is tight and subtle as planned. The drum brakes are surprisingly effective and will bring this big bike to a halt even faster than the previous clunky disc setup would. Modern meets vintage in the best way we could have imagined….
Frame
Re-engineered bike geometry (rake/trail, etc.) and structure to switch from twin shock to single shock and modern forks

Shaved, de-tabbed, and smoothed frame

Deleted lower frame rail

Shortened rear subframe

Re-positioned top frame rails to be parallel through seat area and tucked into the bodywork

Added gussets and a lower transmission mount to account for the lower frame rail removal and mono-shock

New mounting tabs for all electrics and bodywork

Custom machined from alloy "tie" plate to connect the upper transmission to the frame

Powder Coated frame in Stone Grey
Suspension
2009 Suzuki GSXR 750 forks with lowers de-tabbed, smoothed, and anodizing stripped

One-off custom machined triple clamp set with correct offset for new chassis geometry.

Ducati 999s Ohlins rear shock tuned to work as a direct mono-shock without linkage.

Swingarm converted from twin shock to mono-shock, added shock mount and gussets, delete drive side shock mount boss and welded hole.
Brakes
Front: Original 260mm four leading shoe drum from Yamaha TZ350, re-machined from 15mm TZ axle to 25mm GSXR axle

Front: Custom machined torque reaction arms to connect the drum to GSXR fork lower

Front: Custom brass mesh vent screens

Rear: Stock 850T drum hub

Rear: Modified vent for improved cooling and matched brass mesh as on front brake

Rear: Custom fabricated torque arm
Engine
Full custom 2 into 1 stainless steel exhaust

36mm Delorto PHF carburetors with velocity stacks and accelerator pumps

Full custom built and aligned intake manifolds

Media blasted finish

Polished Moto Guzzi logos

Capped speedometer and tachometer drives

Custom alloy oil breather box under the seat

Stainless steel socket head cap screws throughout
Electrical
Motogadget mo.Unit primary system control
Motogadget mo.Lock key-less ignition switch

DOT approved 7" LED Headlight

LED brake/tail lights integrated into alloy tail section

Push-button switches integrated into bars

Dyna electronic ignition

Modern regulator rectifier

High torque mini starter

Full custom wire harness very clean and simple
Body
Hand formed custom alloy tank, tail, headlight cowl

Hidden petcock

Seamless transition from tank to tail

Leather upholstered seat

Lemans style two lever Gas cap
Controls
Custom machined rear brake lever with inboard pivot

Custom machined direct-acting shift lever to eliminate linkage

Custom machined clamp and fabricated alloy "Swan" style clip-on bars inspired by the original V7 Sport

Custom machined rear pegs

Custom machined headlight mount clamps

Twin cable pull brake lever, shaved and smoothed

Stock clutch pull, shaved and smoothed

Tommaselli twin pull throttle

Custom-built throttle, brake, and clutch cables
Wheels
Front 18" shouldered aluminum rim

Rear 18" shouldered aluminum rim