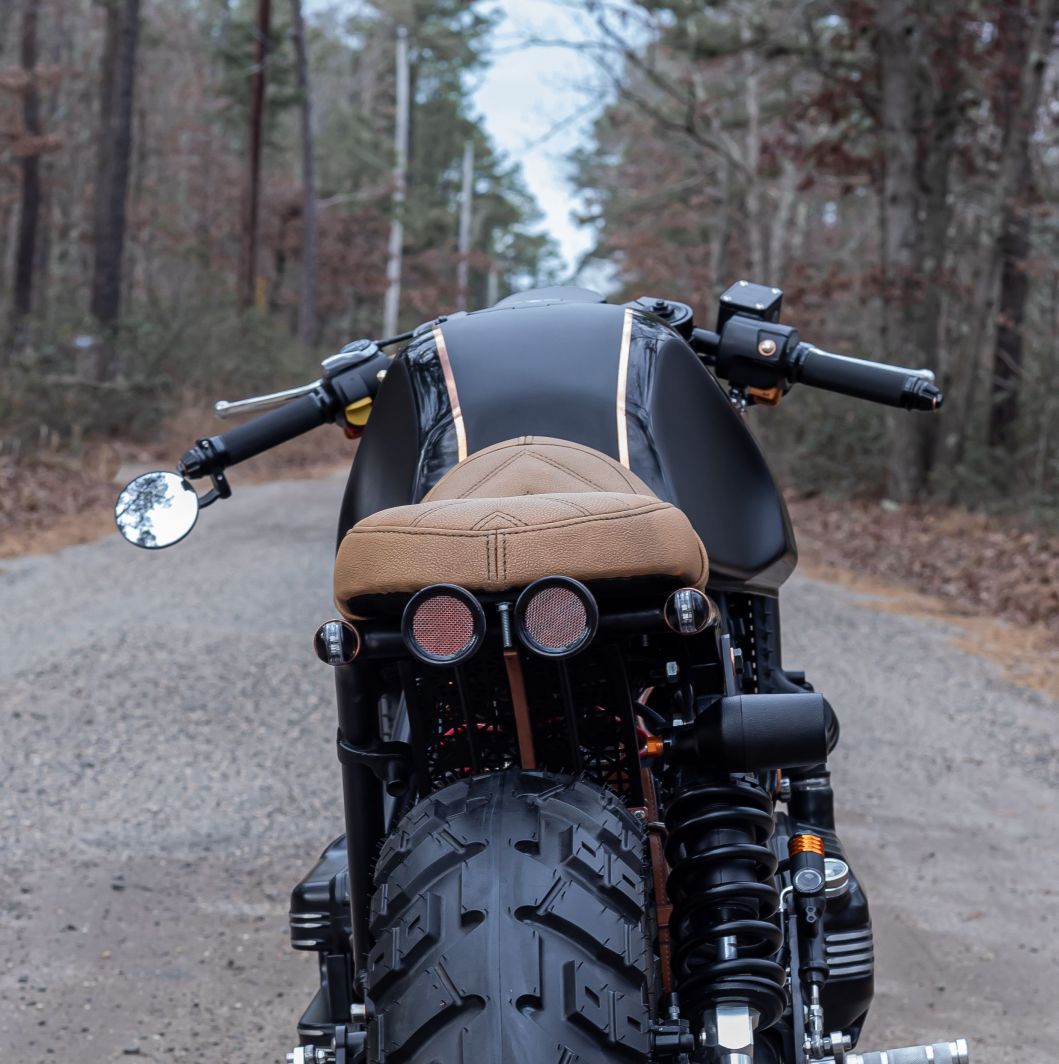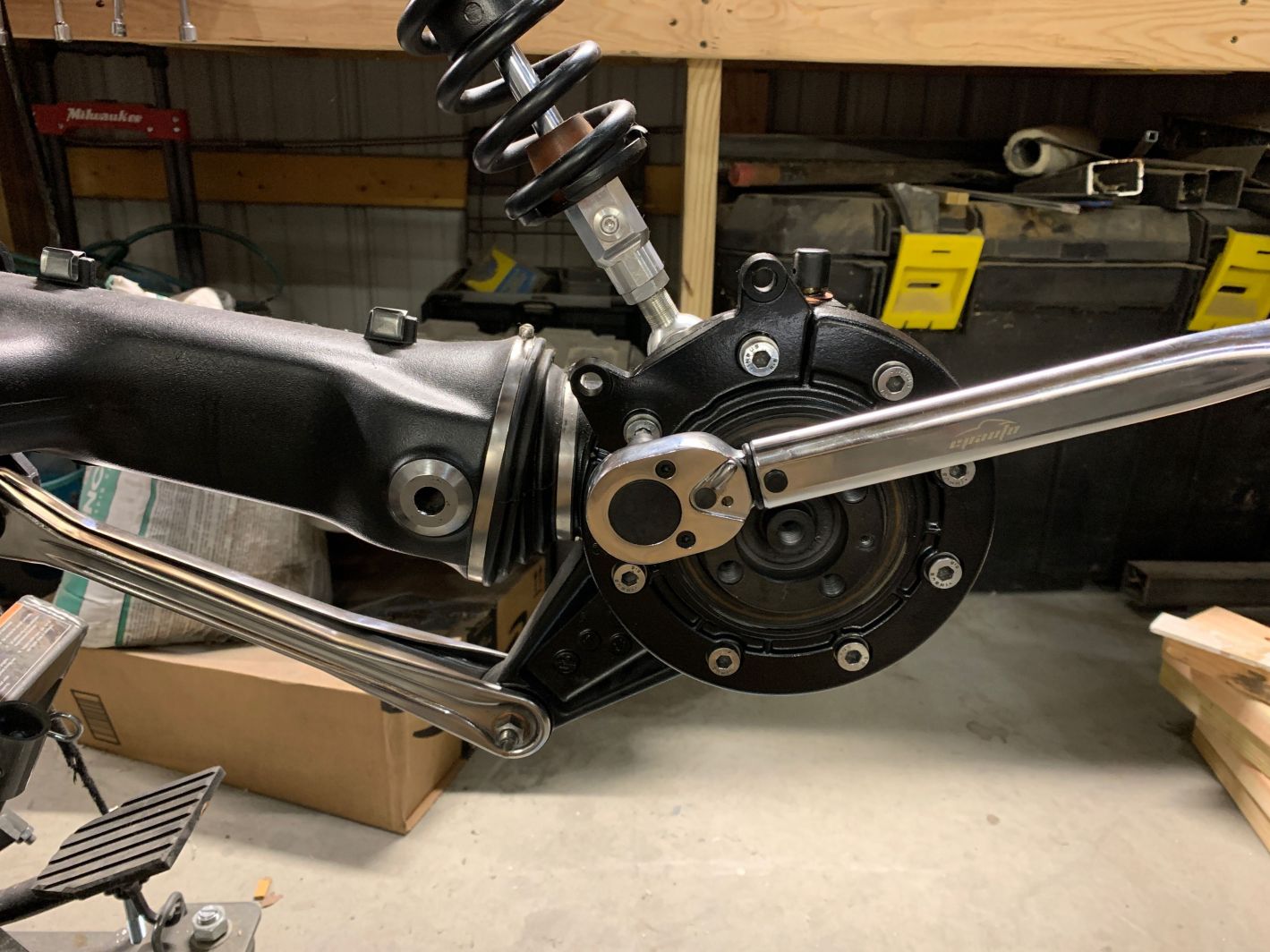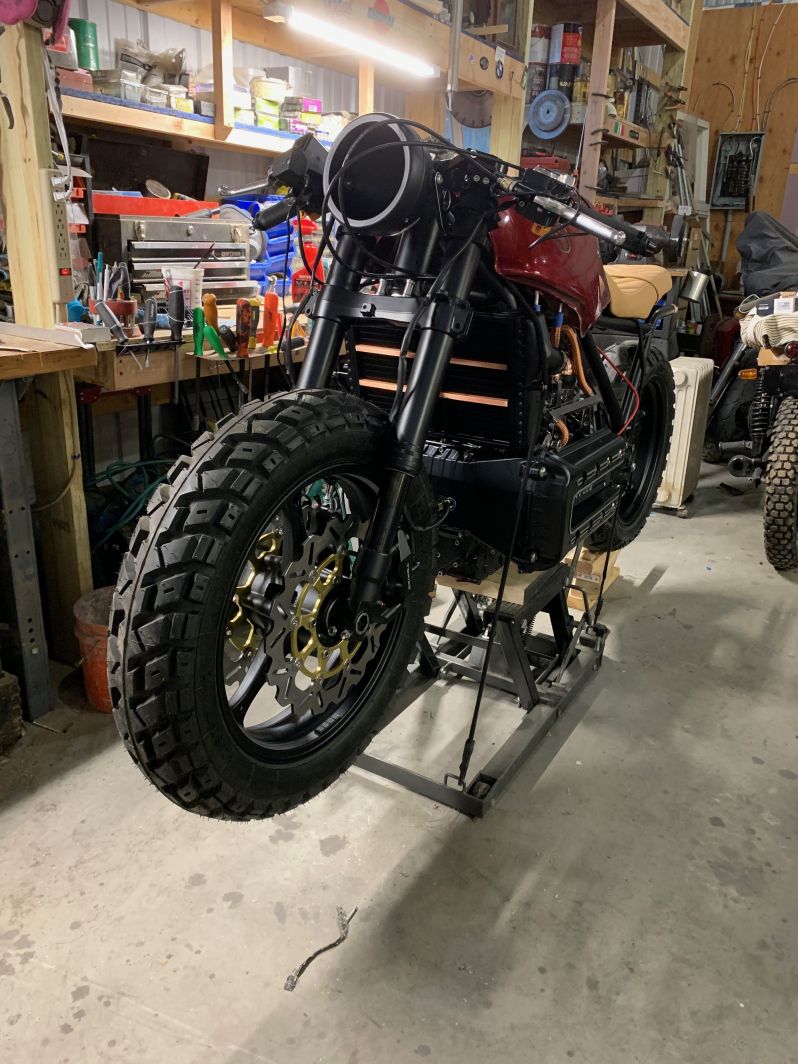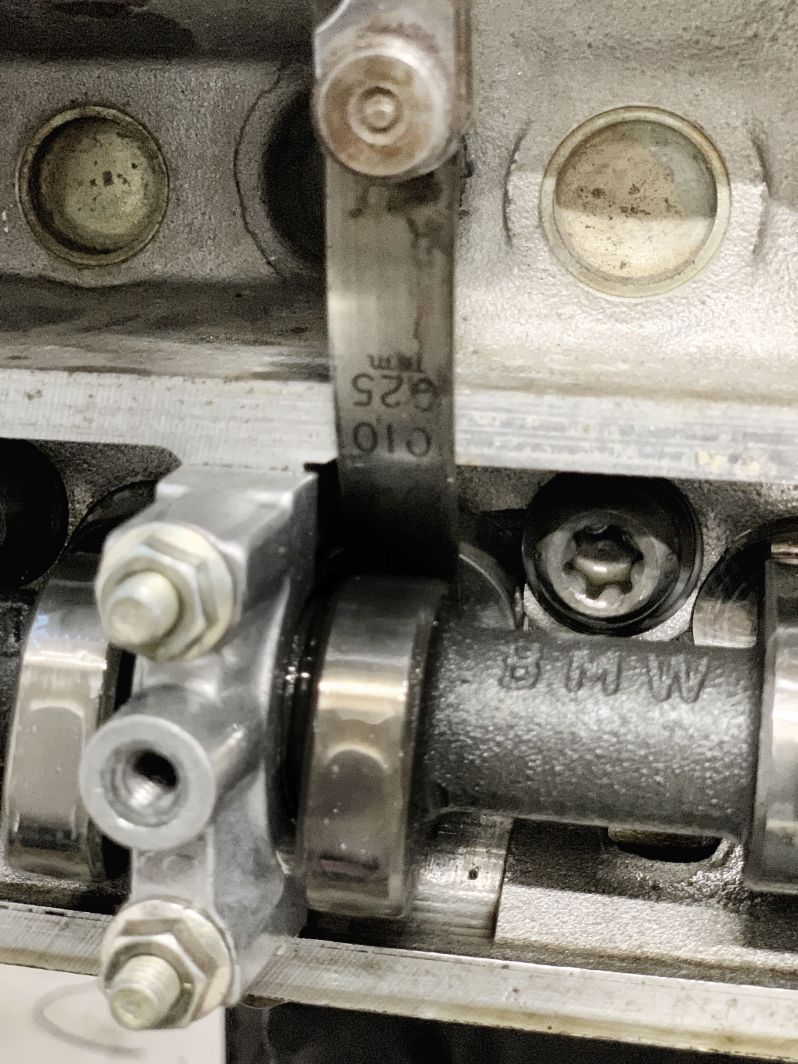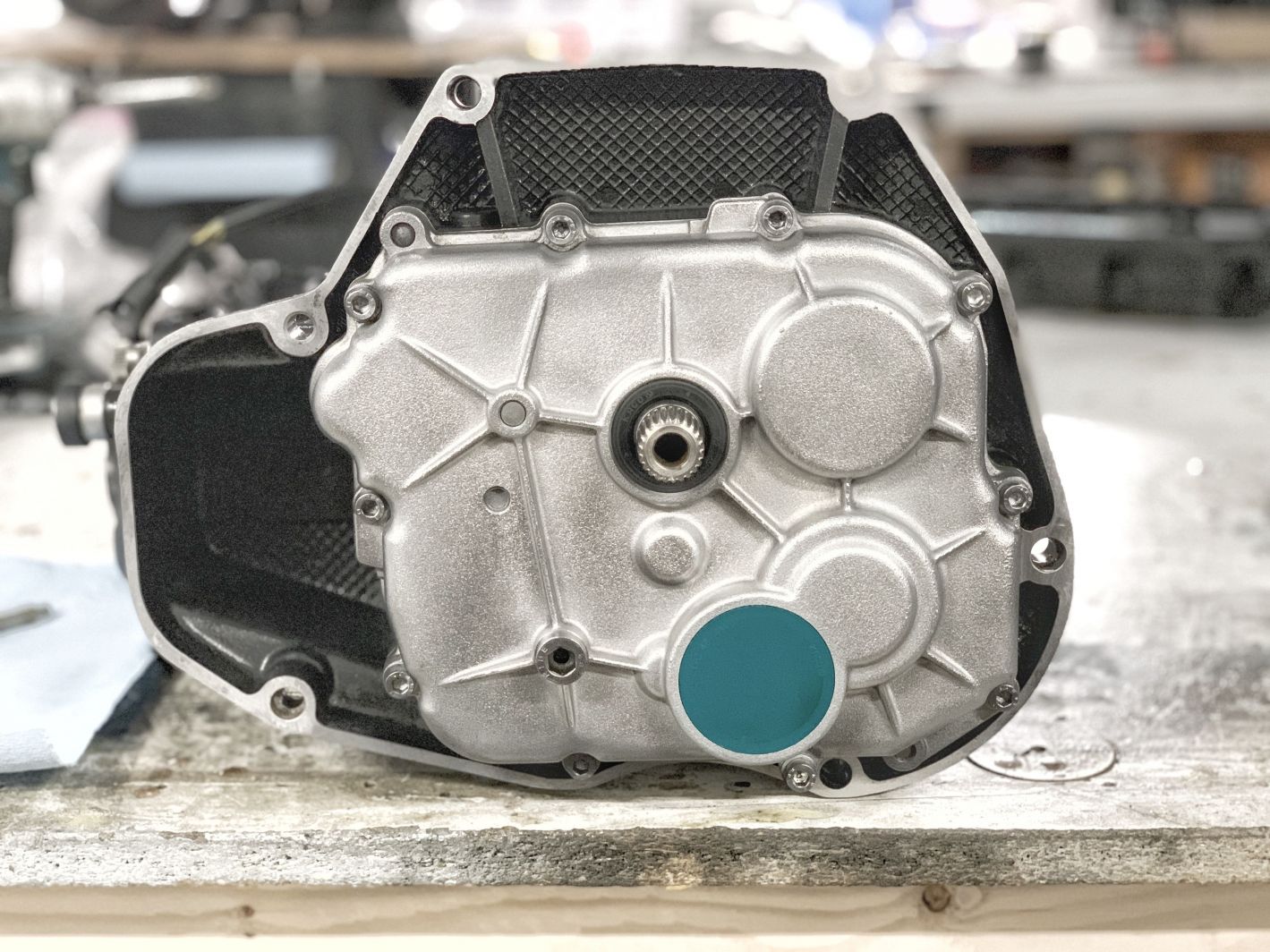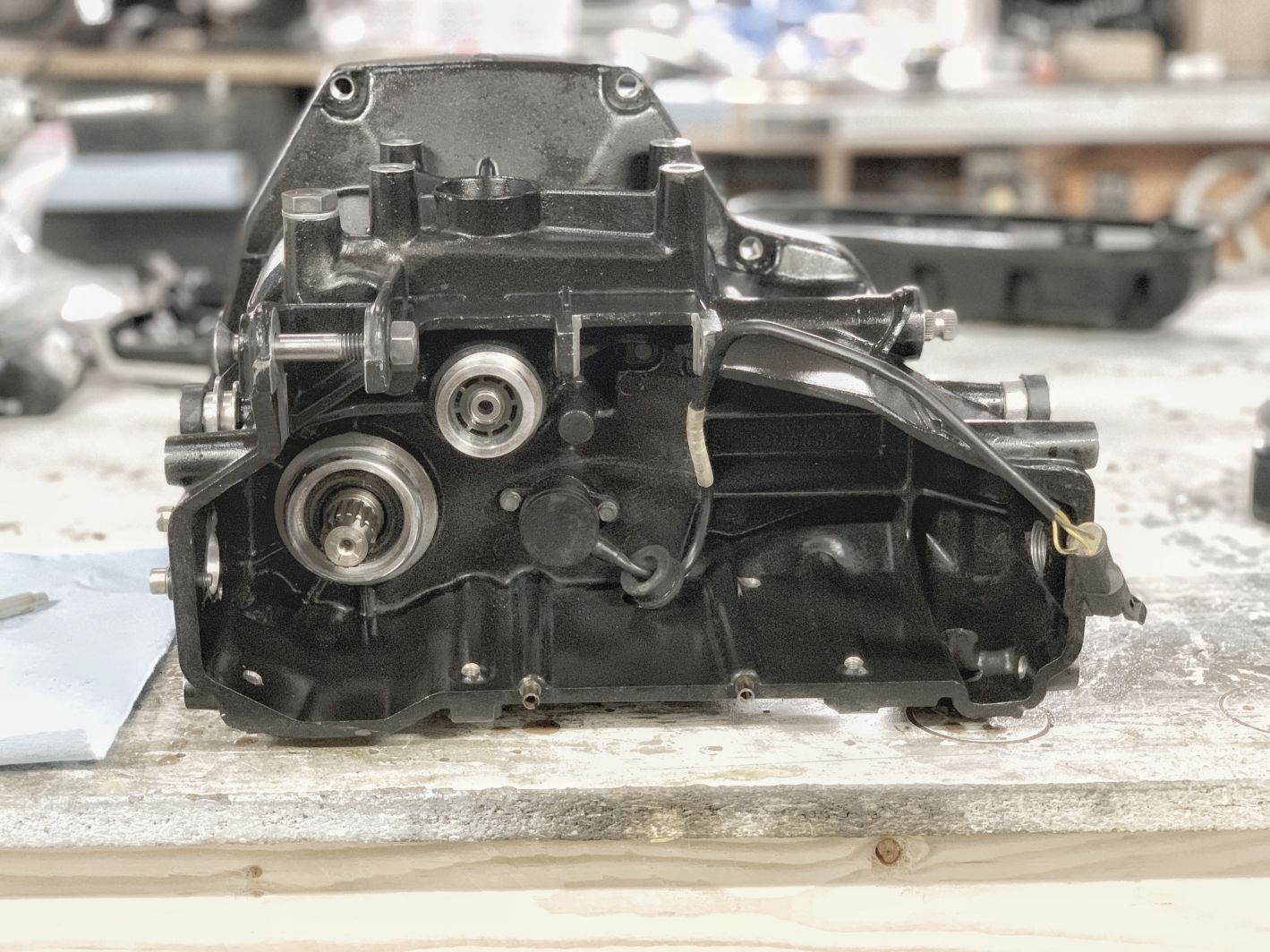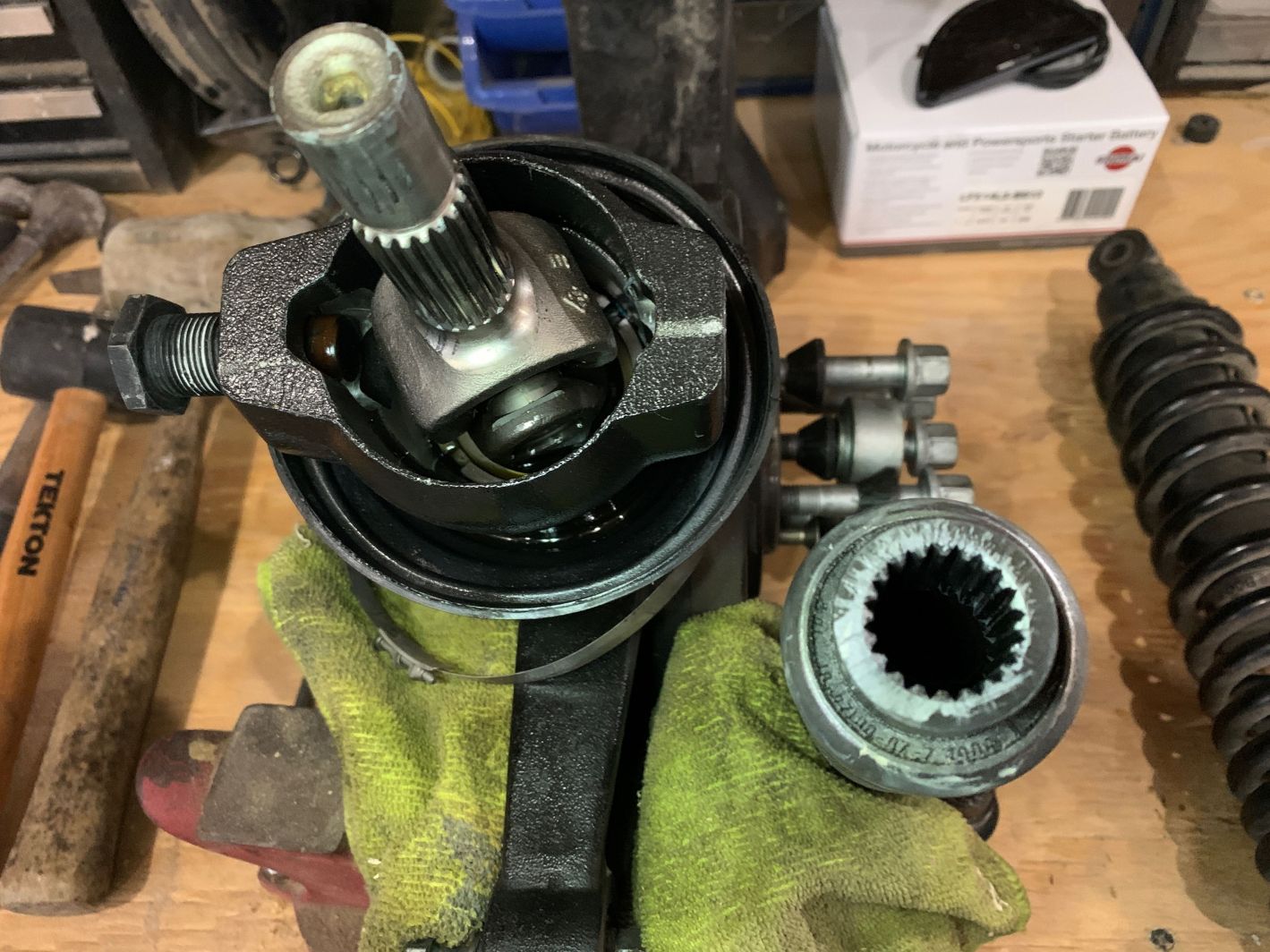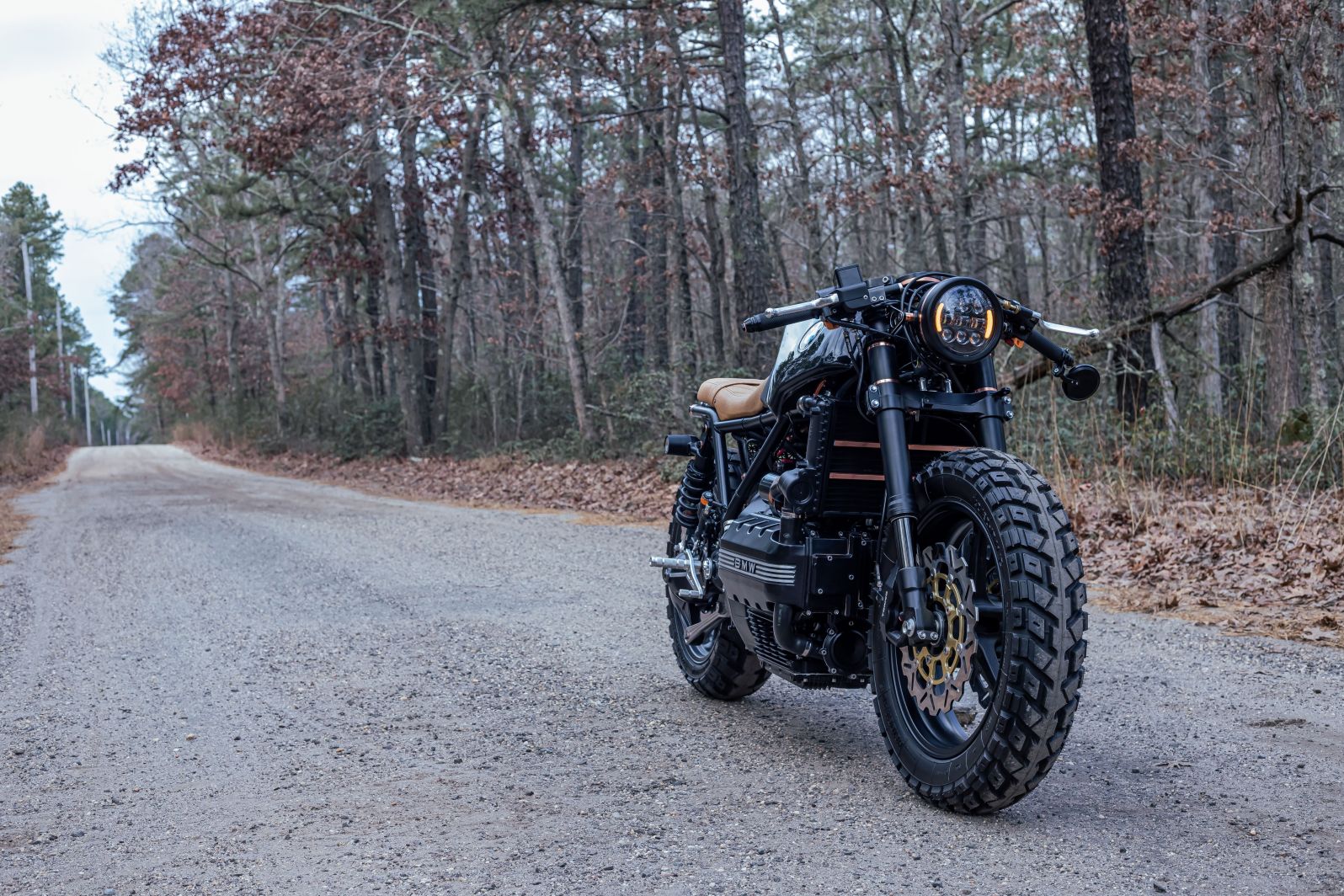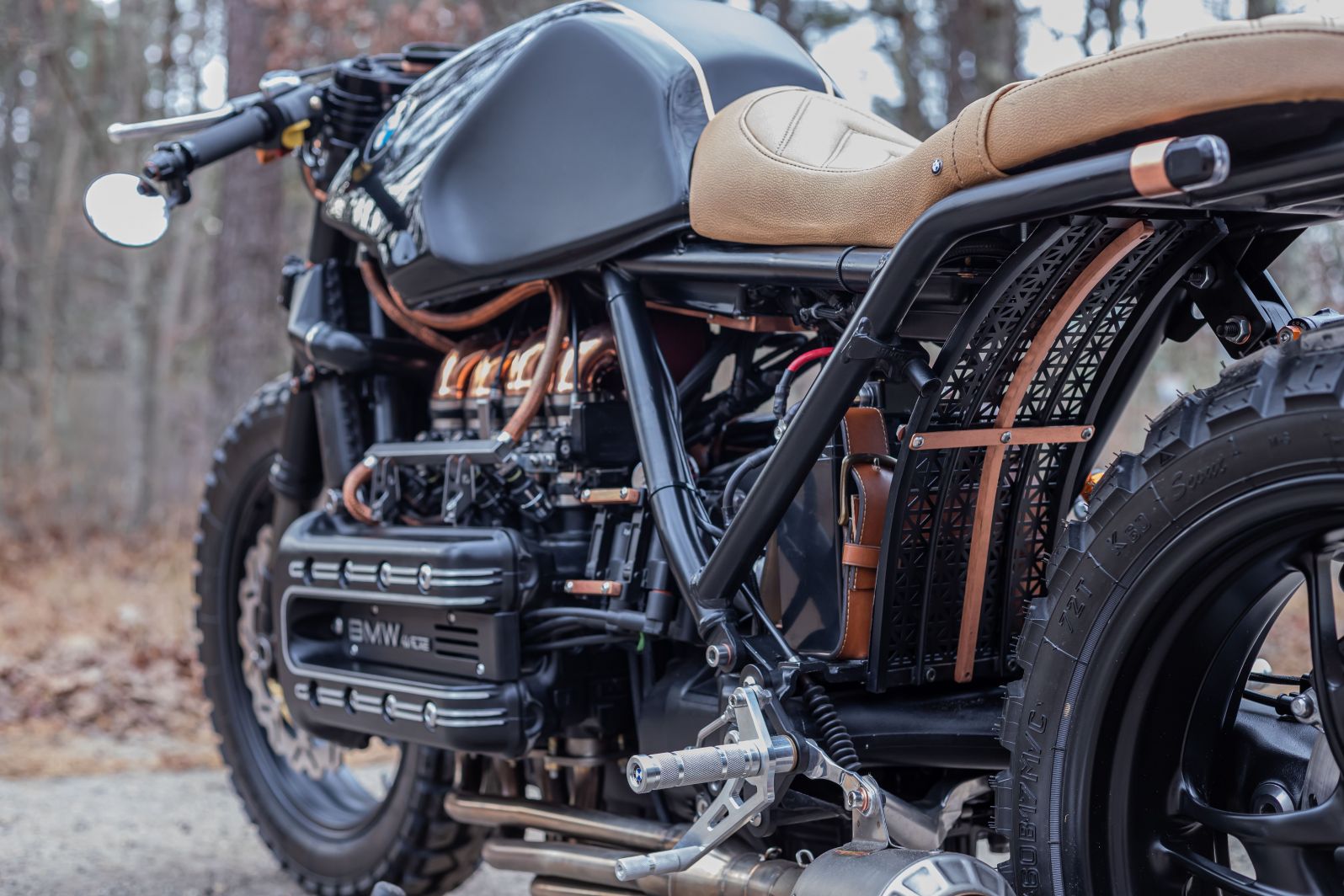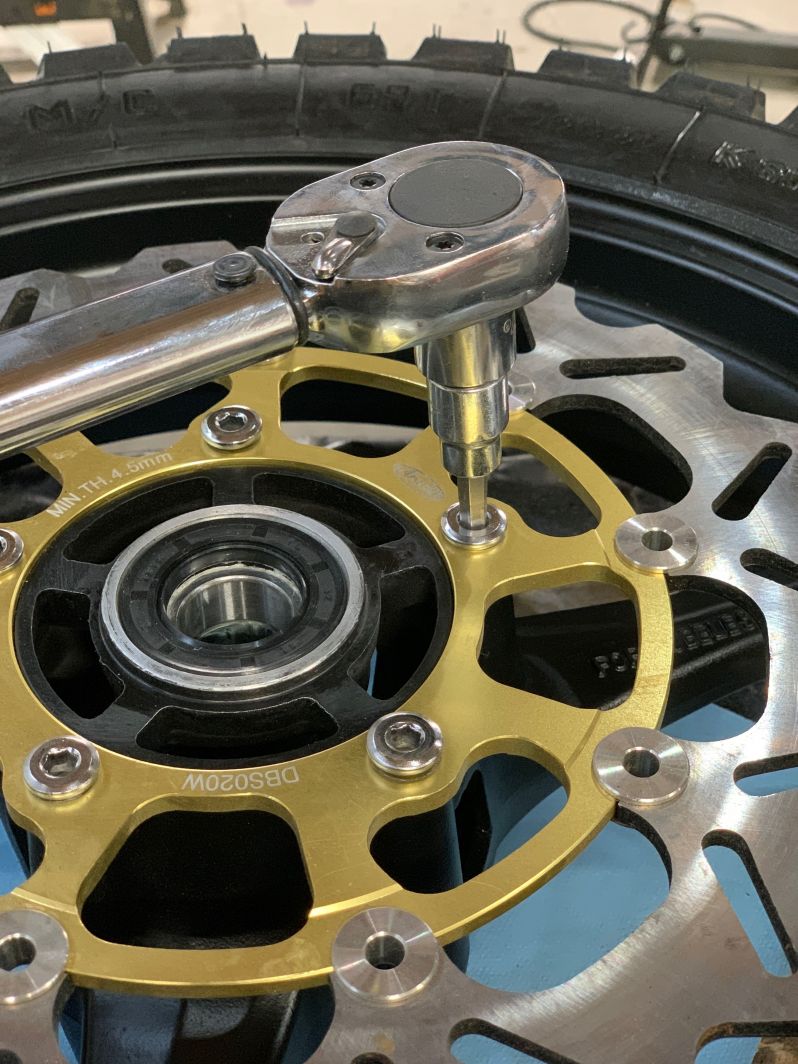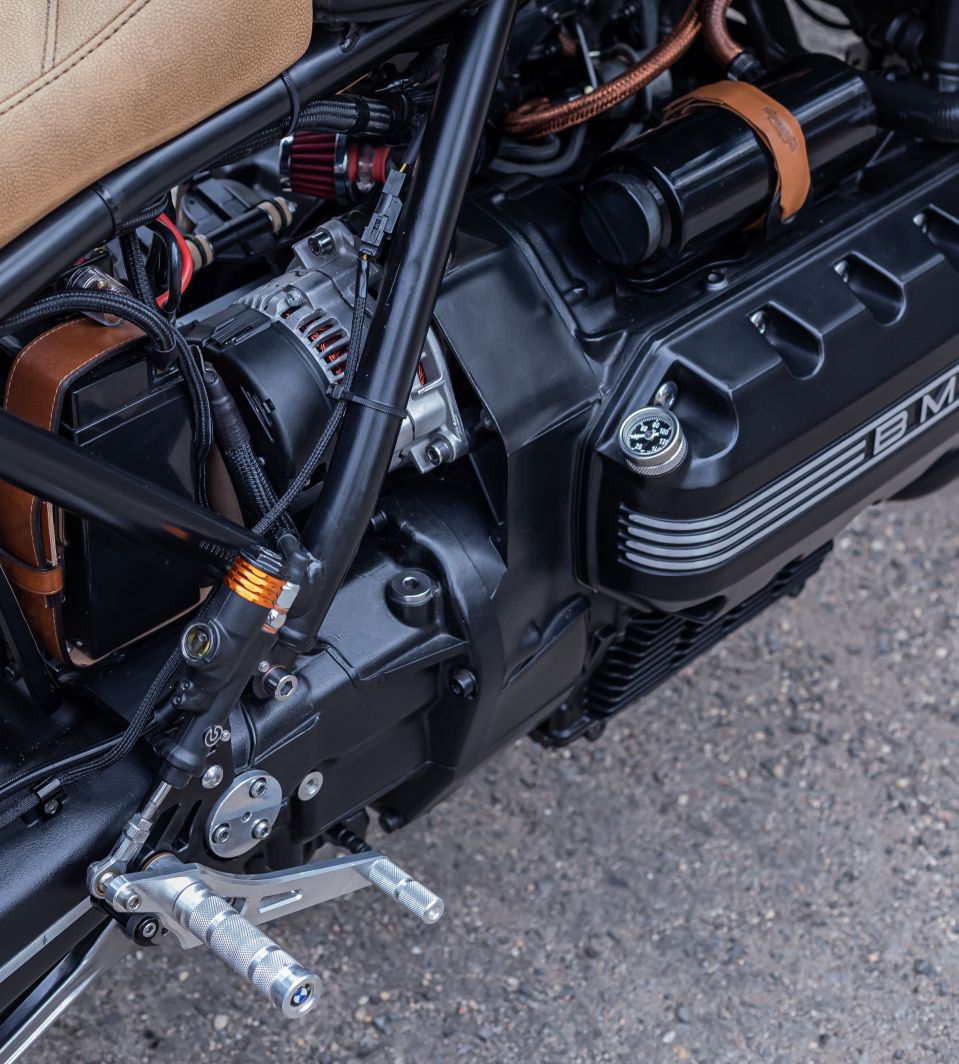 Dave Manchester spent seven years in research and development of new technology for a large printing company, where he learned a lot about machinery and electronics. He currently works full-time welding and machining government-contracted parts for submarines, and makes custom furniture in his spare time. He also loves to work on motorcycles, and judging by his work on what he's dubbed the "John Malkovich 1995 BMW K1100," he is pretty damned good at it. On this project, he did the welding, electrical, paint, restoration, polishing, fabrication and engine work himself.
On this project, he did the welding, electrical, paint, restoration, polishing, fabrication and engine work himself. He calls it the "Being John Malkovich K1100," displaying a rather unique sense of humor. "Most of this build was done after work, so it ran into some late nights," he says. He would get home late and eat dinner, then turn on the TV and watch "The New Pope" while he worked on the bike. "So as I worked late nights and watched the show," he continues, "I began to draw similarities between the actor John Malkovich and my K1100. I started referring to the bike as 'John' and would talk to it. It took many late-night philosophical conversations between us to get on the same page." So if you've ever felt like building motorcycles is making you a little crazy…rest assured, you're in good company.
Inspiration for the bike's stance and design came from bike builds by Trevor Ditson and Paul Fill. Dave tells us that he really loves the Ks that modify the frame and angle the rear to follow the tank line, but he is too short for them. (Editor's note: Same. Sigh.) So he built it with the stock frame, except for a slight chop on the length. At the end, he welded a cross member and two additional tubes to accept the taillights. He also moved the tank mount up two inches to address the tank-to-frame sight line. The color combo of the bike was decided on while Dave was remodeling a kitchen and installed a matte black kitchen faucet with a copper handle. Which goes to prove that good ideas can come from just about anywhere!
The bike was HUGE when Dave first picked it up. It had full fairings, rear luggage bags and a rear trunk, none of which were needed any more, so he was able to fund the build by selling those parts.
Because the K bikes have a lot of visual weight, with a large tank and engine that really need a counterbalance, Dave decided to go with larger diameter USD forks, a wider front rim, and a BMW R1150 rear rim. This allowed him to use a 140 front tire and 170 rear tire to balance the view. He also went with a 2-up seat to add to the length.
To reduce some of the bulky look of the engine, he got rid of the stock airbox and went with copper velocity stacks, capped with pod filters. He used the leftover open space to orient the radiator overflow canister, and then broke up the boxy look of the radiator with a copper mask, highlighting the rear of the bike with a copper over steel grate.
The engine was running fine when Dave tore the bike down, but he still got in there to make sure all was good. Compression and valve clearance checks were done. The water/oil pump was rebuilt as a precaution. The intake and exhaust ports were ported and polished. The exhaust headers are held tight by new copper gaskets, studs and nuts. The throttle bodies were totally disassembled, cleaned, and polished with new seals, boots, stainless clamps, rubber vacuum caps, and a clear coating. Fuel injection was upgraded with 4-hole Bosch injectors, and new EV1 connectors. A new alternator was installed, with new dampers known as monkey nuts. The starter was renewed and polished up. The infamous drive splines were pristine so they just got a cleanup and were then greased with a special concoction.
The swingarm bearings were replaced, and the paralever strut was stripped and polished. A new clutch took care of shifting. The crankcase now breathes through a custom K&N air filter. The dirty oil sight glass was replaced to give a clear view of the oil level and condition.
The engine received a thorough scrubbing by hand, machine, toothbrush, sanding bits and bobs and anything else he could find to get into all those nooks and crannies. All the engine covers were removed and blasted with aluminum oxide. Every bolt on the bike was either replaced or cleaned and polished. The OEM radiator cap and radiator fan were rebuilt. The big radiator was flushed, cleaned and topped up with new fluid.
New NGK iridium spark plugs, gapped and mated to high performance ignition wires, provide lots of firing spark. Engine timing was advanced to complement the power increase from injectors, exhaust and port work. A new sensor cork gasket sealed the deal.
The bike's battery is bolted to the engine case and anchored by leather straps. No tools are required to kill the battery, as there is a super convenient battery disconnect switch.
The engine, transmission, swingarm, and final drive were all coated with durable, solvent resistant ceramic paint. The tank was painted in three coats: first came the black base, then a clear coat, and finally the matte black sides and top. The gas cap was rebuilt with new gaskets and screws, then painted matching matte black. The GSXR 1000 front triple was installed with new stem bearings. The front and rear calipers were rebuilt, then painted and fit with new shoes. Custom Venhill front and rear brake lines run to a rebuilt Magura front master, and the rebuilt rear master sits atop a gorgeous rearset. The whole configuration is pushed through a custom Venhill line. The calipers clamp down on brand new front and rear rotors.
Trimming and adapting the wiring harness to work with the Motogadget mo.unit Blue and Motoscope Pro was challenging. The bike had a lot of complex wiring already in place, and while there are some guides out there for other K's, Dave couldn't source one for the '95 K1100. So instead he just rewired the bike from the Motronic Electronic Control Unit using the BMW factory pinout diagrams. He used The mo.unit Blue, Motoscope Pro, mo.button, Breakout Box B and mo.lock, all from Motogadget, and available in our online store
One of the coolest things about the mo.unit blue is that it allows your smartphone to unlock and start your bike. It also has an alarm, so if anyone messes with your ride, the horn and lights engage to scare off thieves, and the unit also sends an alert to your phone. The bike can also be keyless started with the mo.lock fob just by waving it near the receptor mounted on the frame.
Dave thoroughly enjoyed every part of the build process, calling it "a form of mental therapy for me." This was his second BMW build; the first was a 1991 K75. Prior to that, he did a pair of Triumph Bonnevilles; on deck is a 1955 BMW R 25/3 restoration. After that comes a 1976 R75/6 that happens to be the same age as Dave. That one he plans to keep. We just hope we get to see it when it's done.