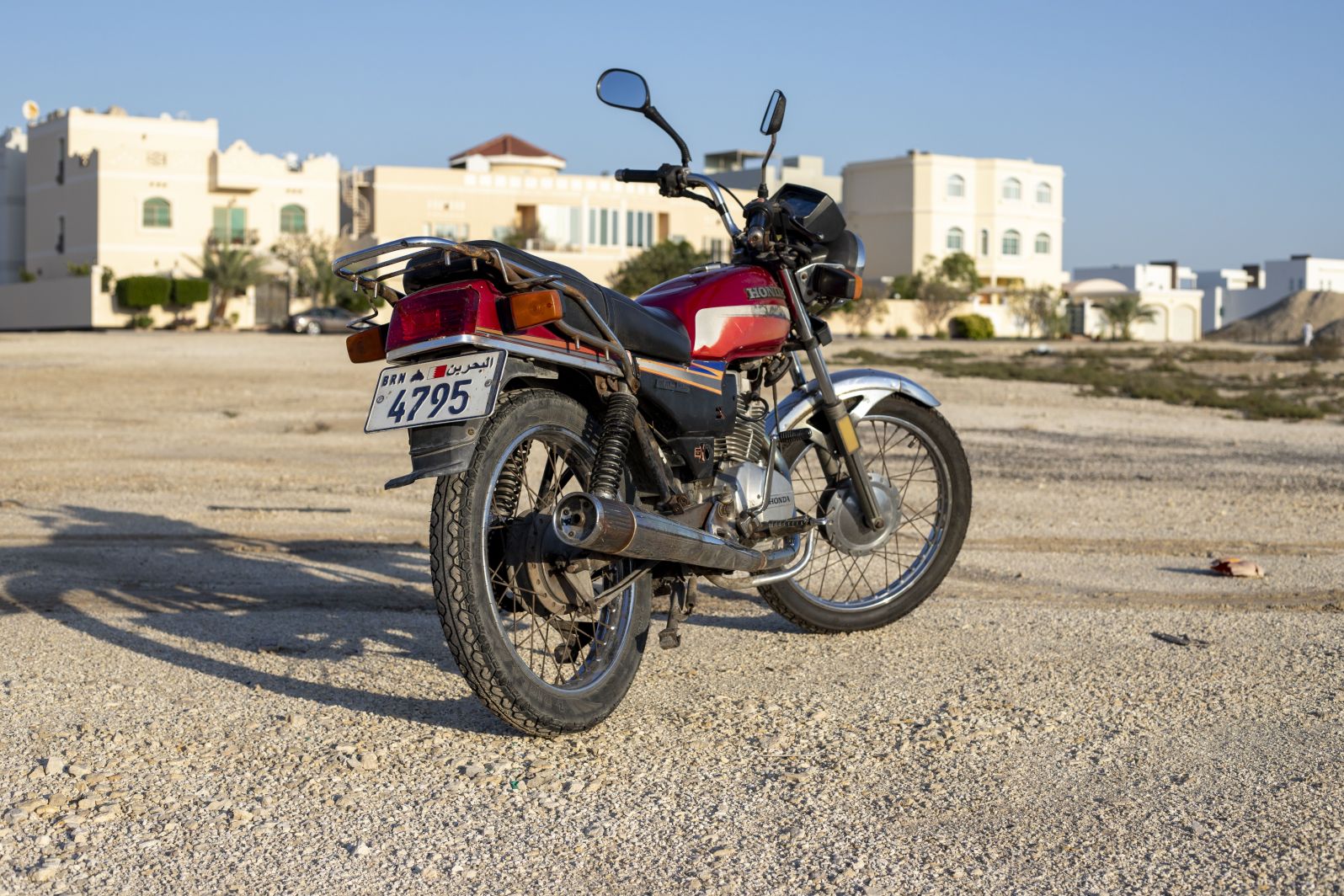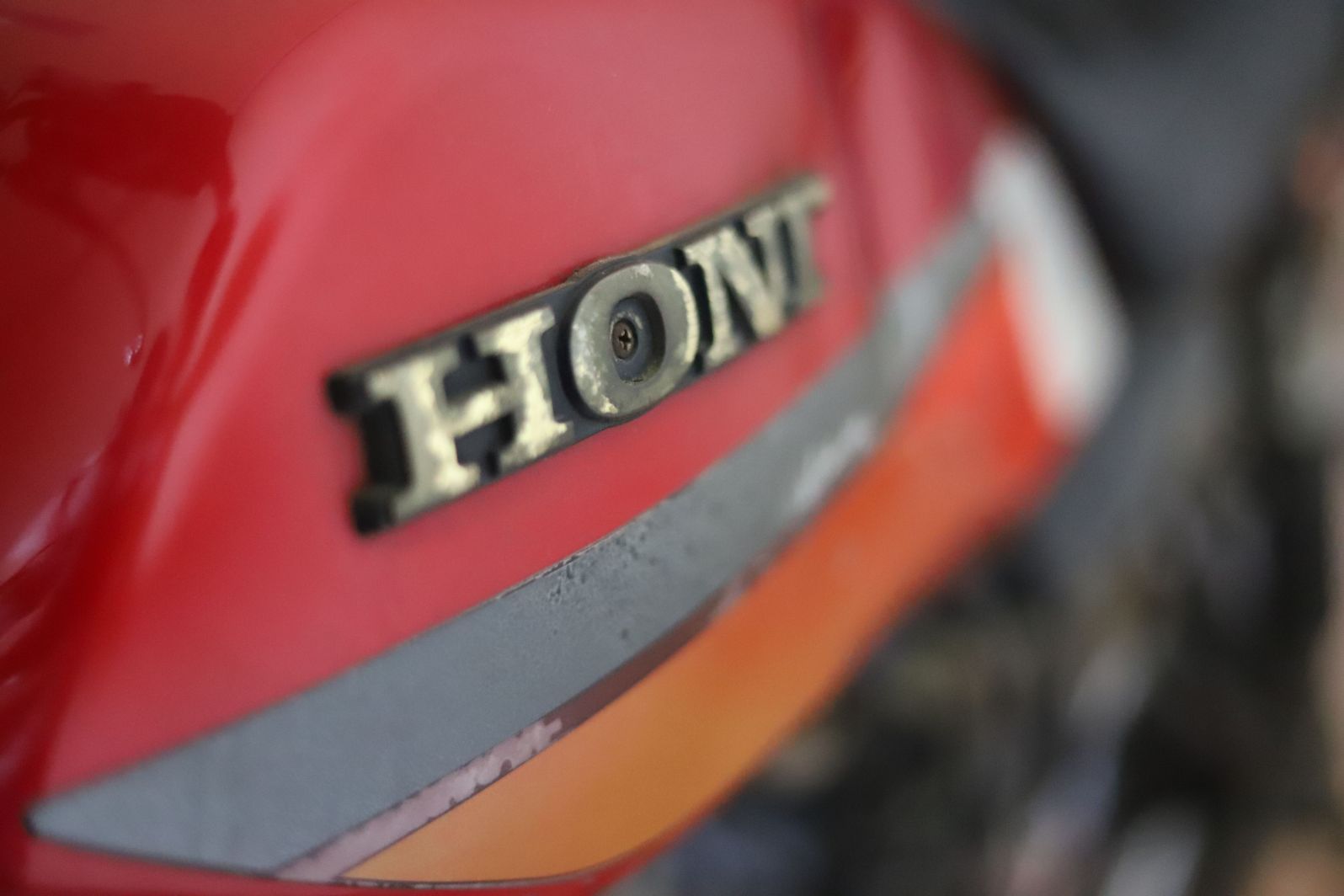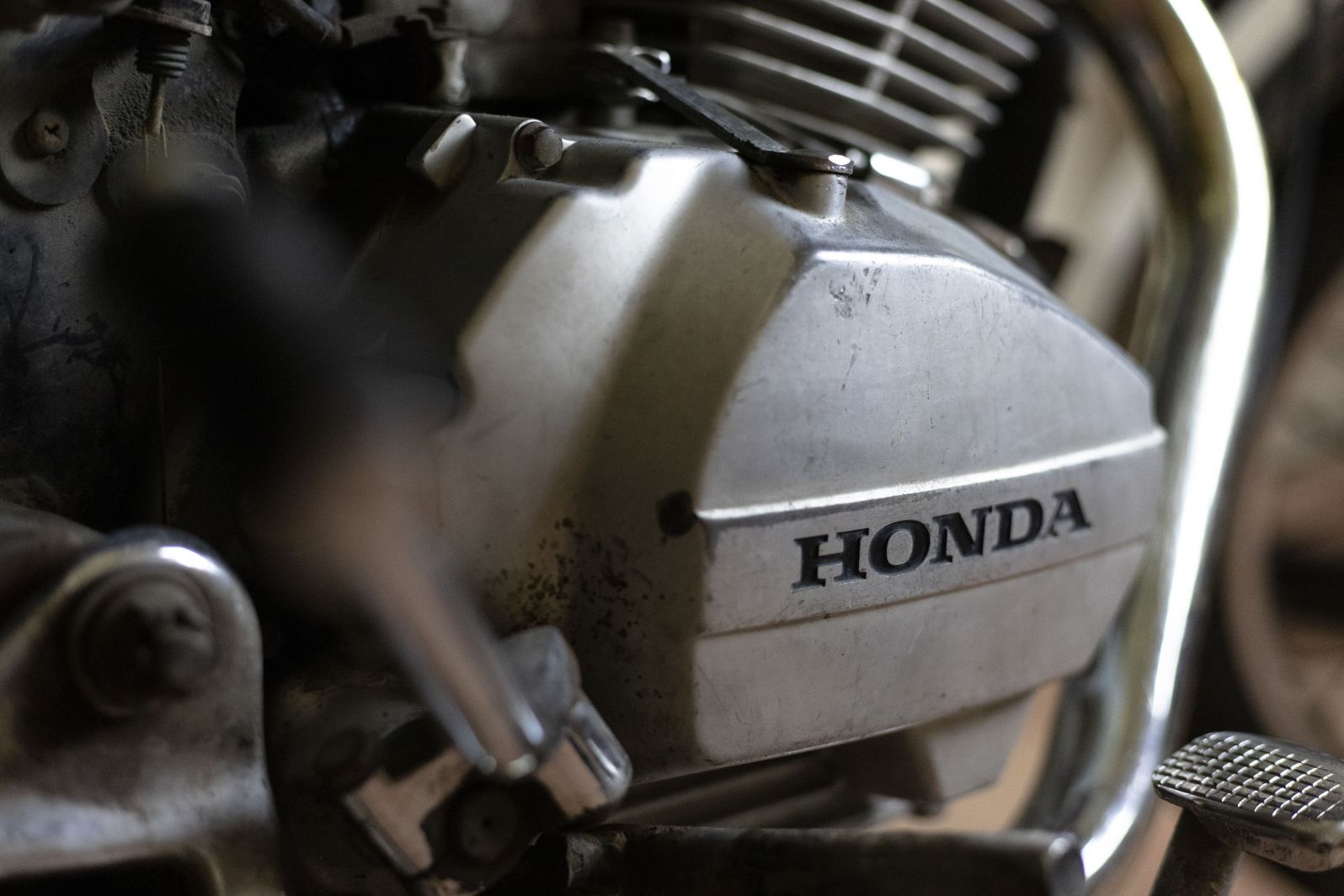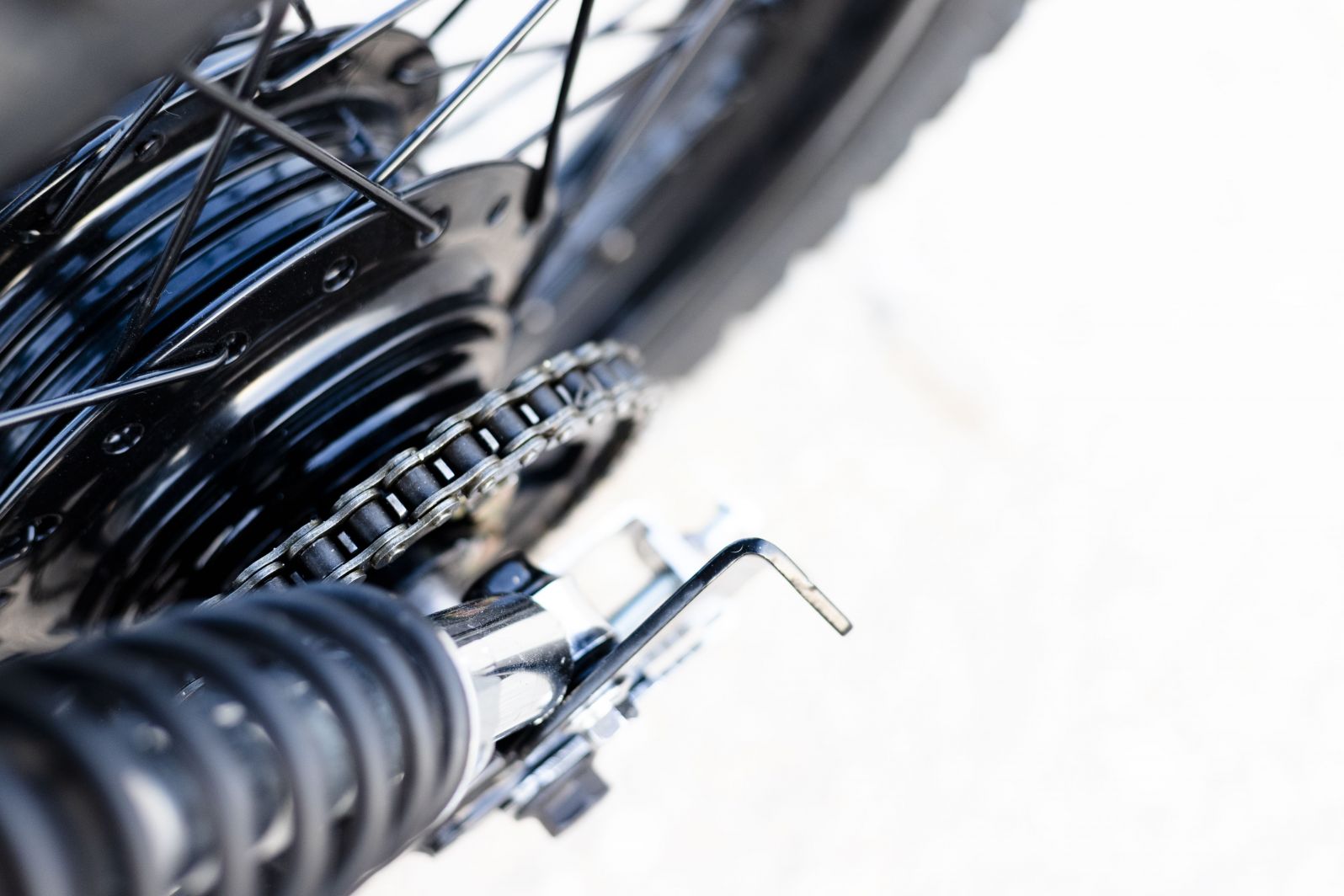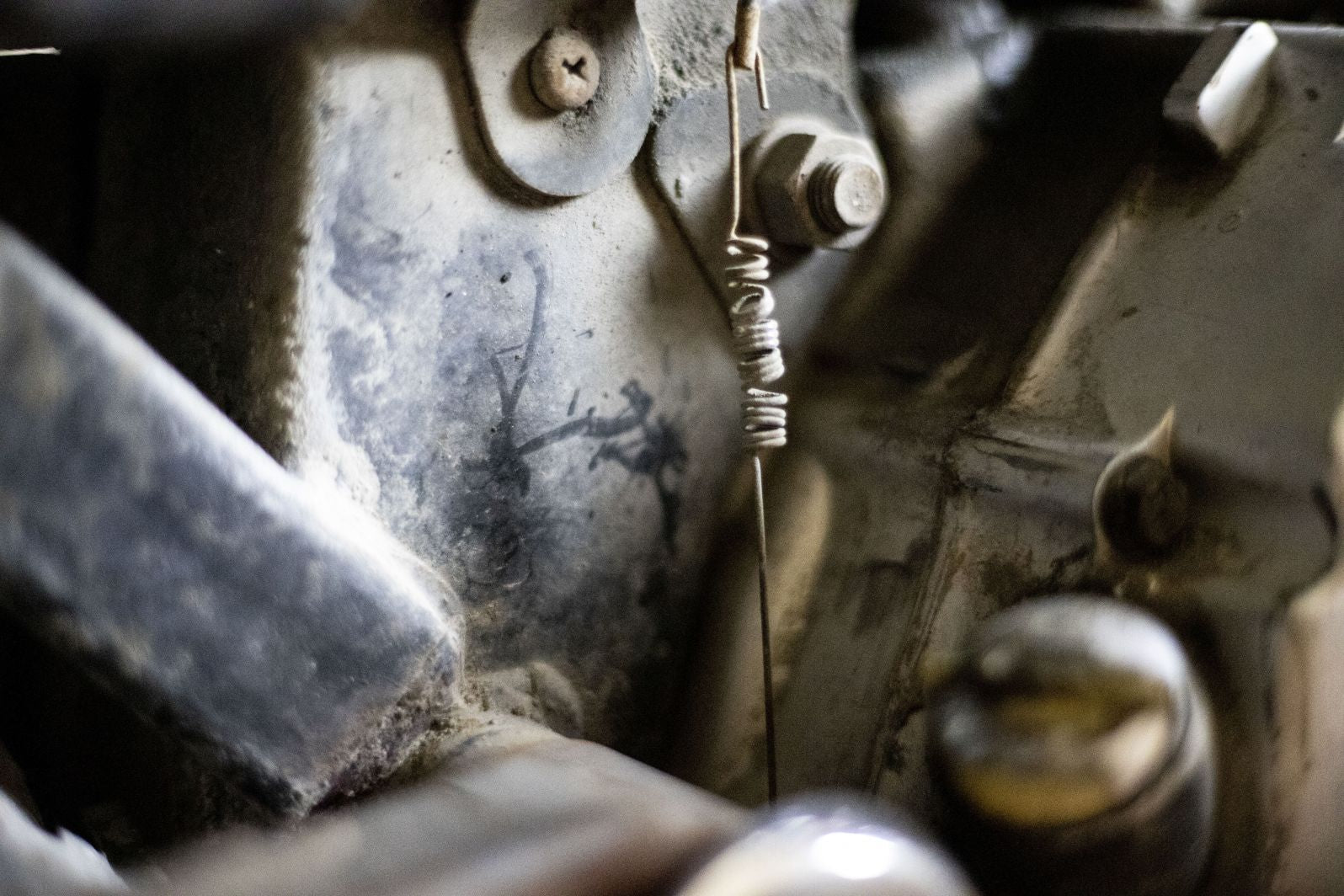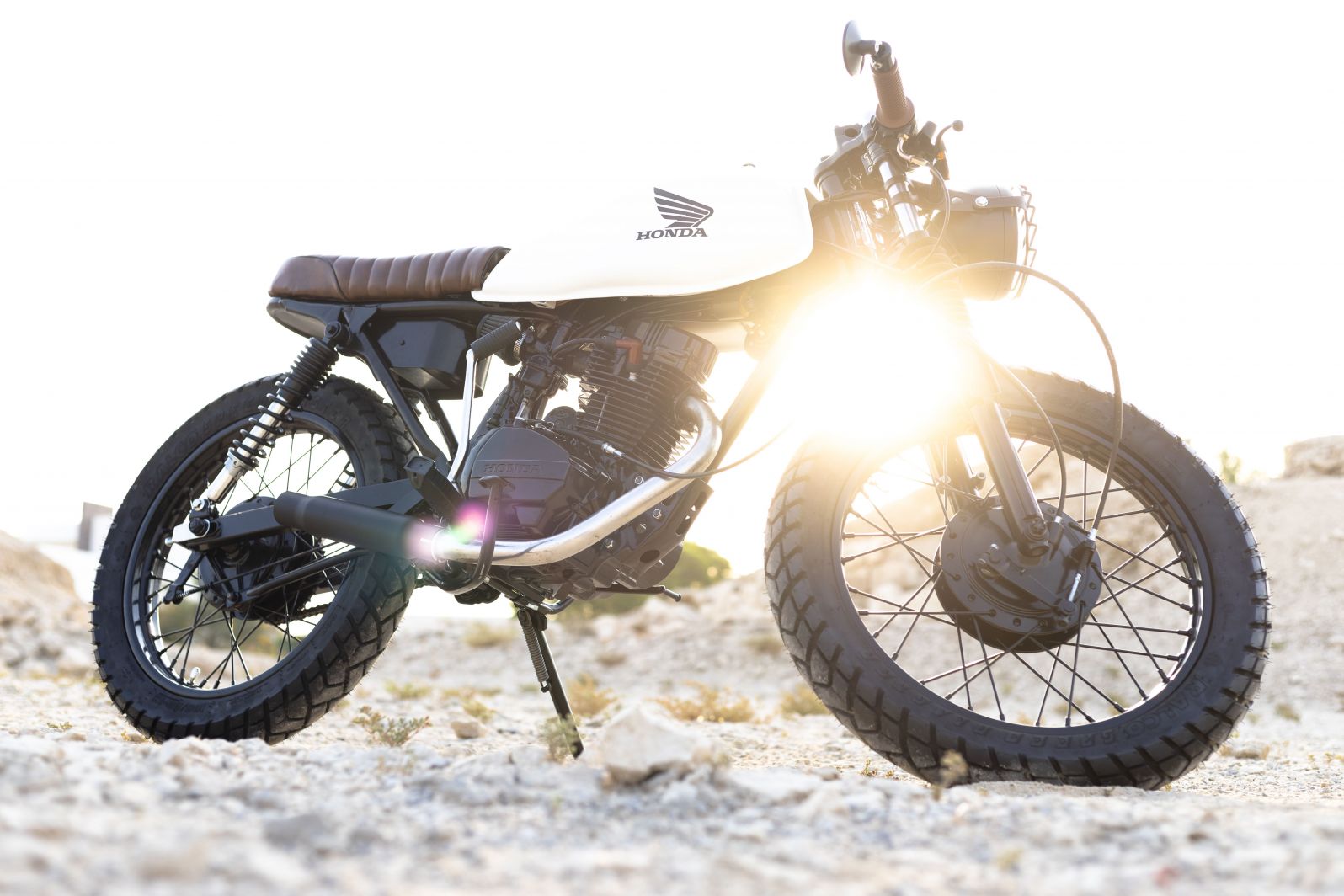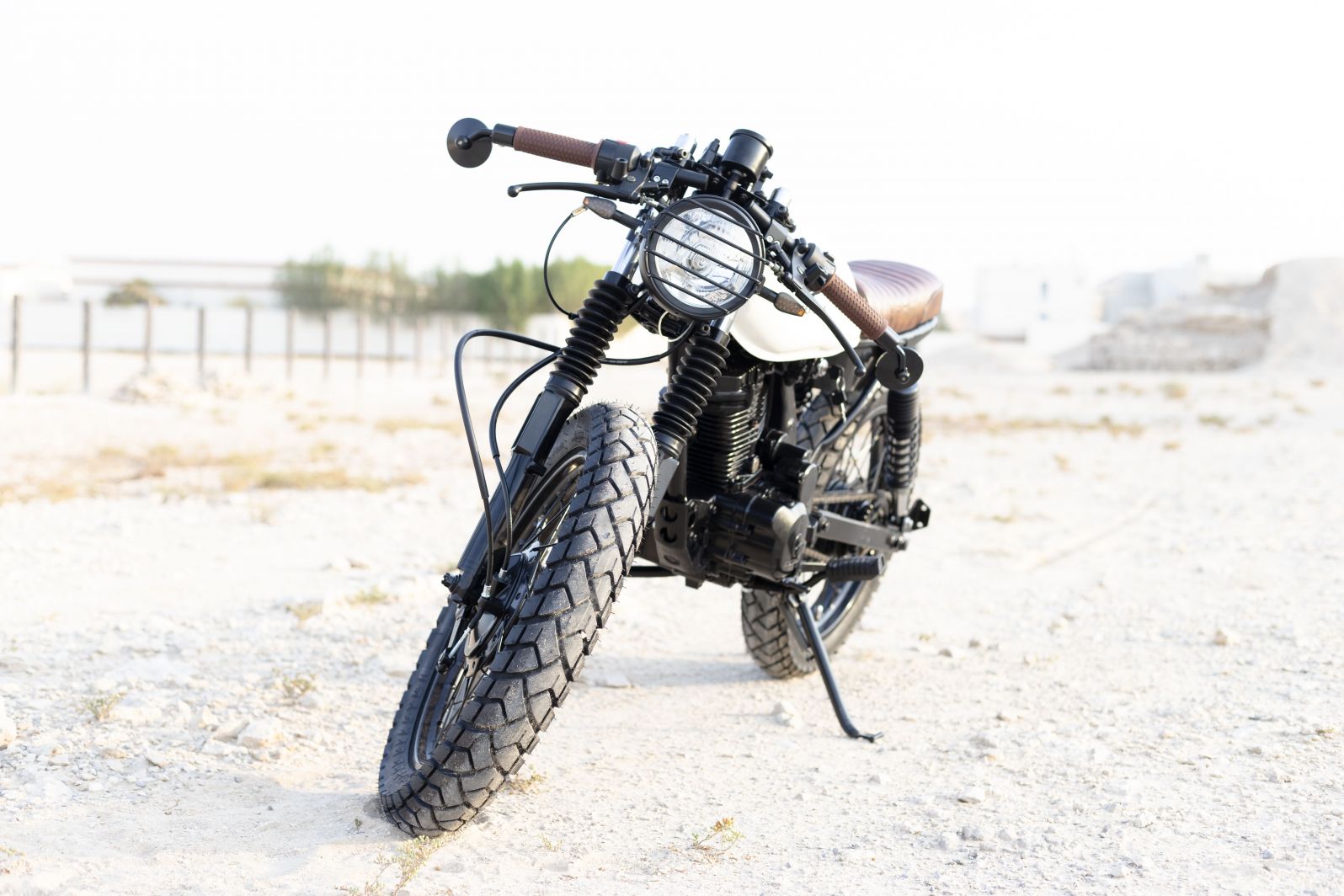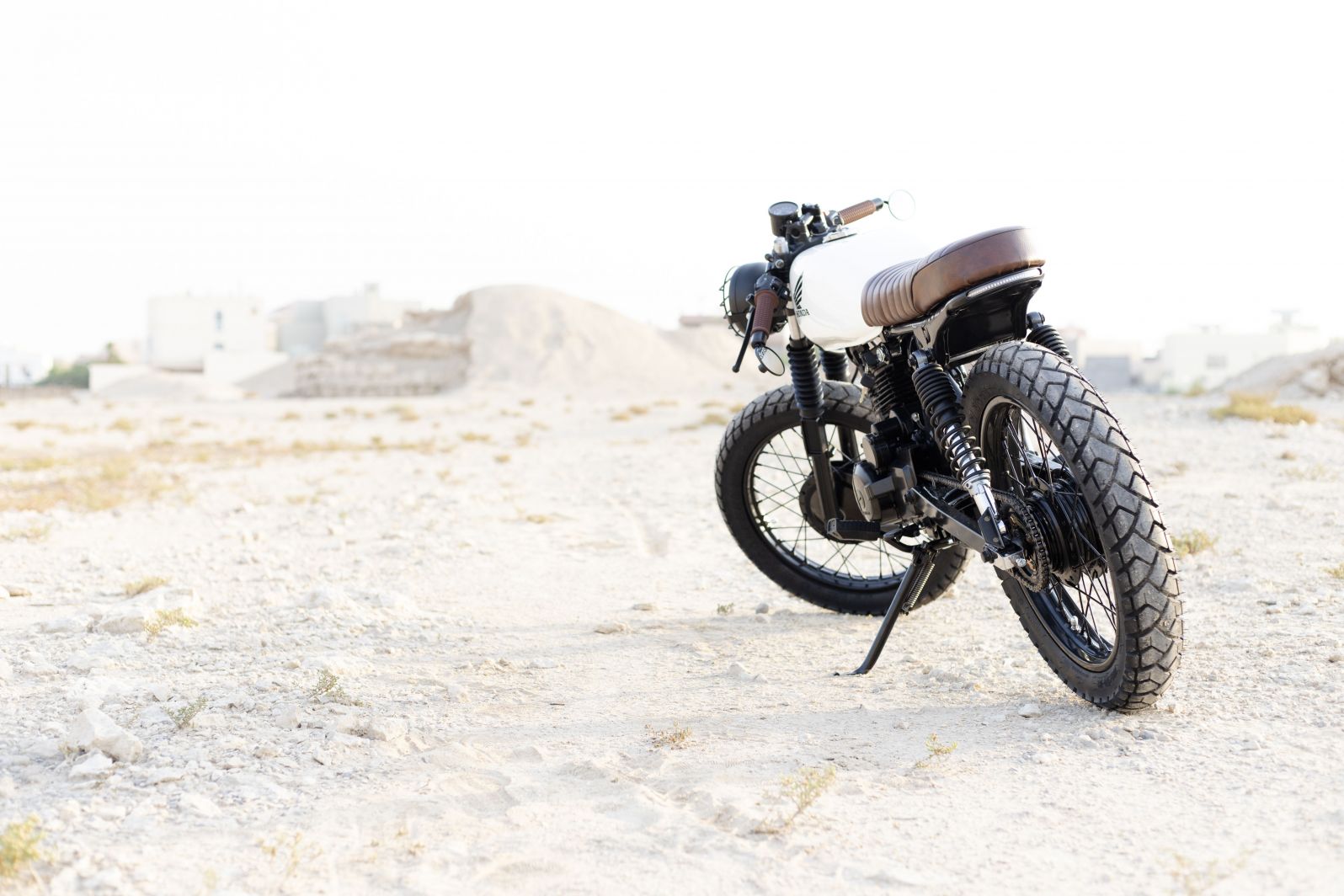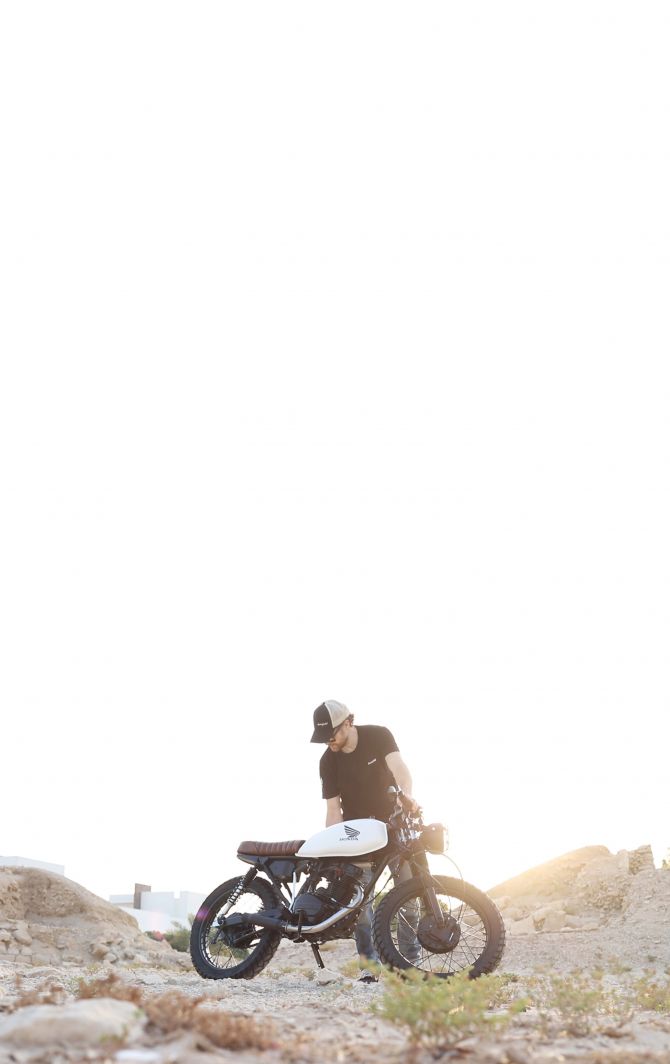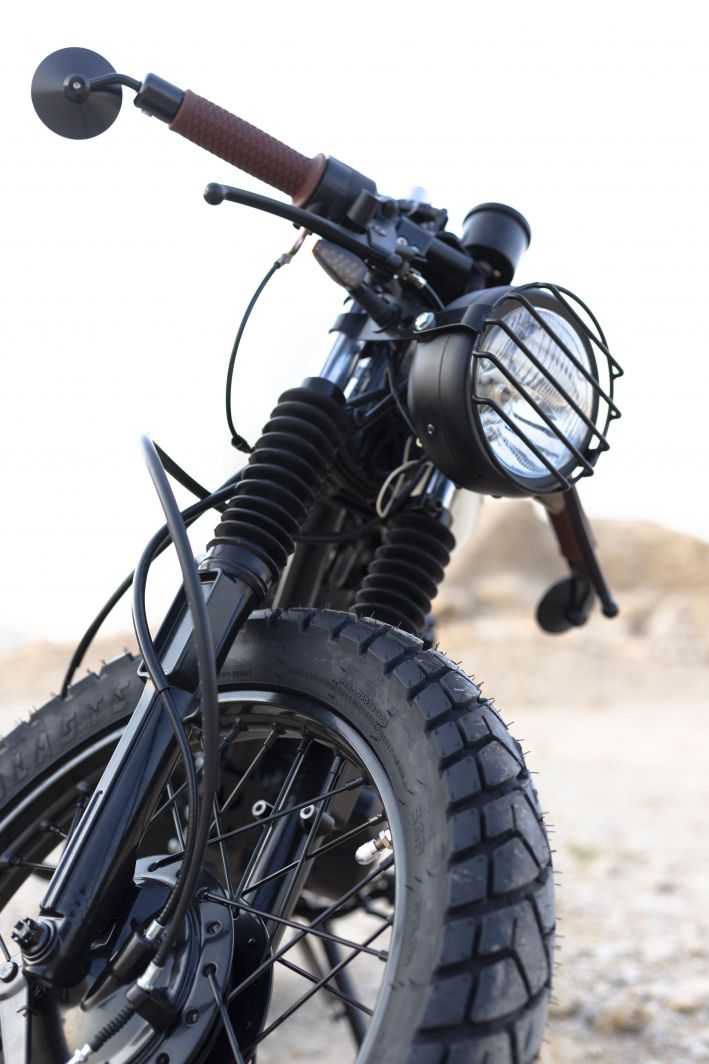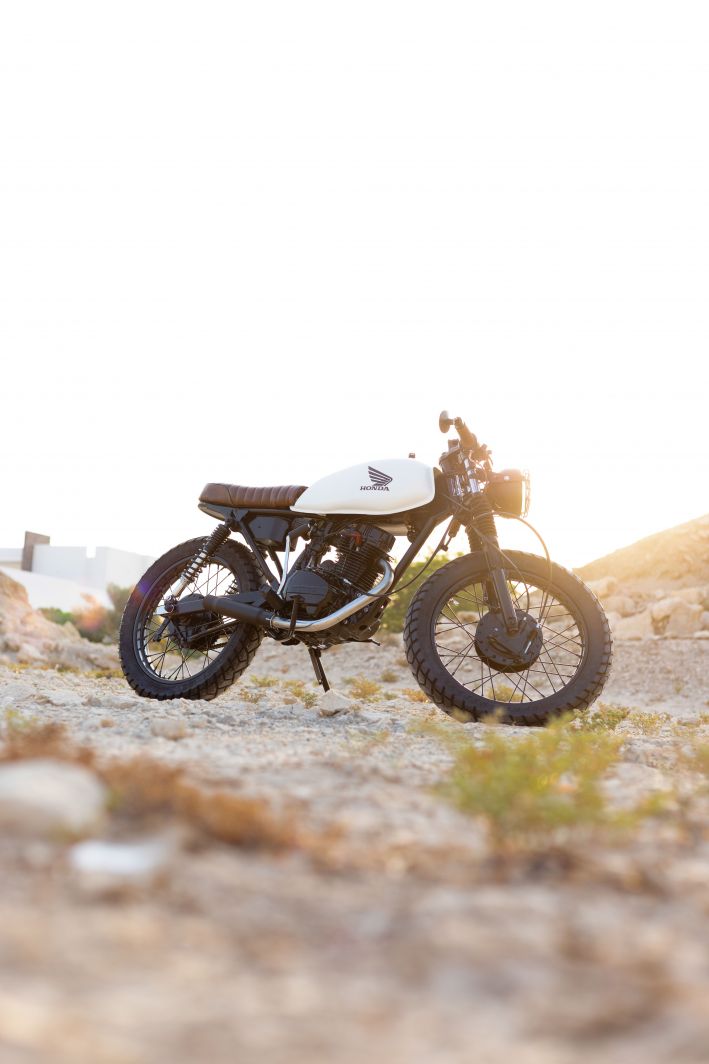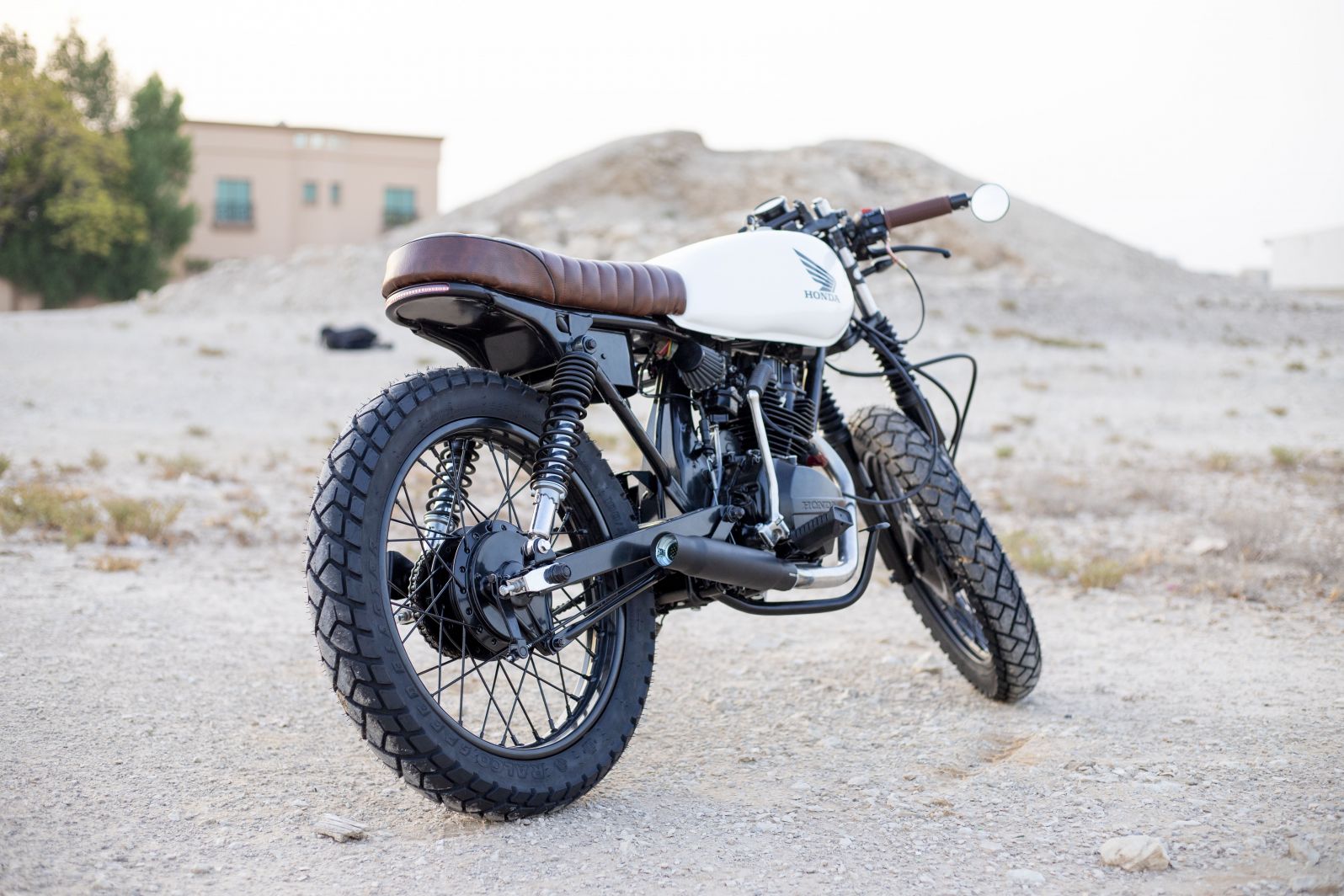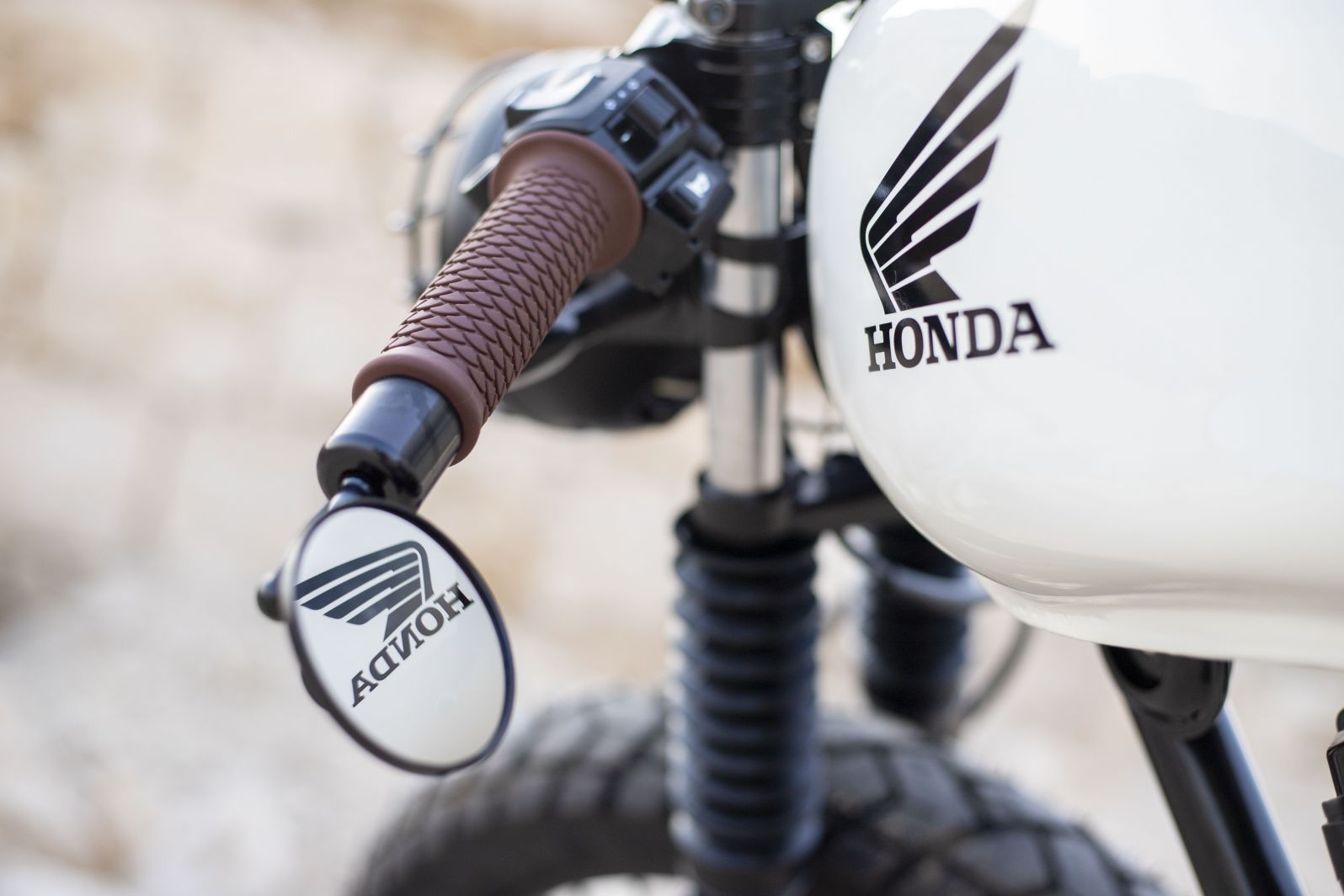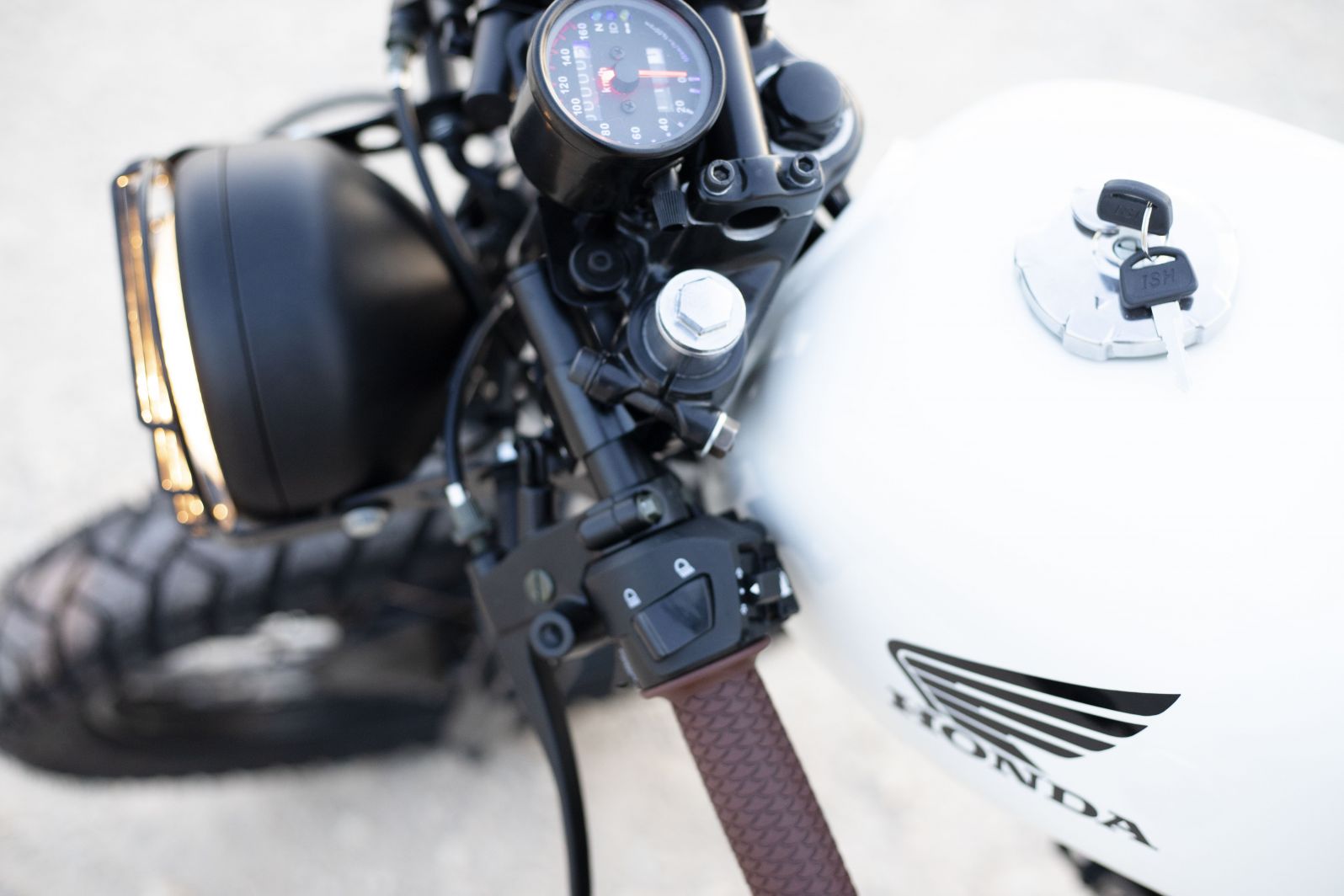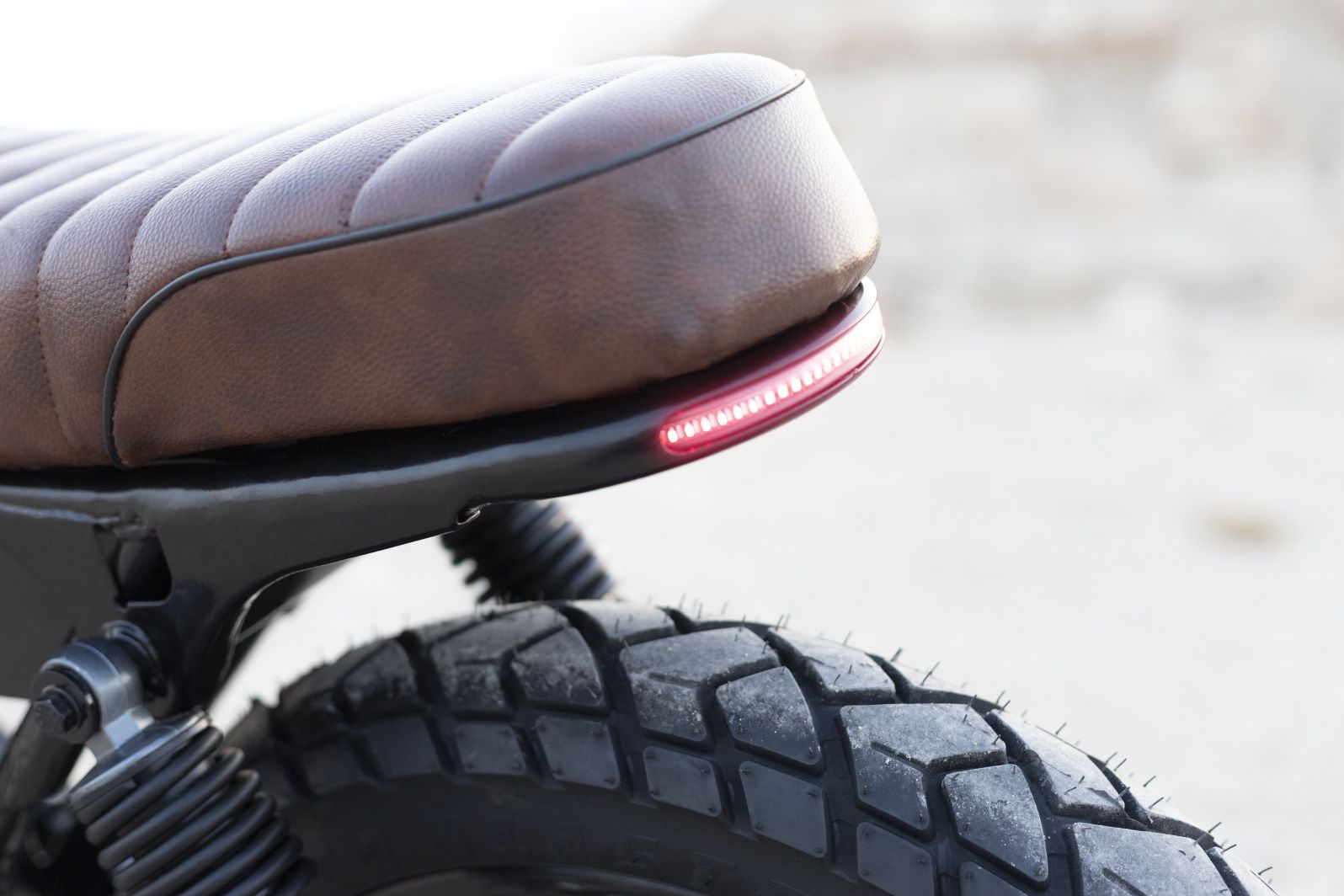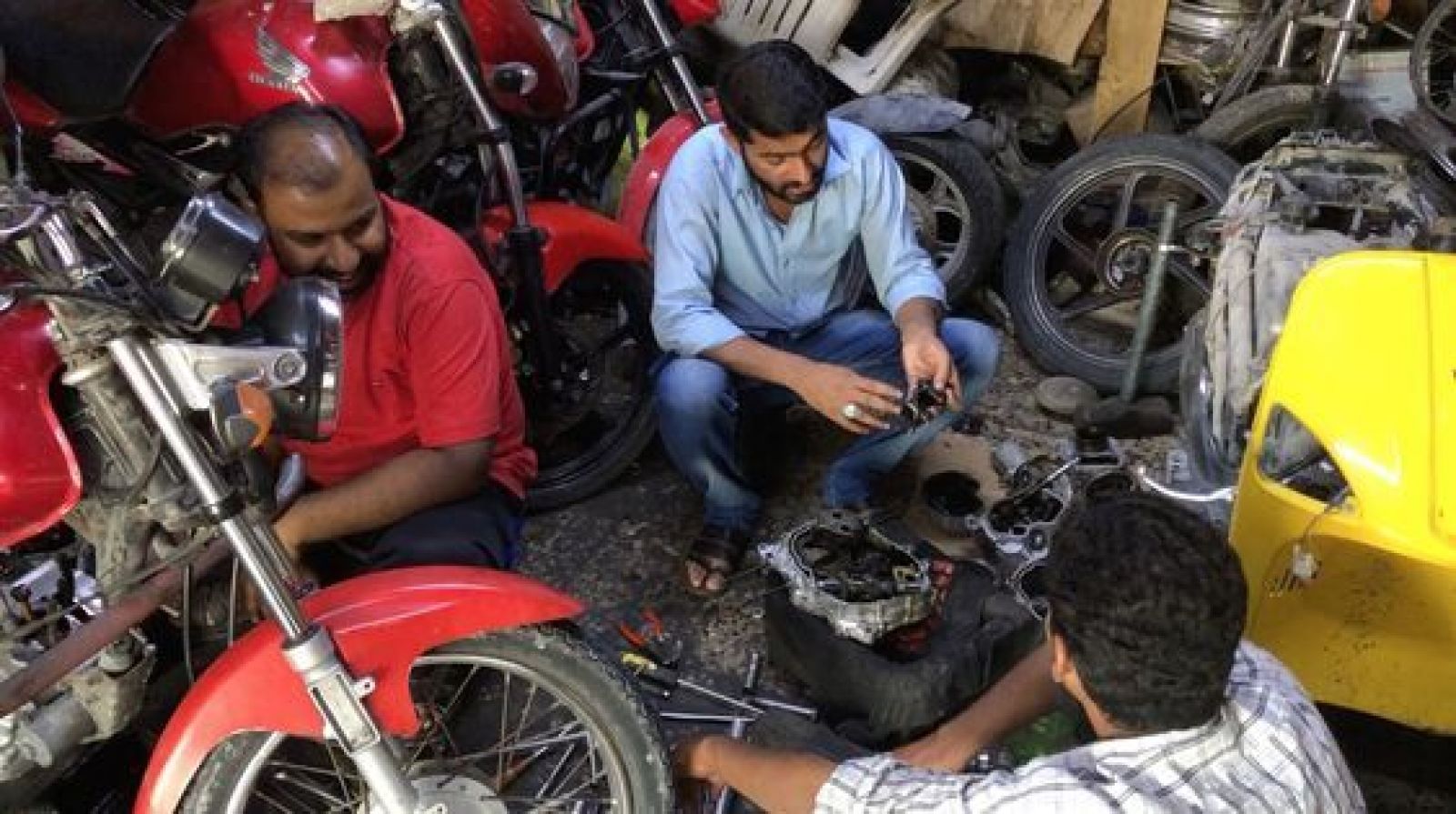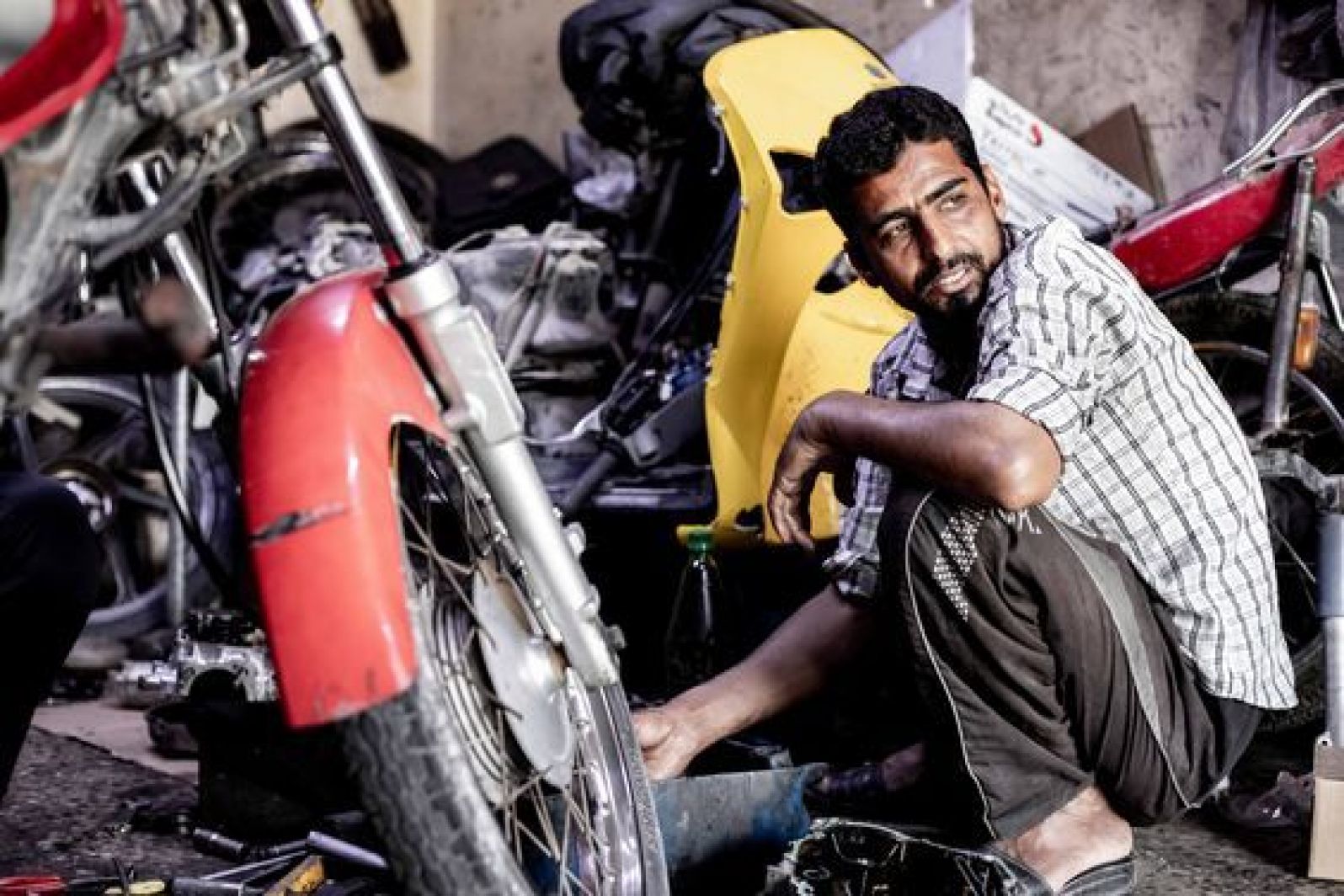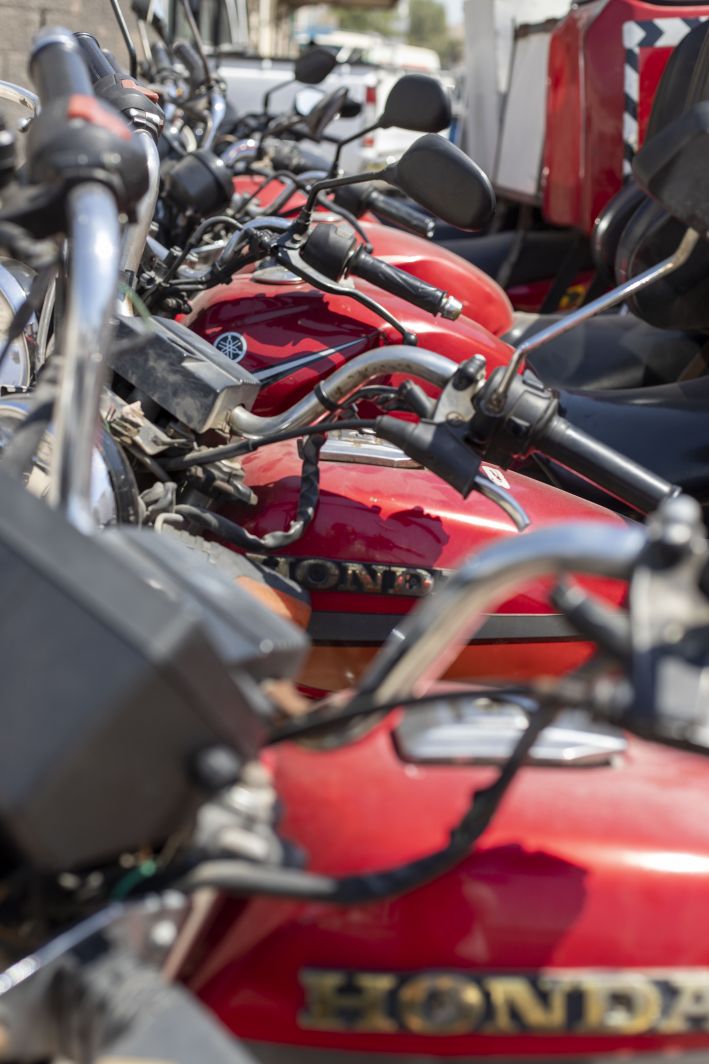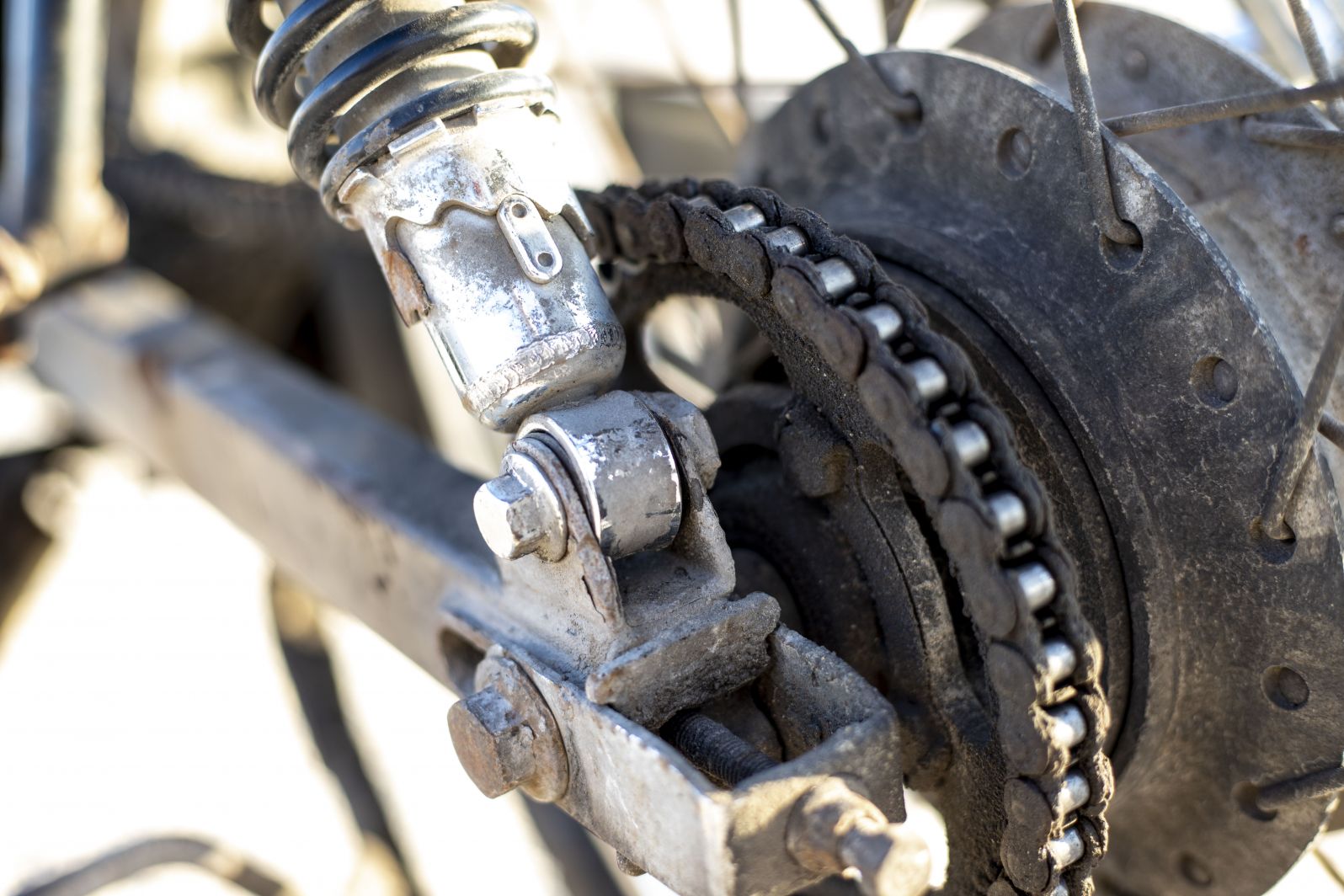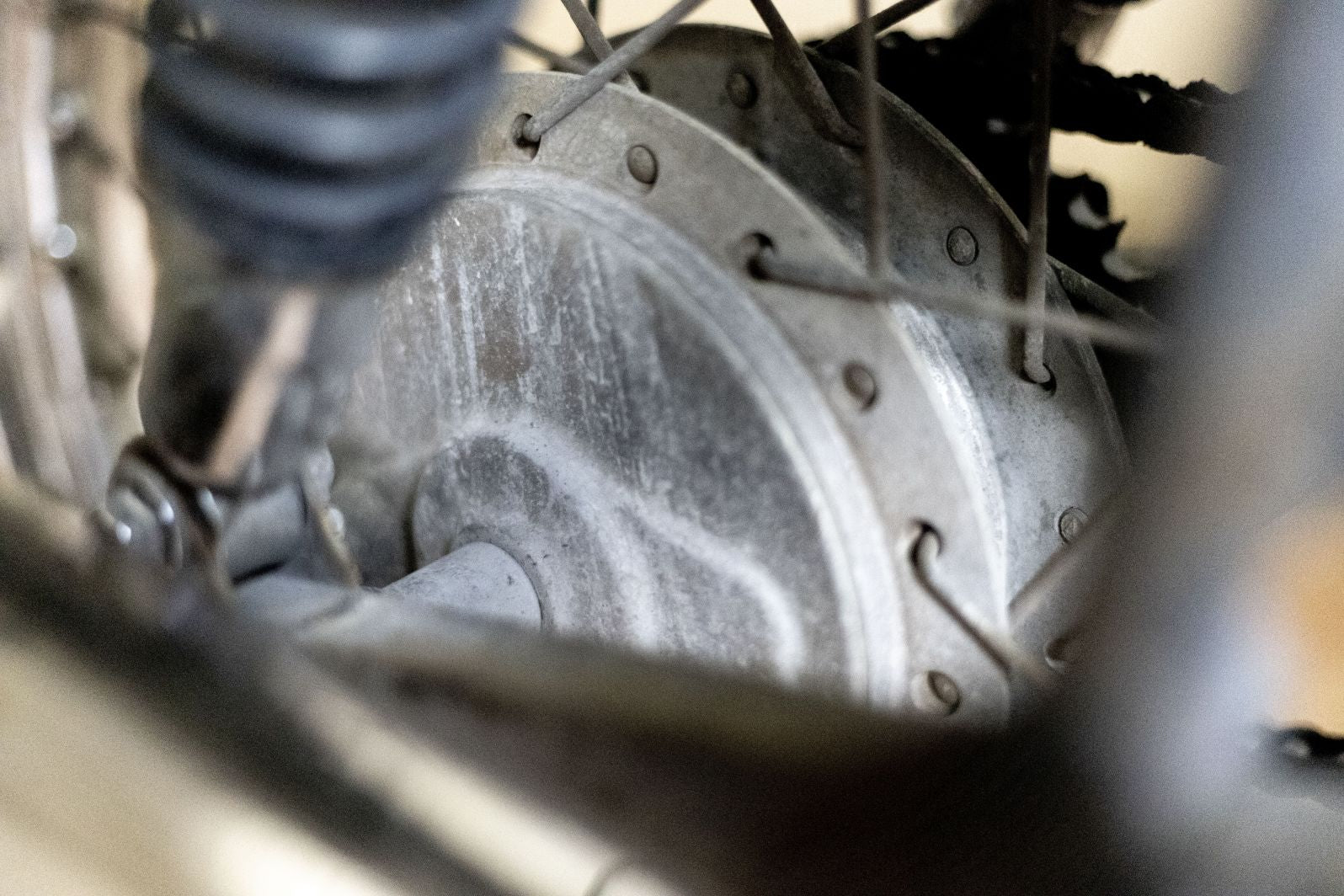 We usually take the responses to our questionnaire and distill them into the Handbuilt Homegrown story, but Mark wrote an excellent detailed account of his build, so we're posting his words here with very minor edits.
Mark took a ton of photos documenting his build and has started posting them on Pinterest. Check in to see how much went into this project at Barnfield Customs
What was the donor bike, and what condition was it in, to begin with?
The donor bike is a 2007 Honda CGL125 - it's essentially a CG but with some minor differences. It's primarily sold in the Asian and South American markets. From what I've read, they're super popular in Peru and Brazil. There's debate online as to whether they're Chinese made or not. My VIN starts with the letter L, which is the country code for China. So whether they all are or not, I couldn't say, but mine definitely was.
I bought the bike for the equivalent of $300 from a fried chicken delivery driver in a town called Muharraq out near the airport in Bahrain. There are literally hundreds of CGL's on the island, but they're used and abused until the only place they're suitable for is the junkyard. For most of them, maintenance is done using a coat hanger or a hammer, and this bike hadn't been touched by a loving hand since it came off the production line.
Nothing on the instrument panel worked. The down tube was half rusted through. The fairing was all held on with wires. The air filter was missing entirely, the sump plug was only held in place with plumber's tape, and that was what I could see on the exterior. Once I opened up the engine, five of the third gear teeth were chipped, the engine housing was cracked in many places, and the lubricant was more sand than oil.
When did you build the bike, and how long did it take?
I was born in Bahrain. I grew up there and moved back to the UK for college, uni, and work. I was there for ten years before I met my wife, and we moved back out to Bahrain to set up a digital marketing agency. We ran that for ten years before we both completely burnt out. I hadn't identified how much 'enough' was, so the default was always more. Sixteen hours, seven days a week at a frantic pace, eventually gets you. So we brought the agency to a close, and I started consulting. I did that for a couple of years before I realised I wanted to do something completely different.
In January of 2020, I flew back to England to find a K100 and start the process of renovating it with Matt, a buddy of mine who also used to live in Bahrain. The plan was to come back for a month to test the waters before moving back with my wife in April. Matt and I bought a 1984 K100RS from a Facebook marketplace ad. It was a frame, an engine, two wheels, five plastic boxes, and one ammunition box full of random parts. We worked on the bike every day, and on the day before I flew back to Bahrain, we got it started. It started first go, and we had flames firing out of the exhaust manifold. I was hooked.
But Covid had other plans, and just after I flew back, the world went into lockdown. My wife and I decided to ride it out in Bahrain, but I knew I needed a project. I picked up the CGL125 on March 23rd and finished everything off that I could by August 9th, just two days before the packers came in to crate it up along with all our furniture to ship it back to the UK. I was able to fully dedicate myself to the build, and I reckon I only took a couple of days off over that time.
I started the project out in my garage - it was covered but not fully enclosed. In March and April, that was fine, but by May, the Middle Eastern summer had well and truly hit with full force. July was the hottest on record, and most days were reaching over 42°C (108°F) in the shade. Luckily I finished most of the dirty jobs by mid-July, and I moved the bike into my dining room and into the A/C. I guess that gives the term "home-built" new meaning!
What was the projected budget, and what was the final budget?
I'd looked online and found Vogue Auto Group had four lovely looking CG125 bobbers up for sale for £3495 ($4530) each, so I decided that was my budget. I was also pretty sure I could come in under that, given the donor bike's cost. Although I do reckon I've come in under, I did have to overhaul the engine entirely and buy more new parts than I wanted to. My whole approach is to restore and renovate, reconditioning used parts wherever possible, but I also expect the end result to be showroom ready. I'd basically committed the cardinal sin of buying a donor bike that was cheap for a very good reason. There wasn't much that I could save without significant work.
What inspired the build, and what were the design influences?
The fear of being locked down with nothing to show for it was my main inspiration. It's a bit of a mixing bowl of styles. I wasn't planning on going down the café racer route initially. My plan wasn't ever to modify the engine to get it up to 100MPH, so it didn't feel authentic. I'd initially bought clubman handlebars so that the front end would be a little bit higher, more like a scrambler. But I wasn't keen on the balance of the bike, so I went for clip-ons in the end. My options for tyres were limited, so although I like them, they're more chunky than I would expect to see on a brat. At the end of the day, I pulled in design inspiration from all over the place, but the goal was to keep things minimal. Given where it came from and where I built it, I like to think of it as a Desert Café Brat.
Please describe the engine work completed.
This is where being in Bahrain really worked in my favour. Early on in the build, I was able to find a garage that specialised in smaller Japanese bikes. I've included a pic of the place, and you can see profile shots of the guys who work there on my personal Instagram account @markjwarman.
After I took the engine off the frame, I dropped it off at the garage and asked them to take a look for me. The next day, I got a call to let me know they'd opened it up and for me to pop down to go through what they'd found. I'd expected them to have taken apart the casings and to have had a quick look, but when I got there, each and every component part had been opened up and cleaned off with kerosene.
The guys are all from Pakistan. I found out that the CG is super popular over there because of the fact that it's virtually bulletproof and because it's simple and affordable to maintain. One of the team, Farmaan, had completely overhauled his own bike back home and understood what I was trying to achieve. Or at least, over time, he did. The whole café racer, bobber, brat, etc. scene was new to them, so I don't think they really 'liked' what I was doing, but they understood I was trying to create something high quality.
Please list the additional components used.
I bought a whole bunch of new components online. Like so many others during lockdown, I was hit by slow postal services. It took nearly a month for everything to arrive. Luckily I had plenty of other jobs to be getting on with. Pretty much all the components that have given the bike the look and feel I was going for came from overseas - the headlight, rear loop, grips, handlebars, etc. Anything else, I was able to source locally - the suspension, brake and clutch levers, various seals, etc.
Did you farm out any of the work to third parties?
Yes, overhauling the engine, powder coating, painting the tank, and welding was all outsourced.
What were the low points of the build?
The petrol tank from the original CGL didn't reflect the look I was going for. It needed replacing anyway, but my options were limited over in Bahrain. I did manage to find a tank that was a much better shape from a Chinese CG rip off. The only problem was that the fuel cap was rectangular and fixed onto the tank with a hinge - so that had to go. I couldn't find a direct replacement cap, so I ordered one from the UK.
While I was waiting for it to arrive, I got on with body filling the rectangular dip on the top of the tank and sanding everything down, ready for painting. It wasn't until I'd spent 20 hours plus on the preparation that the cap arrived, and I found out that I'd need to cut out and reconfigure the hole for the lid to drop into. That was fiddly but not as tough as I thought it would be - I was able to get my Dremel in to cut out what I needed to. I dropped the cap into place and twisted it round. As I did that, I heard a 'click.' After that, the cap wasn't going anywhere. One of the spring-loaded tabs that pull the cap down and make it airtight had dropped into the space I'd cut out for the locking mechanism. I thought I was going to have to get the angle grinder and cut out the top of the tank. Gutted. I gave myself a moment to take a few deep breaths (after freaking out, swearing at the top of my lungs, and calling myself an idiot) and realised I could get just enough movement that if I could jam something thin but solid against the spring-loaded tab so that it was fully pushed down, I could potentially get the cap to rotate again. Rummaging through my toolbox, I found an old junior hacksaw blade. 20 minutes of frustration later, I managed to twist the cap off again. I got straight in with the Dremel again, cut out a little tab, and bent it in to create a stop, which has, so far, worked a treat.
What were the high points of the build?
Collecting the parts from the powder coating workshop, seeing the lights work for the first time, hearing the starter motor turn over. These are just a few of the high points, but the day before I had to crate it up to ship back to the UK, I got up at 4am to walk the bike round to an archaeological dig about 10 minutes from where I was living. Getting up at 4am is never fun, but I did it to make sure I could take photos during the golden hour as the sun rises when the light is a little bit mellower and casts long shadows. The sun comes up and sets at breakneck speed in Bahrain, so I actually only had about 10 minutes, but when I got home and checked out the shots, I was stoked. They've turned out really well and are a great keepsake to finish the project off on a high.
Now the build is finished, how satisfied are you with the results?
From an aesthetic perspective, I'm definitely happy. It's turned out exactly as I imagined. But because I was shipping the bike back straight away, I haven't started it yet. I ran out of time to deal with any major issues, so I won't know if I missed anything until it arrives back in the UK in a few months. I also don't know how it'll handle given the bigger tyres, the clip-ons, and the battery placement. I know I need to look at rear sets - with the standard footpegs and the lowered steering, I'm going to look a bit like Pink Panther in his sports car. Oh, and disc brakes on the front - that's next on the list.
Are you planning any future builds?
Now that I'm back in the UK, I'll be getting back on to the K100. I hadn't seen it since the end of January and just popped my head into the garage yesterday. That thing is enormous. I'm so used to seeing the CGL125 that the engine looks so alien to my eyes.
I'm looking forward to using the knowledge that I gained during this build to avoid making some of the same mistakes. I'll be waiting until the very last minute before I powder coat anything. Some of my most frustrating moments came from trying not to scratch the engine, frame, or wheels whilst also trying to get the job done. I must've put the exhaust on and taken it off again at least 10 times trying to get everything to line up, and ended up with some damage that I could've avoided if I'd gone through that process first.
I'm in the process of launching Barnfield Customs, a surf, and moto-inspired lifestyle brand. The builds are a big part of that - being an authentic part of the community I'm looking to serve. So I've always got my eyes peeled for the next project.
I've met some awesome people through the process already - Trevor Ditson @ditstang, Fredrik from @paalmotorcycles, Struan from @remotorcycled_, and Johnathan from @mycaferacerbrat, to name just a handful. I've been amazed at how friendly and happy to help people have been.
Are you keeping the bike, or is it for sale?
For now, the bike is staying with me. I only got to spend 2 days with it before it got crated up and put on a ship. It's a cornerstone of the marketing for Barnfield, and I think it'll always be a special bike to me. It represents what I was able to achieve during a 4-month lockdown during a very odd year.
Please list the major modifications and fabrication completed.
Frame:
Back end cut and rear loop welded on

Down tube cut out and replacement welded on with internal support

Pillion pegs, delivery box support, and various component tabs removed

Stainless steel electrical tray fabricated and welded in place

Stainless steel battery box fabricated

Powdercoated
Engine:
Complete overhaul

Casings powder coated
Wheels & suspension:
Replacement 3.25" tyres - rear and front

Powder coated wheels

Front forks overhauled and powder coated

Replaced 315mm rear shocks with 340mm to provide clearance
Seat:
Fabricated stainless steel seat pan

Reupholstered seat and cover
Tank & Exhaust:
Replaced tank

Body filler to smooth out various elements of the tank

Adjusted fuel filler opening to work with replacement CG125 fuel cap

Paint, clear coat, and decals

Cut down the exhaust and replaced it with a shorty muffler

Removed air filter box and replaced with conical air filter
Wiring and components:
Replaced rear lights and indicators with inbuilt LED strip

Replaced front indicators with LED's

Replaced headlight

Replaced brake levers

New wiring loom

New handlebar switches

New clip-on handlebars

New grips

New mirrors

New speedometer

New brake line

New speedo line