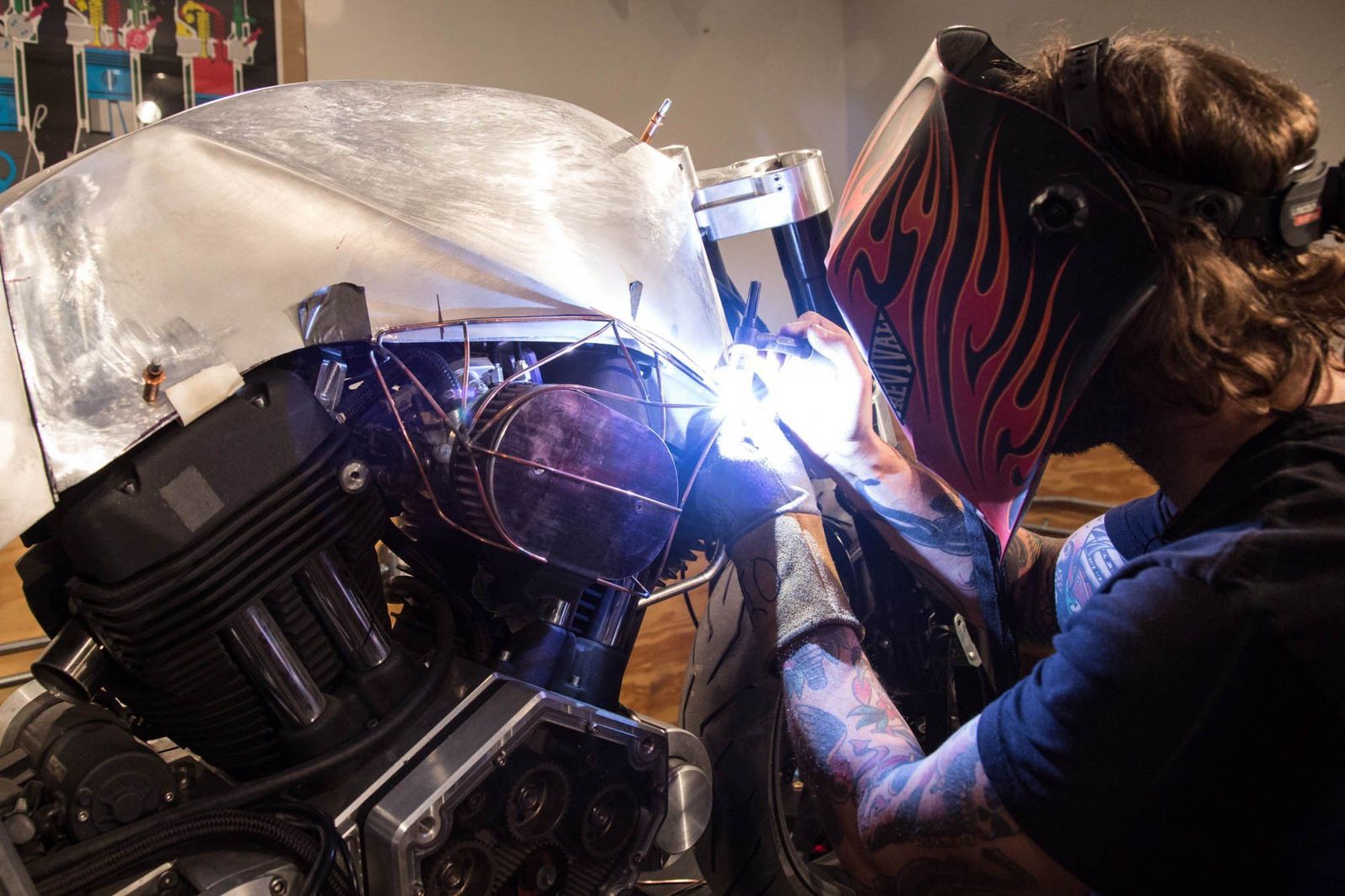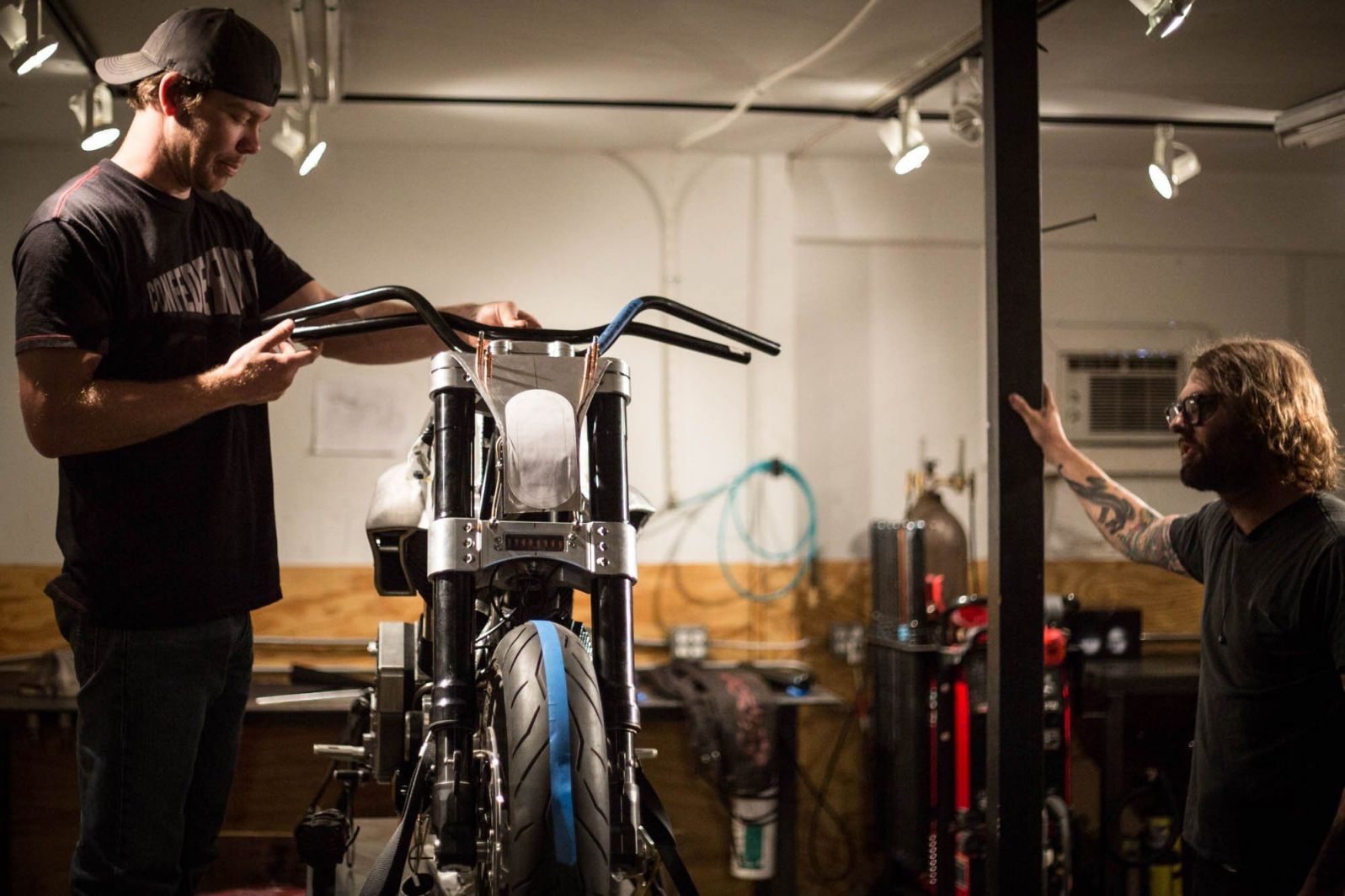 A longtime client and good friend of the shop had had a small mishap on his Hellcat (from Confederate Motorcycles) due to an unfortunate brake failure. He could have just asked someone do a simple repair to the dented tank and scratched engine. Instead, he turned to his friends at Revival (that's us!) and asked if we were interested in a complete transformation of the bike's factory look. Obviously, the answer was yes!
This was by far the most challenging design we'd ever undertaken at that point. Not really from a technical place — the original chassis and most of the electrics remained in place — but from a purely aesthetic point of view. The Hellcat has a very distinct visual design; it's not exactly an empty canvas upon which to just throw paint haphazardly.
Alan naturally obsessed over the design, sketching out simple drawings, images, shapes, cardboard bucks, and taped line drawings. Eventually he reached out to the team for their input, which is always spot on. Baked into Revival's DNA is the belief that a whole team's vision and execution is better than that of any single person, and there's no better example of that than the Hellcat project.
The major concern was keeping the frame/engine/suspension as untouched as possible, while transforming the motorcycle into something that paid true homage to the original.
A hand formed alloy fuel tank was sculpted to fit the Hellcat's backbone, as well as the new, more upright seating position. A CNC-machined subframe was fabricated similarly to the original, but in this case it ended up being far more organically shaped. In order to raise the seat height and hide the ECU, new shapes were required for the cockpit.
Inspired by the bike's stock seat, Revival created a bespoke leather saddle. A hand-formed alloy tail section was fabricated, along with a unique fuel tank. Once these were in place, custom asymmetric panels covered the oil cooler on the left hand side and the air intake on the right hand side. The complementary mesh screen was laser-cut to match the primary cover screens.
From there, Revival used a xenon projector headlight and handbuilt an alloy surround to give the nose more visual interest. The original exhaust was deemed unsightly, as it was covering too much of the beautiful engine, so a new stainless steel exhaust was built, complete with a hand-formed 2-into-1 silencer that hangs down and exits toward the ground beneath the engine. The resulting rumble is utterly intoxicating.
One of the finer touches of the earlier Hellcats, removed on later models due to fabrication issues, was the bellypan/muffler. As an homage, a new hand-shaped alloy bellypan was fabricated to conceal the exhaust and engine underside, with hidden cutouts and a mesh air scoop insert that allows for more airflow and a smooth, clean appearance.
To make the motorcycle more comfortable and controllable, a bespoke handlebar clamp was machined to remove the factory clip-on bars and more carefully blend with the Confederate triple clamps. This greatly improves the ergonomics of the machine, so a day-long ride won't just utterly destroy a rider. Revival Cycles' own push-button alloy housings were fitted to the handlebars, along with alloy push buttons, for a simple cockpit that feels great and functions just as well. Beringer brake and clutch controls complement the set-up for incredible braking power.
We consider this to be among our most interesting design challenges yet, and we couldn't be happier with how it turned out. We decided to call it "The Revival 140," because we think any motorcycle that weighs less than 500lbs and has 140 foot pounds of torque DESERVES to be known by that name.
MOTORCYCLE BUILD SPECIFICATIONS
Starting Platform-
Manufacturer: Confederate Year: 2012 Model: X132 Hellcat Weight (wet): 498 lbs
Revival Cycles Website Parts: MotoGadget M-unit
Revival Designed Parts- Handlebar button housings, handlebar mounting system, Subframe, Gas tank, tail section, headlight surround, oil cooler shroud, air cleaner shroud
Material: 3" 120 Wall Hard Steel Backbone; 3" 120 Wall Hard Steel Down Tube; Hand Tig Welded Fabrication
Geometry: Wheelbase: 62.5" ; Rake: 23.5 Degrees; Trail: 3.8"
Bodywork: Hand formed alloy fuel tank, tail section, headlight surround, oil cooler shroud, air intake shroud, belly pan
Suspension: Front: Marzocchi RAC 50mm Fork; Rebound and Compression Adjustable for Low and High Speed Actuation
Rear: Custom Race Tech Coil-Over-Shock; Rebound and Compression Adjustable for Low and High Speed Actuation
Wheels: BST Carbon Fiber
Front: 3.5" x 17"
Rear: 6"x 17"
Tires: Pirelli Diablo Rosso
Front: 120/70 ZR
Rear: 190/55 ZR
Electrical: MotoGadget M-unit
Lighting: XXXX Projector headlight, LED SuperNova tail lights / brake light, MotoGadget M-Blaze disc bar end turn signals, LED rear turn signals
Ignition System- Rick's ElectroMotorSport CDI w/ adjustable rev limiter Dyna coil
Engine: X132 Copperhead; 132 cubic inches (2,163 cc); 56° Fuel Injected V-Twin; 4.4" Bore x 4.4" Stroke; One-piece Forged Crank; Journal Bearing Design
__Power- __ Torque: 140 Foot Pounds Horsepower: 132 BHP Exhaust: Revival Cycles fabricated stainless steel 2 into 2 exhaust / muffler Unitized case: Machined 6061 Aircraft-Grade Billet Aluminum
Transmission: Confederate Patented 5-Speed Close Ratio; Patented Output Shaft Bearing Support System
Controls: Mid-Rear
Handlebars: LSL Street Tracker bend
Seating: Solo Seat
Seat Height: 31"
Throttle:
Front Brake Master: Berringer
Clutch Master: Berringer
Brakes: Front: Dual Beringer 4 Piston AEROTEC Radial Calipers; Dual Beringer AERONAL Floating Stainless Steel Discs Rear: Single 2 Piston Brembo Monoblock Caliper; Cross-drilled Brembo Stainless Steel Disc Instrumentation: Motogadget Precision Analogue Tachometer Digital Speed, Status