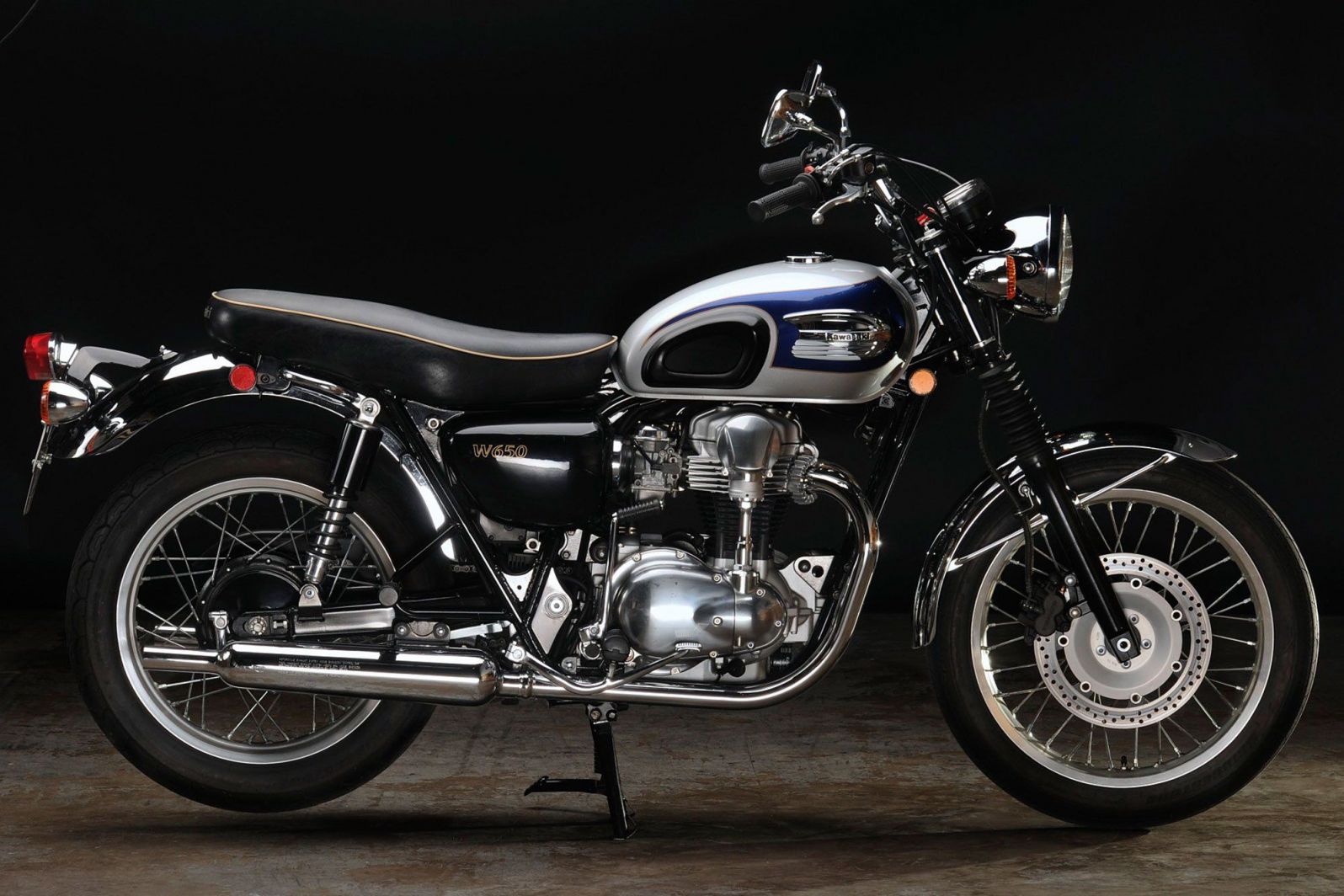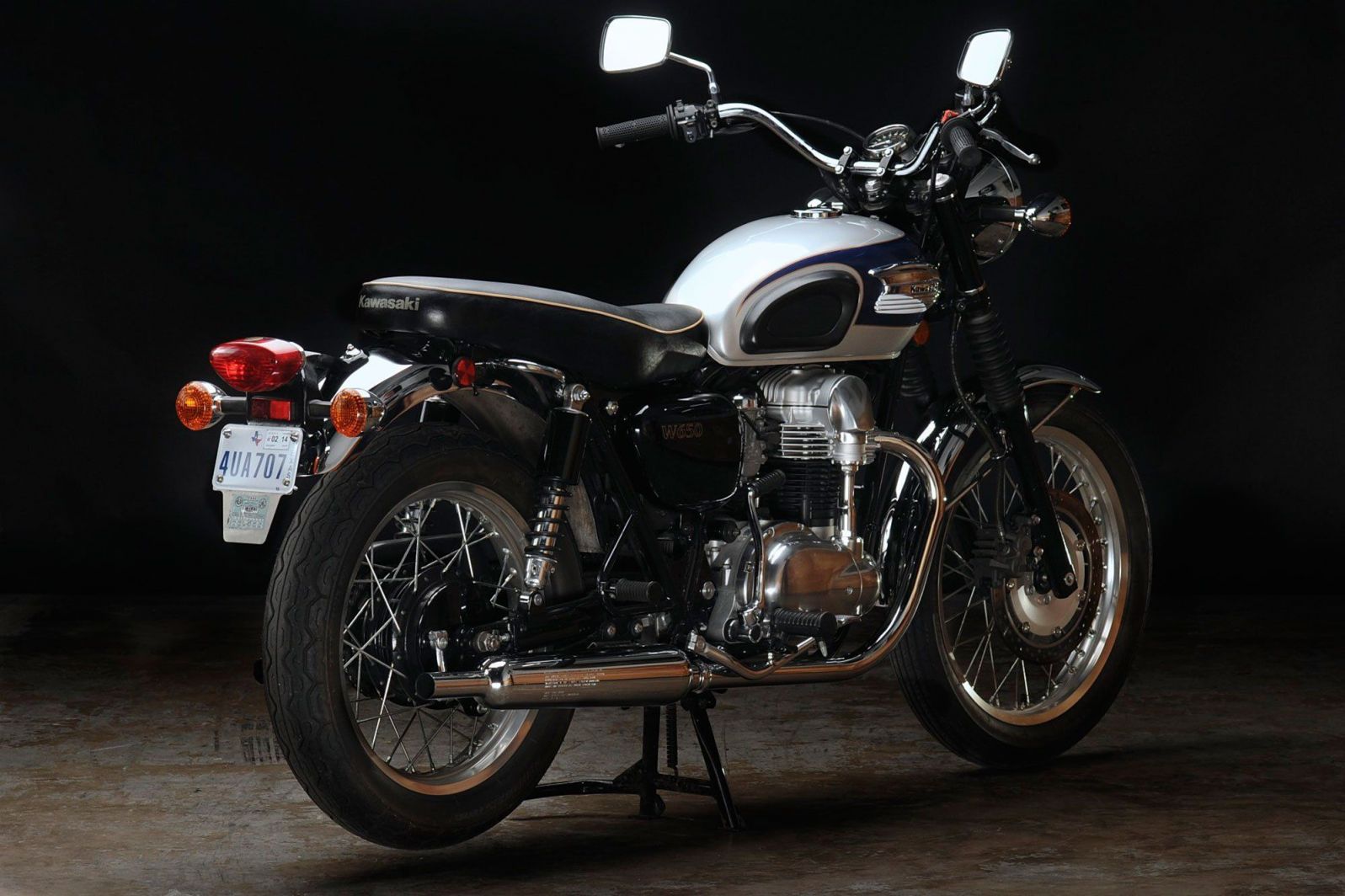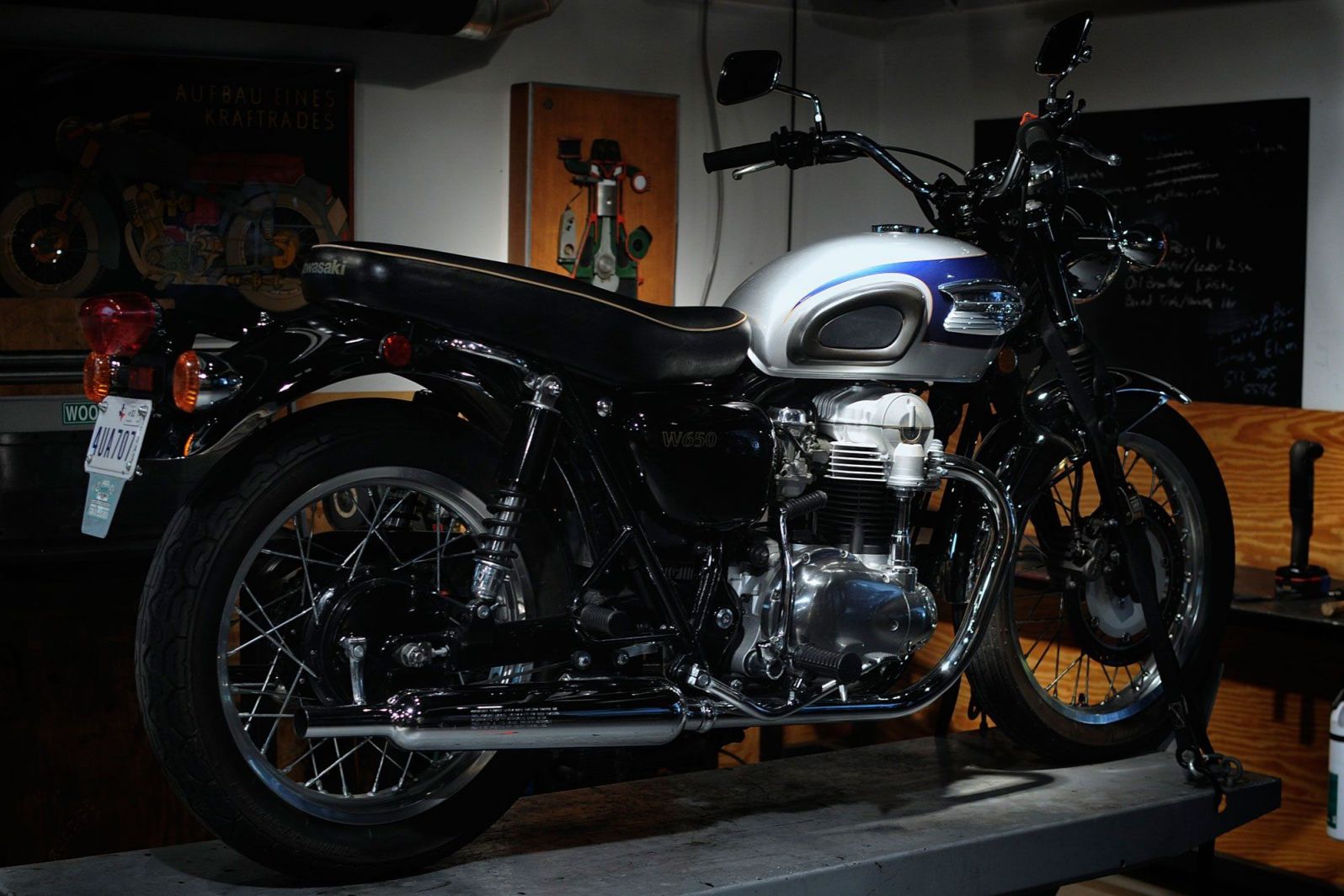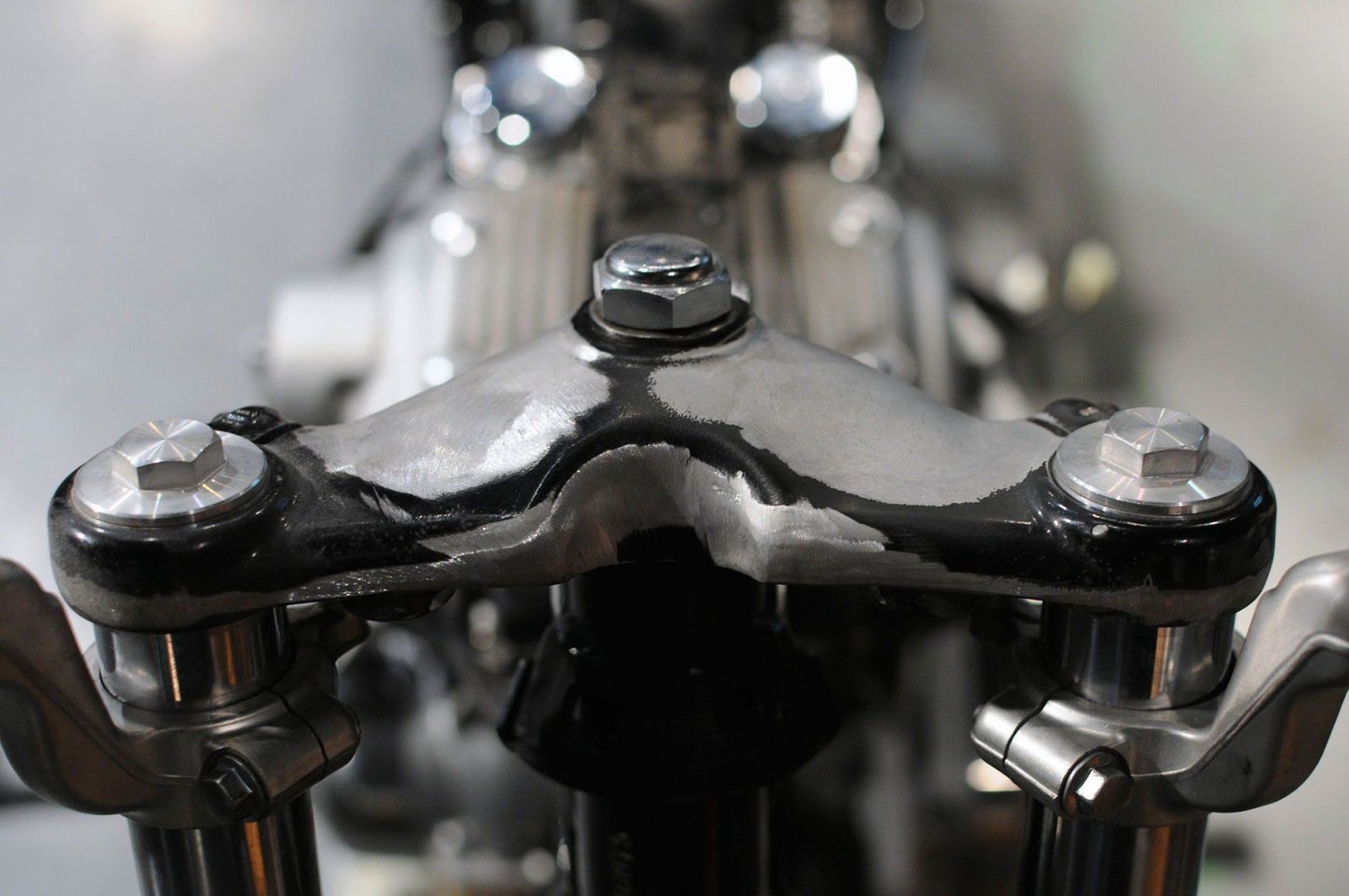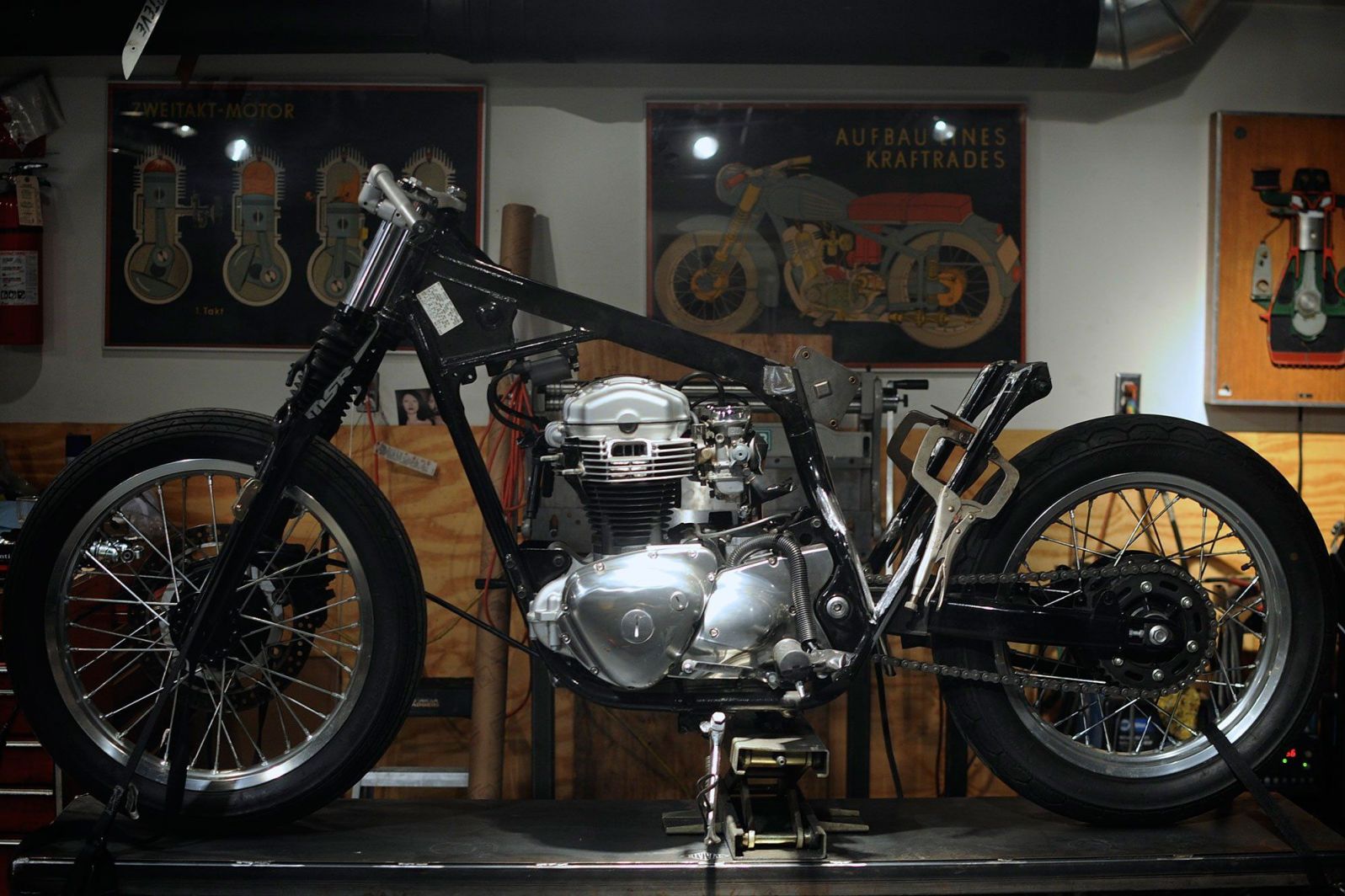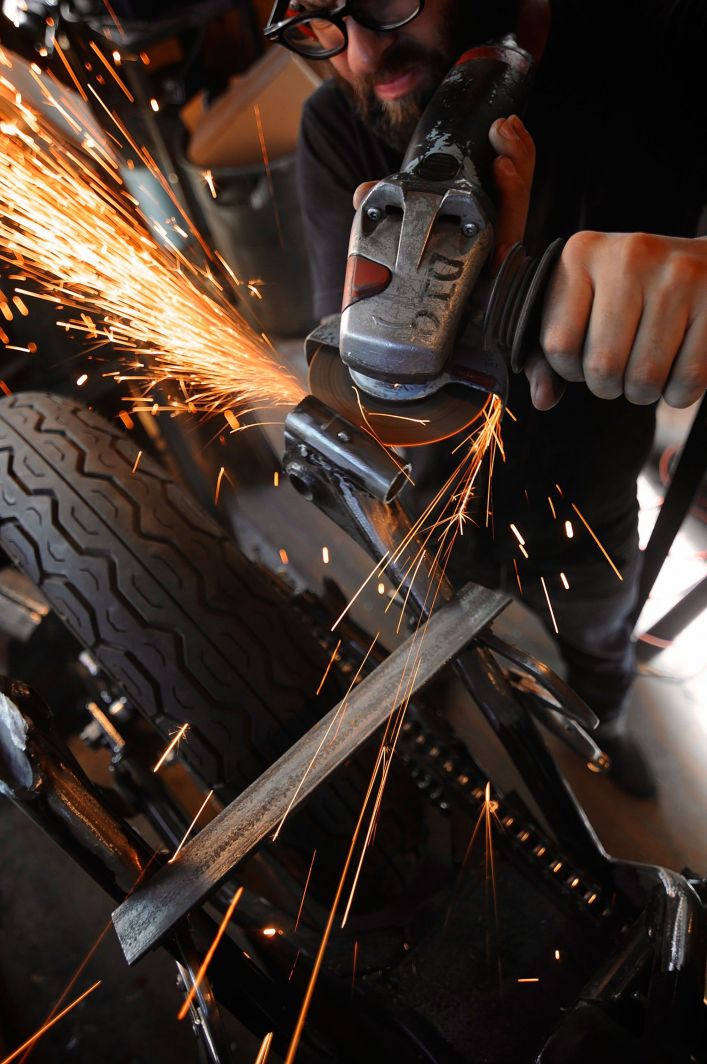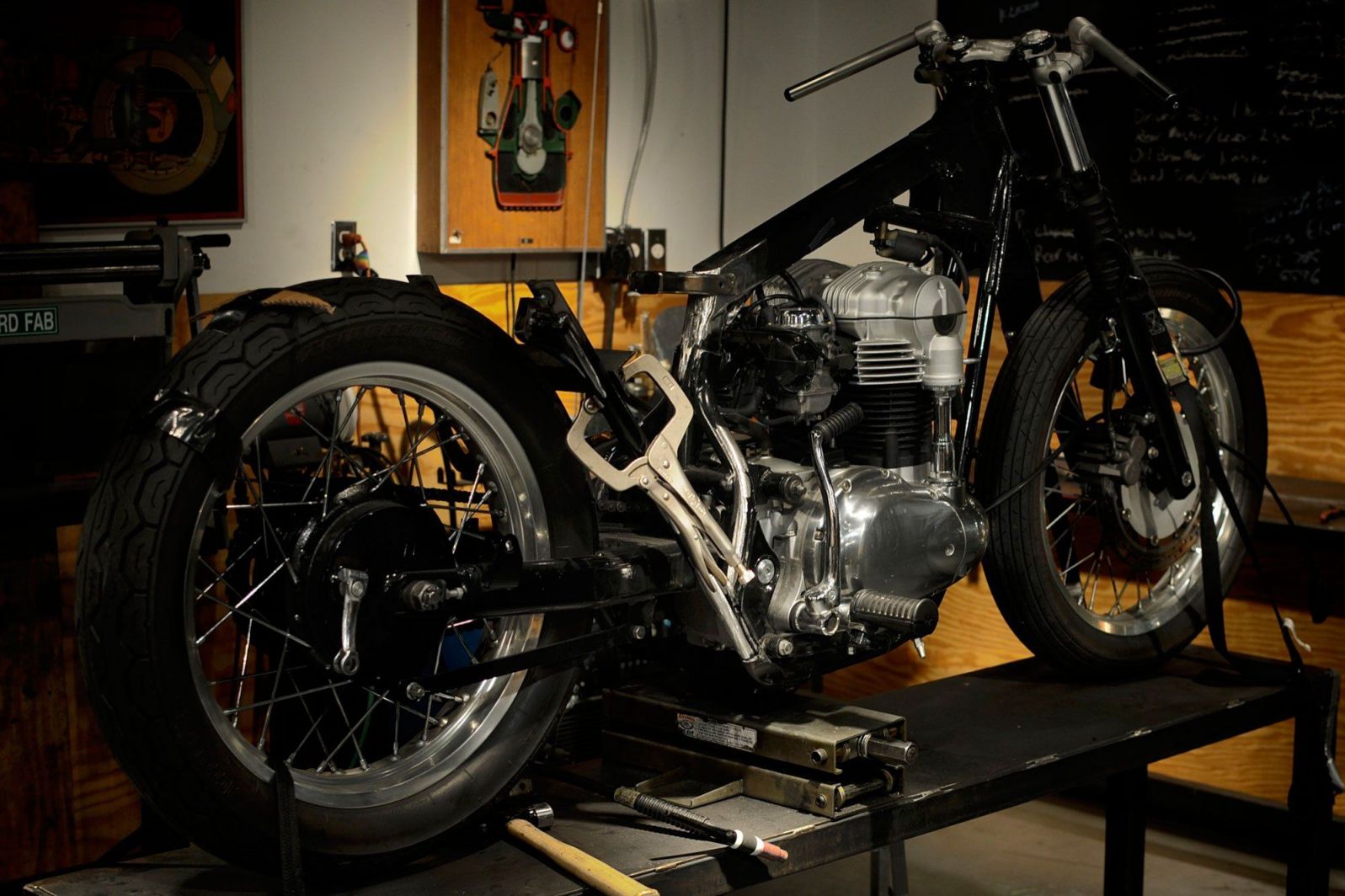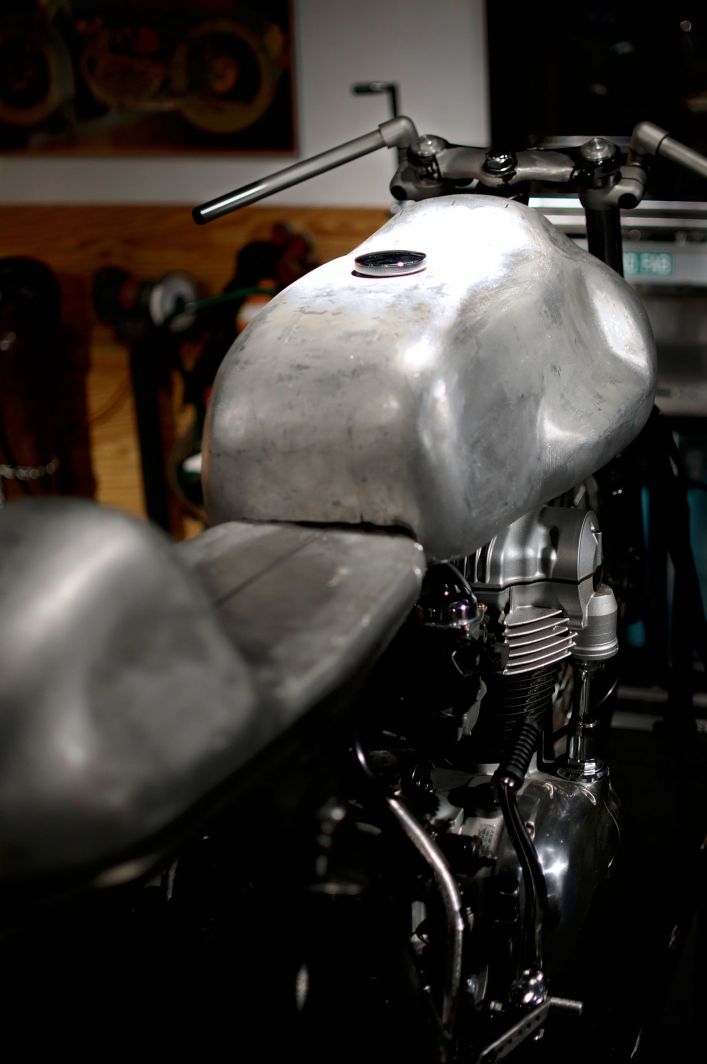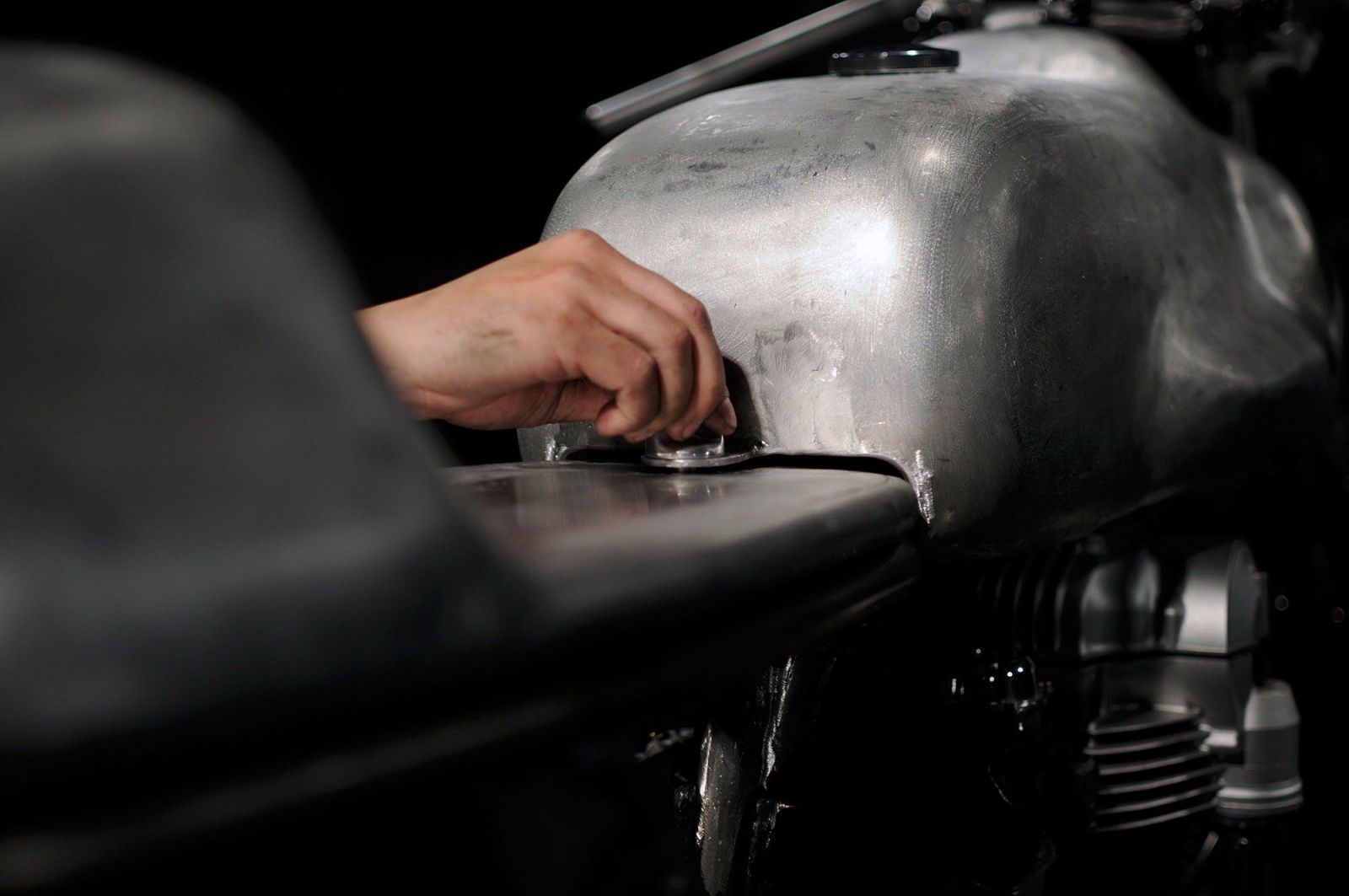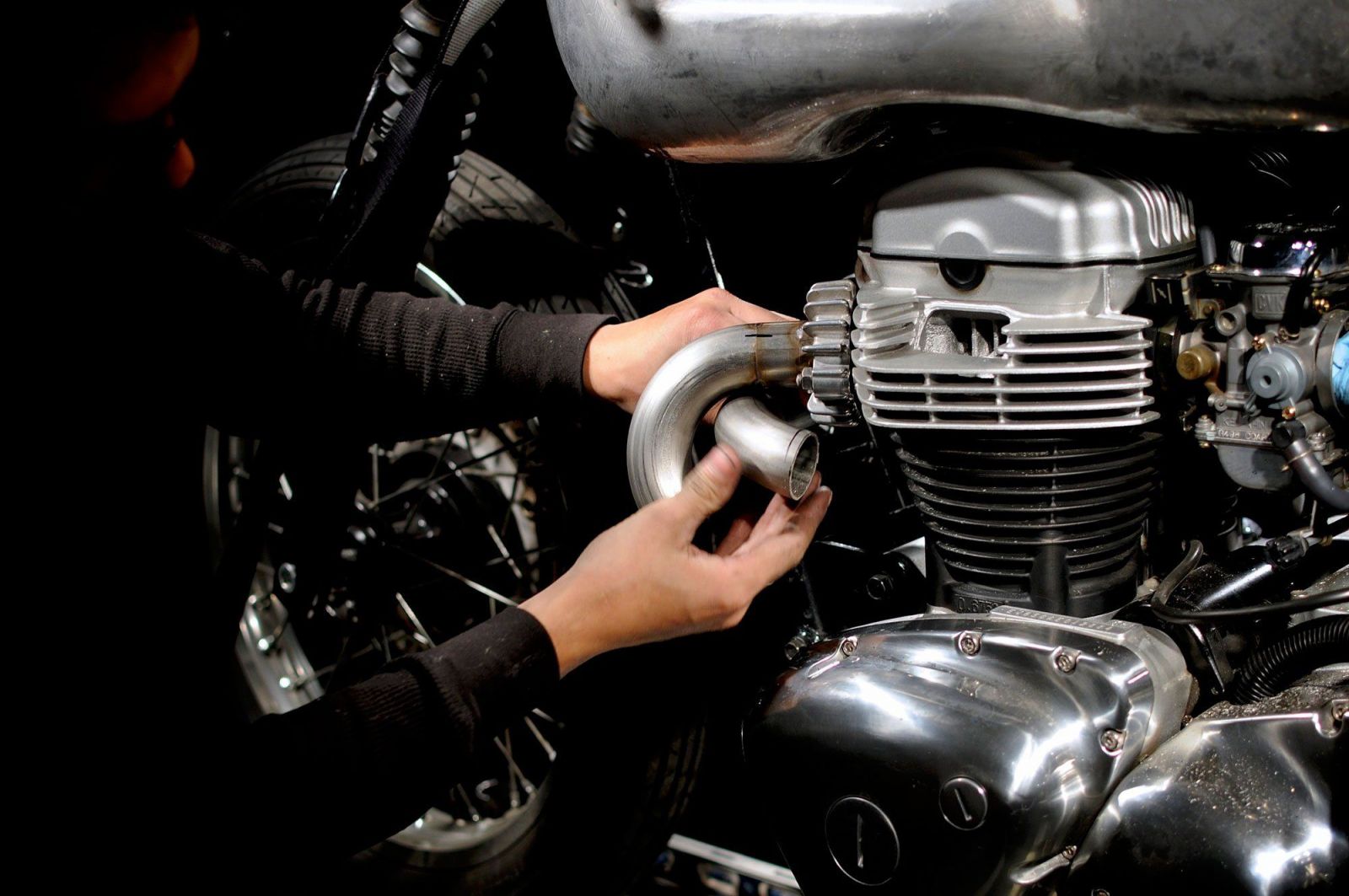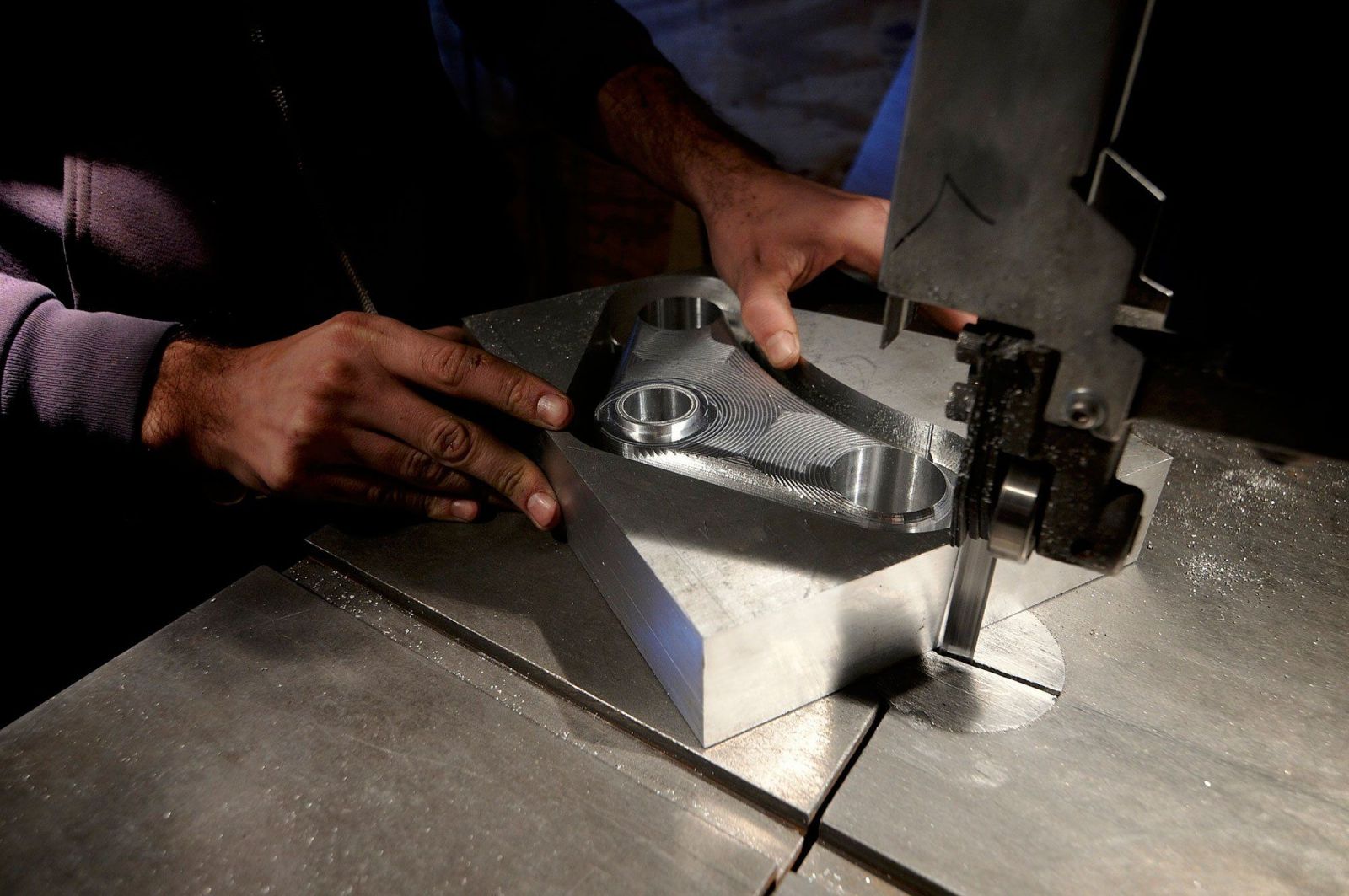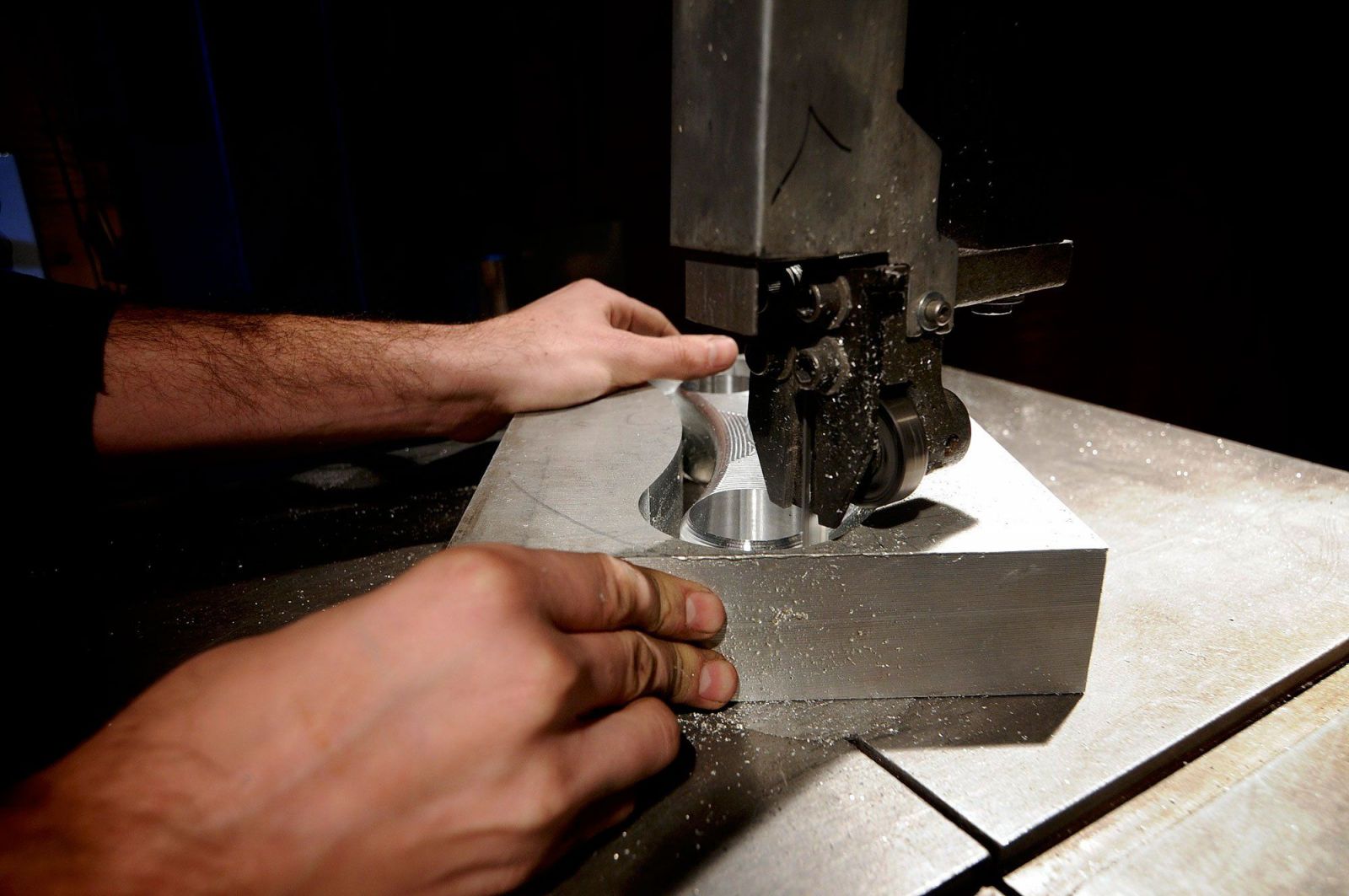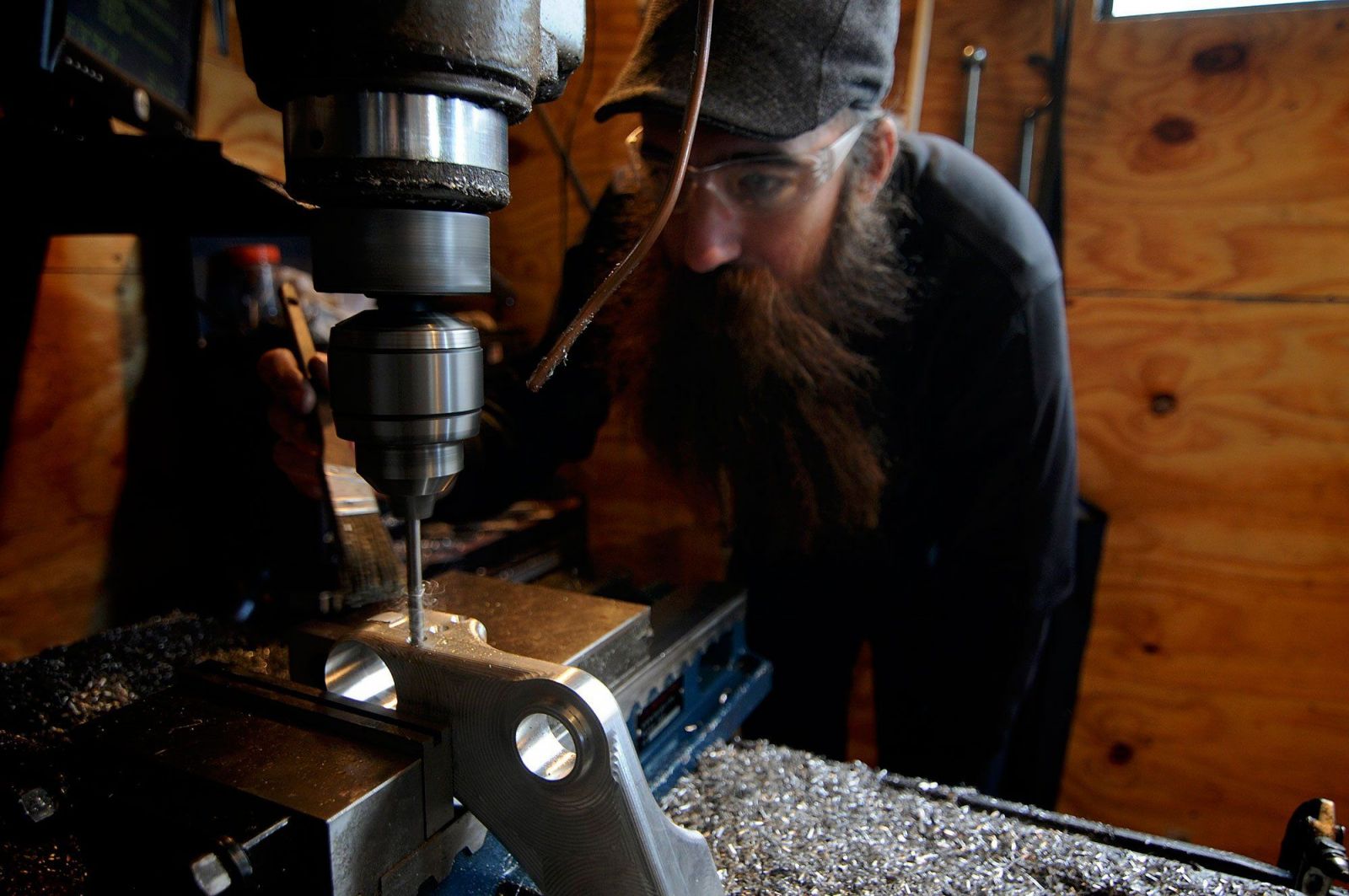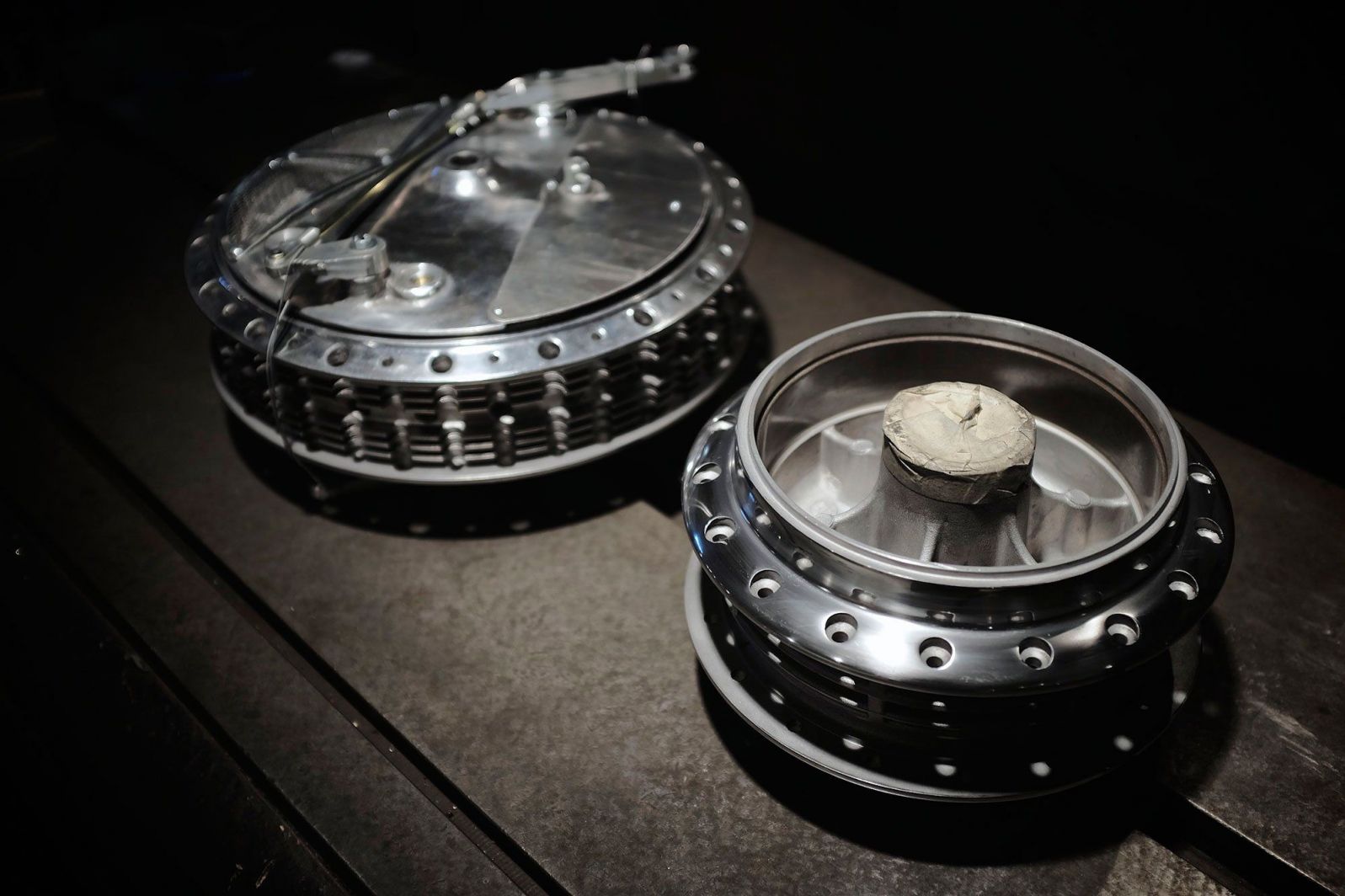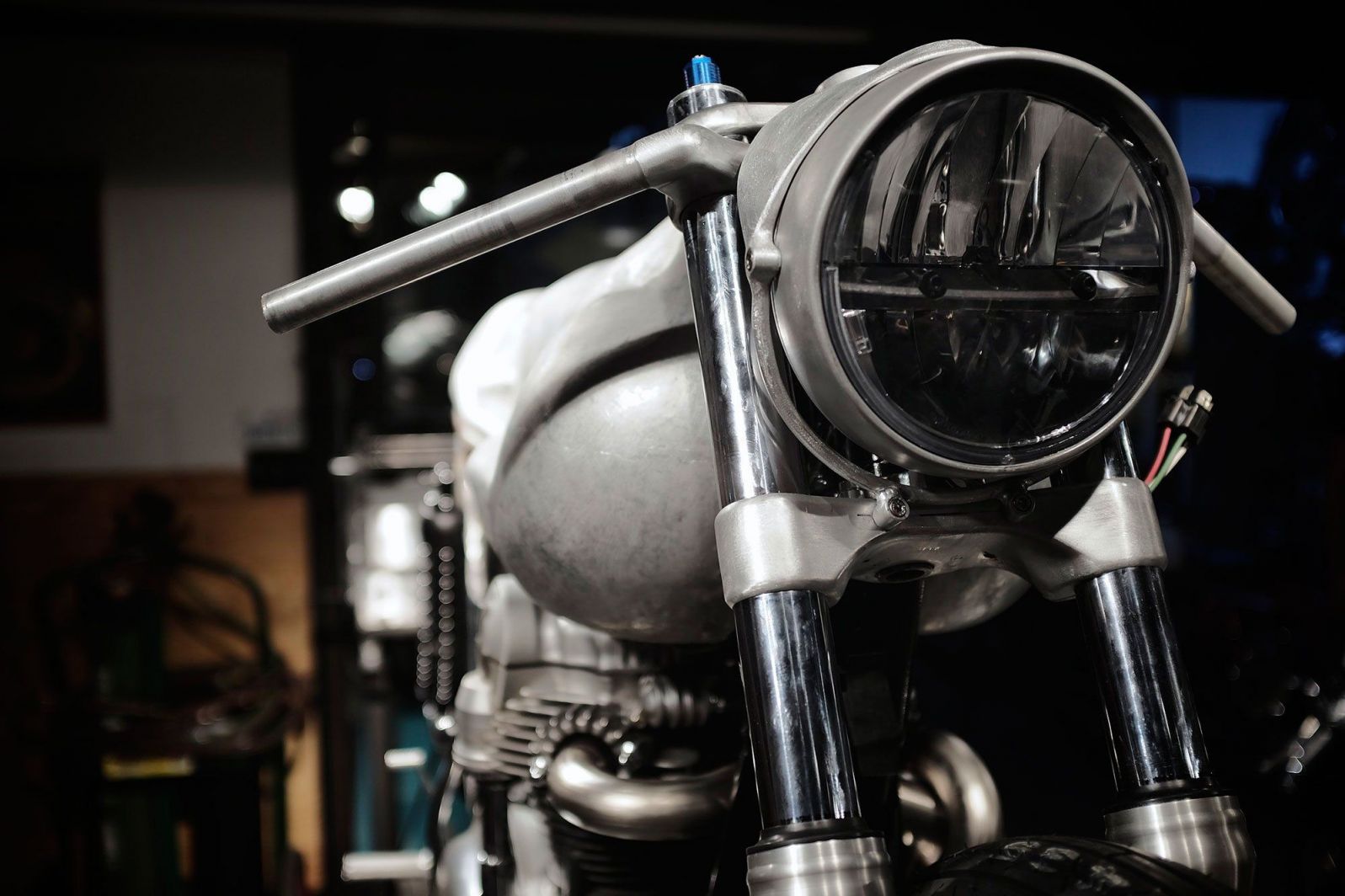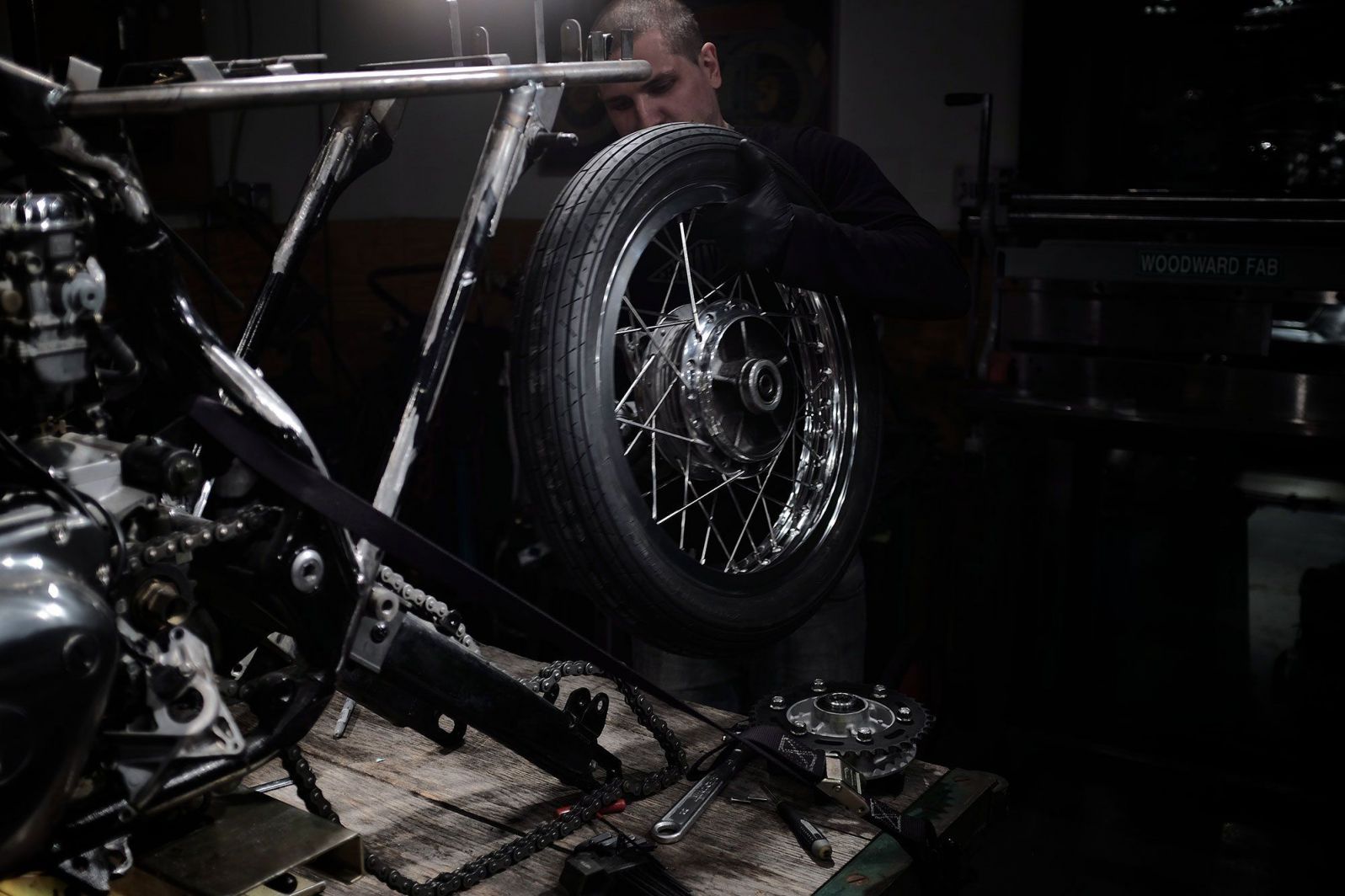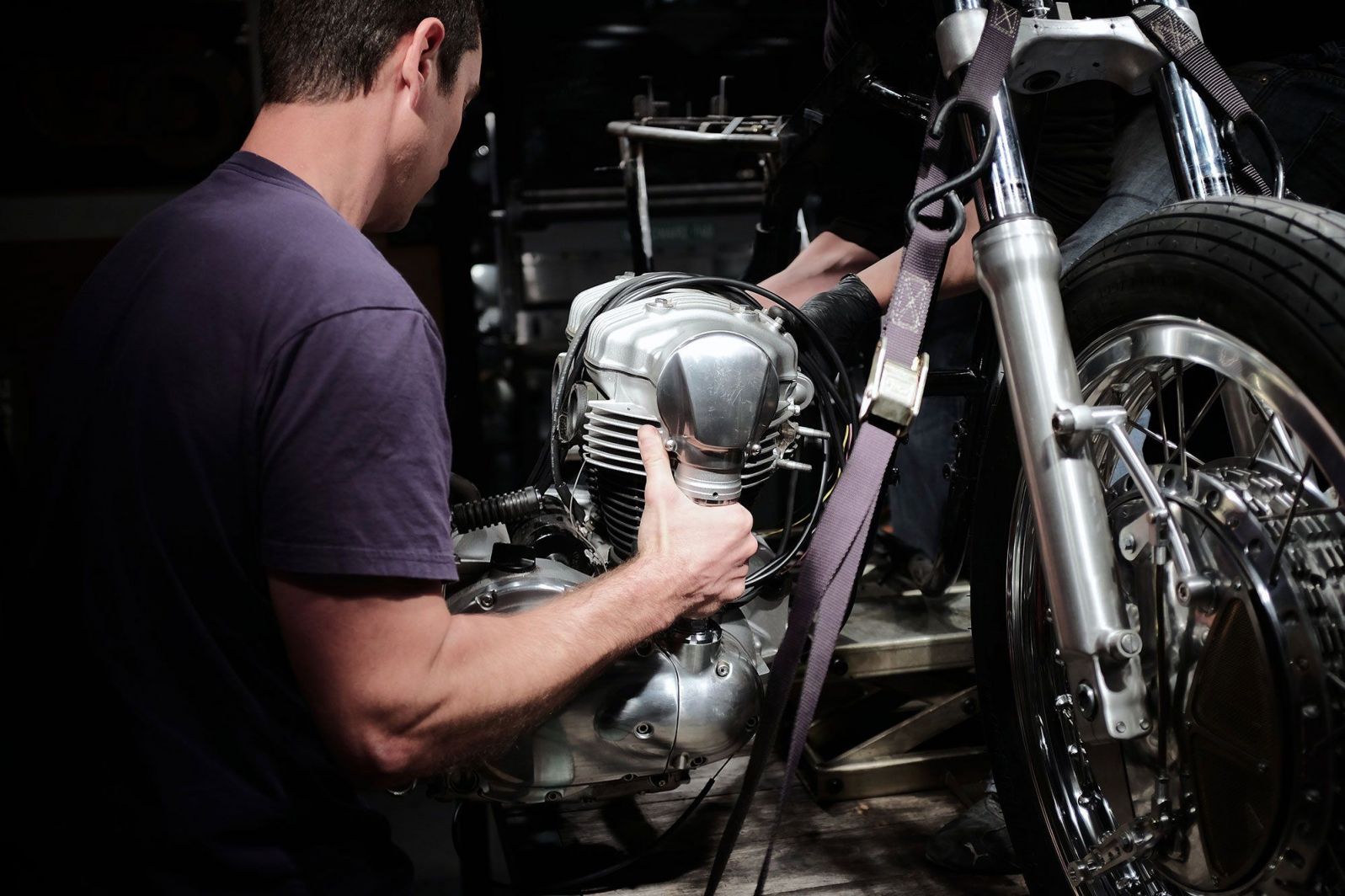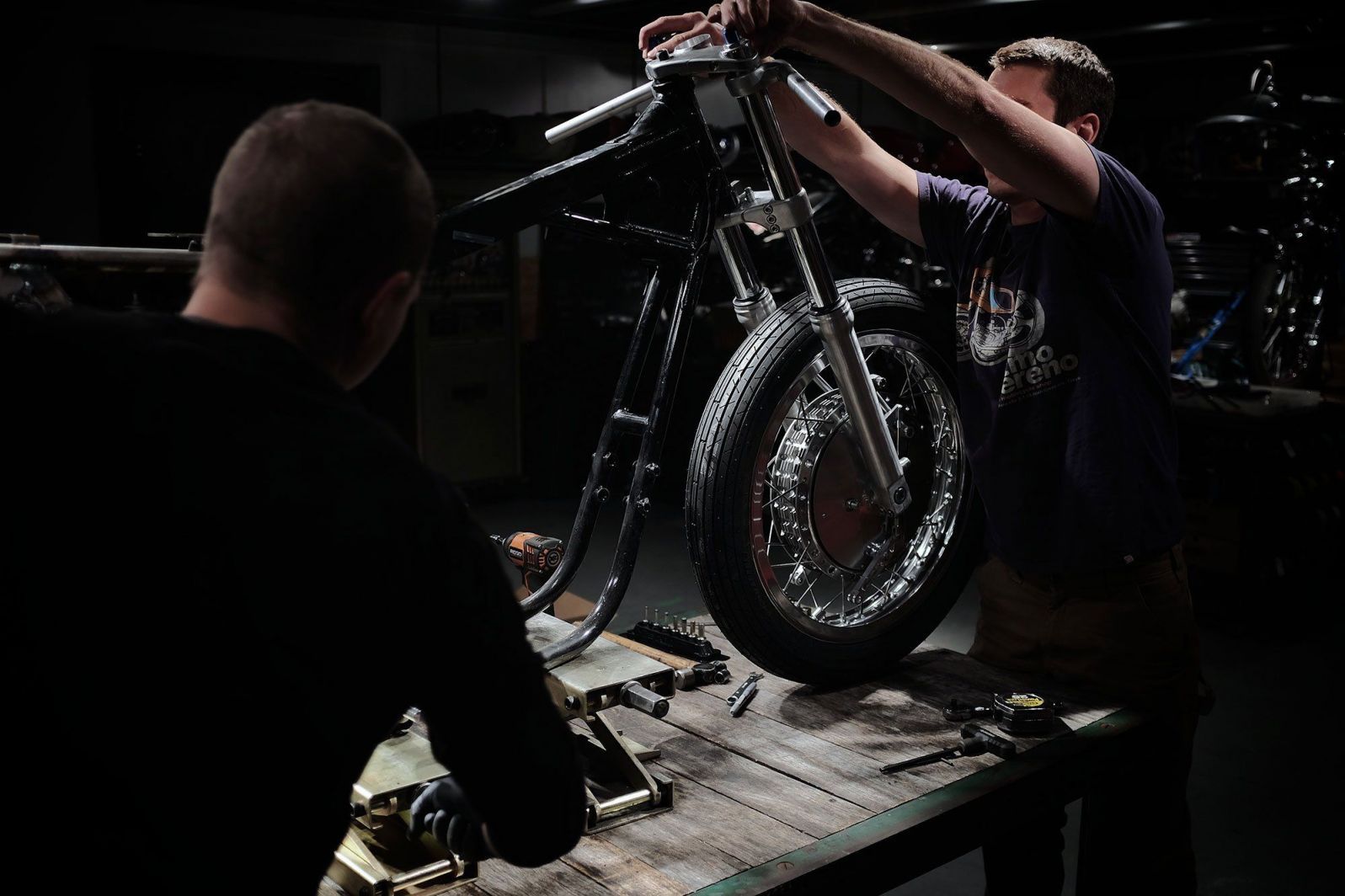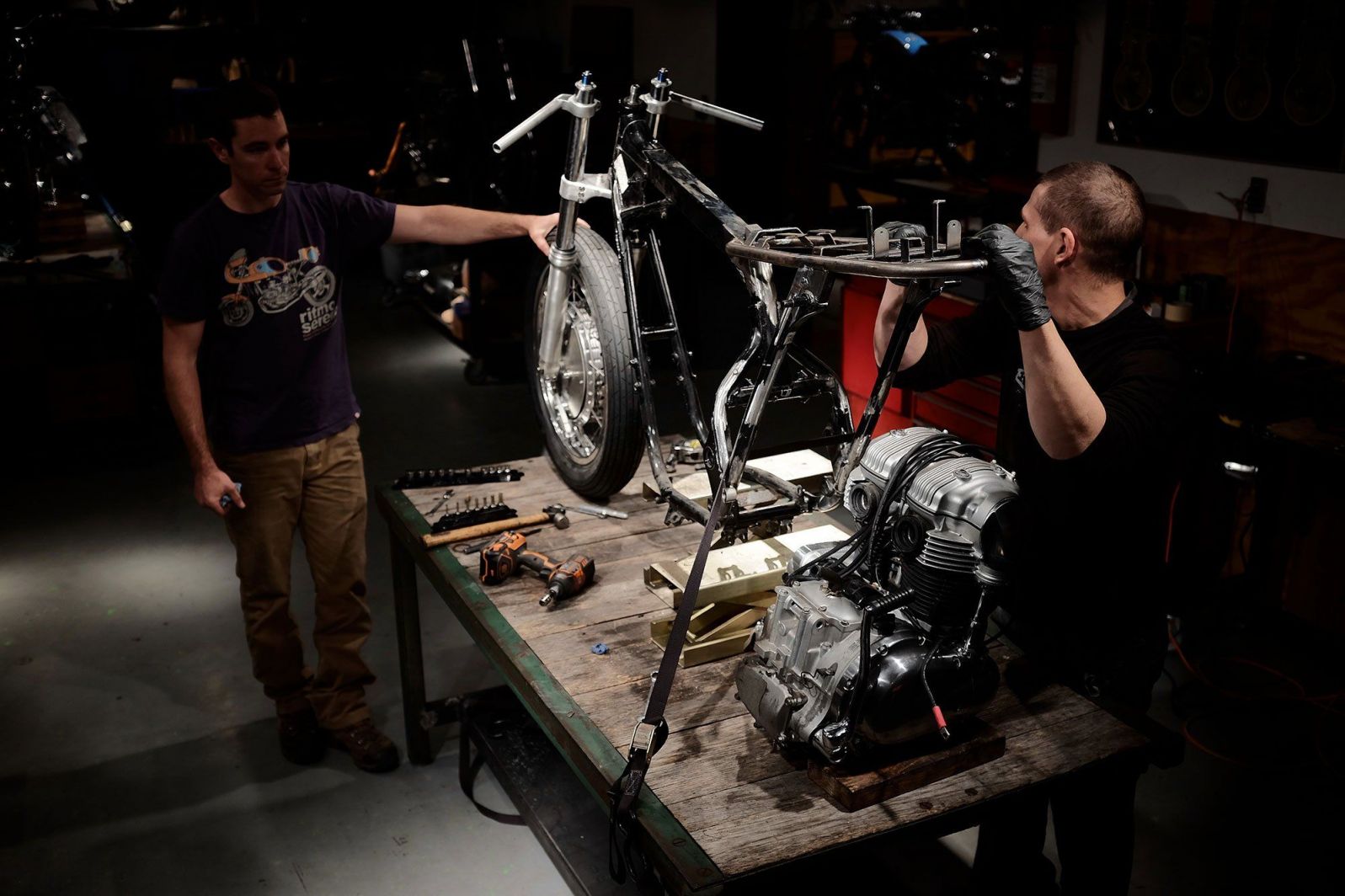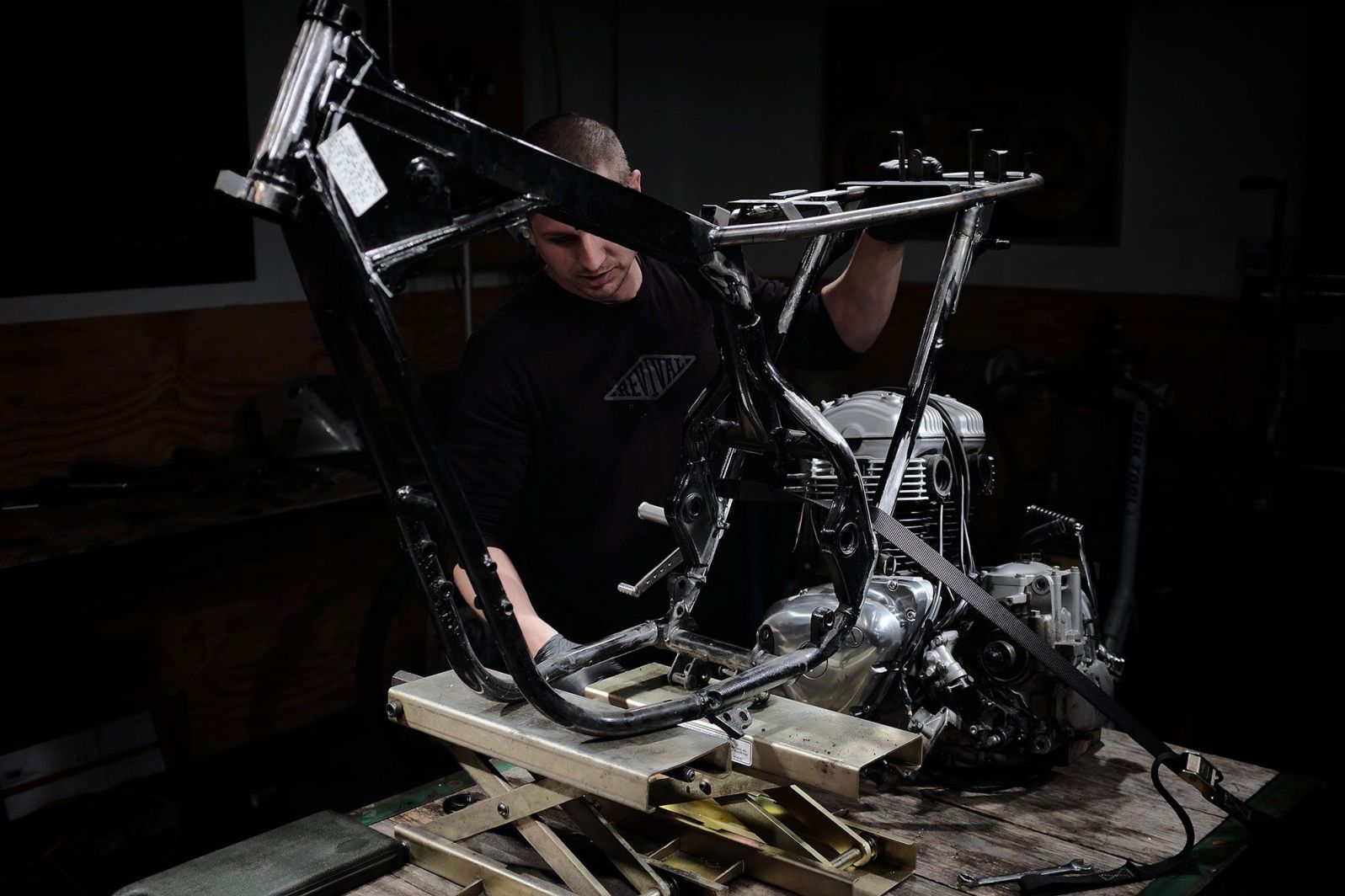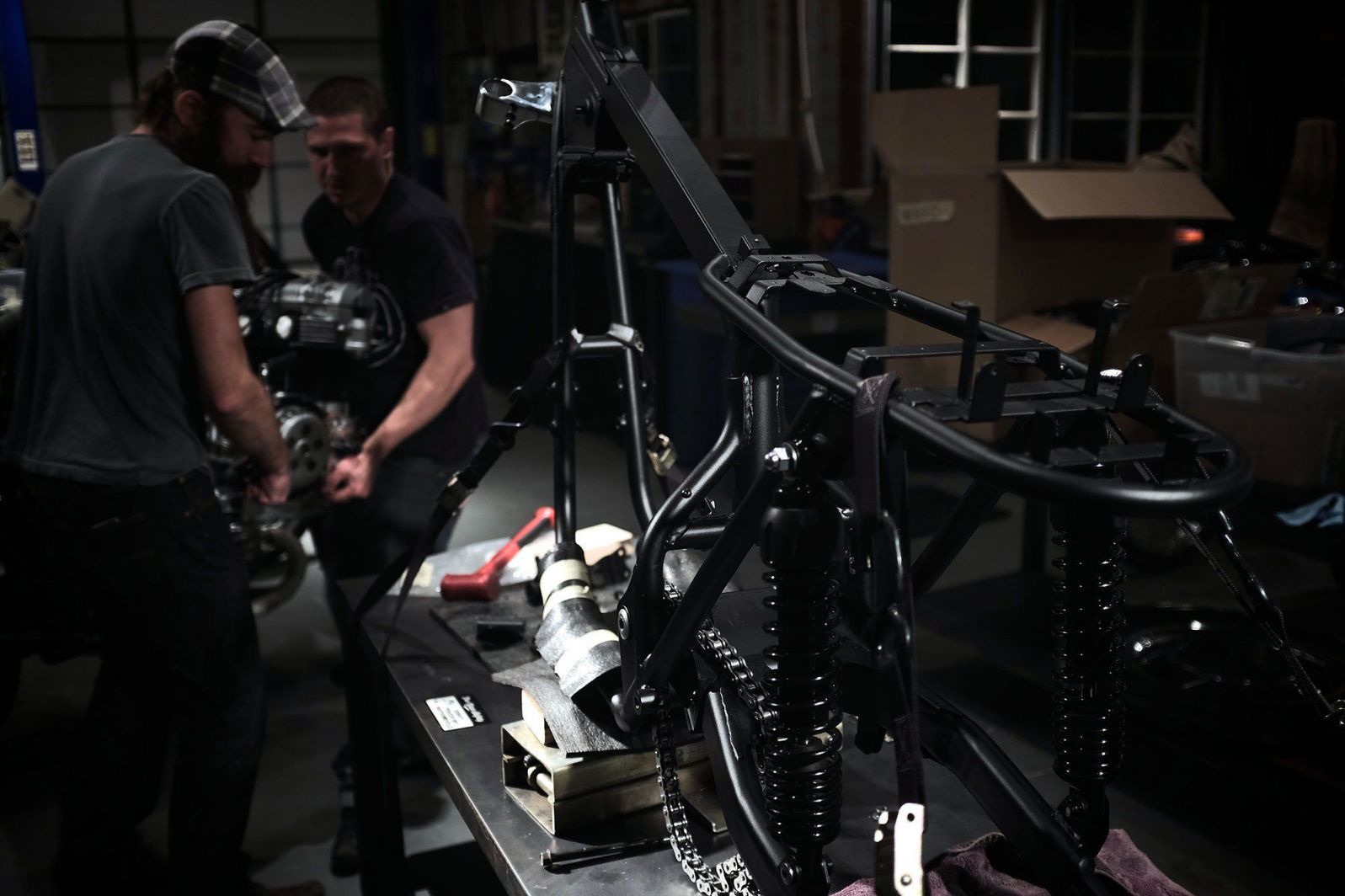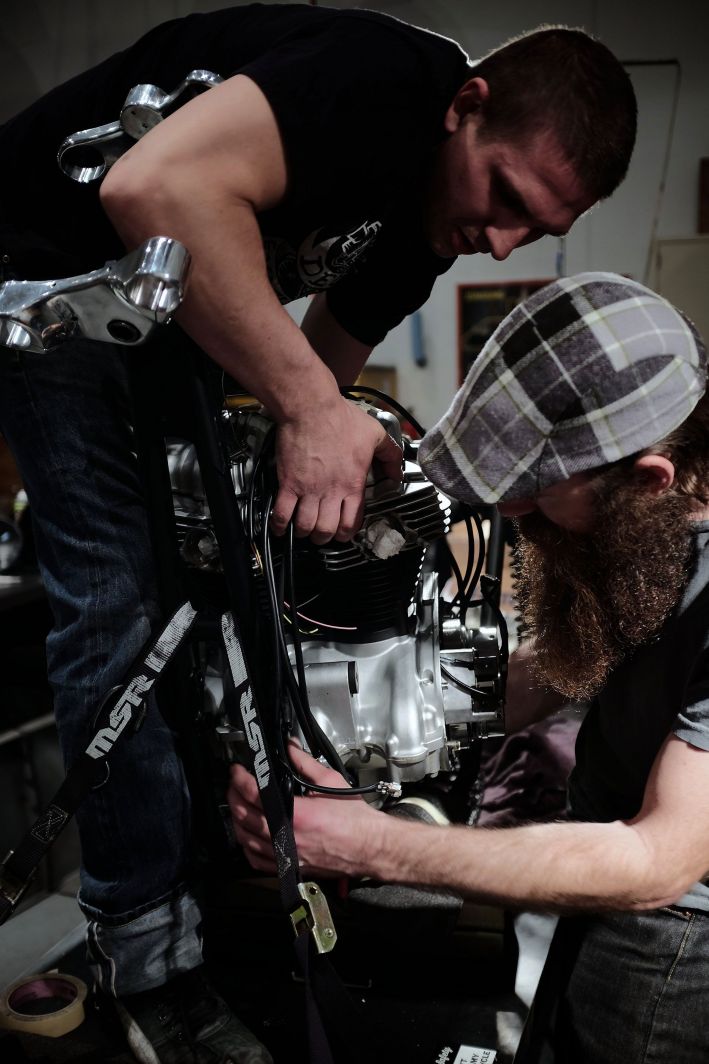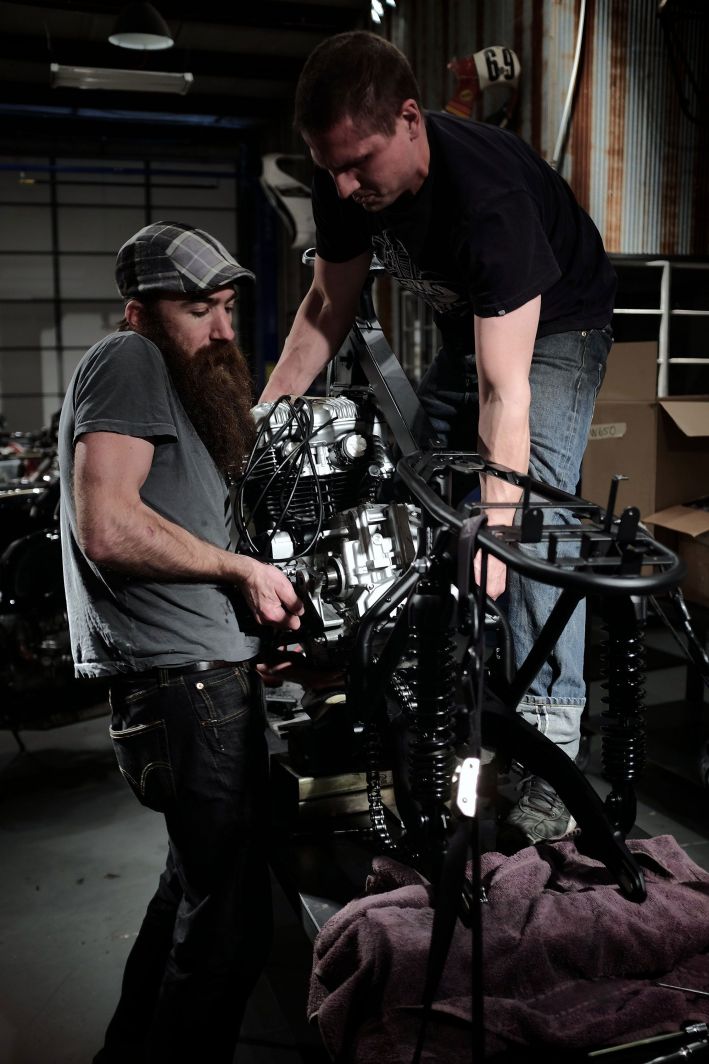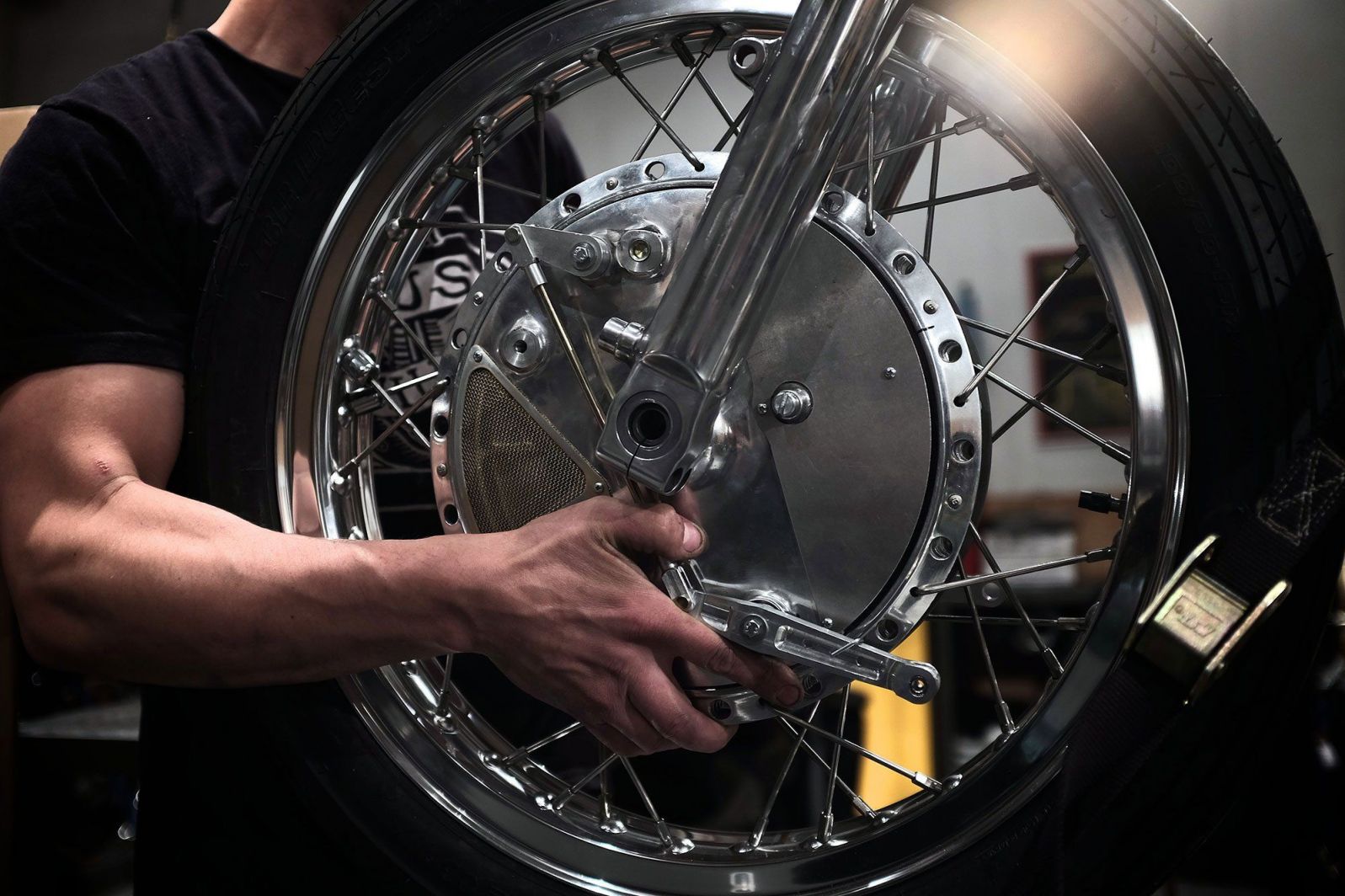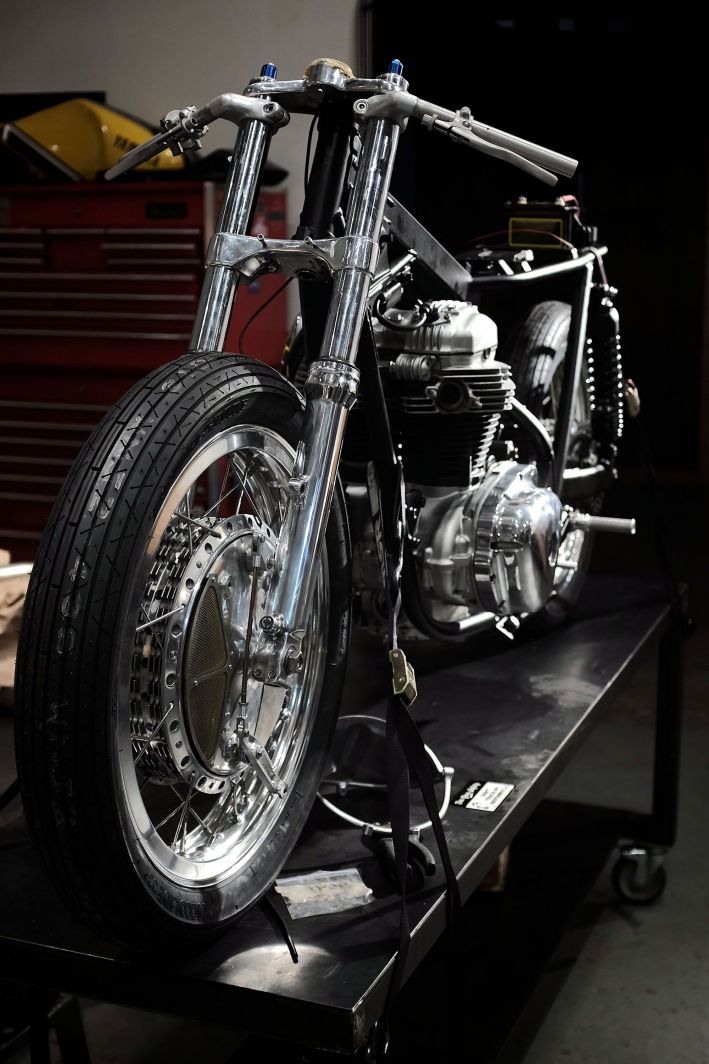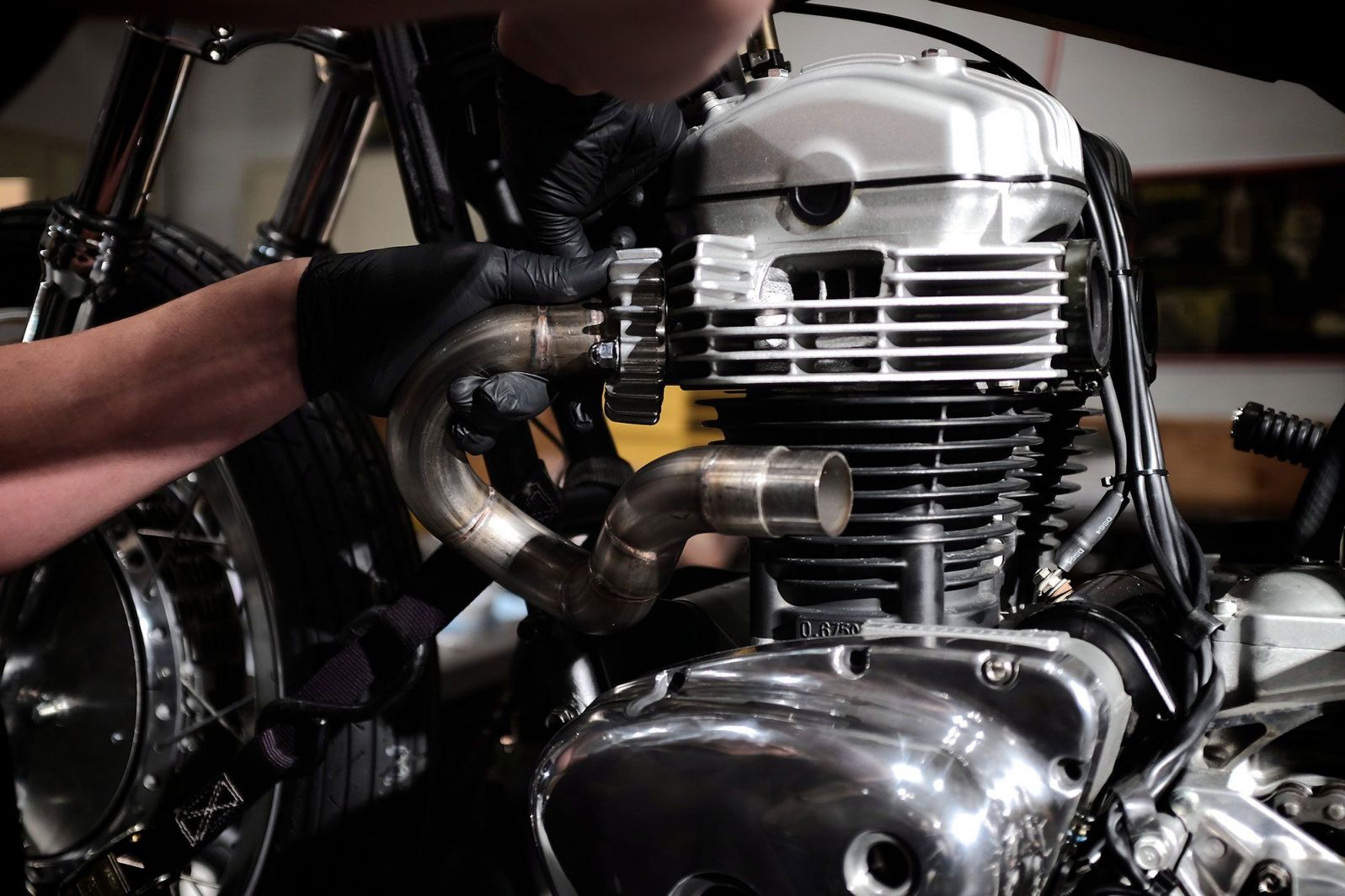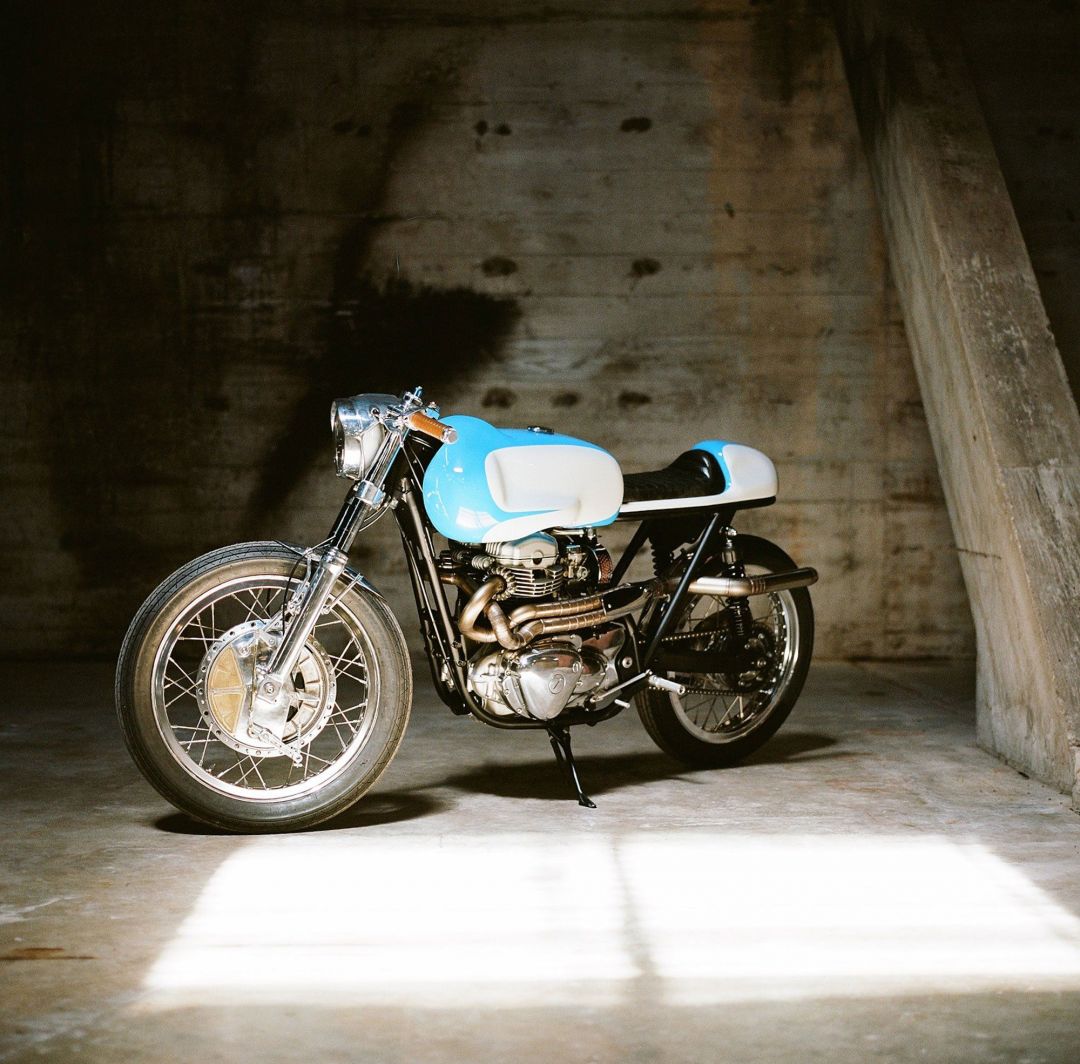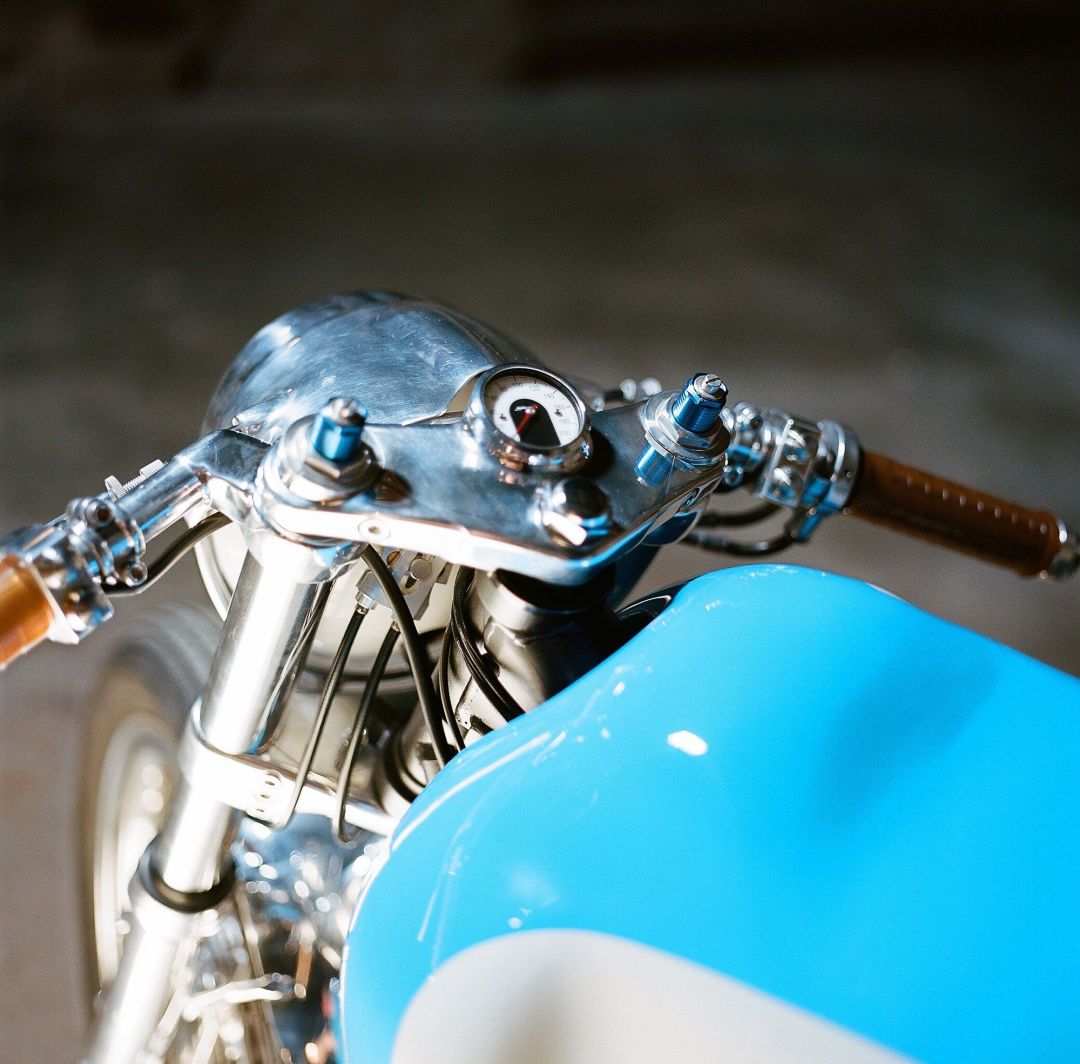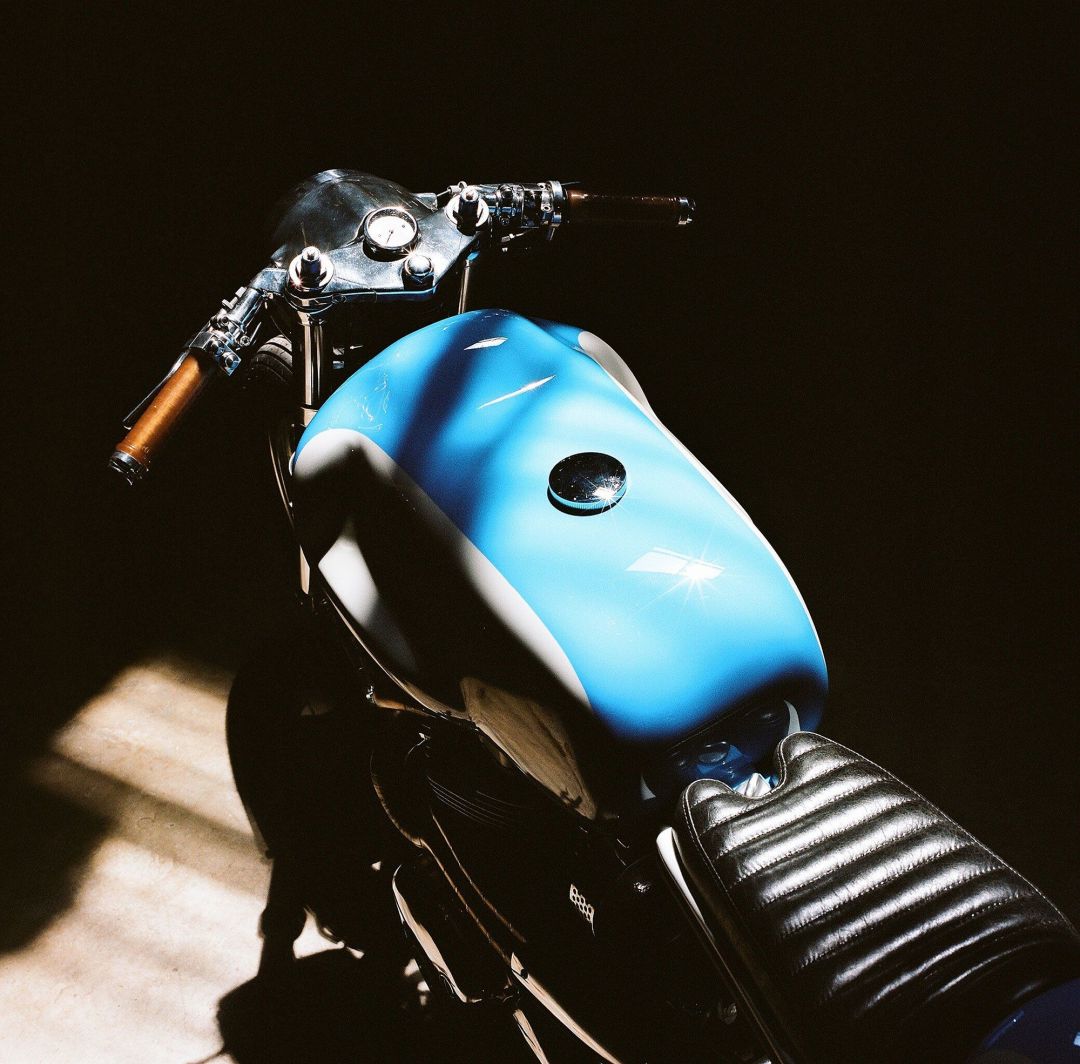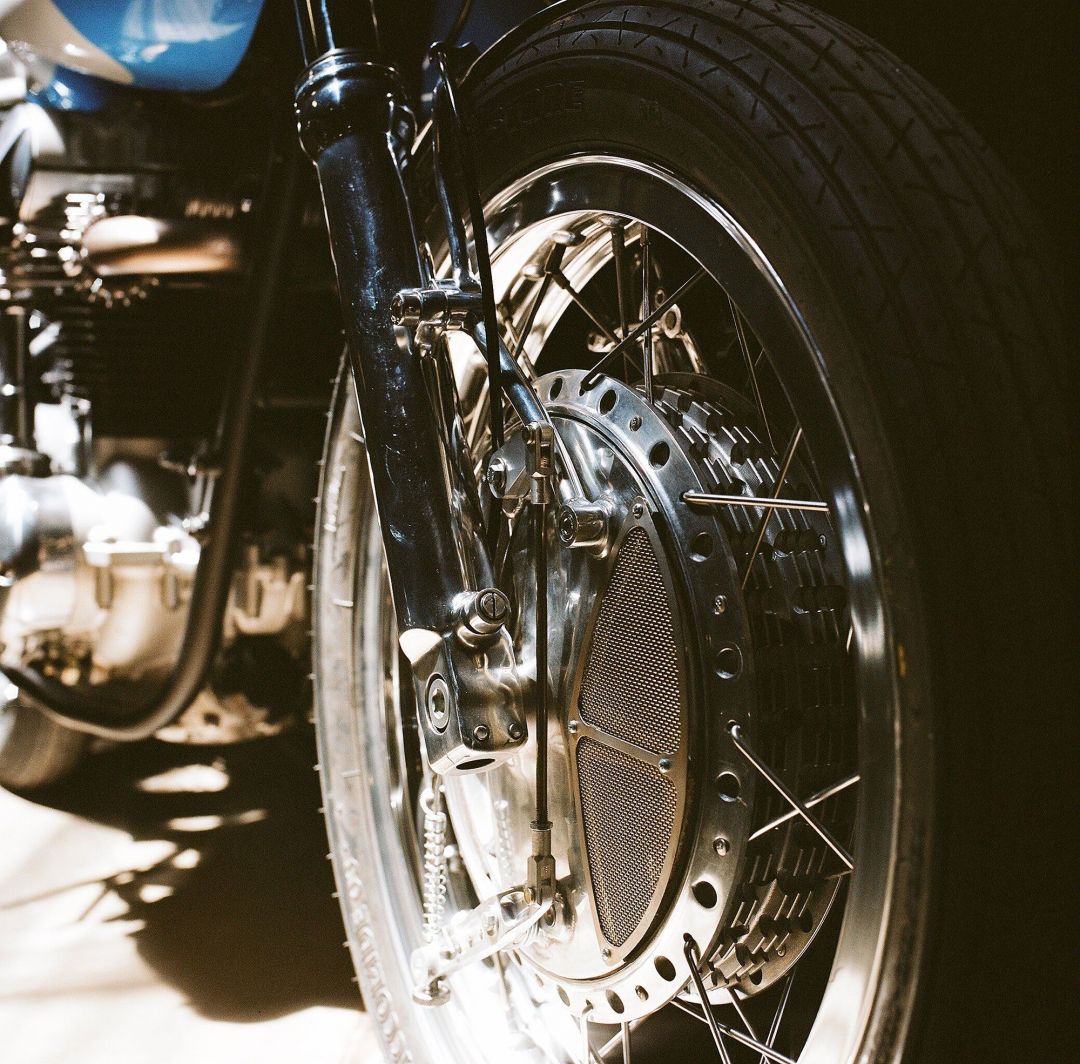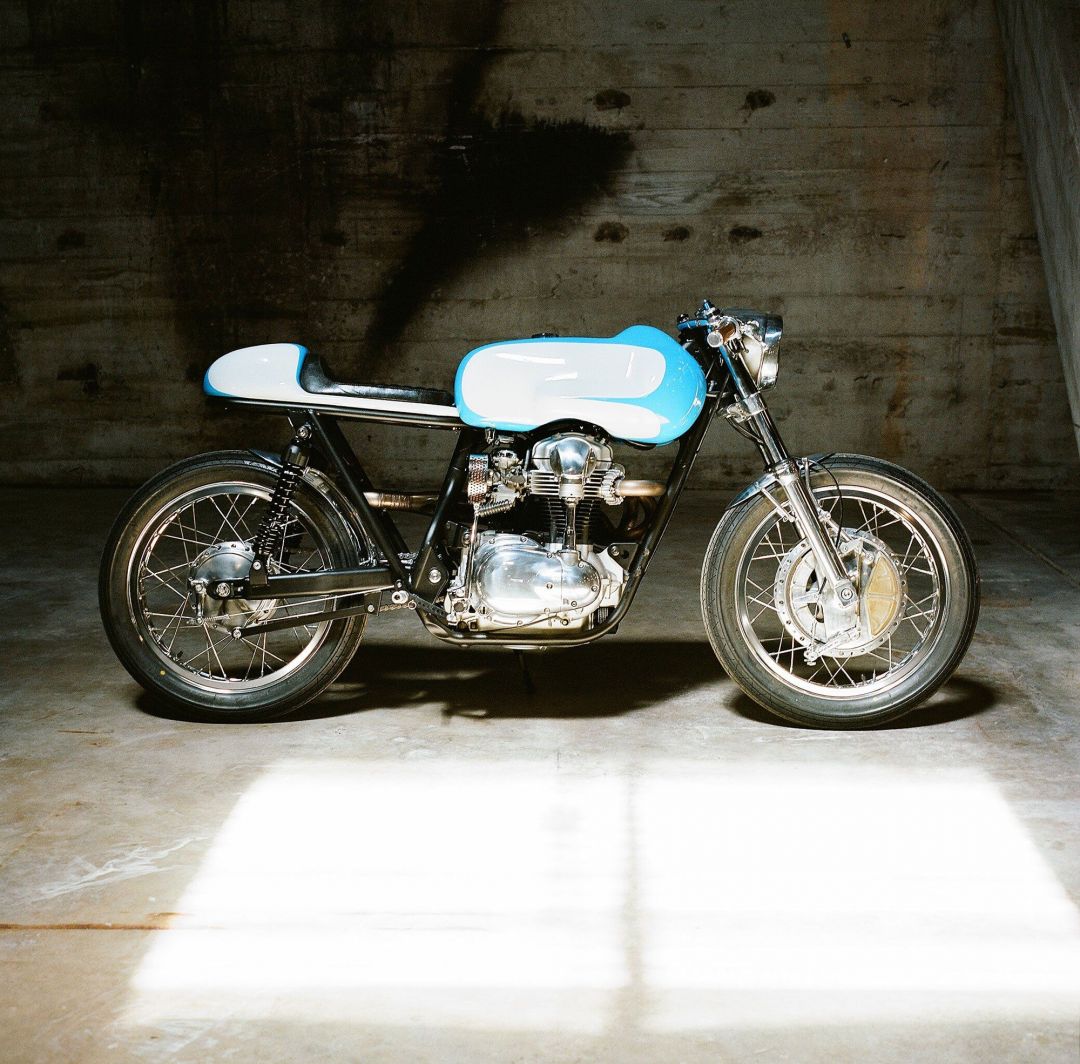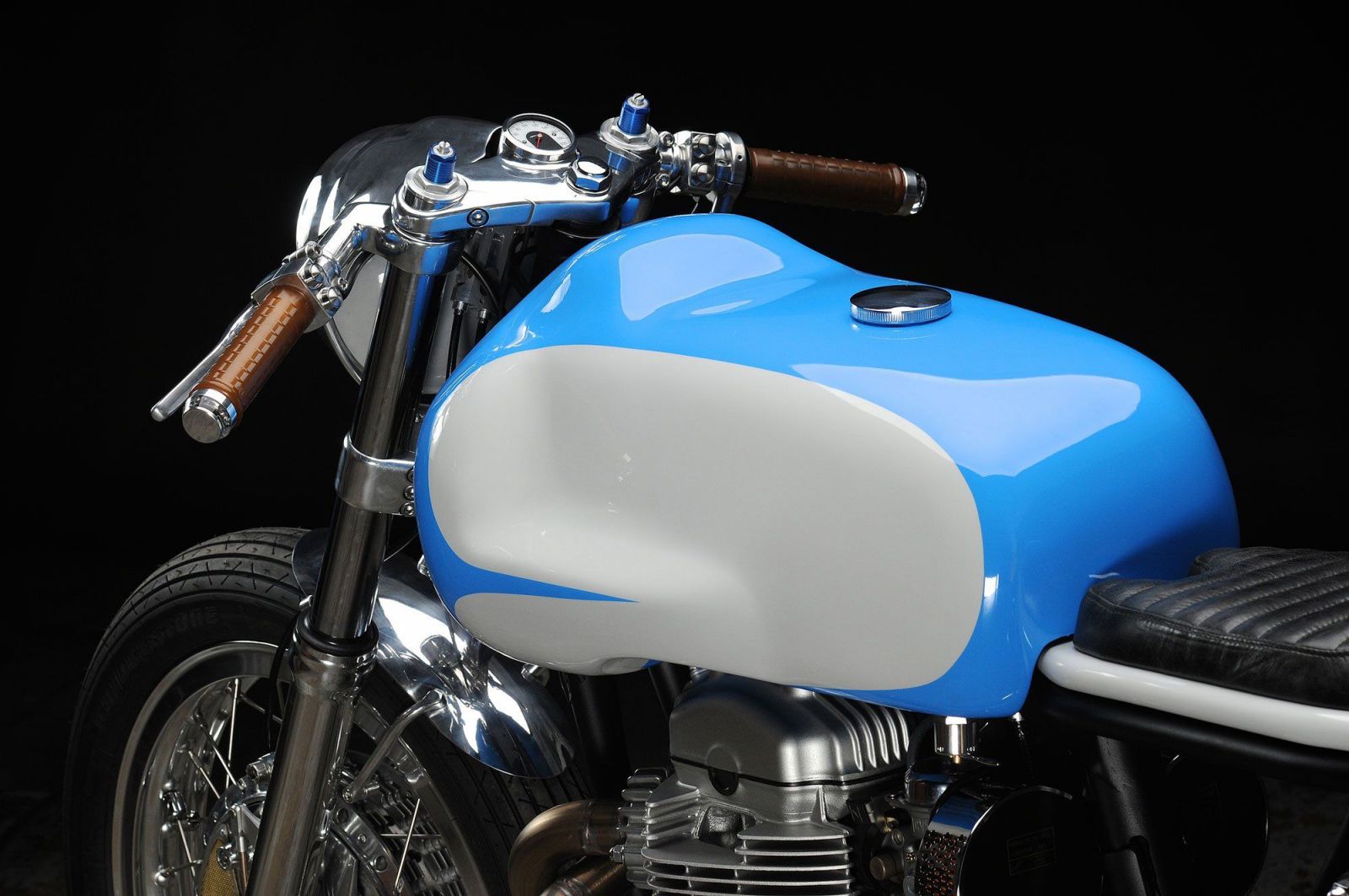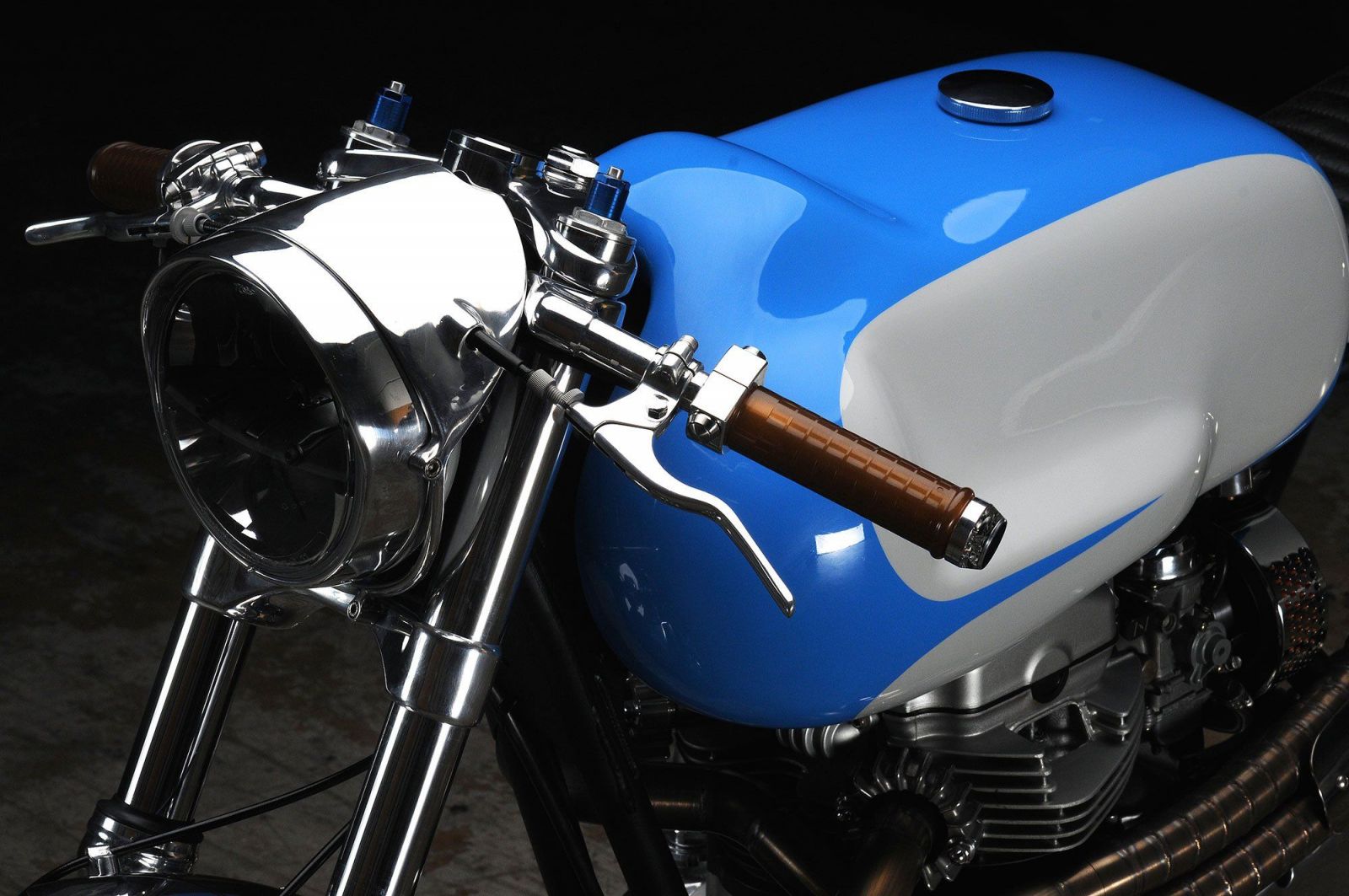 When Harry bought Alan's fiance's Honda Civic, a relationship was formed based on the love of vintage motorcycles. Harry had recently been bitten by the vintage motorcycle bug with his Honda CL360 and wanted to experience more two-wheeled toys. Luckily / Unluckily, Alan introduced him to Revival Cycles and the potential to build anything he wanted.
After a few meetings with the team, a Kawasaki W650 was chosen to be the ideal candidate for a cafe racer style build that could still be ridden regularly. The bevel drive engine, the affordable platform, and the classic UJM style were perfect for a cafe racer inspired custom build.
The near new motorcycle was stripped down to the frame, and a custom rear frame hoop was built, and all of the electronics were relocated and hidden as tightly as possible to give the modern bike a very classic stripped-down aesthetic. With the packaging out of the way, a Gilera inspired fuel tank was hand-formed out of aluminum to give the motorcycle a unique vintage look. After the fuel tank was shaped, a hand-formed solo seat was built from scratch to complement the fuel tank seat and continue the minimal aesthetic. A bespoke aluminum nacelle was created inspired by a Velocette Venom to hide the headlight, cables, and other unsightly requirements of a real motorcycle to complete the bodywork.
Since the bike was intended to be ridden often, a pair of Yamaha R6s forks were fitted with a couple of custom CNC machined triple clamps, and a Yamaha TZ 4LS front drum brake was fitted to the forks w/ bespoke brake stays and axle spacers. Out back, a pair of Progressive shocks completed the suspension updates, and a pair of Borrani inspired Excel deep-dish aluminum rims wrapped in Avon tires finished the rolling stock.
The final step was to finish out this cafe inspired custom with a full custom wiring harness and a compliment of modern electronics. A MotoGadget M-Unit Basic was installed to control the M-Blaze disc turn signals, LED headlight, and a pair of custom-made LED rear turn signals/tail lights by Revival Cycles. A MotoScope tiny gauge was fitted into the custom triple clamps, and a set of custom cables with splitter were hidden under the nacelle for the TZ front drum. The last step in the workshop was a full stainless steel exhaust with a custom silencer built into the tubing to give the look of a straight pipe exhaust. The wrap-around, sectioned, high-mounted exhaust completed the brief of a stripped-down, vintage-looking modern cafe custom.
The aluminum bodywork was then bodyworked and covered in blue and gray for another juxtaposition in modern and classic colors to compliment the hand-formed polished fenders to complete the bike's look.
Starting Platform
Manufacturer: Kawasaki
Year: 2001
Model: W650
Condition: Very nice, low mileage bike
Weight (wet): 429 lbs
Frame Modifications
Material: Mild steel
Modifications: Custom built from steel tubing from the fuel tank to the back of the motorcycle. Custom gas tank mounts and tail section mounts using a single securing fastener. De-tabbed frame, custom electrical mounting brackets for coils, ECU, Reg/Rec, MotoGadget M-unit, Anti-Gravity 8-cell battery, horn, main fuse all to hide electrical system under bodywork. Powdercoated frame, swignarm Mini-Tex Black by Crosslink Powdercoating
Body Work
Hand formed alloy fuel tank, tail section, headlight surround, front and rear fenders and mounting brackets.
Polished fenders
Custom painted fuel tank and tail section. PPG royal blue and off white.
A single hand formed fastener is used to secure the tail section and fuel tank.
Pingel petcock
LED TruckLite
Revival Cycles Designed Parts
Revival Cycles custom built top triple tree clamp w/ integrated MotoGadget Tiny Gauge, custom built lower triple tree
Hand formed alloy fuel tank
Hand formed alloy tail section and seat pan
Hand formed alloy brake locating brackets
Hand formed alloy front fender and fender mounts
Hand formed alloy rear fender and fender mounts
Revival Cycles built rear taillight/brake light/turn signals
Suspension
Front: Yamaha R6s front forks, polished and rebuilt fork lowers, set for rider
Revival Cycles custom built triple tree clamps w/ integrated
MotoGadget Tiny Gauge, hand polished
Custom hand formed brake locating rods
Custom hand formed alloy front fender and fender brackets
Rear: Progressive Suspension 444 rear shocks and springs, matched to rider weight
Wheels
Front: Custom built by Buchanan
Hub: TZ250 4LS front drum (replica)
Rim: 19" Excel deep lip polished aluminum
Spokes: Stainless steel spokes/spoke nipples
Axle: Custom built for hub/fork conversion
Tire: Avon Speedmaster 19" x 3.00"
Rear: Custom built by Buchanan
Hub: Polished W650 rear hub
Sprocket Carrier:
Rim: 19" Excel deep lip polished aluminum
Spokes: Stainless steel spokes/spoke nipples
Axle: Stock
Tire: Avon Speedmaster 19" x 3.00"
Electrical
Full Revival Cycles built custom wiring harness
Revival Cycles built frame integrated turn signal/tail light/brake lights
MotoGadget push button switches, polished.
Ignition System: Stock W650
Charging System: Stock W650
Engine/Exhaust
Revival Cycles built stainless steel, equal length, high mount exhaust, high polished stainless steel exhaust heat shield
Hand formed stainless steel silencer built to look like a straight pipe
Polished engine covers and cam cover
Emgo pancake air filters w/ modified mounting plate
Controls
Rear-sets: Custom built rearsets w/ folding footpegs, hand built shifter and foot brake. Foot brake rotates back and foot peg folds
up to allow the kickstarter to still be functional. CNC machined foot peg feet.
Handlebars: GSXR clip-ons, de-tabbed and hand sanded for a nicer finish
Throttle: Factory throttle, polished housing
Front Brake Perch: BikeMaster Universal Lever/Perch, shortened and polished lever. Custom built brake cables and cable splitter
Clutch Perch: BikeMaster Universal Lever/Perch, shortened and polished lever.
Custom built cable
Turn Signals:

 

MotoGadget M-Blaze disc bar end turn signals, polished
Brakes
Front: 1970 Yamaha TZ250 4 leading shoe front drum, replica from J&L Exhaust, polished finish
Rear: Factory drum, polished hub and backing plate, custom built brake cable
Brake Cables: Custom built brake cables built in house at Revival Cycles, front brake cable splitter mounted to headlight shell. Custom built rear brake cable with flip up brake lever for kickstarter clearance.