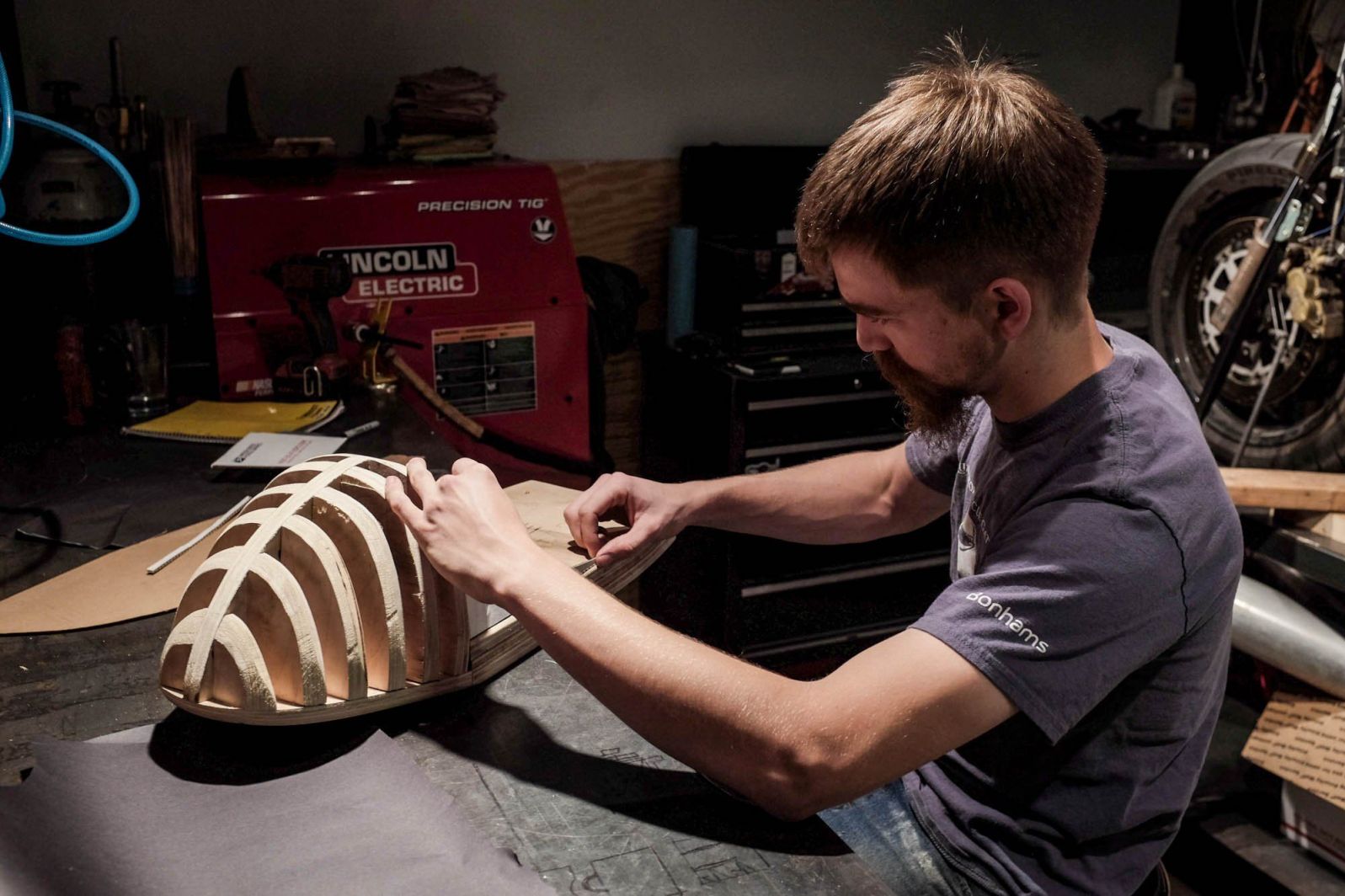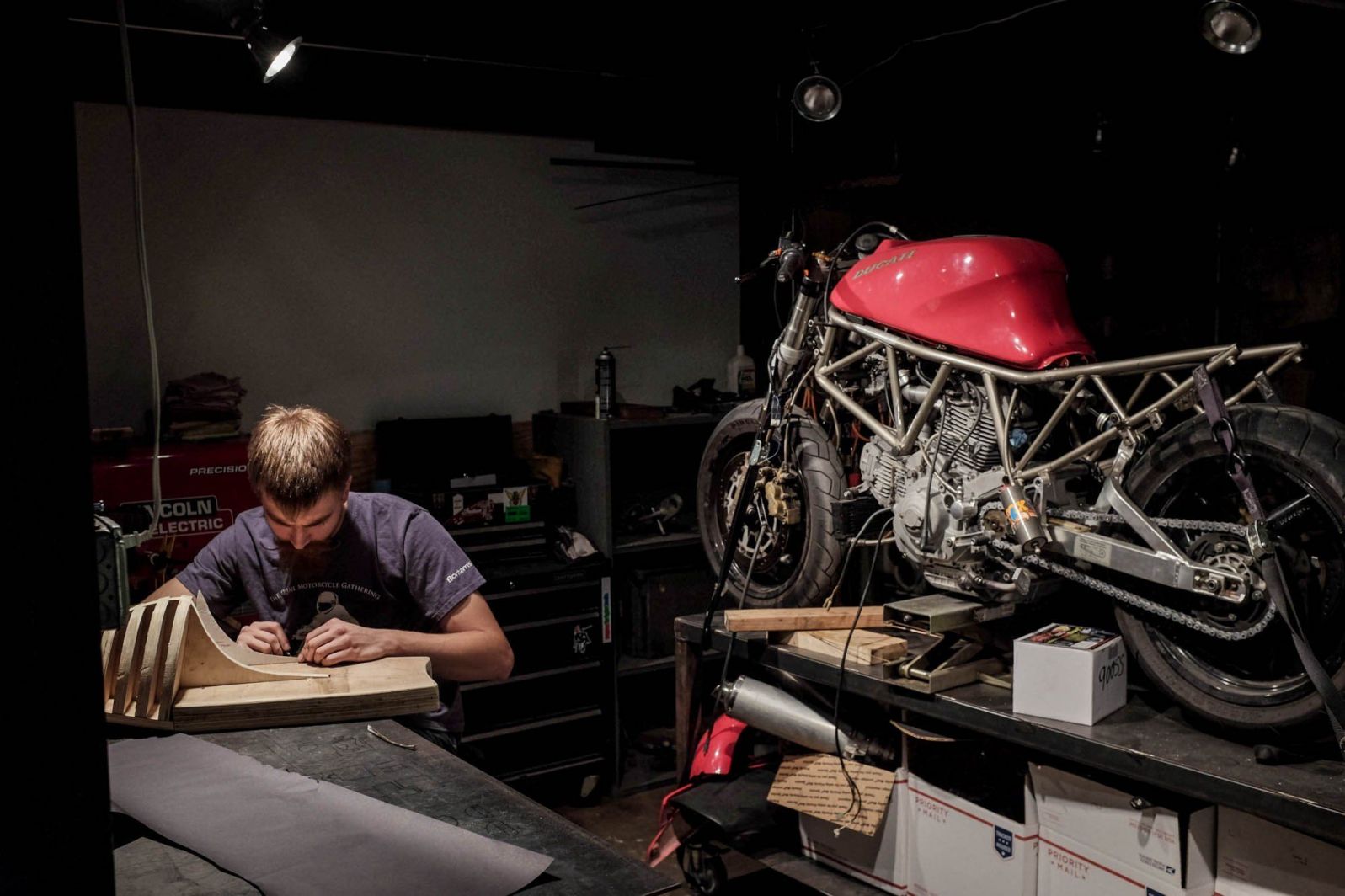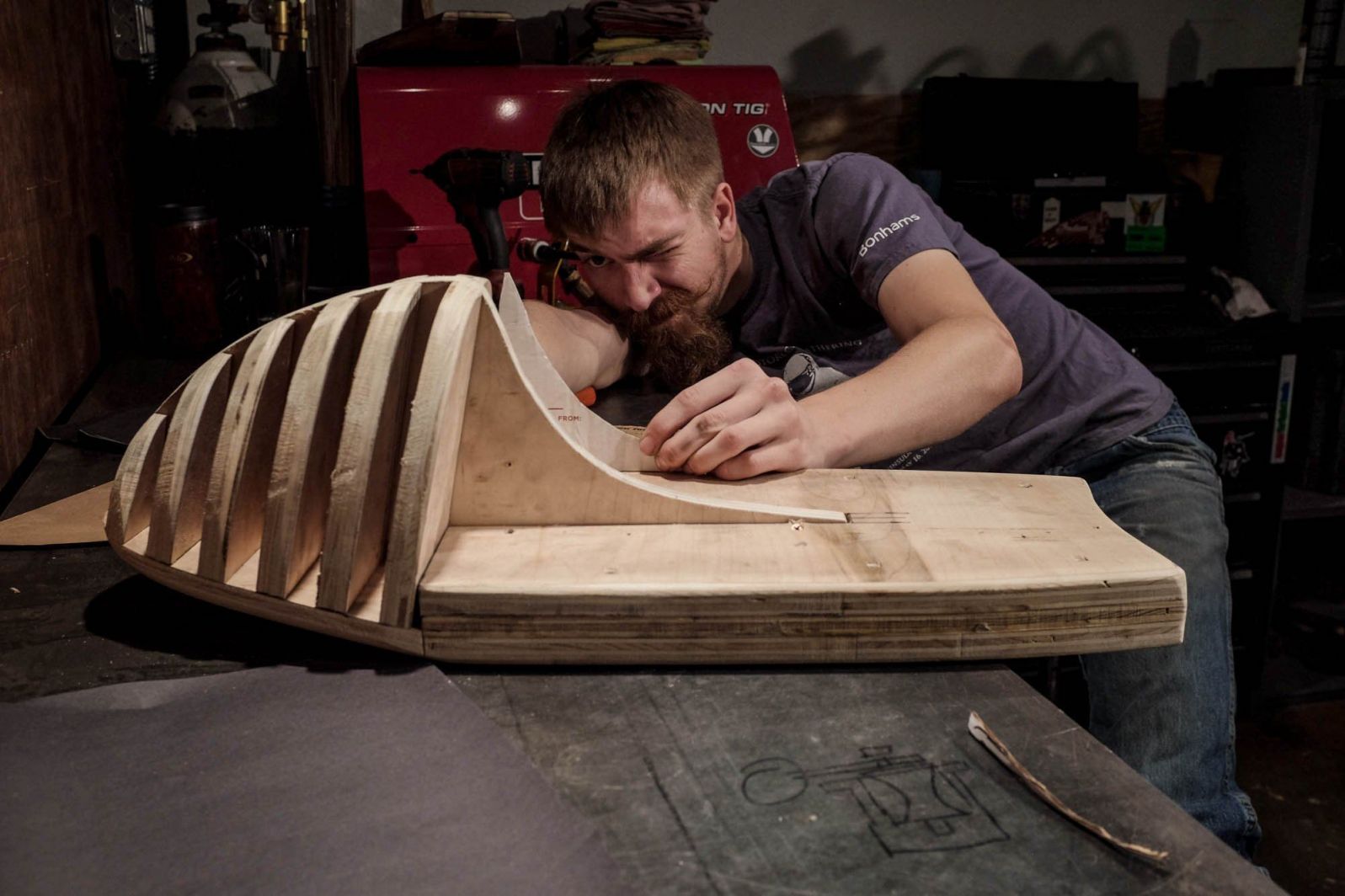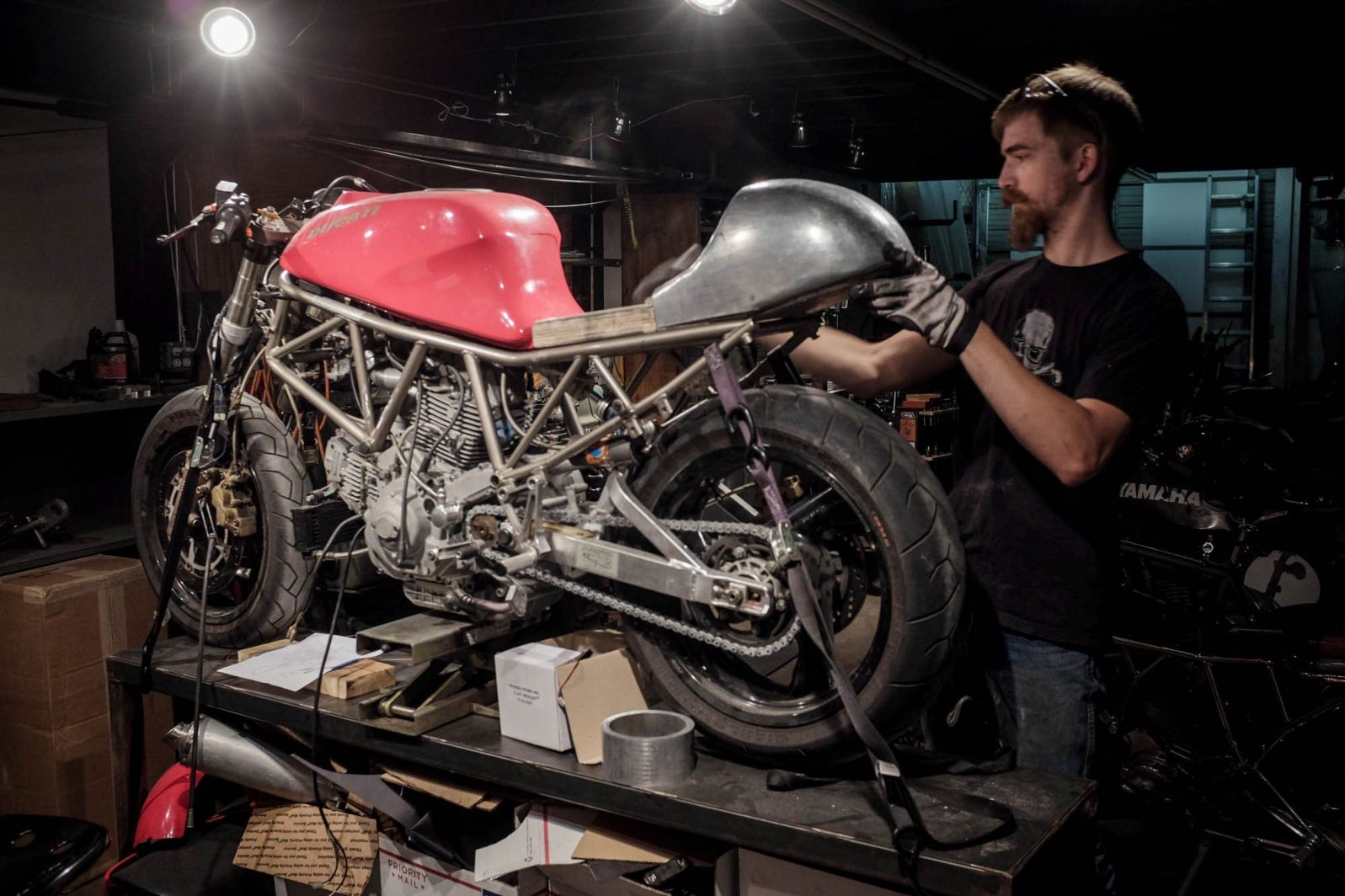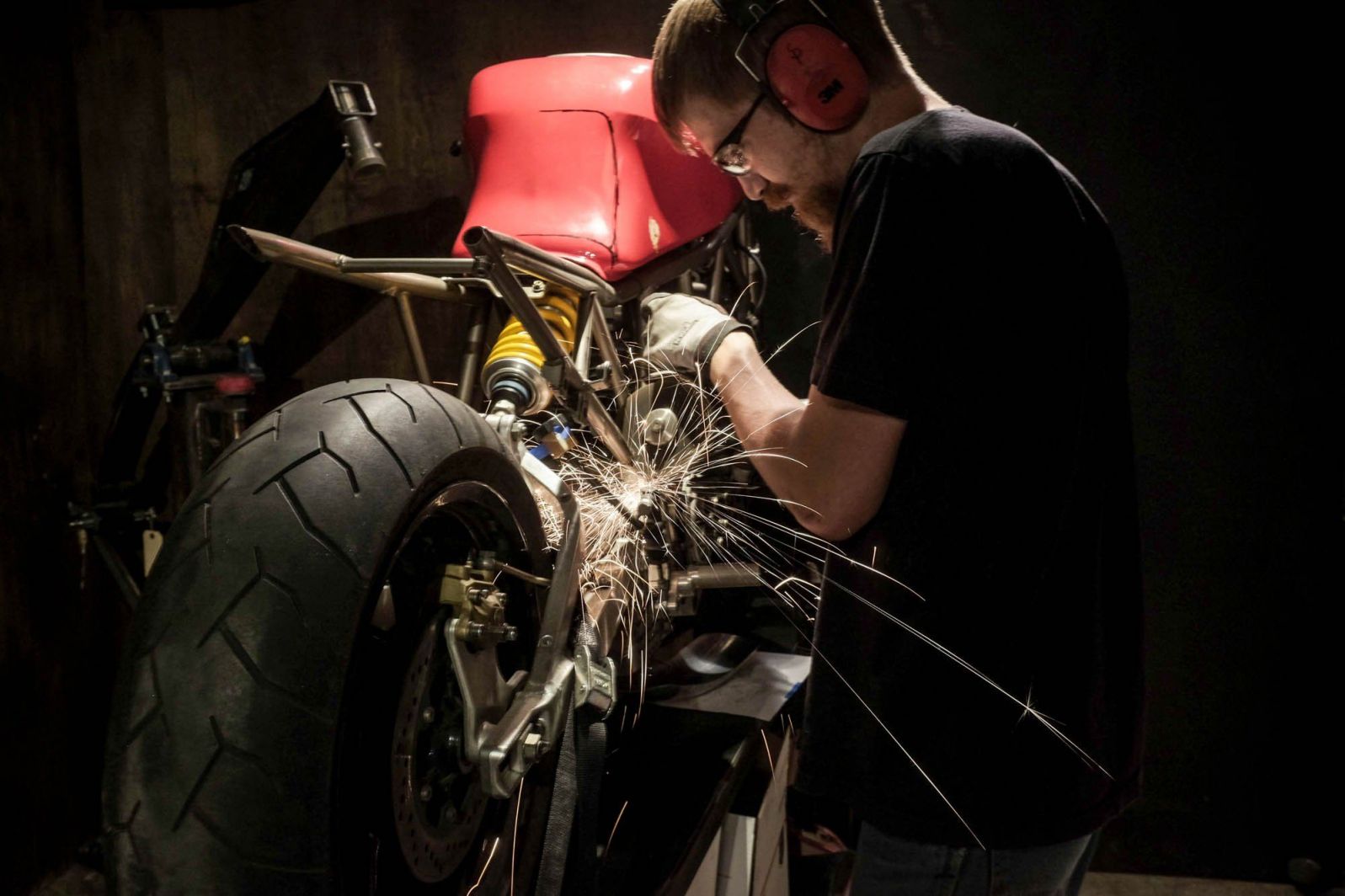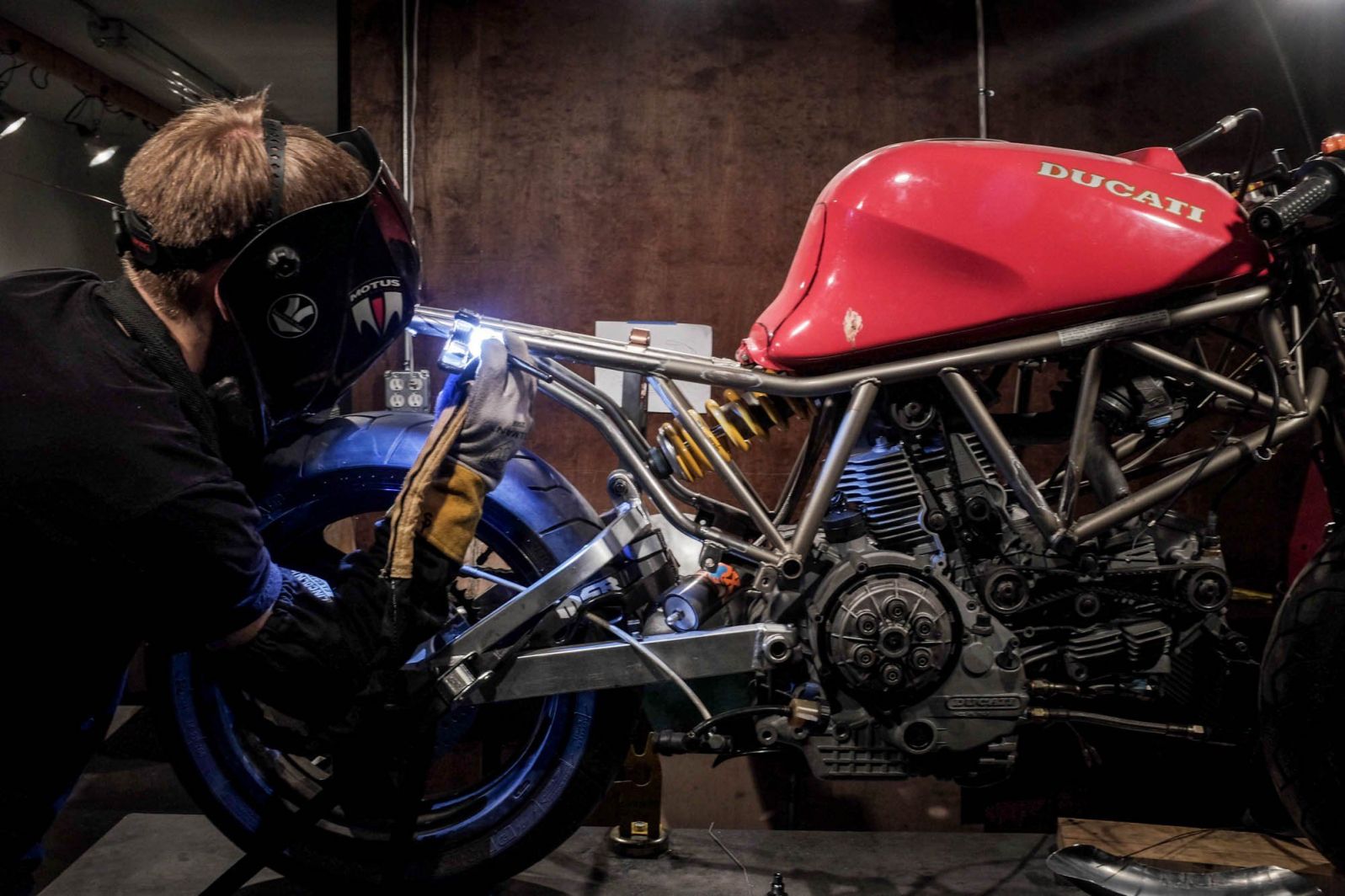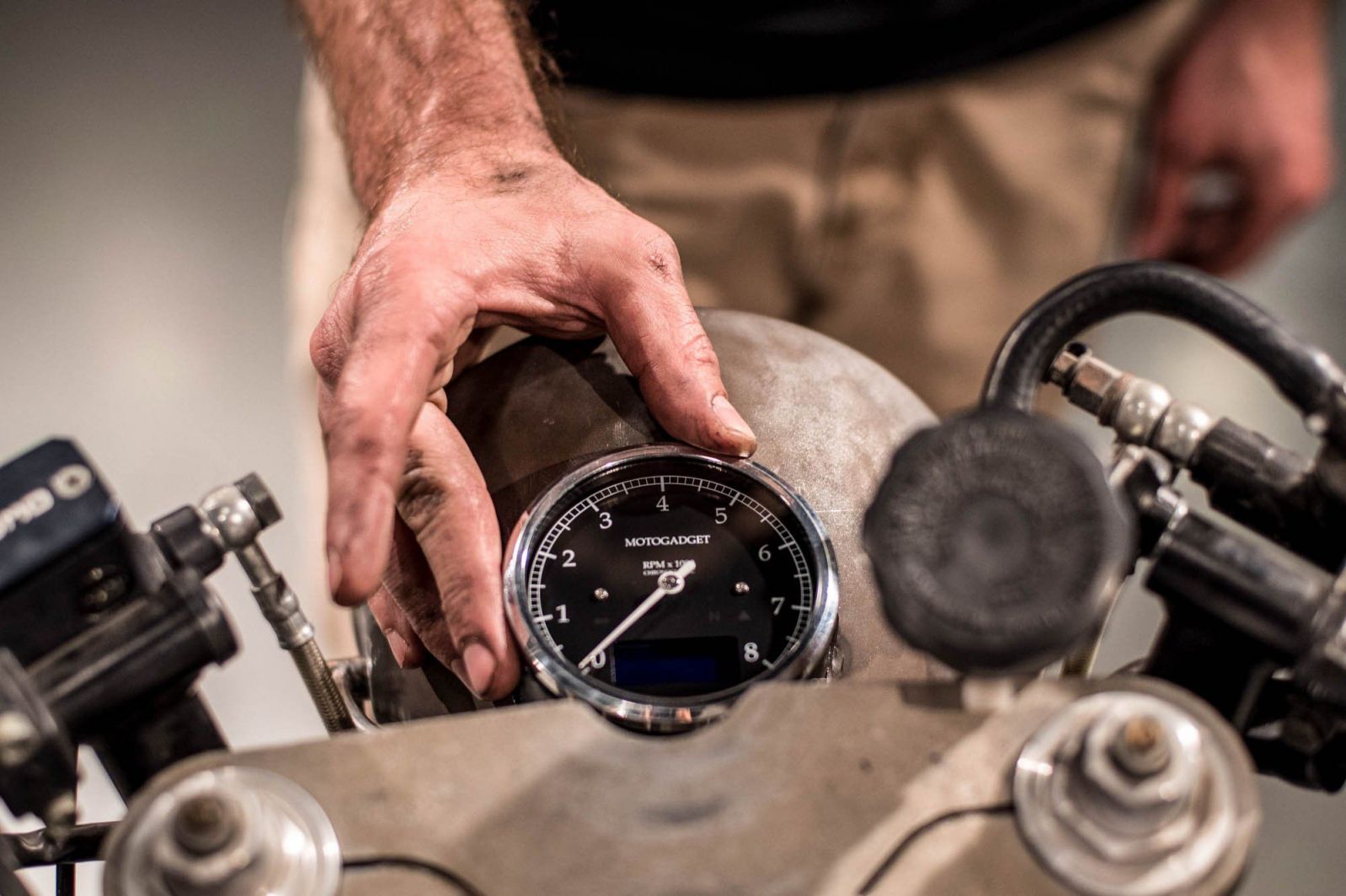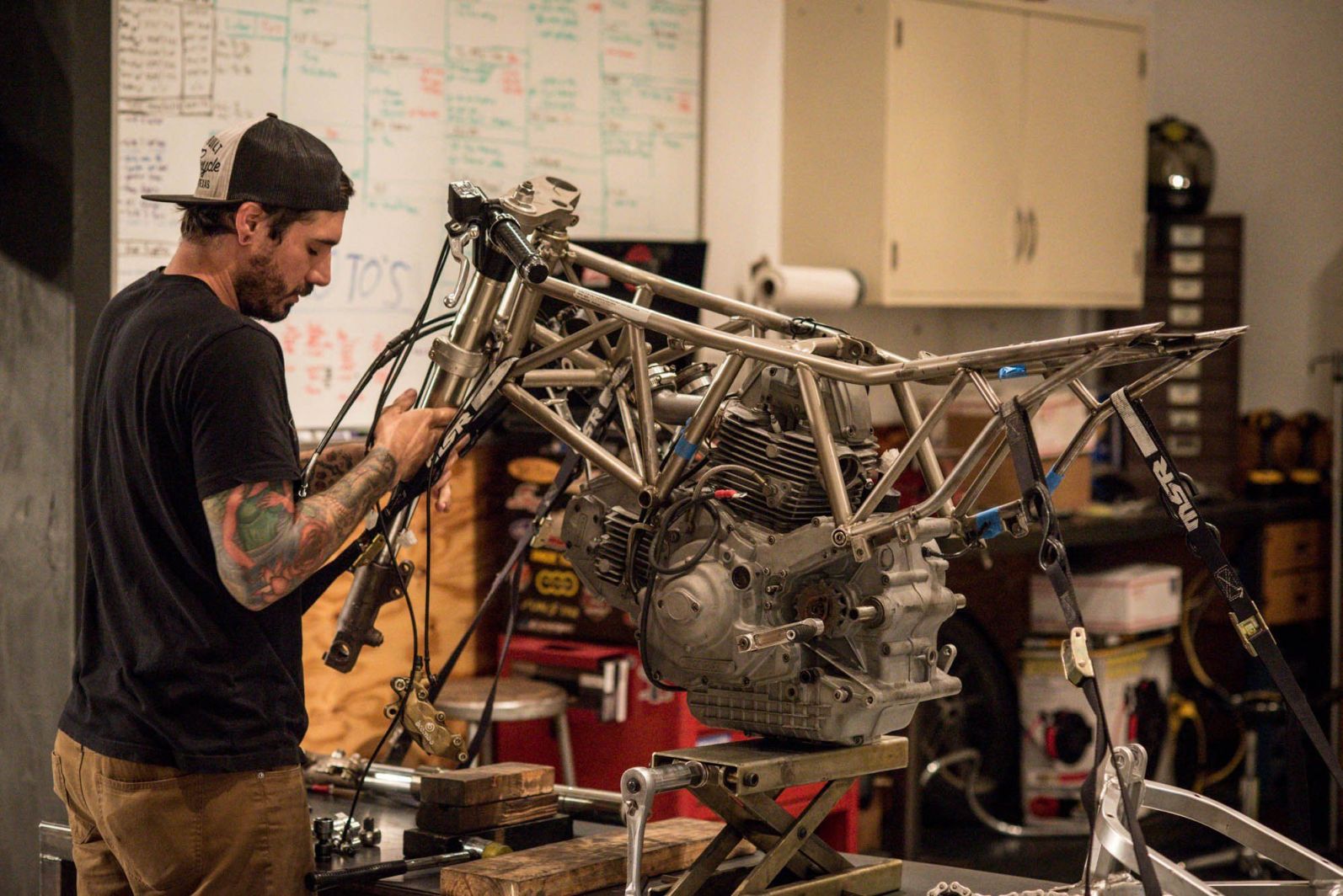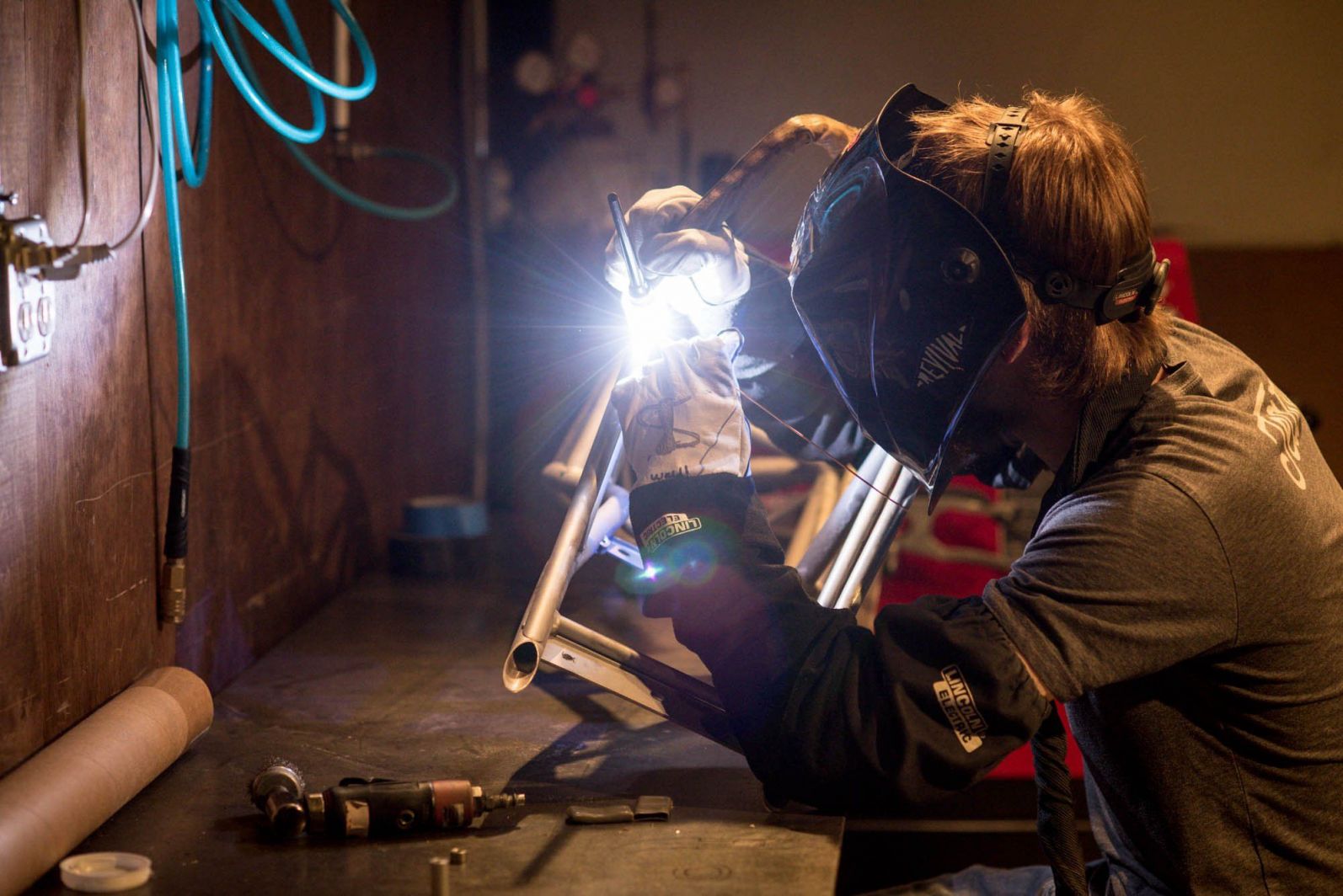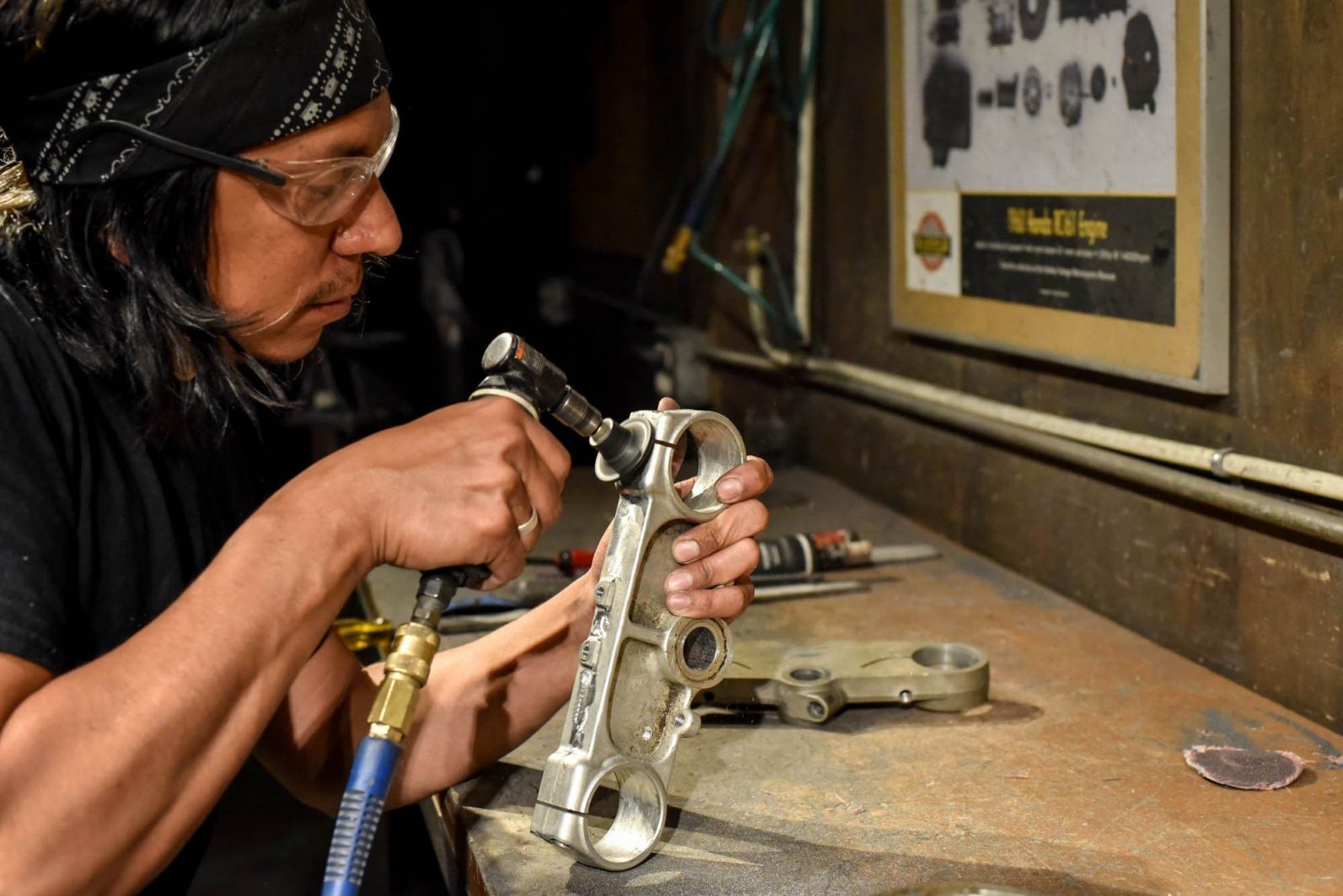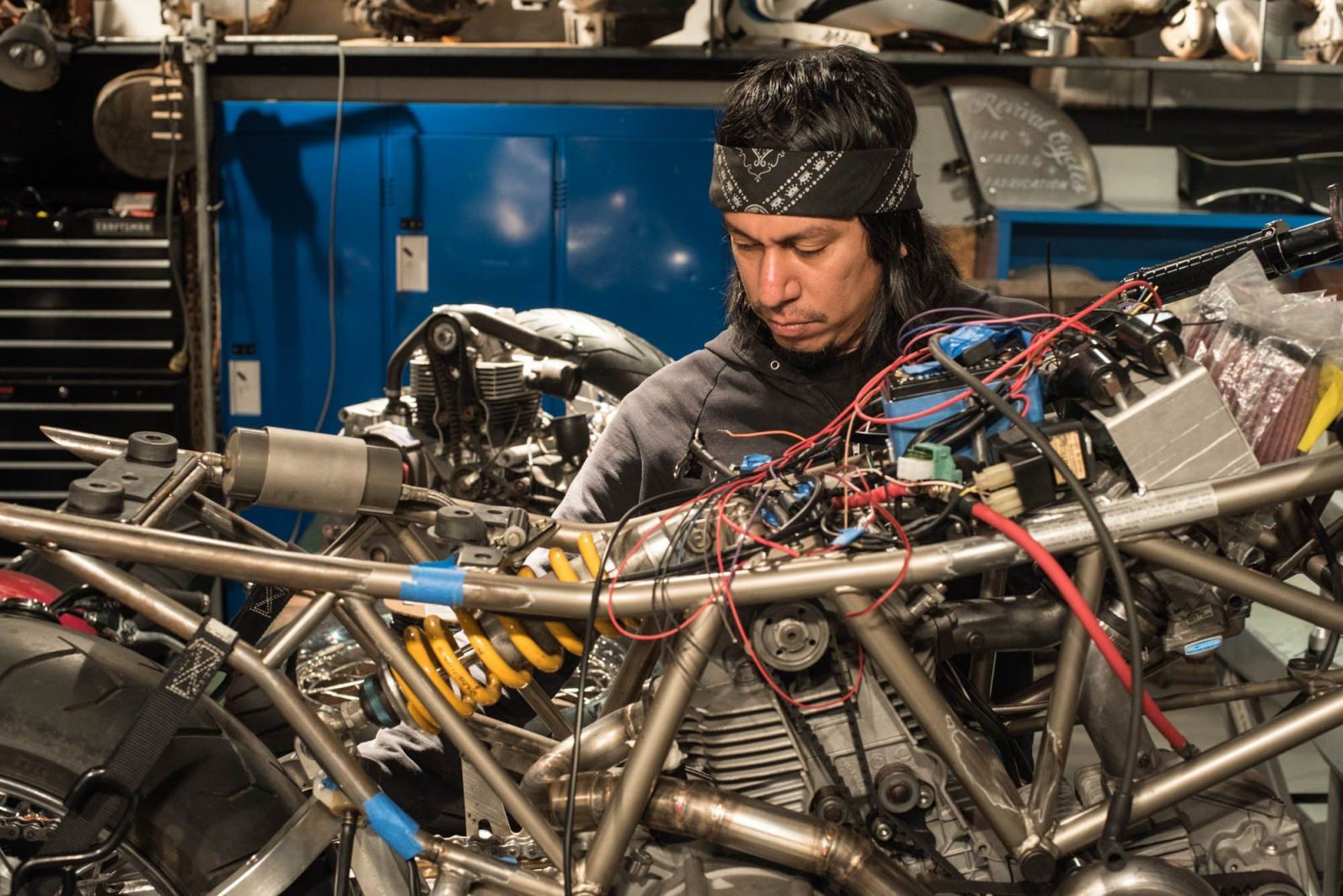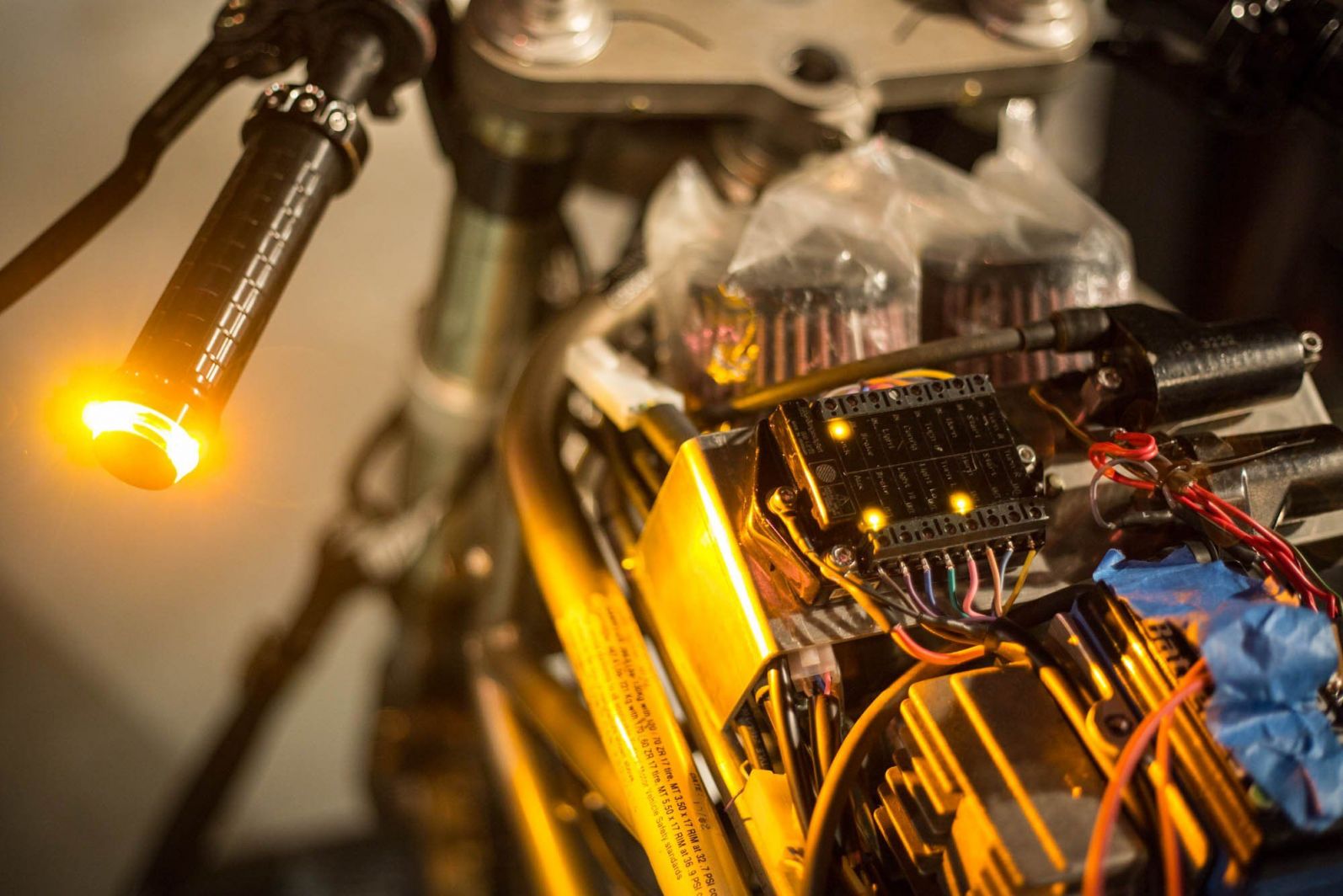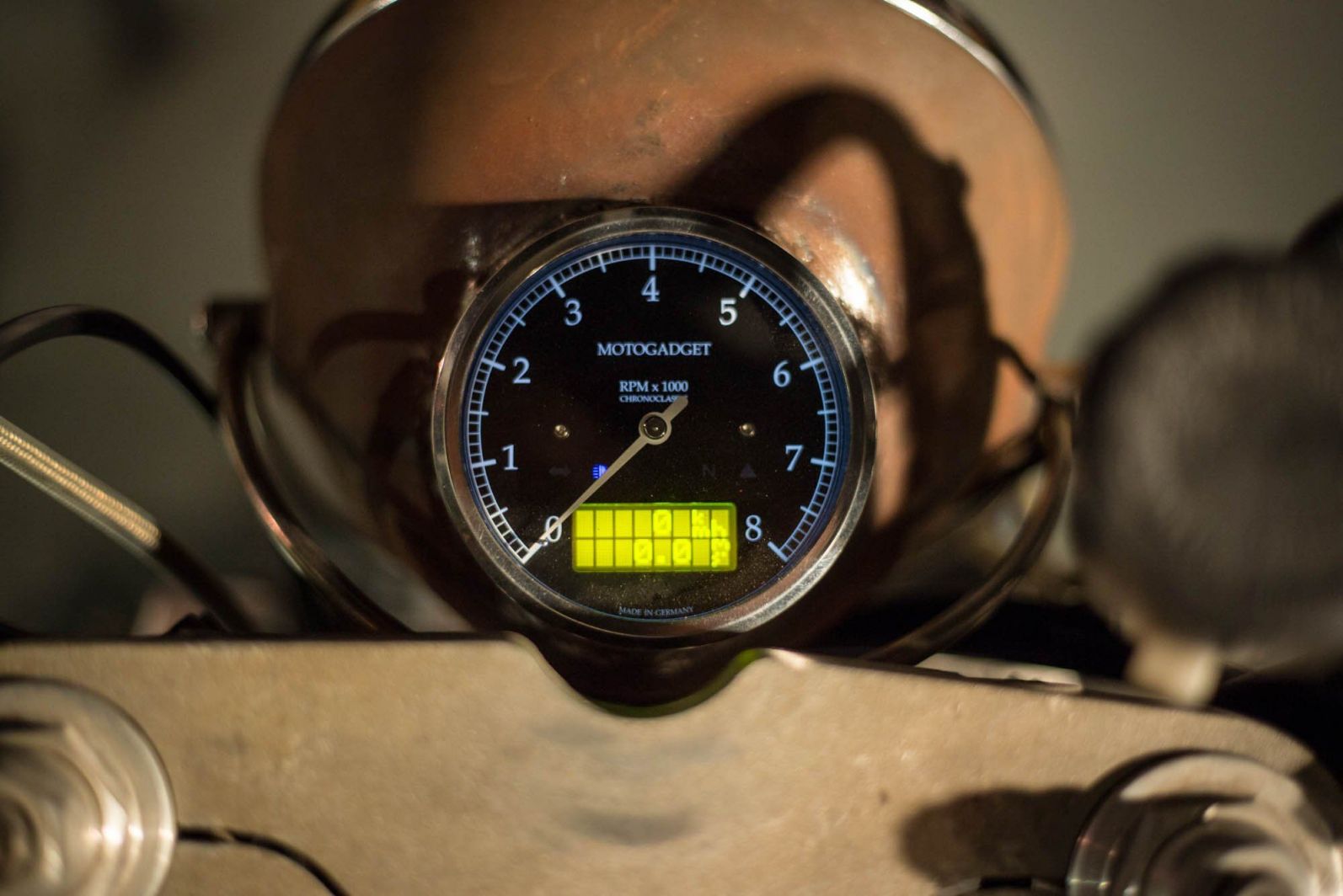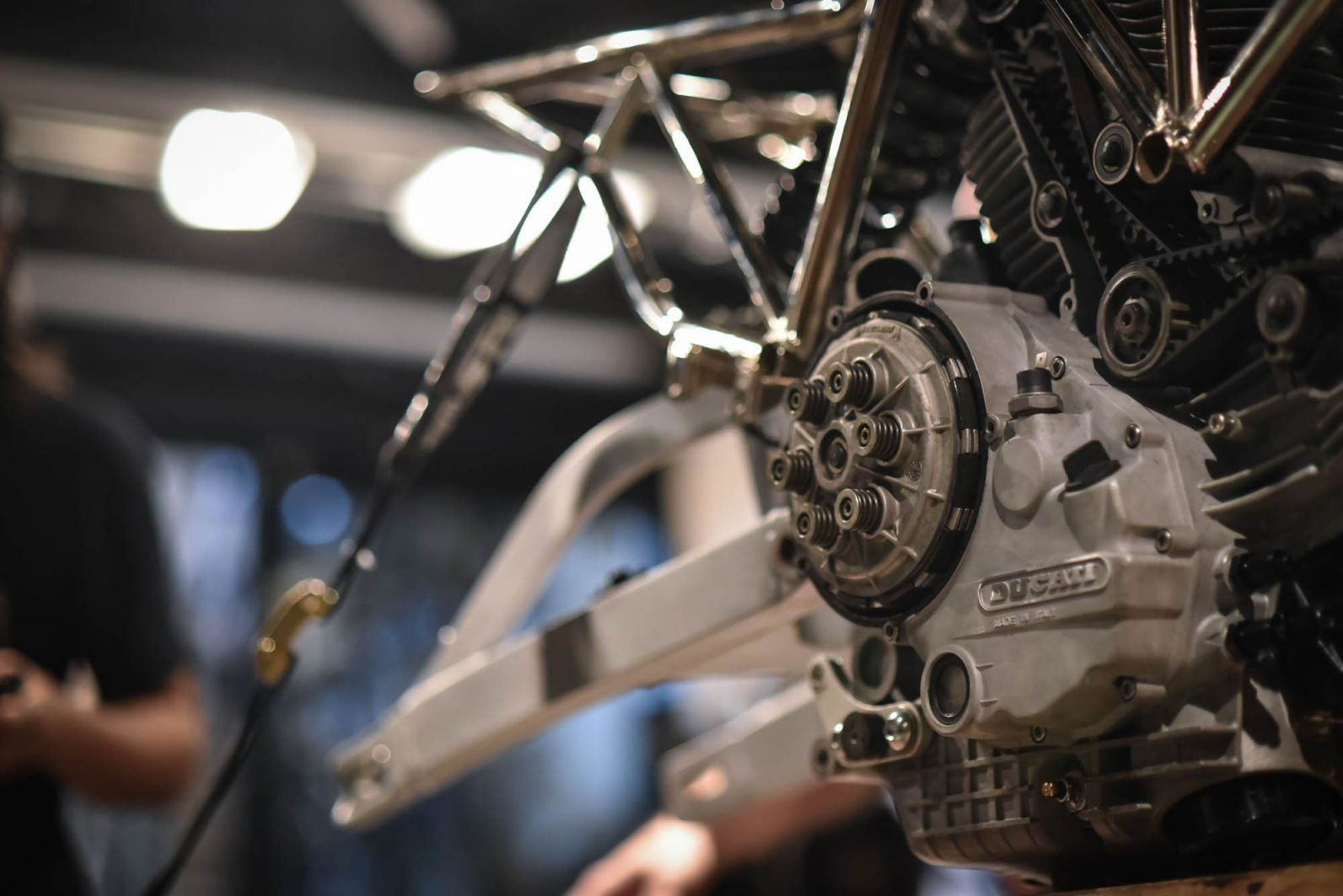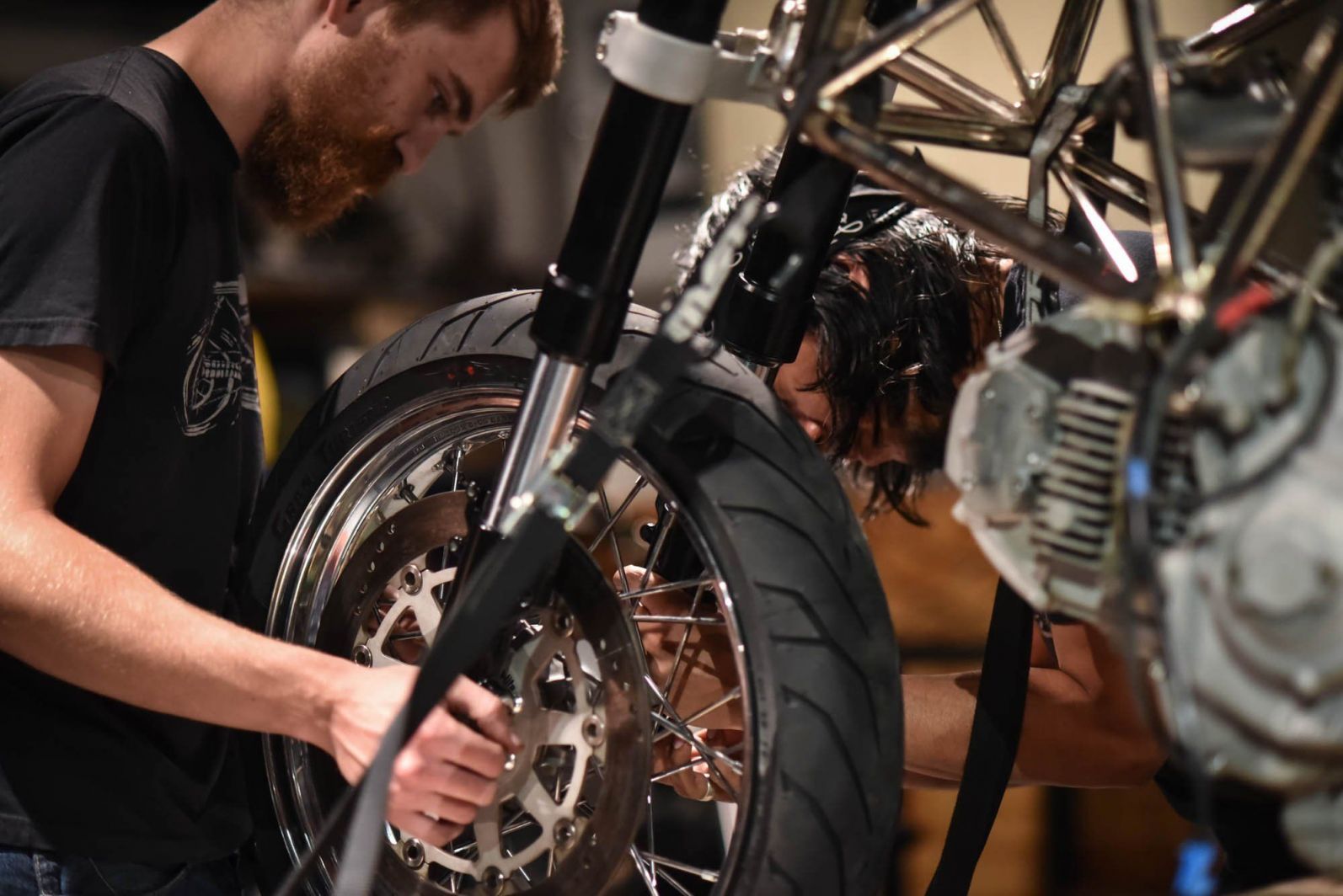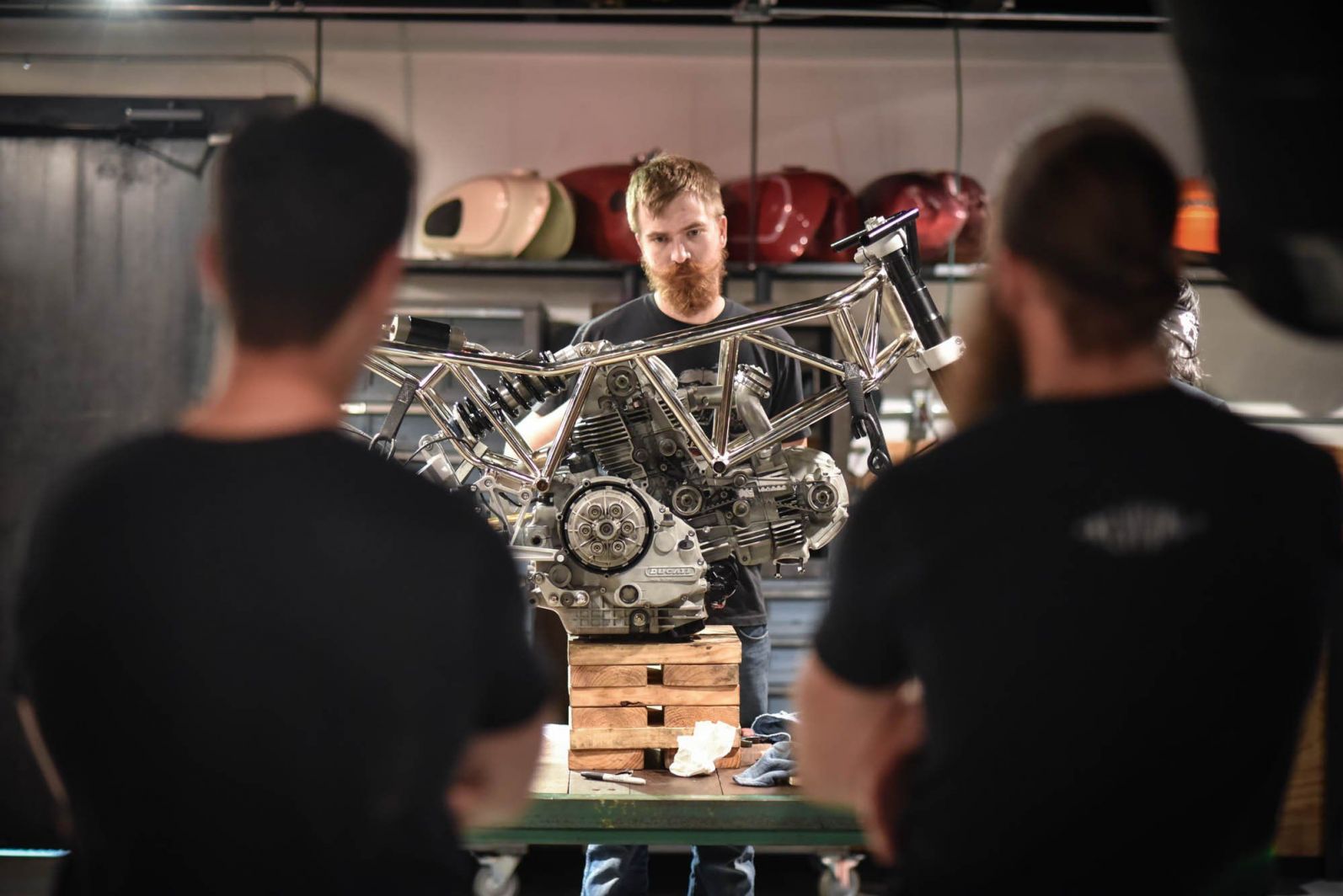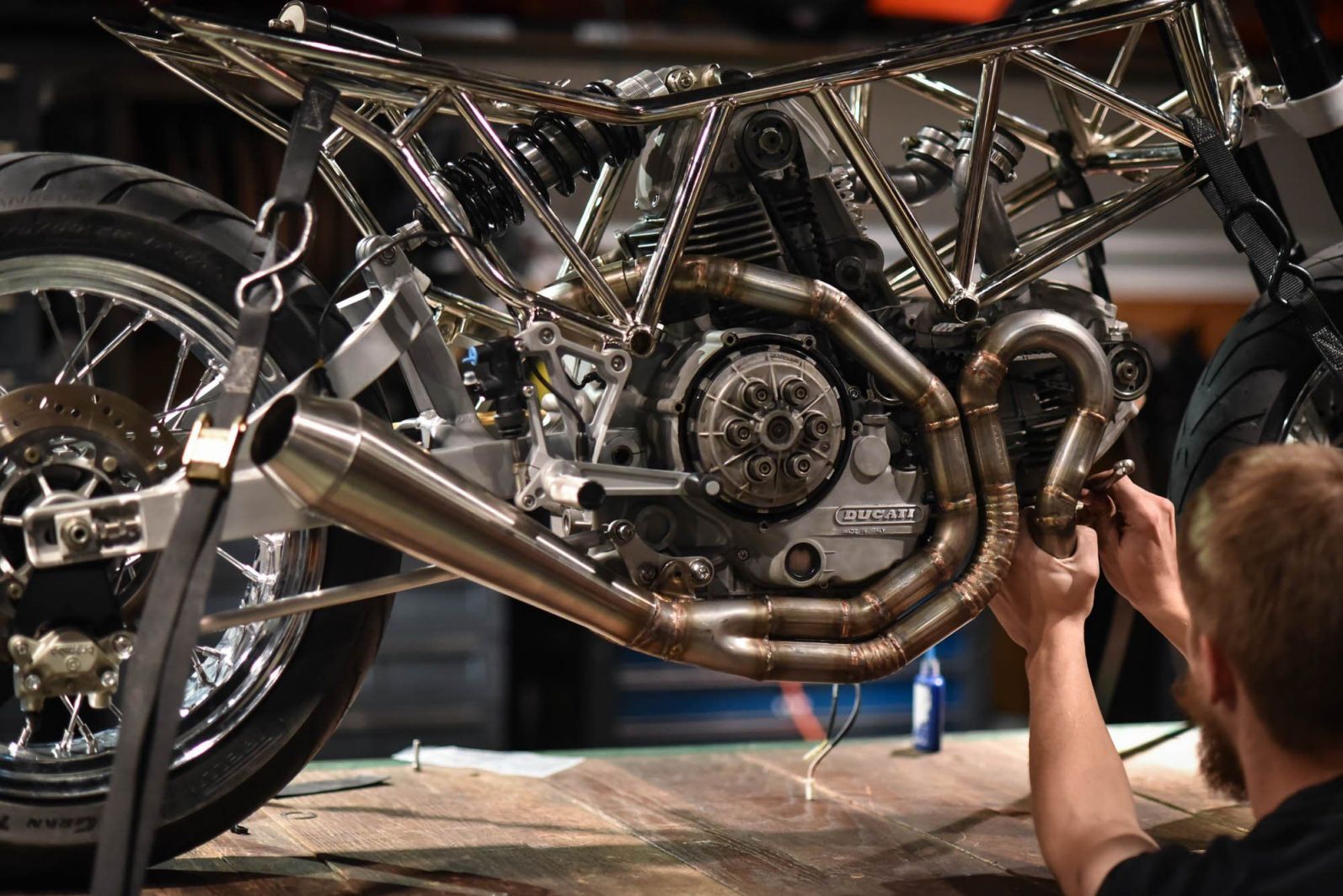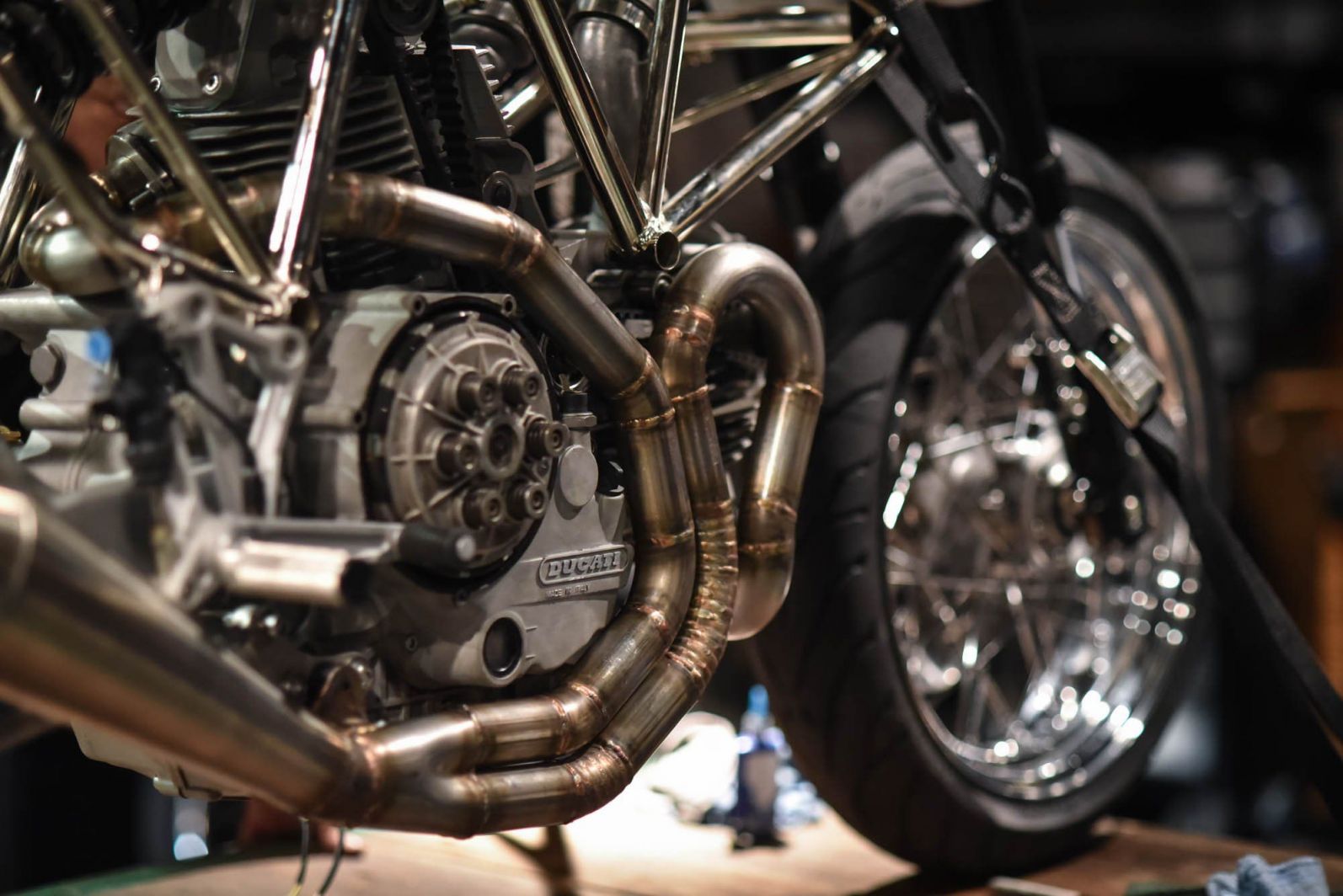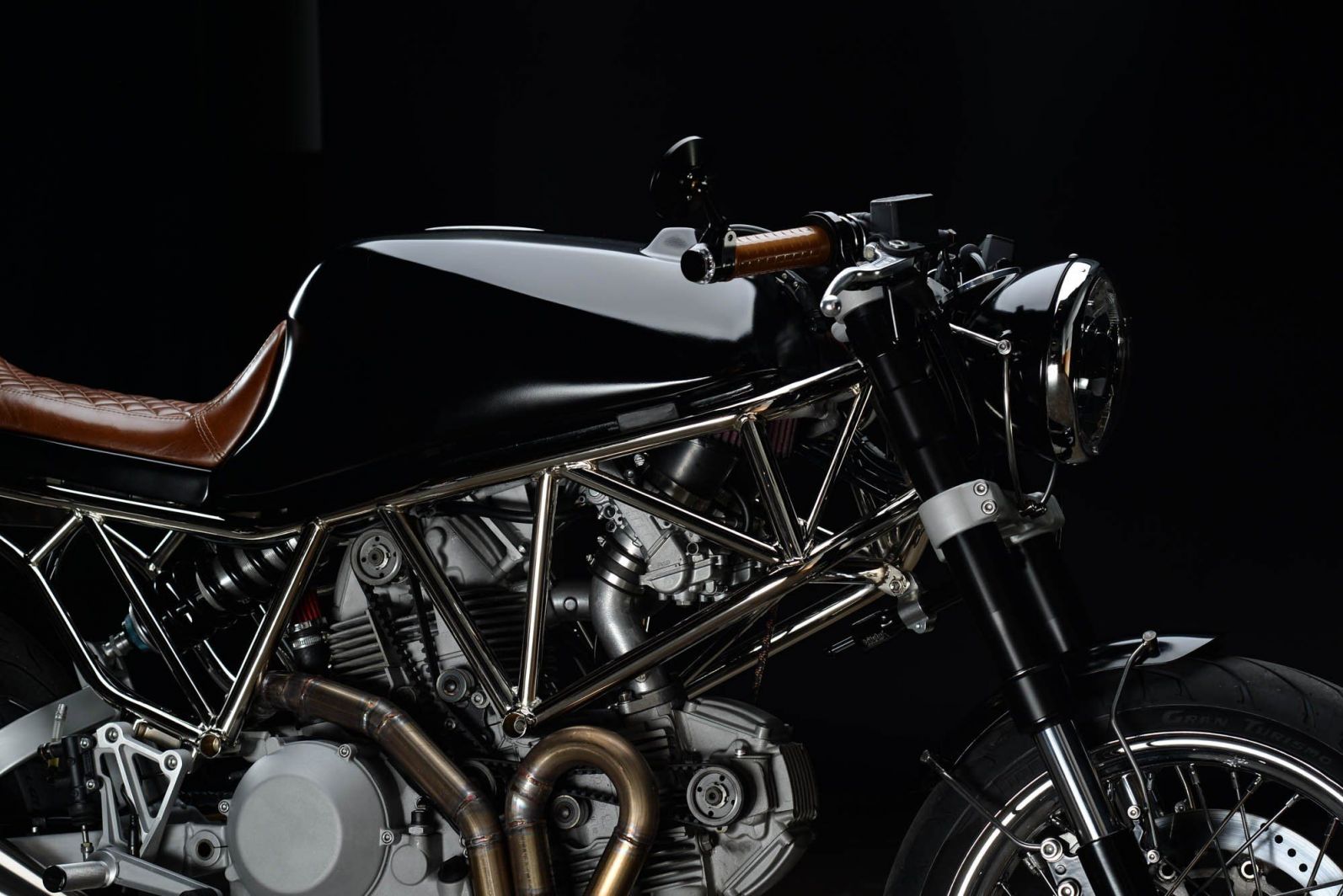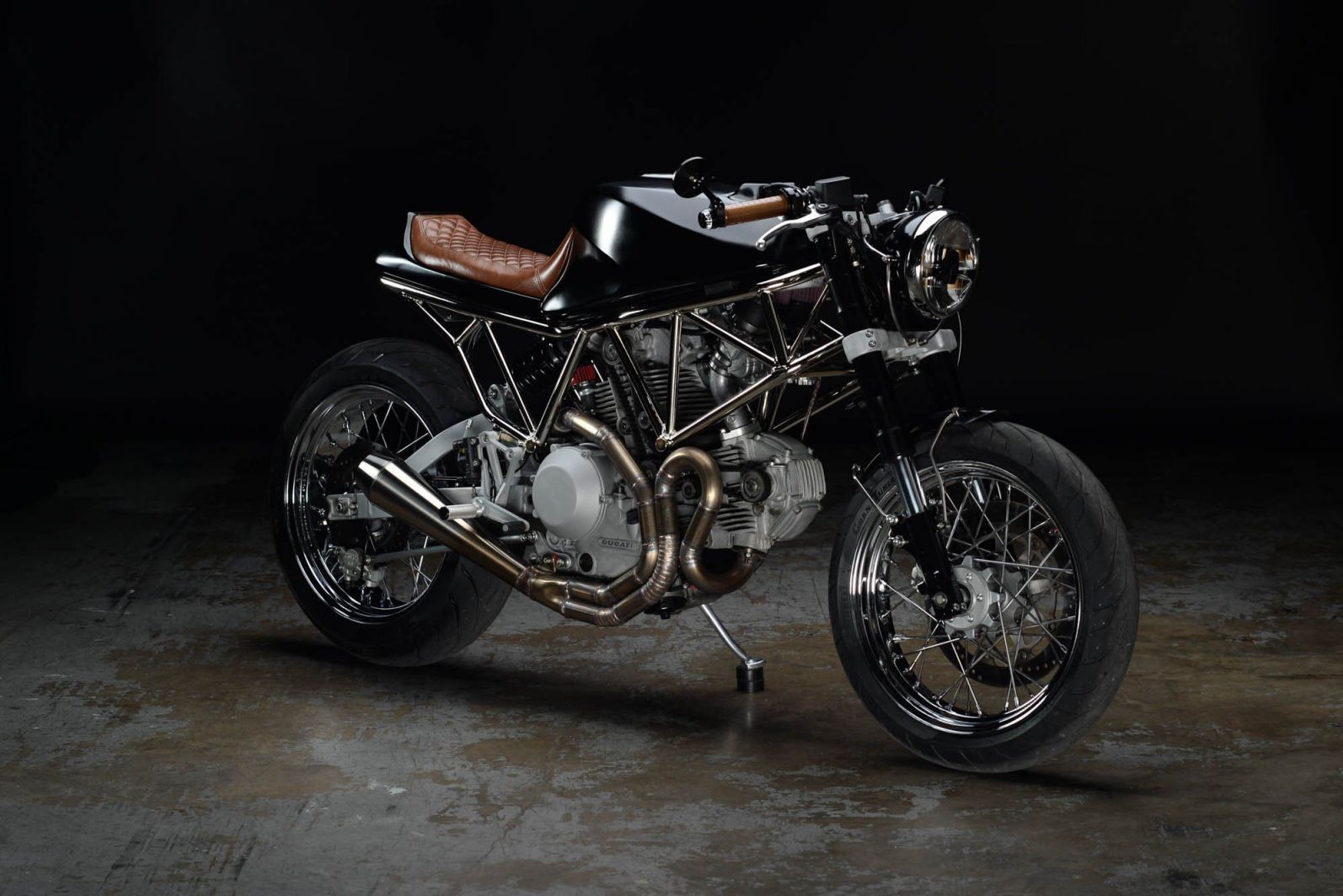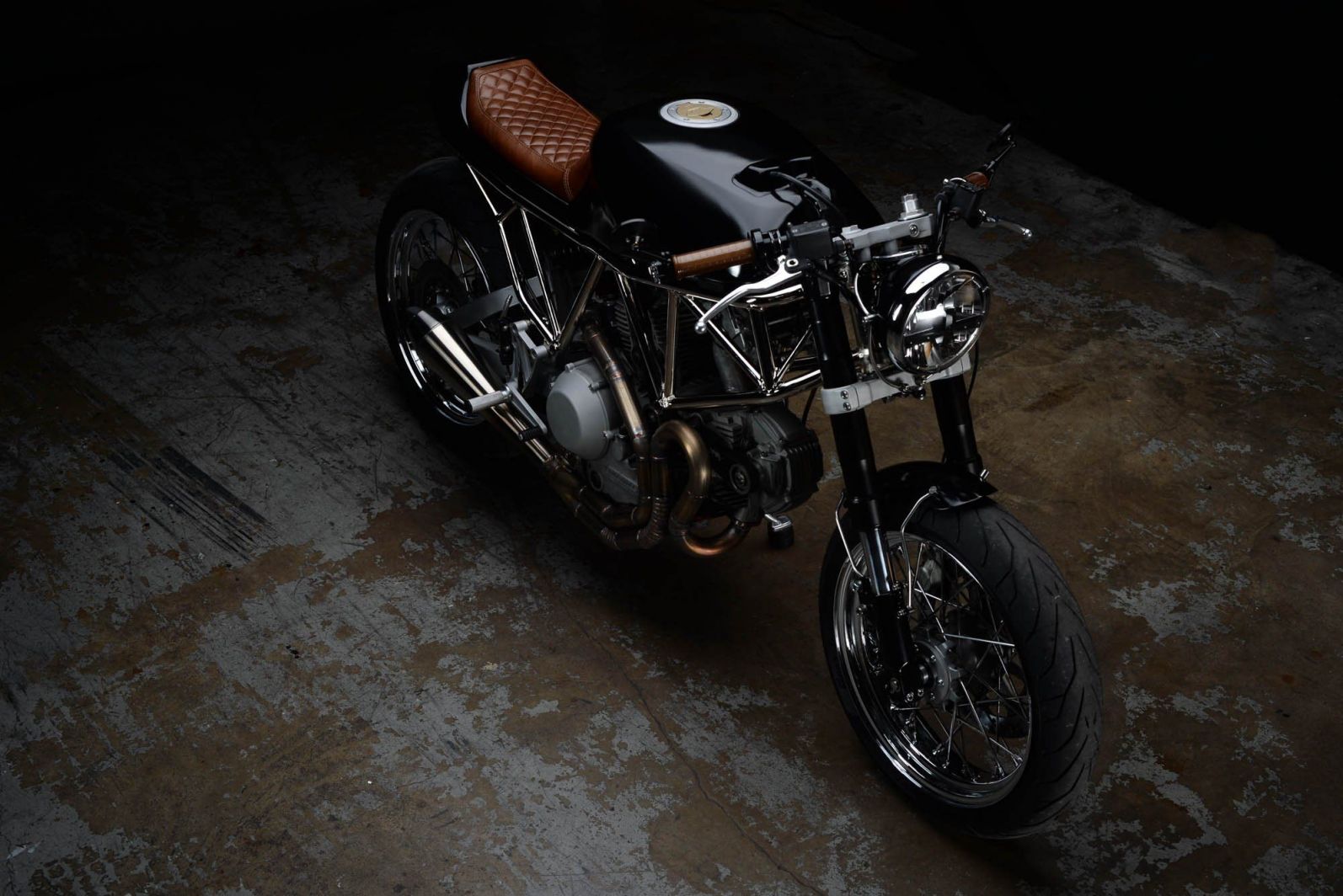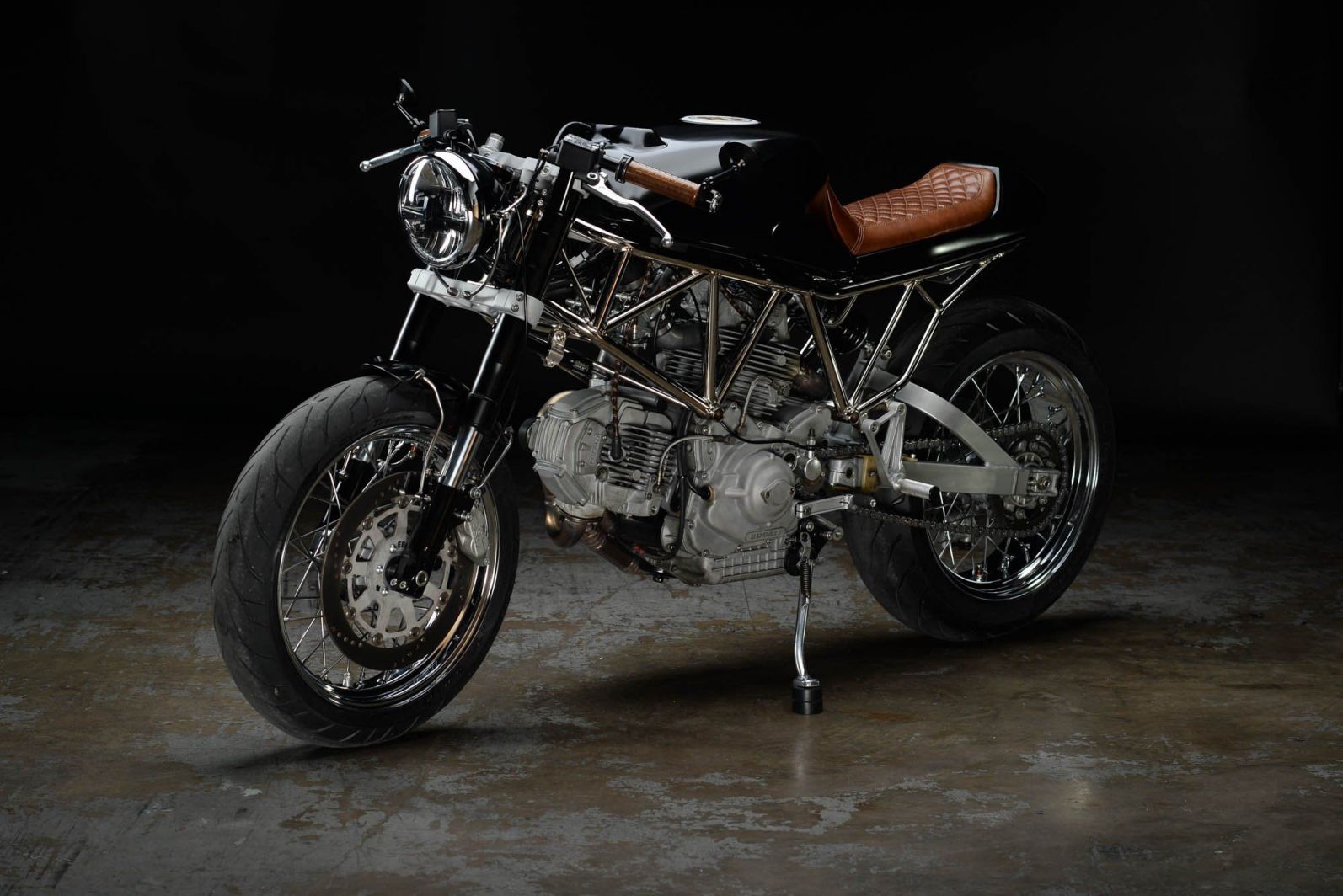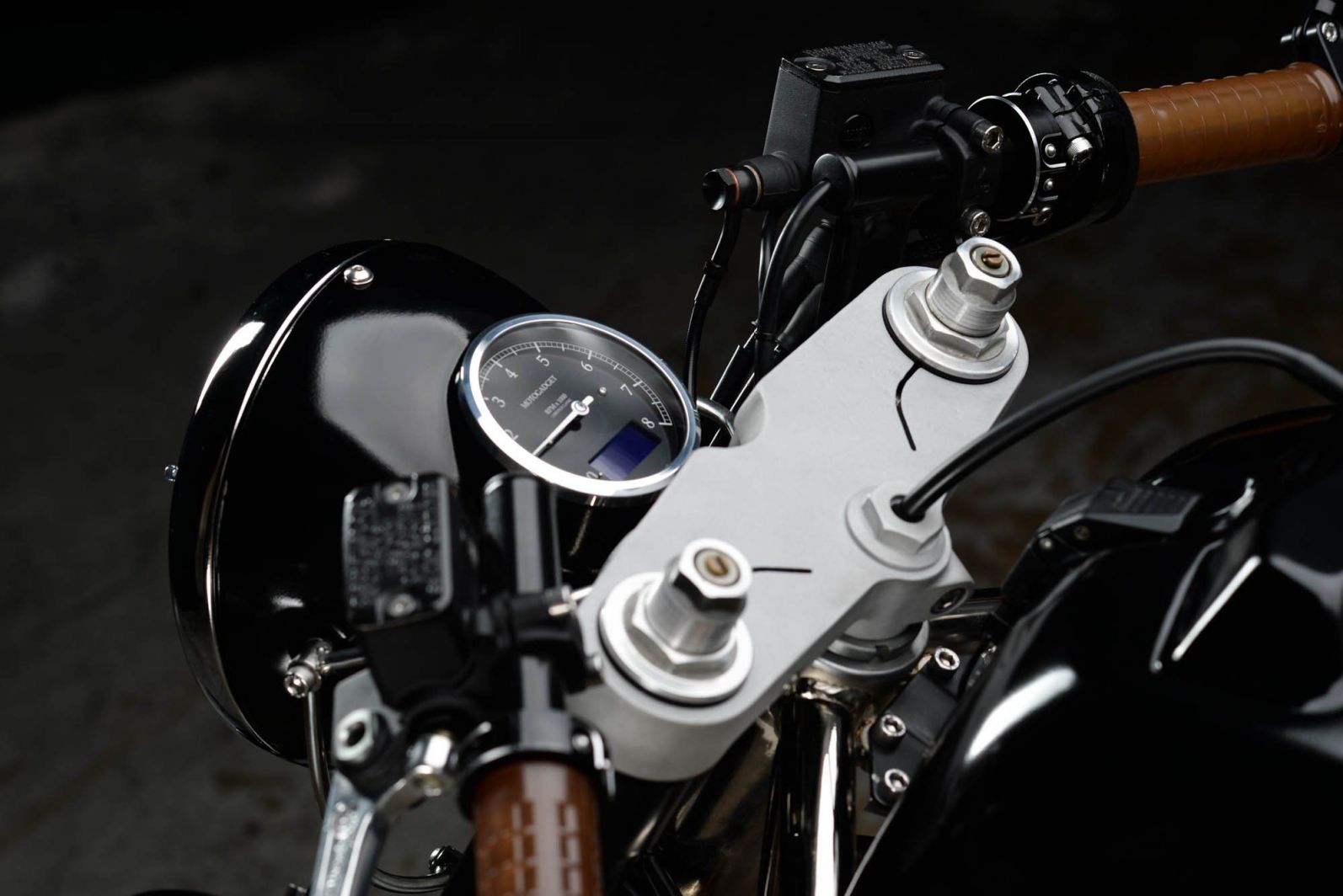 When a custom motorcycle fan reaches out from across the US for a custom built bike, the Revival Team listens. A Michigan client reached out looking for a cool, cafe inspired motorcycle on a budget. We immediately went to the Ducati 944ss platform for its torquey and beautiful power plant, trellis style frame and top of the line components from Brembo and Showa. The largest constraint was to not break the bank on the build, which meant starting with a solid donor and re-using key pieces.
The first step was to get the stance and frame lines sorted. A set of spoked Ducati GT1000 wheels adapted to the 944ss brought a classic look to a very modern bike. The rear frame was chopped off in favor of a custom built rear frame section built to mimic the elegant front trellis frame work, with a pair of SuperNova tail light recessed into the rear frame rails. Sticking to a budget meant keeping the stock gas tank, which provided an excellent location to hide all of the motorcycle's electronics under. A custom one-piece aluminum bracket was fabricated to take place of the stock airbox which houses the MotoGadget M-unit, Anti-Gravity 8 cell battery, ignition modules, ignition coils, starter solenoid, main fuses and a MotoGadget M-lock. A custom built wiring harness connects all of these goodies to a MotoGadget ChronoClassic recess mounted into the headlight bucket, filled with a more classic looking LED headlight.
With the frame and electrics sorted, the Showa forks were given a full respring/revalve/rebuild and fresh anodizing to make them look better than new. A Fox remote reservoir shock was added out back to complete the suspension upgrades. All new Brembo master cylinders (front, rear, clutch) were added and all new Brembo callipers were installed as cheap insurance for a fully rebuilt motorcycle. Brakes are no place to cut corners, so all new brake lines were fabricated using Sniper II fittings and hoses. The engine had previously been upgraded with a 944 big bore kit, lightened and balanced crankshaft, ported and polished heads and a pair of Keihin FCR 39mm carburetors. A custom-built stainless steel exhaust was fabbed to expel the violent stream of exhaust and provide a beautiful bark to this cafe racer that means business.
The final touches to the build include a minimal hand formed alloy tail section to accentuate the muscular nature of the bike, along with a polished, hand formed alloy front fender and polished stainless steel mounting brackets. A leather seat from New Church Moto caps off the tail section and Hot Rod Black paint from The Paintshop ATX hides the bodywork, showing off the gorgeous nickel-plated frame. A set of Posh grips capped with MotoGadget M-Blaze disc turn signals and MotoGadget mini-buttons feel right at home on this beast. Seeing the transformation from an ugly duckling 944ss to a cafe inspired Hot Rod Ducati is impressive, but riding this beast is incredible!
MOTORCYCLE BUILD SPECIFICATIONS
Manufacturer: Ducati
Year: 1993
Model: 900SS
Weight (wet): 409 Lbs
Body Work: Hand formed 3003 Alloy
Suspension:
Front: Showa 41mm USD forks, Racetech .85kg/mm springs, re-valved
Black anodized fork legs, Stock 900ss triple trees, sanded out casting marks, media blast finish
Rear: Fox remote reservoir shock, Racetech 7.1kg/mm spring, Stock 900ss aluminum swing-arm, media blast finish, powdercoat black rear spring
Wheels:
Front Wheel: Ducati GT1000 spoked front wheel
Front Axle: Modified Ducati, custom spacers
Front Tire: Pirelli Angel GT 120/70/17
Rear Wheel: Ducati GT1000 spoked rear wheel
Rear Axle: 900ss axle, custom machined spacers
Rear Tire: Pirelli Angel GT 170/60/17
Drive chain: 520 EK chain
Electrical:
MotoGadget M-unit, MotoGadget M-lock RFID key, MotoGadget M-Blaze disc turn signals (black), Super Nova LED tail lights, MotoGadget mini-push buttons (blk), 7" LED headlight, Revival starter solenoid kit, Anti-Gravity 8 cell battery
Ignition System:
OEM Ducati, Charging System: OEM permanent magnet rotor with 3 phase stator, Rick's MotoElectric Regulator/Rectifier Single custom fabricated aluminum electrical bracket
Engine:
Ducati 900ss with a 944 big bore kit, ported/polished heads, balanced/lightened flywheel, Ducati belts, EBC clutch, stainless steel socket head cap screws used throughout, K&N crankcase breather, Kehin FCR 39mm flatslide carburetors, K&N air filters
Exhaust:
Stainless Steel 2 into 1 custom fabricated exhaust with Cone engineering 2" street reverse cone
Controls:
Rear-sets: Billet aluminum rear sets, media blast finish, hand sanded edges
Handlebars: Ducati 900ss clip-ons, powder coated black
Grips: Posh Waffle grips
Throttle: Push/Pull quick turn throttle
Mirrors: MotoGadget M-mirrors (blk)
Front Brake Master: 13mm Brembo coffin master cylinder
Clutch Master: 13mm Brembo coffin master cylinder
Clutch Slave: Billet aluminum EVR
Rear Brake Master: Brembo 11mm bore
Brakes:
Front Rotor: Brembo 320mm
Front Caliper: Brembo P4 caliper
Rear Rotor: Brembo 220mm
Rear Caliper: Brembo P32
Brake Lines: Custom built brake lines, black covered stainless steel lines, anodized black fittings, anodized black banjo bolts