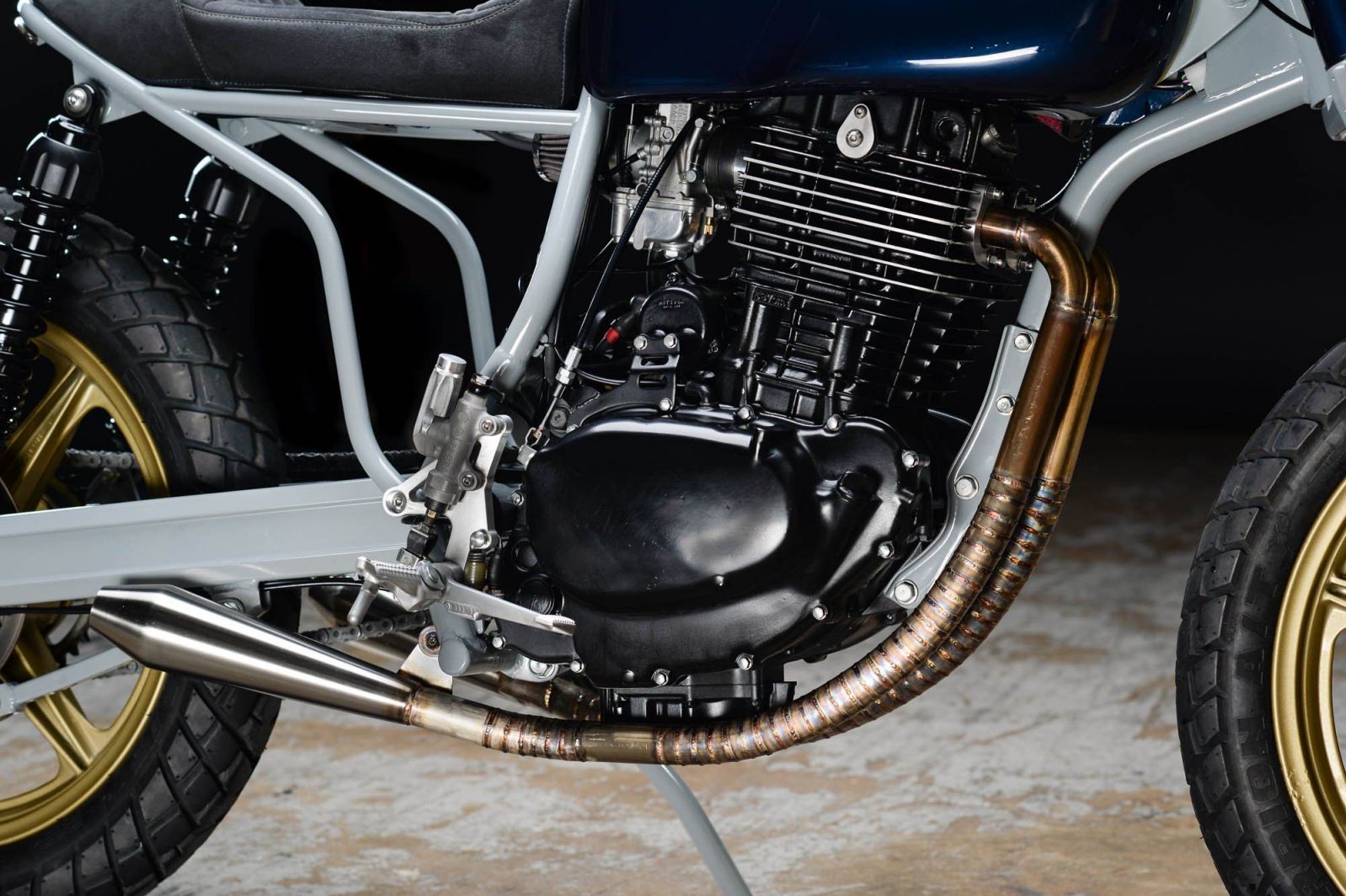 A client who is a new rider wanted a full custom lightweight, fun to ride motorcycle with just the right amount of flash and lots of subtle custom features. Starting with the underrated Honda FT500 Ascot was a big challenge, but it offered an electric start, a big 500cc single-cylinder thumper engine with lots of torque, and steady reliability. Most of all, it is a solid choice for a new rider as it's lightweight, agile, and super easy to fling around. Team Revival had an old Ascot laying around that someone 'started' to build by cutting the frame backbone and then simply never finished. With a good motor, a title, and some determination, we set out to turn it into something pretty…. which is no easy task as the Ascot wasn't exactly beautiful, to begin with.
The first task was to fix the awful stamped steel frame lines, which quickly escalated into building an almost entirely new frame from scratch instead of trying to fix what was there. It is practically impossible to tell that there is more than just a modified rear subframe section until you look towards the frame neck, lower backbone, and downtube of the frame. Revival doesn't just guess at rake and trail; for proper handling, they employ CAD to determine steering angle, trail, and swingarm pivot points based on kinematic models to ensure an excellent performing motorcycle before a single tube is welded. Using conventional Suzuki GSXR forks kept the classic look, and modern suspension added upgraded performance and serious braking power. Just ask Ian Berry of Falcon Motorcycles who got to flog this bike all over the hills of coastal California for "testing" and gave it two thumbs way up. The ratio of miles to smiles is huge with this little beast!
Revival used a Suzuki SV650 swing arm because its mounting width was ideal for the FT engine, and dual progressive shocks were added for a vintage look with custom shock mounts fabricated. The rolling chassis' last step was fabricating adapters to use Yamaha RD400 mag wheels with 18-inch rims front and rear for the right stance and Pirelli Scorpion tires. For the electrics, only the best would do, so a MotoGadget M-unit was installed along with a MotoGadget Motoscope mini and dual 4-cell Antigravity batteries to allow the cleanest packaging of the electrical system as possible. A full wiring harness was built from scratch, and the ignition system and charging system were upgraded as well with modern components.
With the rolling chassis sorted out, a Benelli Wards Riverside fuel tank was heavily modified to fit over the frame and engine, providing exceptionally smooth curves and shapes without being forced to build a full custom tank. A hand-formed alloy seat pan was fabricated and then wrapped in black leather, all done in-house at Revival Cycles.
For Color choices, Revival went with a Porsche Cayenne blue with metallic gold pinstriping the tank, and Geyser Grey was used on the frame, suspension, and fuel tank. With a final wet weight of 289 pounds, modern suspension, brakes, and a very neutral riding position, this bike is a blast to ride and sounds tough as nails. The entire project proves that a budget custom can be subtlety complex yet still appear simple — nothing simple here, though.
Build Specs:
Revival Cycles built frame
Retrofitted Benelli gas tank
Suzuki GSXR forks/brakes
Custom SS exhaust
Yamaha RD400 wheels
Starting Platform:
Manufacturer: Honda
Year: 1982
Model: FT500
Chassis:
Weight (wet): 289 lbs
Front: 142 lbs
Rear: 147 lbs
Body Work:
Benelli Wards Riverside gas tank with custom fabricated tunnel
Monza flip top gas cap
5 ¾" Lucas headlight shell
custom fabricated headlight mounting ears
hand formed alloy seat pan
Revival Cycles Designed Parts:
Frame
Front brake rotor adapter
Rear brake rotor adapter
Rear cush drive/sprocket adapter
Suspension:
Suzuki GSXR conventional 43mm forks
Suzuki SV650 swing arm
Progressive shocks and springs
Wheels:
Wheels: Yamaha RD400 Daytona wheels
Front: 18x1.85
Rear: 18x2.15
Tires:
Front: Pirelli Scorpion MT90 110/80/18
Rear: Pirelli Scorpion MT90 110/80/18
Electrical:
Lighting:
5 ¾" LED headlight w/ integrated turn signals
Ignition System:
Rick's ElectroMotorSport CDI w/ adjustable rev limiter
Engine:
Honda Ascot FT500
500cc single cylinder
Electric start
New starter/shimmed starter drive
Mikuni TM40 flatslide carburetor
K&N air filter
Stainless Steel hand formed dual exhaust with dual reverse cone silencers
Controls:
Revival Cycles recess mounted push buttons
Handlebars:
Throttle:
Front Brake Master:
Magura radial master cylinder
Clutch Perch:
Grips:
Mirrors:
Rear-sets:
Honda CBR600 w/ custom machined mounting brackets
Brakes:
Front
Tokico 4 piston caliper
320mm floating rotor
Rear
SV650 rear caliper
Brakes
Rear Brake Master
SV Nissin w/ integrated reservoir
Instrumentation: