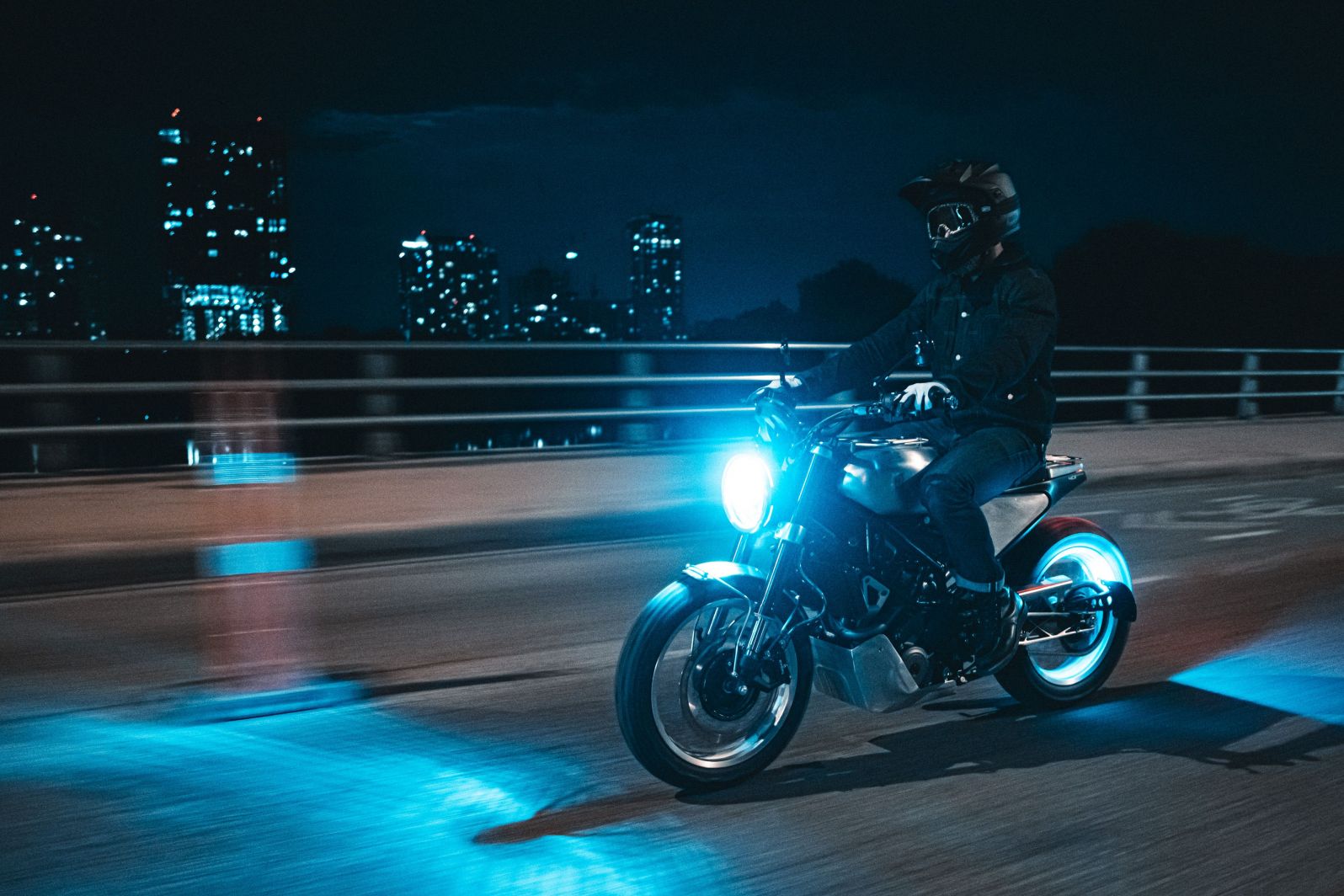 The Husqvarna Svartpilen 401, a newcomer to the ever-expanding small cc market and arguably the ultimate urban scrambler, is "defined by its rugged, real-world usability."
Equipped with the KTM 373 liquid-cooled single cylinder engine and utilizing a six speed gearbox, it kicks out a punchy 44hp, with 27.3ft-lbs of torque. Coming in at just over 330 pounds stock, its power-to-weight ratio provides a sprightly, nimble ride. The ride-by-wire throttle is crisp, fueled by a Bosch EFI with a 46mm throttle body.
The engine is housed in a steel chromoly trellis frame and comes with stock WP suspension. It has 43mm open cartridge forks and a rear mono shock. With wide bars and a tight turning radius, it's ideal for urban riders.
The Svartpilen comes with ByBre calipers with 320 front and 230 rear disc and uses a Bosch ABS system. The clutch is a mechanically operated PASC anti-hopping system.
The stock styling is eye-catching, with heritage references that avoid clichè. It looks aggressive without falling into street fighter schtick. Ergonomically, it works well too. Too often with small capacity bikes, the leg room and seating position is cramped, but the Svartpilen leaves enough room for even a rider of six feet or more.
Our customer came to us for a mild custom beach hopper, but as is often the case, things quickly escalated. He asked us for "raw metal brutalism," so we focused on improving only what we felt needed to be improved, relying on quality stock Husqy pieces to complement our custom work.
We decided to focus on brushed aluminium body pieces to replace the plastics, creating a more futuristic styling. These were built entirely in-house by our skilled fabrication team.
We hand-formed the integrated tank shroud, as well as the side and seat panels, which we brush-finished, revealing the classic Husqvarna logo in mirror polish finish. A bespoke aluminium front fender was also fabricated and brushed, revealing the polished Husqvarna logo.
We incorporated one-off stainless steel luggage racks on the seat unit and the tank. At our customer's request, we also repositioned the gauges at an improved angle, making them easier to see.
The team then fabricated a vintage-inspired headlight screen, using the factory headlight guard as a base/frame. It was brush-finished with a polished edging. We added an aluminium skid plate that was also brush-finished, along with a custom muffler featuring an oval outlet and bespoke heat shield.
We cut down the existing chain guard and integrated a one-off license plate mount. The swing arm edges were sanded and contoured. We also worked off the sand-casting marks from the triple trees, which were then brush-finished and clear-coated. The bars and risers were replaced with LSL X02s, using in-house machined spacers.
We installed folding peg mounts and new stainless pivoting bear trap pegs, and the rims were dressed with new Continental Twinduro tires. Finally, we installed Motogadget M.blaze turn signals, and mounted Motogadget m.View Classic Mirrors.
We're pleased with the outcome: a practical build that retains the innovation and quality of a beautiful stock Husqvarna, but with striking Revival signature design cues and premium finishes.