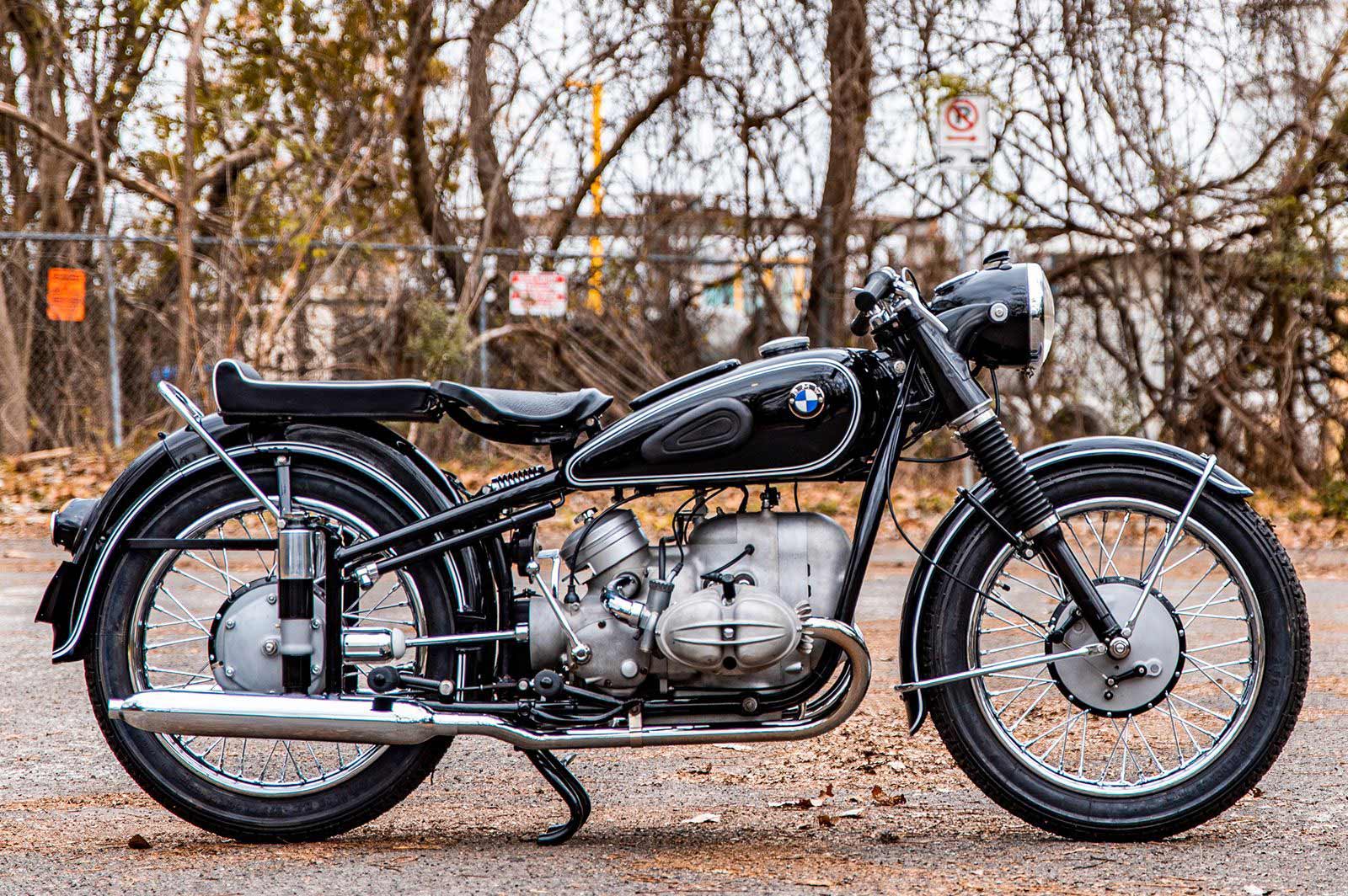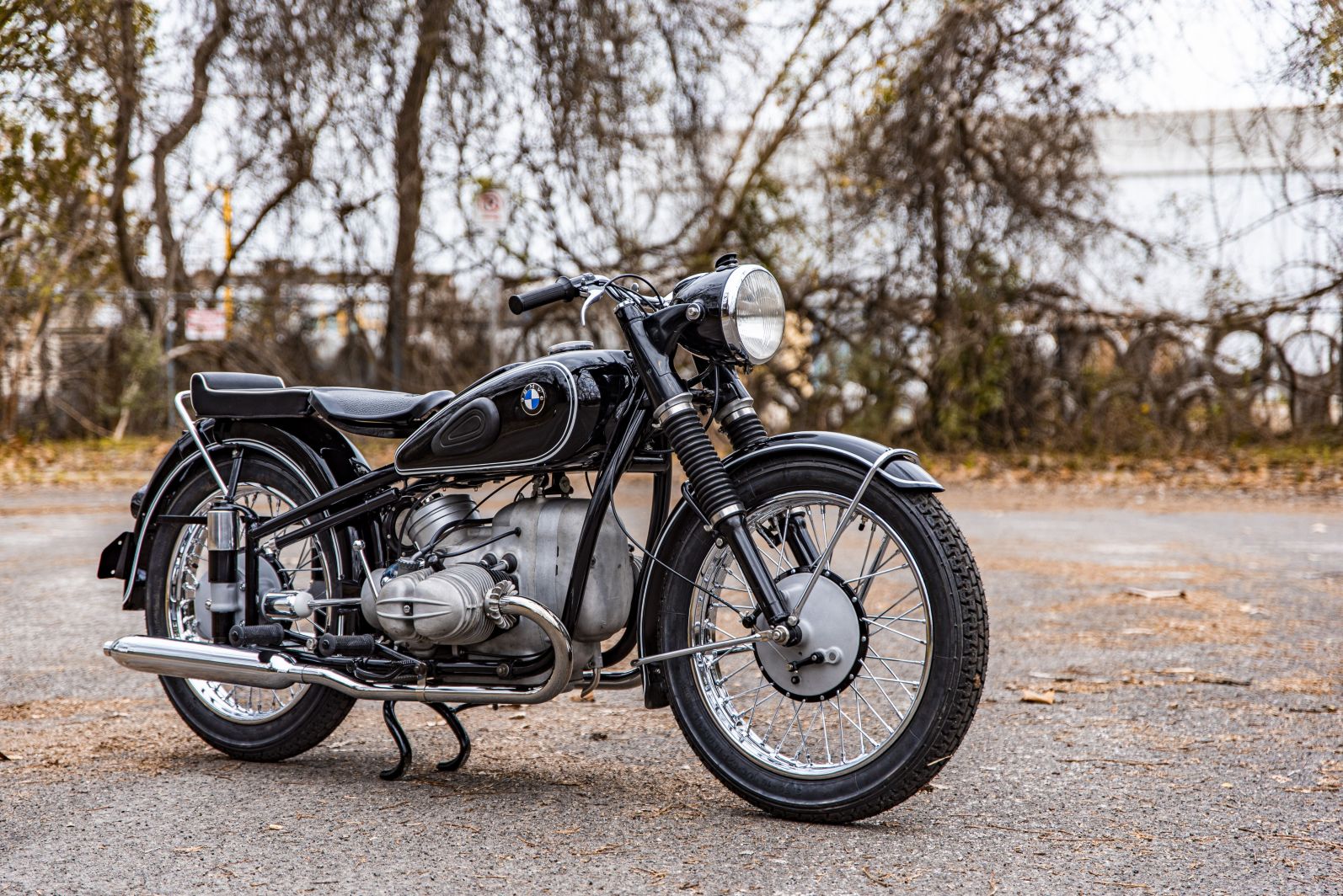 The year is 1951: the war is over, people have more money to spend on cars and motorcycles, and manufacturers are pushing out more powerful and luxurious models accordingly. The BMW R68 was unveiled at the 1951 German International Motorcycle Show in Frankfurt, proclaiming to be the first 100mph motorcycle – although Mr. Phillip Vincent may have had something to say about that! With the high-performance nature of the bike and its BMW race pedigree, the whole thing would have been like seeing a limited run S1000RR being displayed at EICMA today.
BMW's high-performance model featured a four-speed overhead valve 594cc air-cooled flat-twin engine with a compression ratio of 7.7:1, capable of a then very impressive 35hp and a top speed of 105mph. The engine sits within a double-loop tubular frame. It came with a racing-type magneto, bigger bore 26mm twin Bing carburetors, and an improved twin leading shoe front brake.
A separate pillion pad that looks like a second passenger saddle allowed the rider to slide back to crouch low at high speeds. The R68 featured modern telescopic forks and telescopic plunger suspension. Weighing in at 419lbs it was an incredibly nimble machine for its time. To aid cold starting—a frequent occurrence in Germany—a control lever was fitted to the bars for retarding the ignition. This also helped with coping with inferior fuel, which was common in post-war Germany. At the time, the R68 cost the equivalent of $940 (roughly the same price as a Harley FL74). It was in production from 1952–1954, and with only 1,452 ever made, it is one of BMW's rarest production motorcycles.
"We acquired this one for a client at MECUM in February 2019," says Alan from Revival Cycles. "We got the bike for a good price and it was in reasonable condition, however, it wasn't running so it had to be recommissioned. Our client wanted it to be fully restored to concourse condition."
The Revival team began by replacing all the engine seals and gaskets. "We welded, repaired, and finished the cracked front engine cover. The final drive needed to be welded and repaired as well, and then chromed. The brake hubs, cable arms, rear brake rod, and upper neck bearing cover were also powder coated."
"We replaced the carburetors with rebuilt originals, and new petcock and fuel lines were fitted. The wheels were re-chromed and fully rebuilt and fitted with new tires. Any other chrome work was also redone."
The old mufflers were replaced and refitted with new hardware. Revival rebuilt the front forks and fitted new original gators. They also rebuilt the rear plungers and painted the covers.
"We replaced the electrics and fitted new ignition points and a new battery. We replaced the non-functioning gauge and overhauled all switches. We also installed the optional extra passenger pegs and rubbers. Lastly, the paint was color corrected and polished."
"The bike is easy to start and now runs perfectly. It's a smooth responsive ride, and of course is in flawless concourse condition. We're really pleased with the outcome of this restoration."
To see Alan give a run down on the build and hear his summary of what it's like riding this vintage Bavarian beauty through the back streets of Austin, check the video below. It might surprise you…