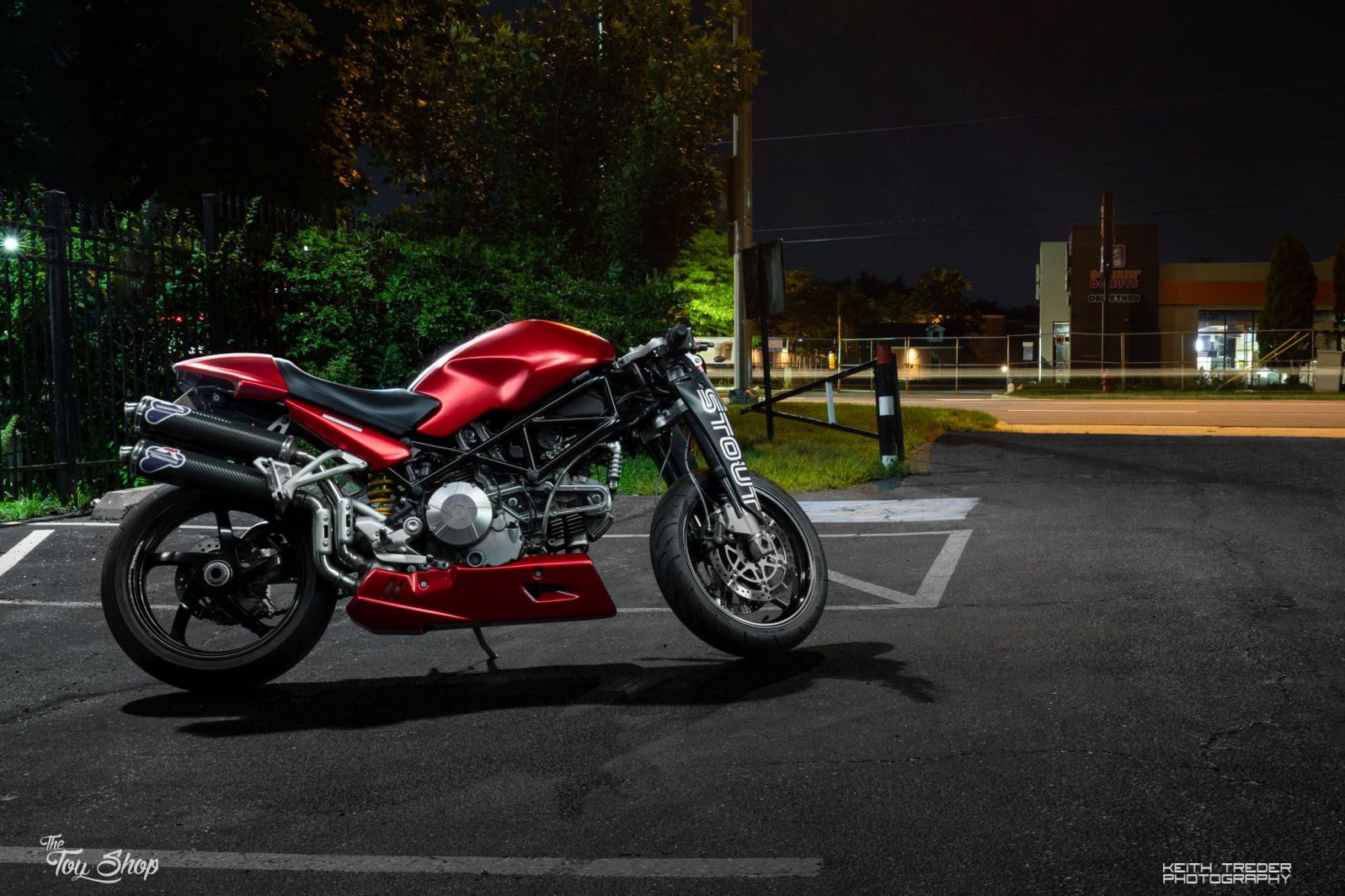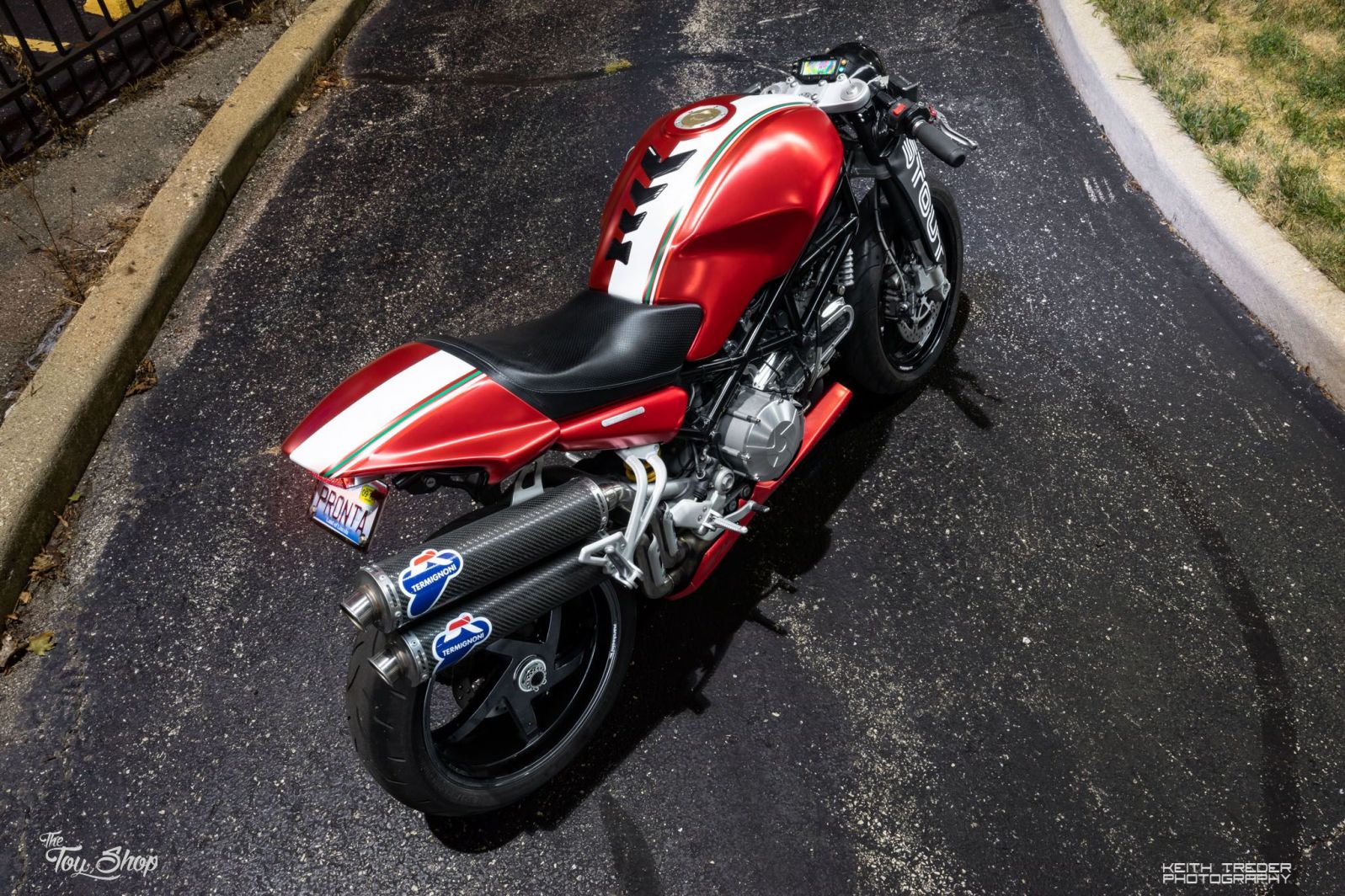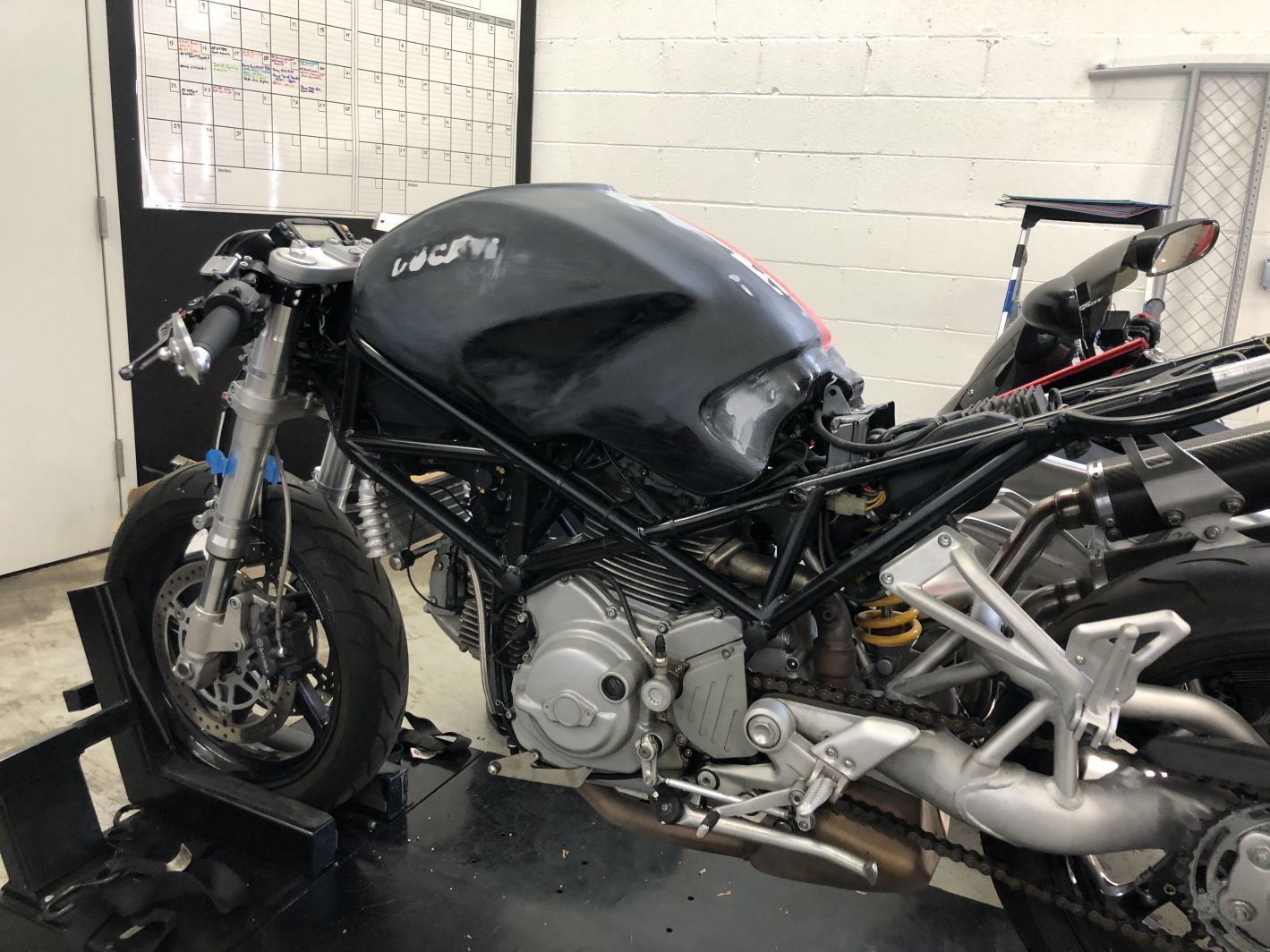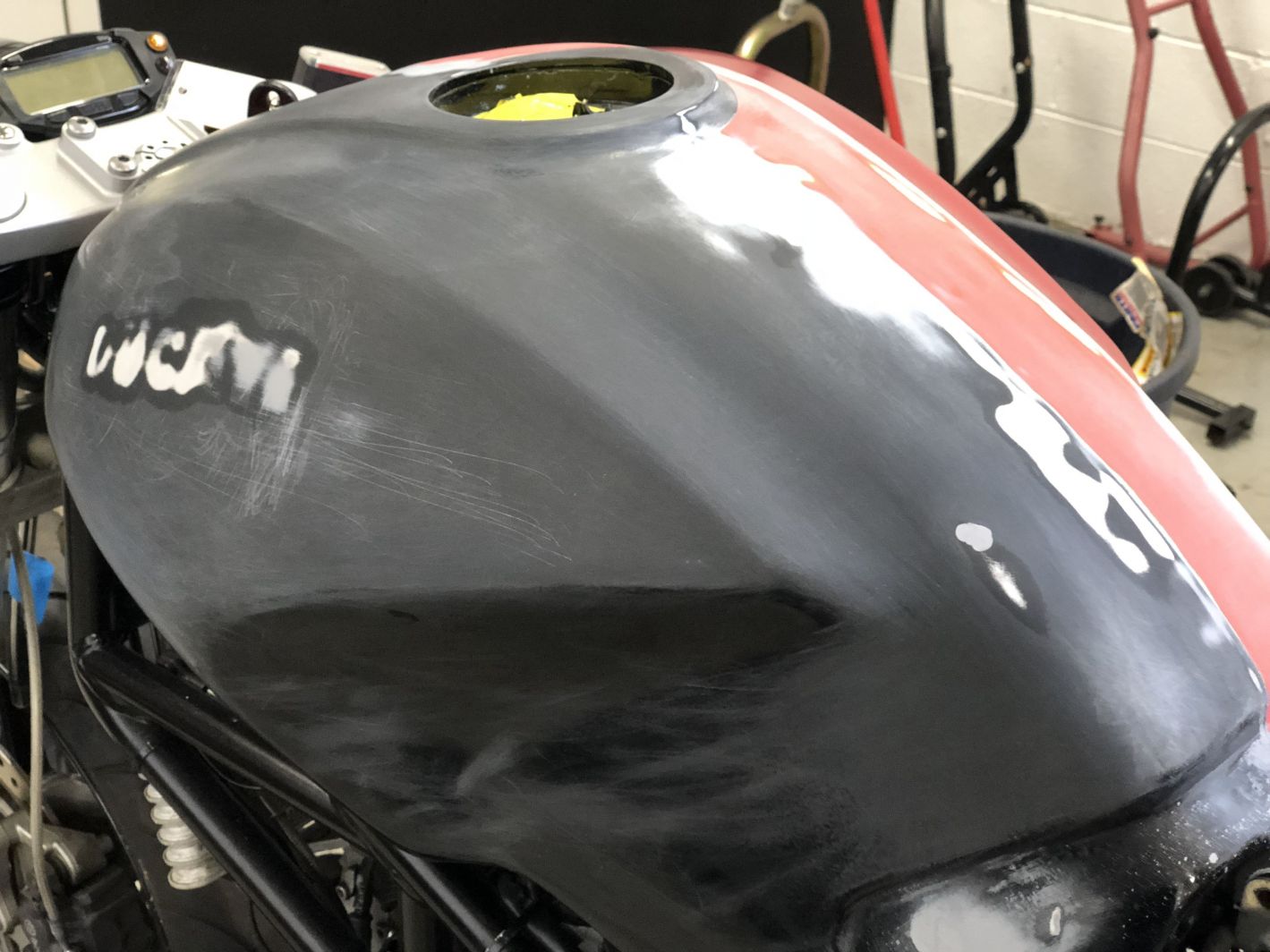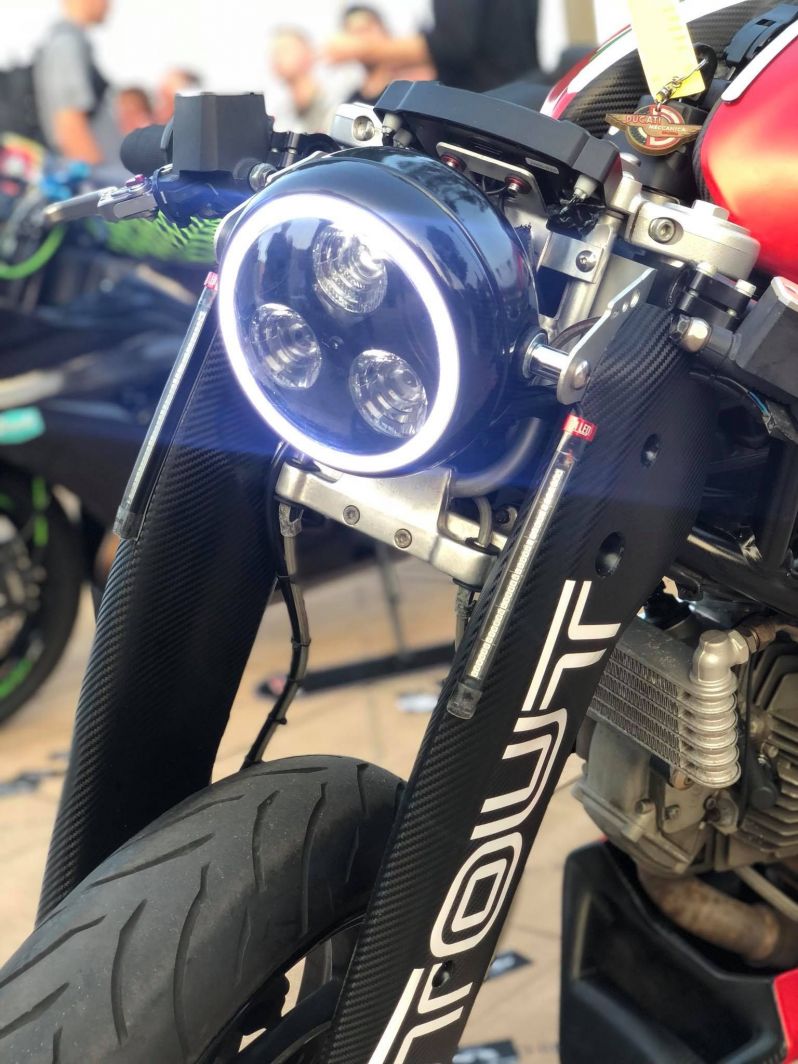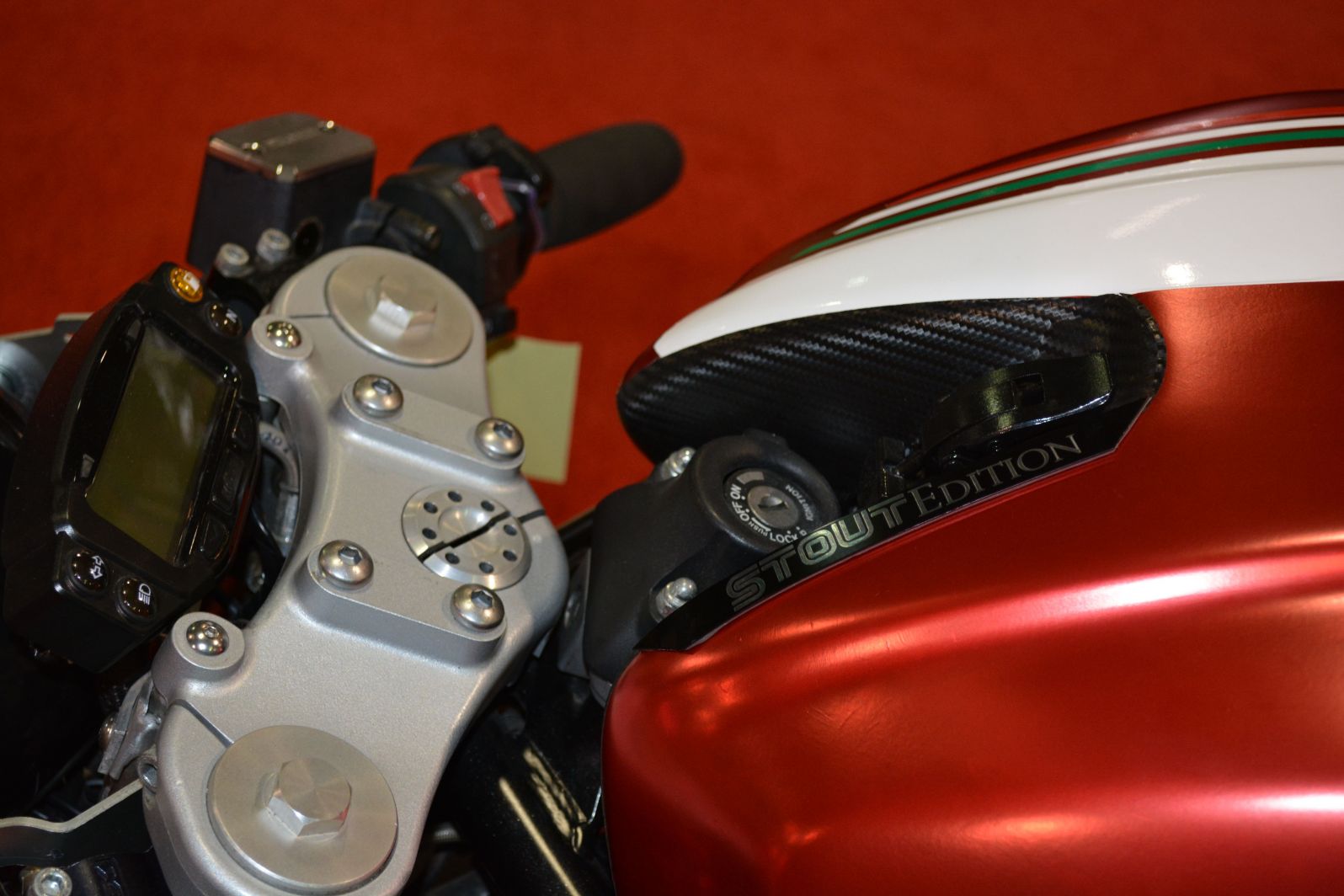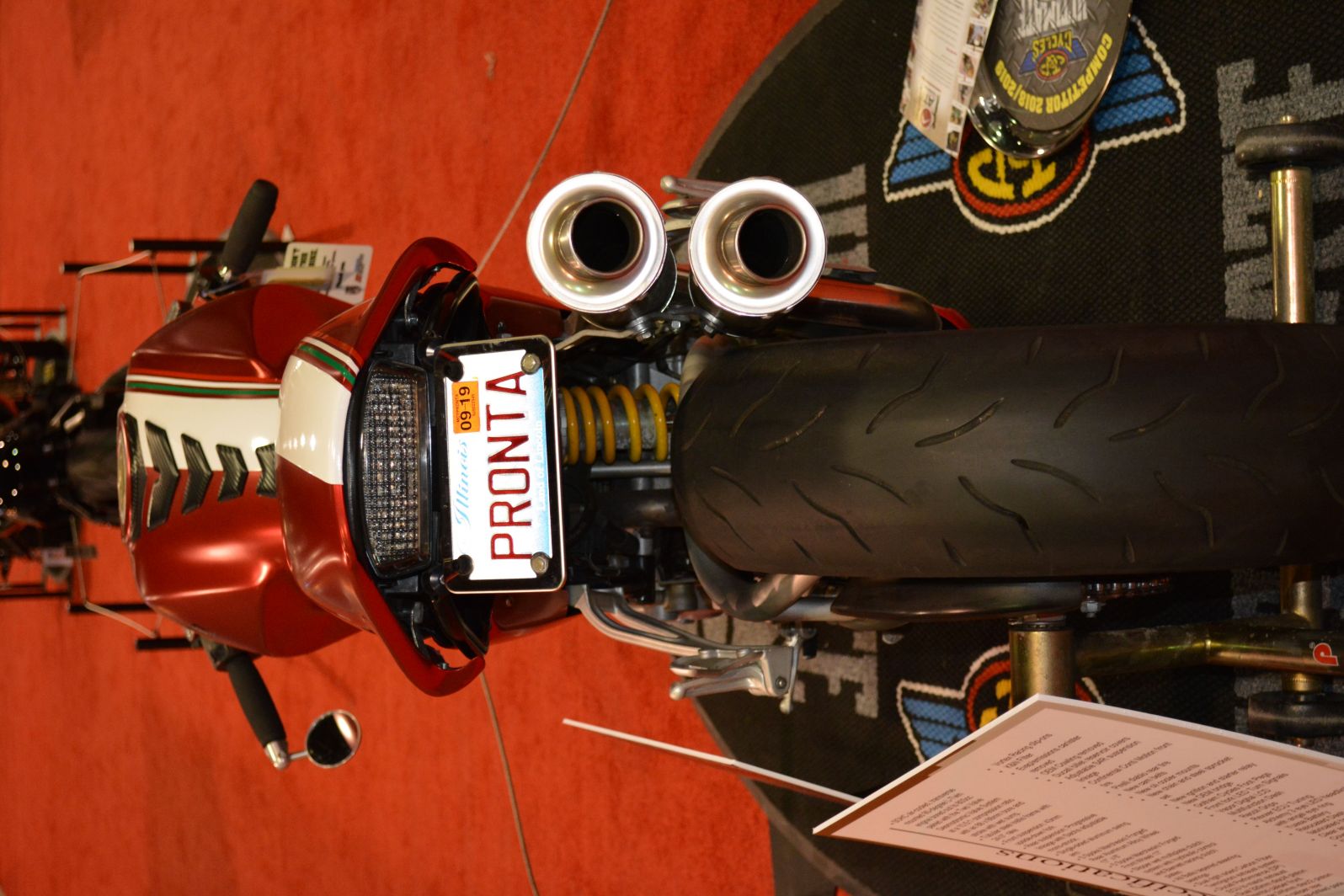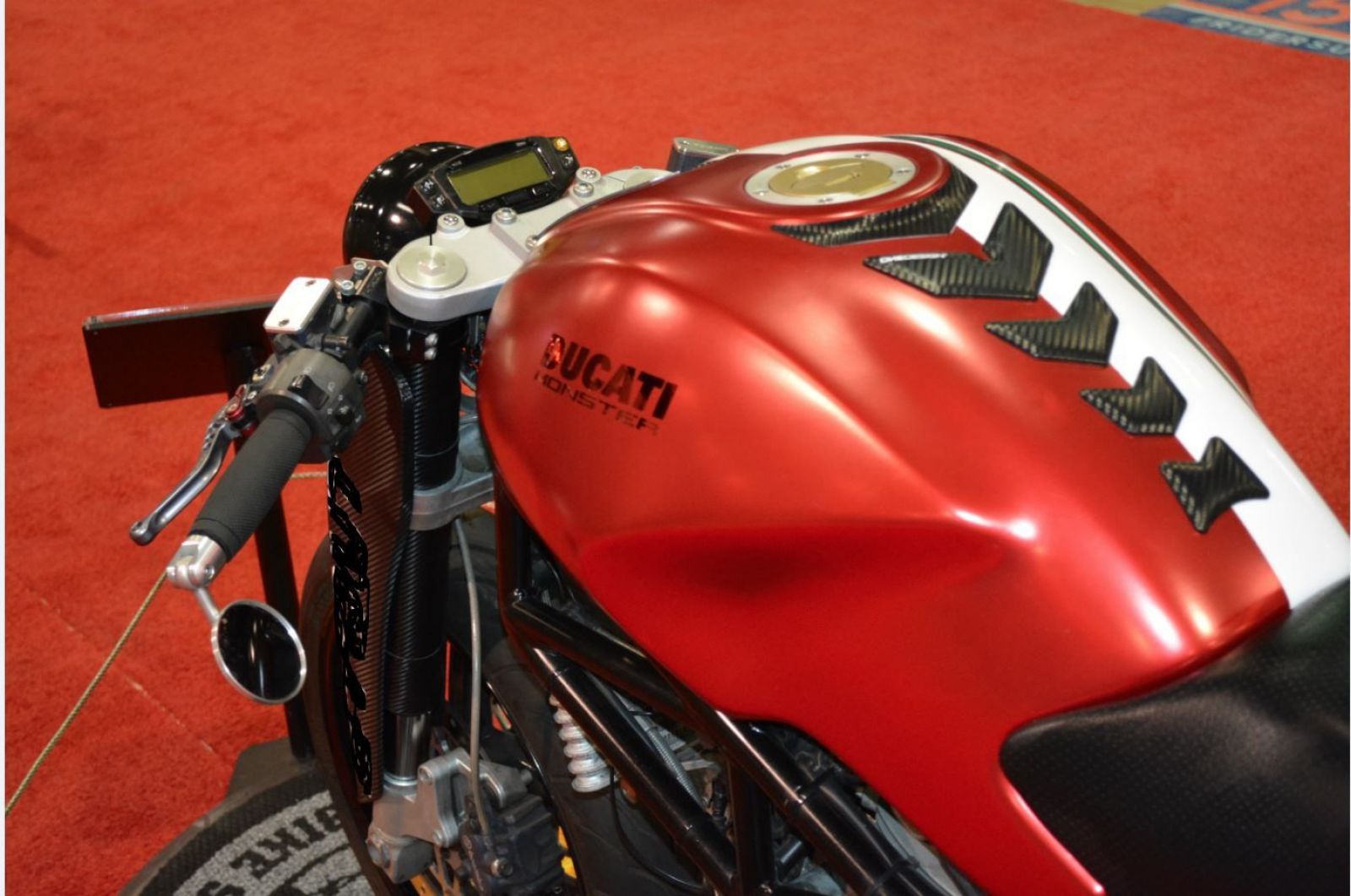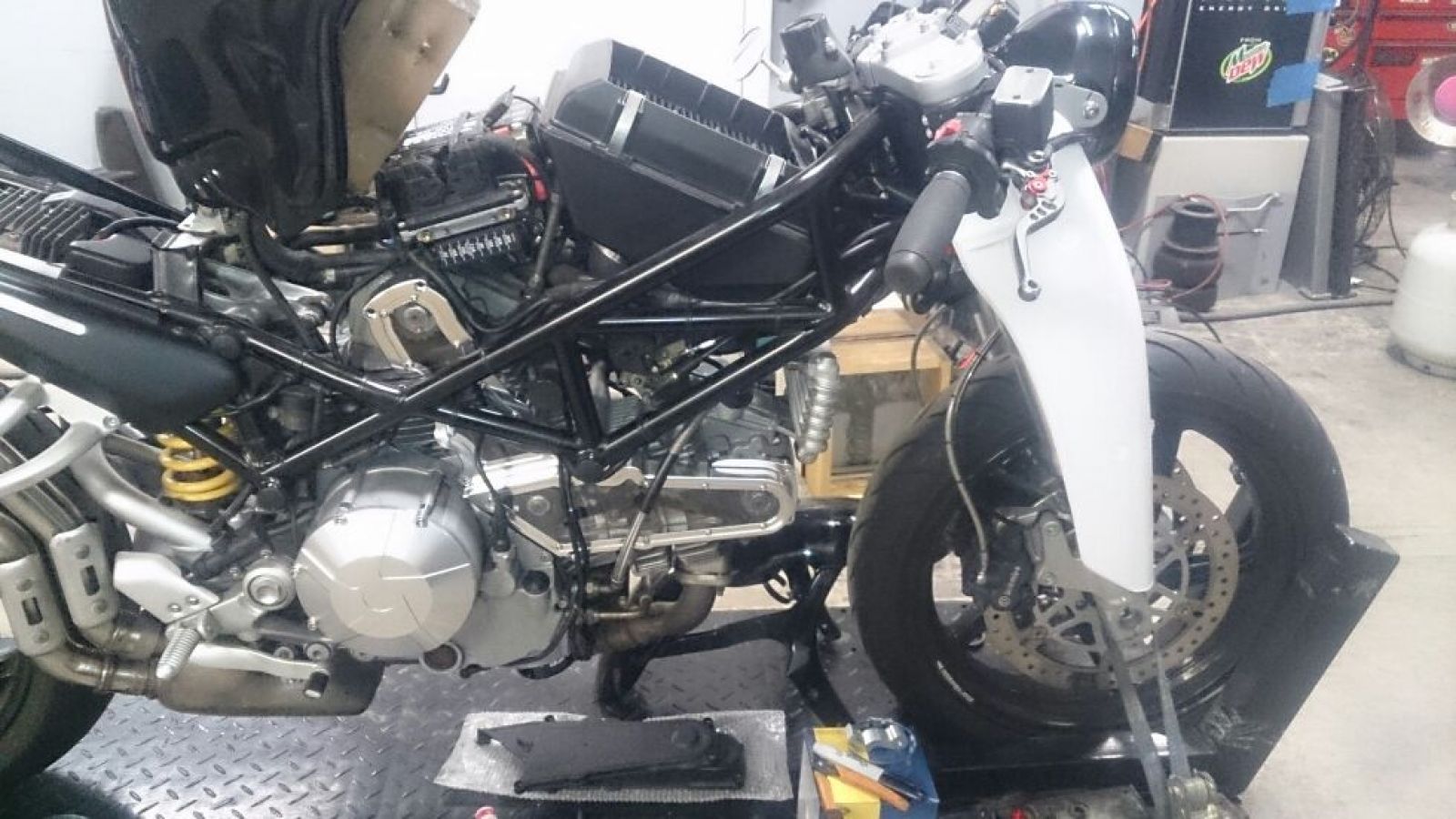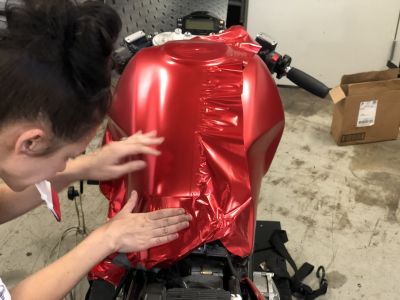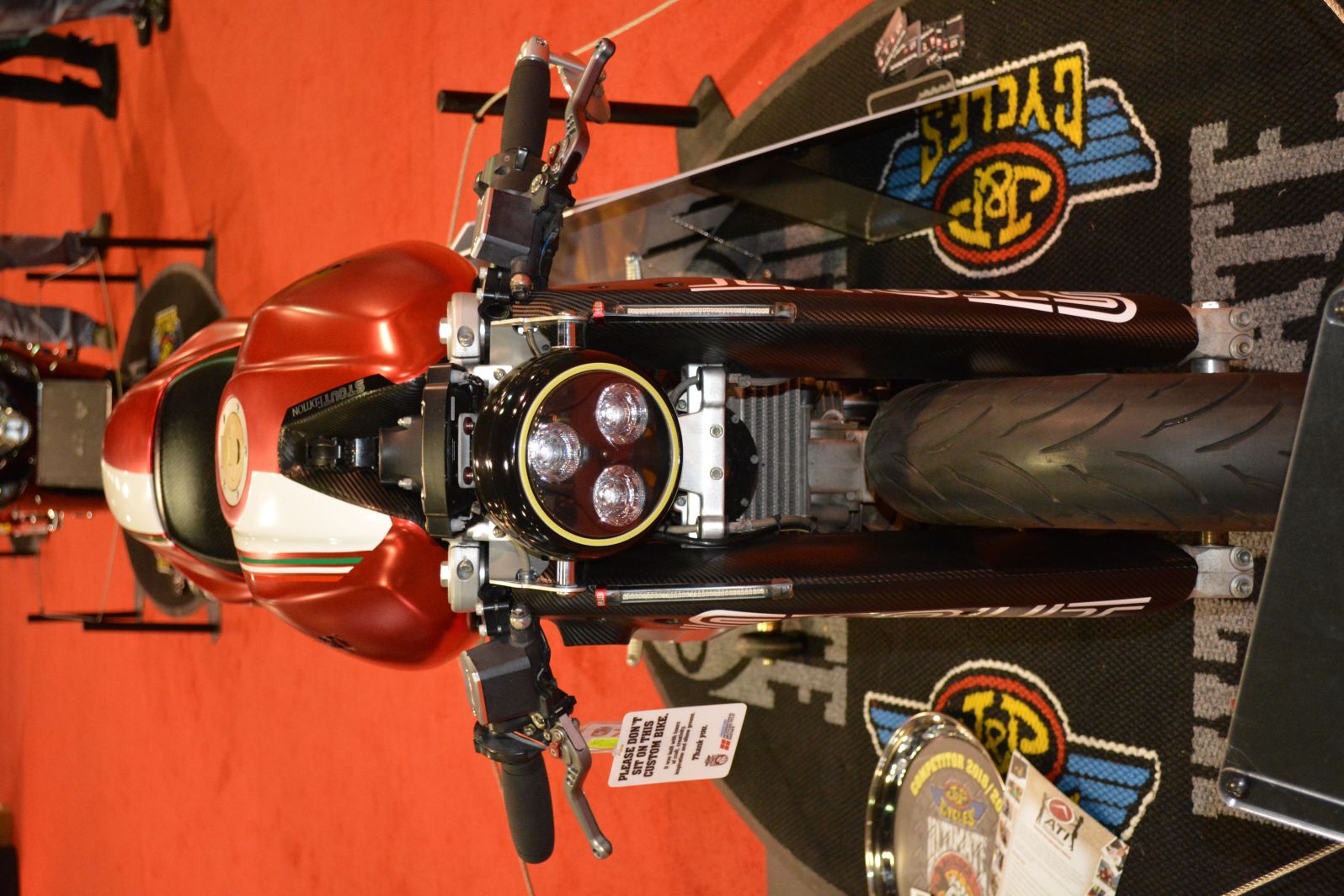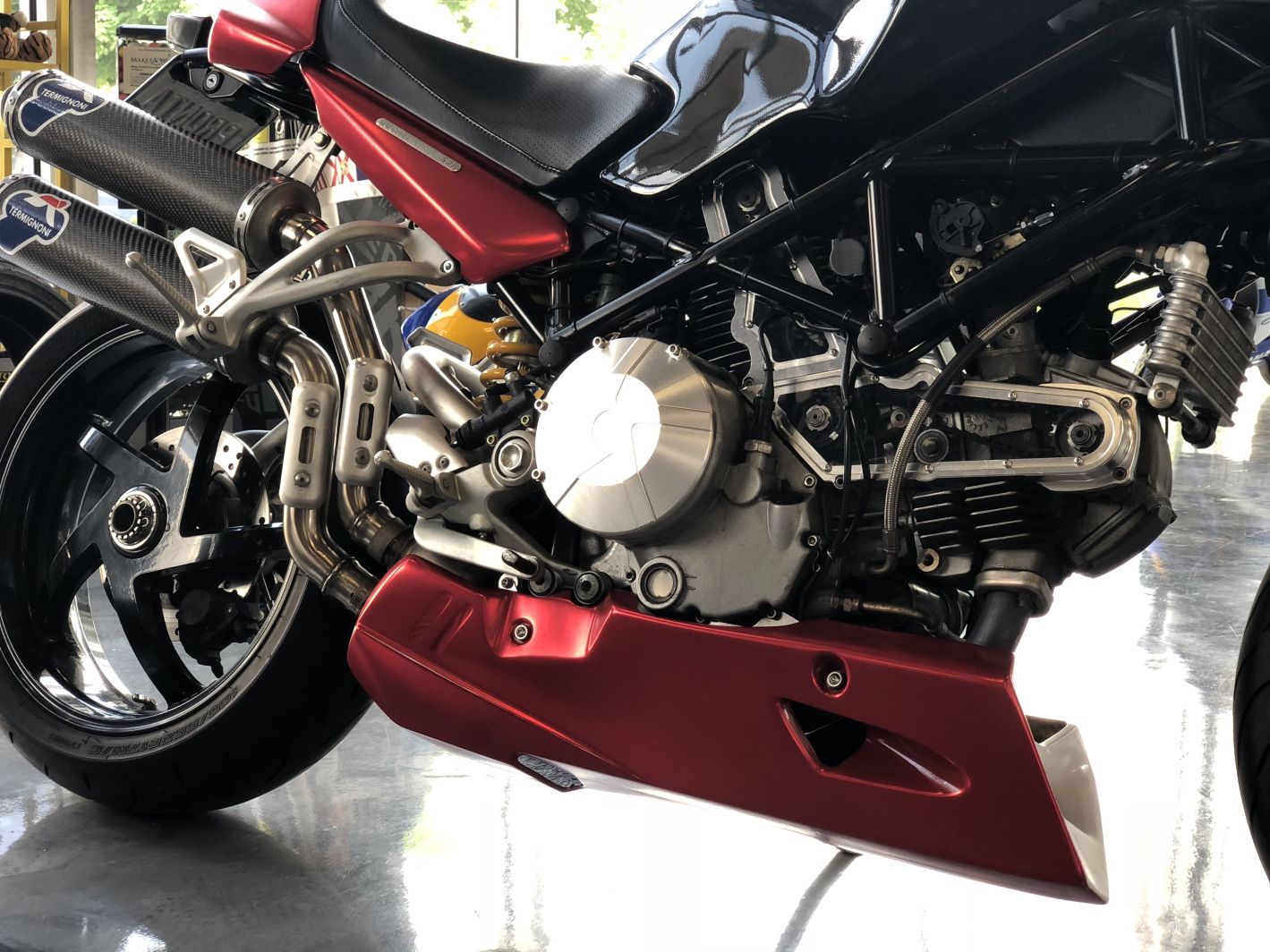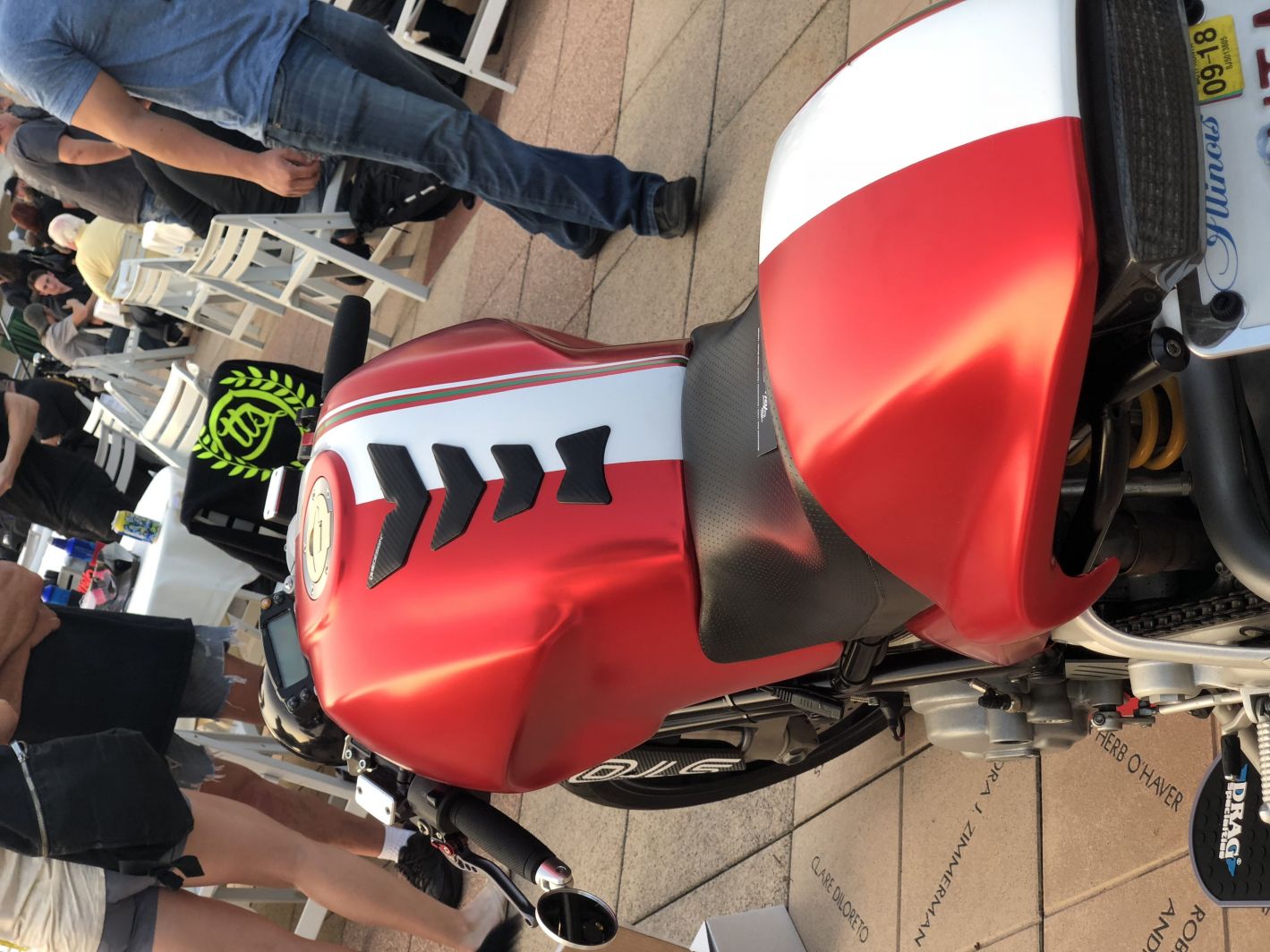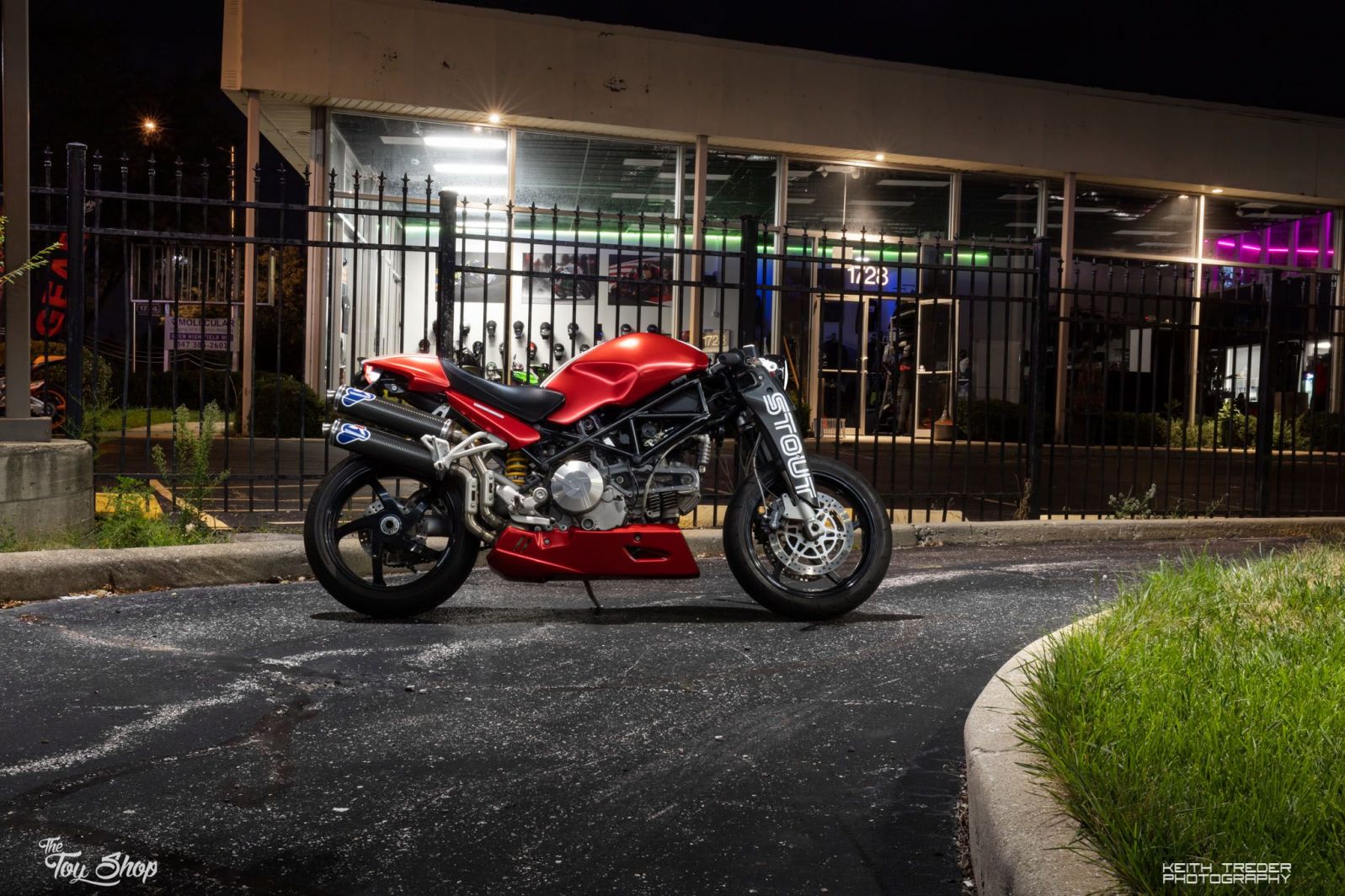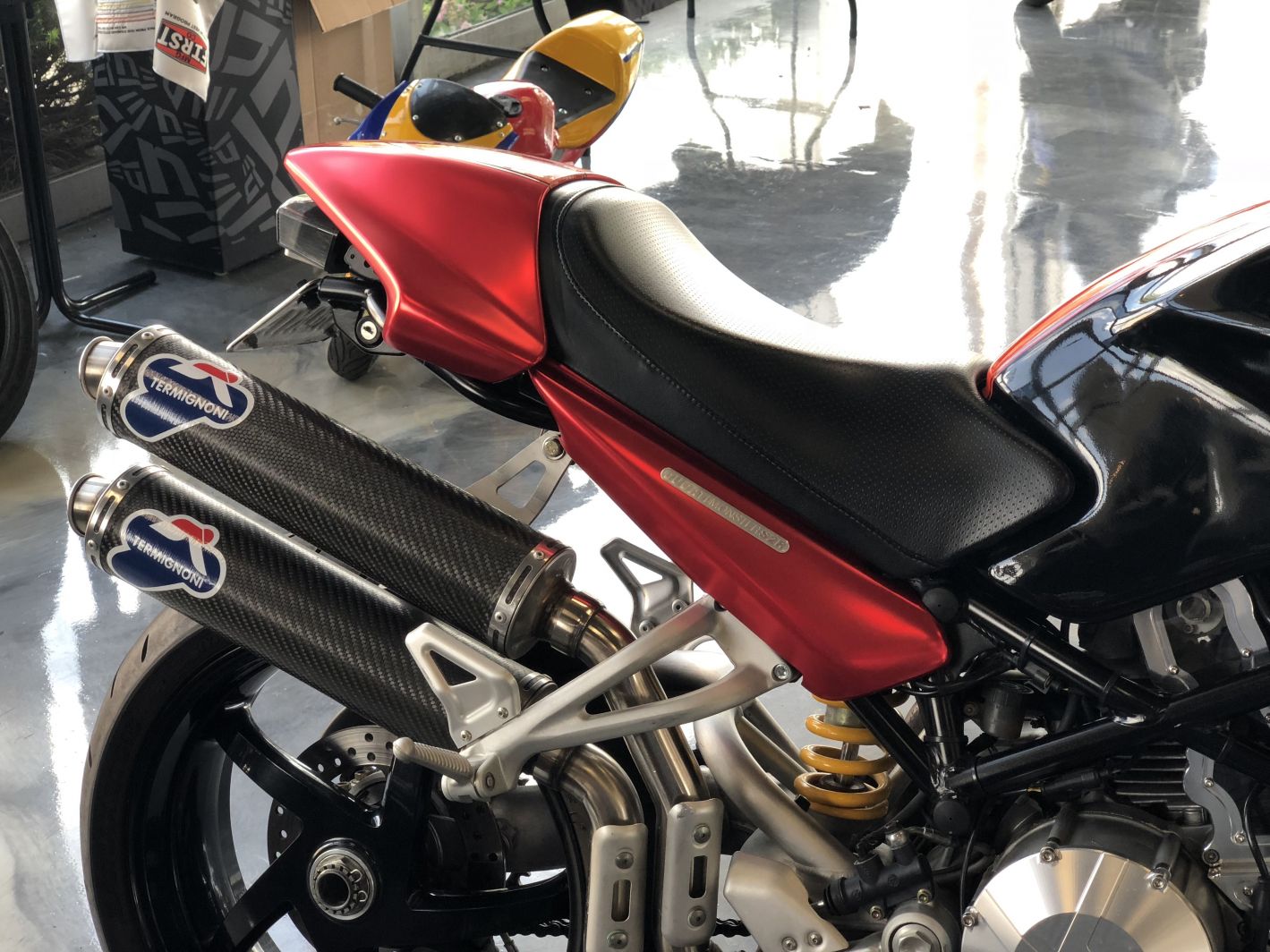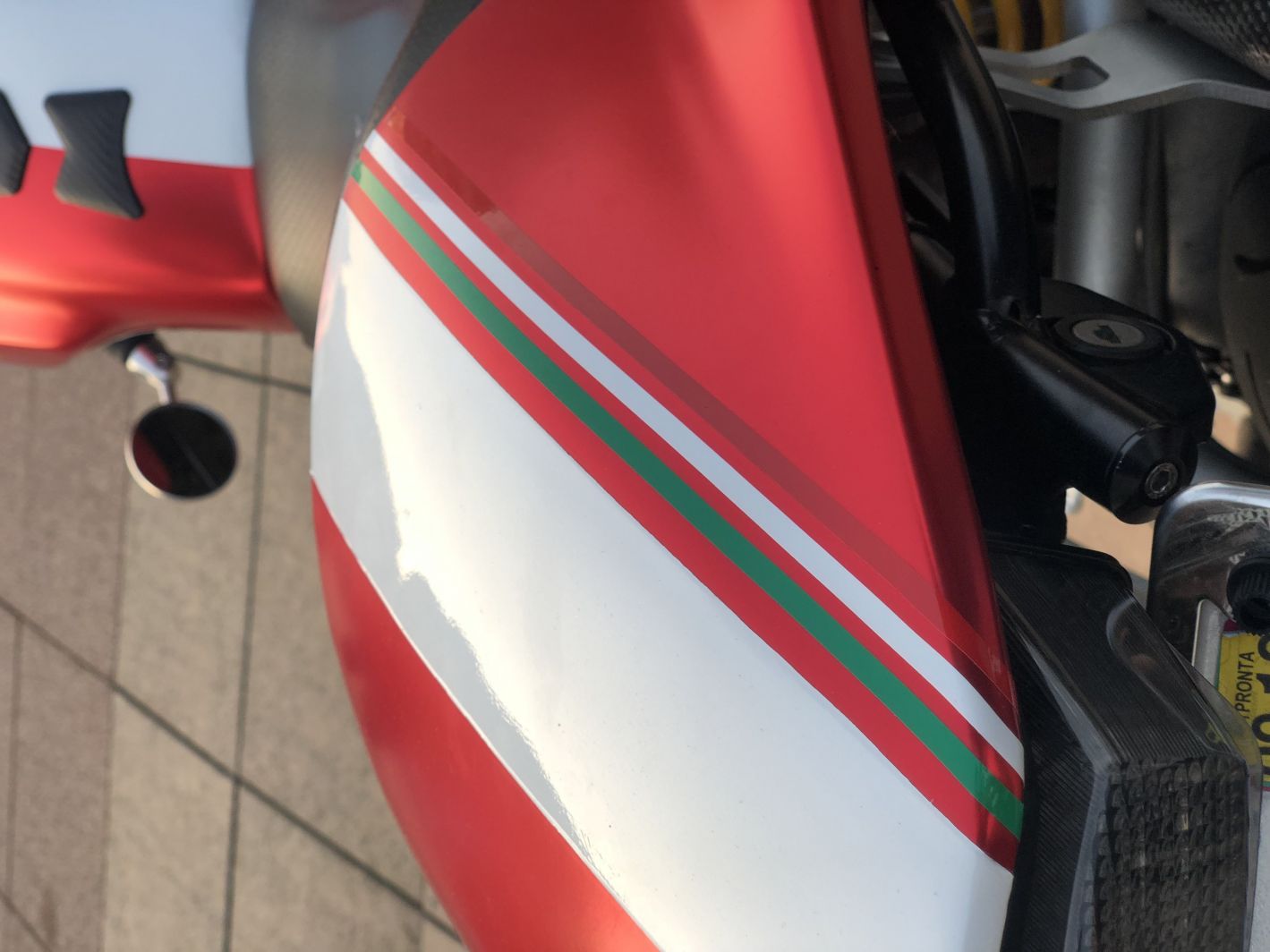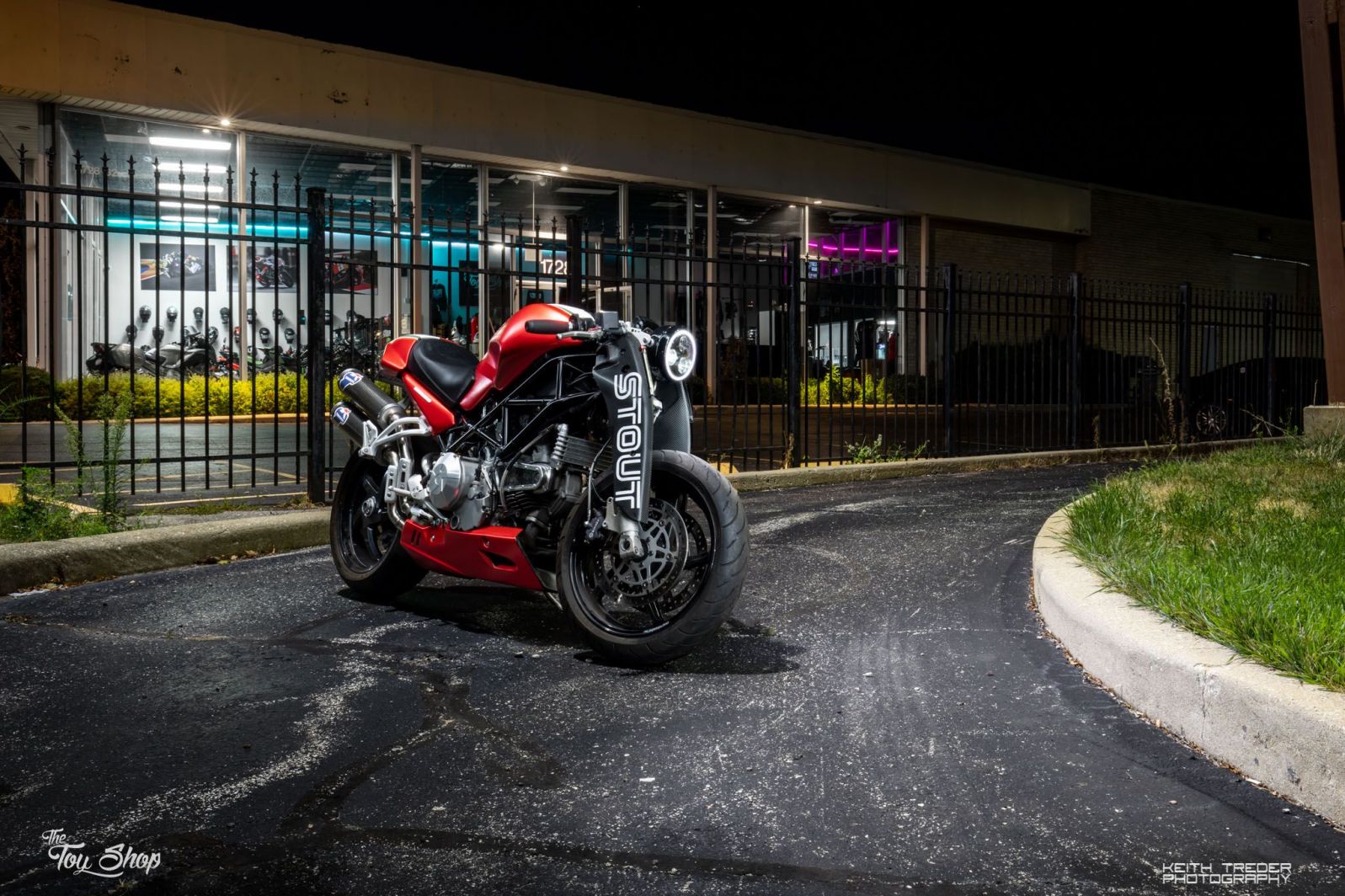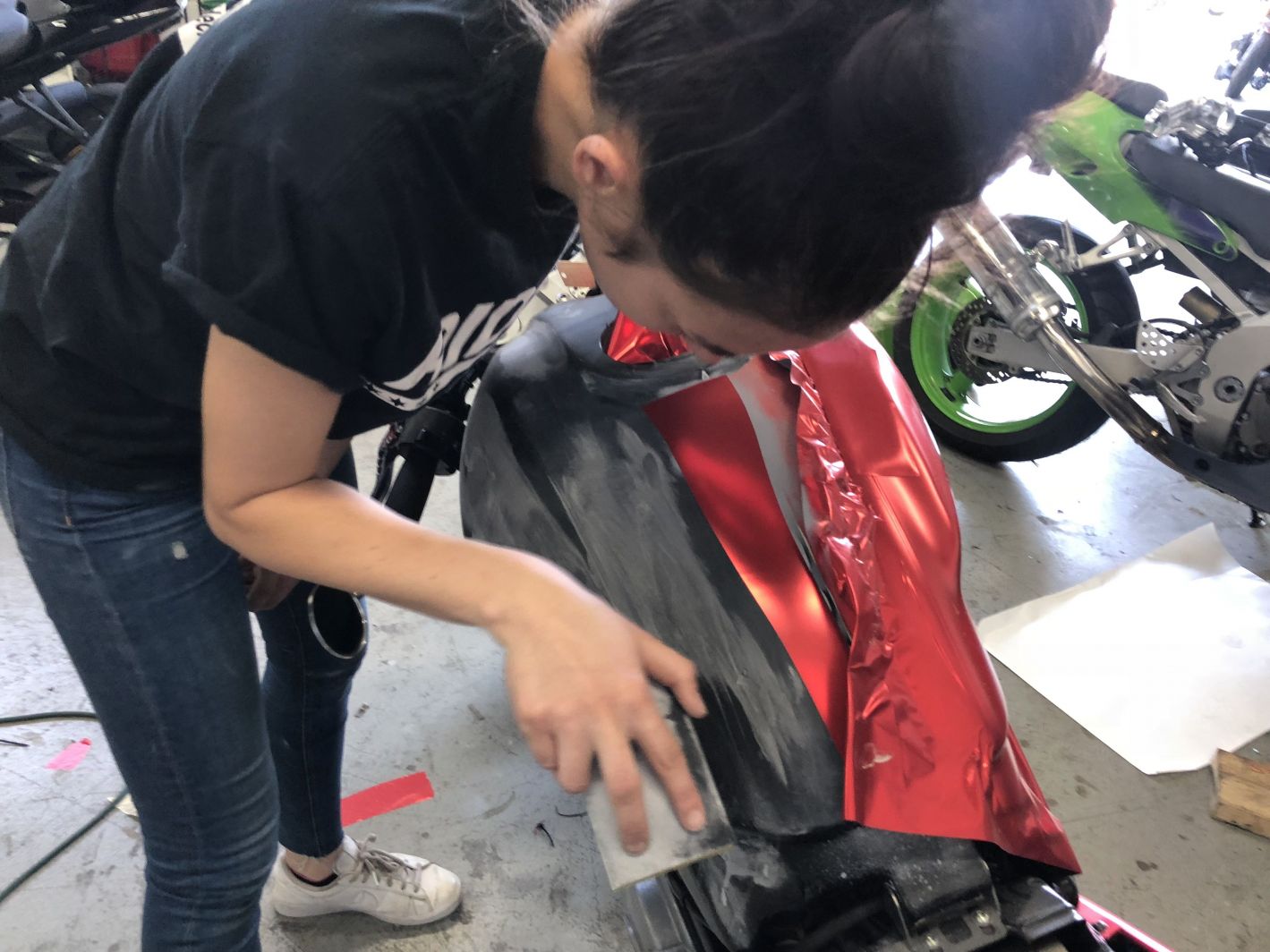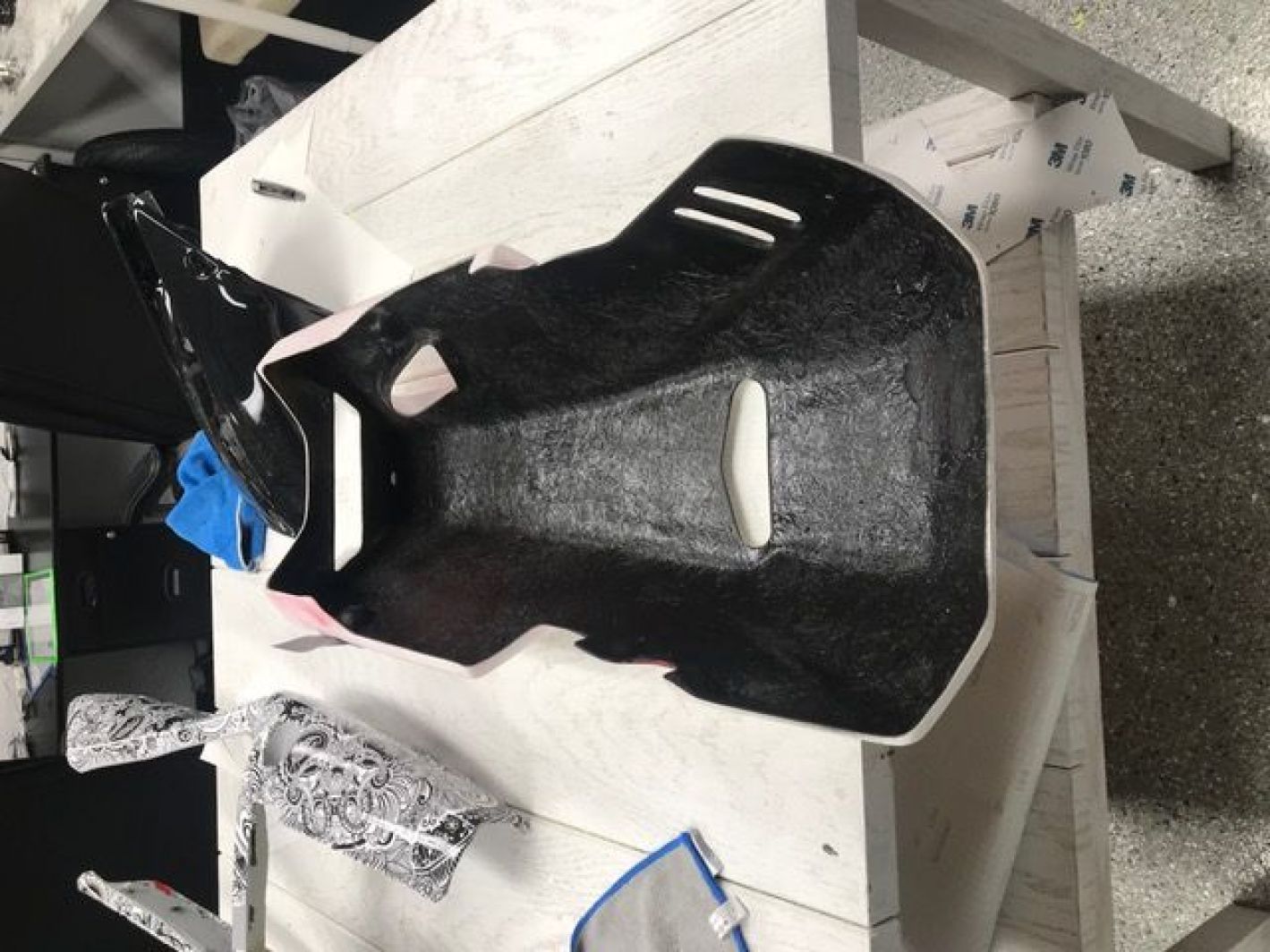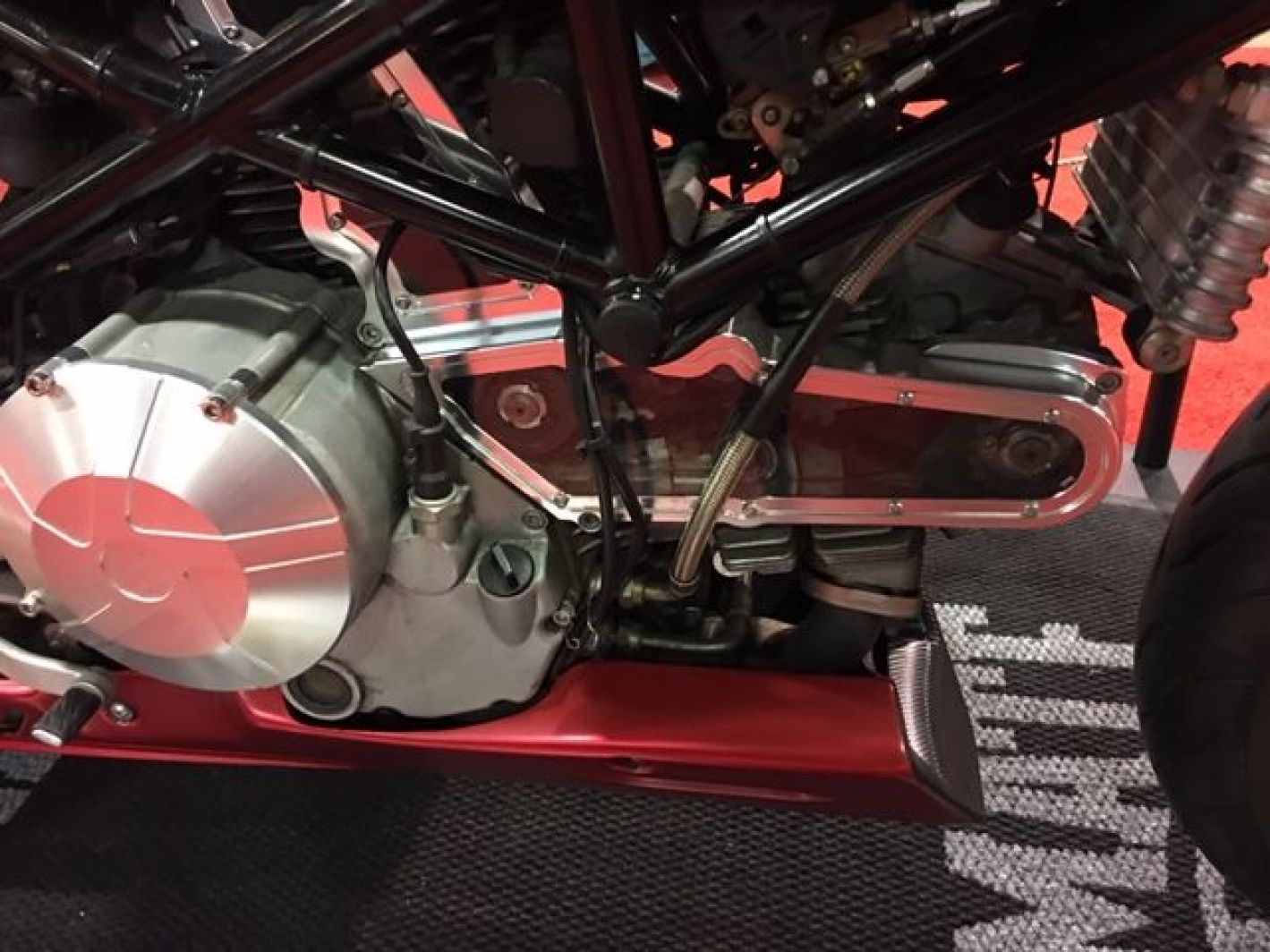 'Double Espresso' came into being as an homage to the signature Ducati twin, Desmo, and the donor's reconfiguration as an Italian cafe racer.
Chris began the journey with a 2005 Monster S2R 800 eBay special. It didn't run and came with an oily box of parts, but most of the necessary ones were either broken or missing.
Chris explains: "This project has taken 5 years and the talents of many to conceptualize, source parts, fabricate bespoke bits, and create this show bike. The thread stitching everything together was to have a café racer that was a bit different than the rest. It debuted at Milwaukee Builders Show  in the Fall of 2018."
Chris was too frightened to budget in advance, and he wasn't sure what he could do himself versus what he'd need to farm out. Like many custom projects, he started with what he had in his pocket at the time and spent what he could lay his hands on along the way. All told, Chris admits to spending around $12,000. 
The Ducati Monster is a motorcycle designed by friend of Revival, Miguel Angel Galluzzi, and produced by Ducati in Bologna, Italy since 1993. It's a naked bike, characterized by an exposed engine and frame. The deliberate use of the trellis frame in the Ducati Monster is an integral part of the motorcycle's design allowing for both aesthetic appeal and structural efficiency. Ducati motorcycles use almost exclusively 90° V-twin engines, which they call L-twins, with desmodromic valves, and tubular steel trellis frame, features designed by Fabio Taglioni. In 2005, Ducati added the S2R Desmodue (two-valved desmodromic engine) line to the Monster family and it serves as the base of this custom build. 
Galluzzi penned a "muscular" fuel tank and minimalist bodywork that produced a visual impression of mass and strength, on a motorcycle that turned out to be surprisingly agile. Chris explains, "Its elemental simplicity is a great place to start."
This particular bike features the standard SOHC 90-degree L-Twin engine bored out 803cc paired with the Two Valve Desmodromic Valve System at a 10.5:1 compression ratio with an 88 x 66mm bore and stroke with wet sump.
Chris fitted new cam belts, Morelli Electronic fuel injection with 45mm throttle body paired with a K&N Filter. The Evap/emissions canister was removed, and a dual right- sided Carbon Fiber Termignoni exhaust system with a matching Ducati Performance (DP) ECU was fitted, utilizing Rexxer ECU Tuning. It dyno'd at 83 HP at 8000 rpm and 57 ft. lbs. of torque at 6600 rpm.
He upgraded to CRG brake and clutch levers and paired twin 320mm discs with 4 piston Brembo callipers at the front, with a single 245mm disc and 2 piston Brembo calliper at the rear. He fitted the calipers with Galfer cross-drilled pads.
Chris fitted a Slipper wet multi-plate clutch system with hydraulic control incorporating Barnett racing clutch plates.
The OEM Cowling was removed, and a GSG Belly Pan fitted and new oil cooler mounts were fabricated.
Chris got to work on the electrics, and fitted a new ignition and starter relay. He utilized an Alchemy 3 eye LED headlight with angel eye-ring, and linear mounted front turn signals. He adapted a Zenmoto fender eliminator kit and integrated tail light system and tidied up with billet tail plugs. 
Vortex Racing clip-ons were fitted with Recoil grips and Oberon bar-end mirrors. The bars were tidied using Ducati billet reservoir covers.  He relocated the new digital dash and fabricated brackets.
The rear 5 Spoke 17" x 6" Marchesini Forged Rear Aluminum Alloy Wheel was fitted with a Pirelli Diablo, and the 17" 5 Spoke Marchesini Forged Front Wheel wears a Continental Conti Motion. Chris also fitted a new chain and steel sprocket set, and  Gotham Cycles foot pegs. 
The bike was made even prettier with clear and billet timing belt covers. 
The Paolo Tex fork covers were shrouded with carbon fiber wrap, and the tank and tail were wrapped in satin red with Italian flag pin striping. 
Chris readily admits to the project being a collaboration:  "I have become BFFs with the craft-persons and artisans at The Toy Shop (Arlington Heights, IL), Miki's (Plainfield, IL), and Midwest Muscle Cars (Lake Zurich, IL)."
Sourcing parts was a perennial headache. "I sourced bits and pieces from all over the US, as well as Berlin and Italy (of course), and had to fab others. Nothing was easy or quick. Lots of ideas simply did not work. Design, try, iterate, and try again. Rinse and repeat."
He fitted a new digital dash and risked irreversibly triggering the immobilizer. That would have been pretty much game over.  He contacted Ducati and got schematics–in Italian. "That was a pretty harrowing part of the build early on, but with a happy ending. Re-flashing was not fun nor cheap, but thankfully worked!"
The high-points were having the bike start for the first time, and seeing the fourth and final iteration of the wrap.
He's very happy. "It is what I had imagined. It rides like a dream. This my third Duc but the most altered and, honestly, by far the most fun to ride. People don't realize the attention to detail unless they come up to it when parked. To many, this may seem like a lot of time and talent and money spent for a one-and-done project—and it was, simply for the joy of reengineering something—making it different, better, and realizing a dream."
Double Espresso was accepted to the 2019 IMS Ultimate Builders Competition.